A payment experience your customers will love
Painstakingly created suite of features which make your customer payments simple, secure and fast.
No redirects. Retain user focus on your product.
Better conversions than ever
No more messy app-switching
Customise UI as per your Brand
See Flash Checkout demo →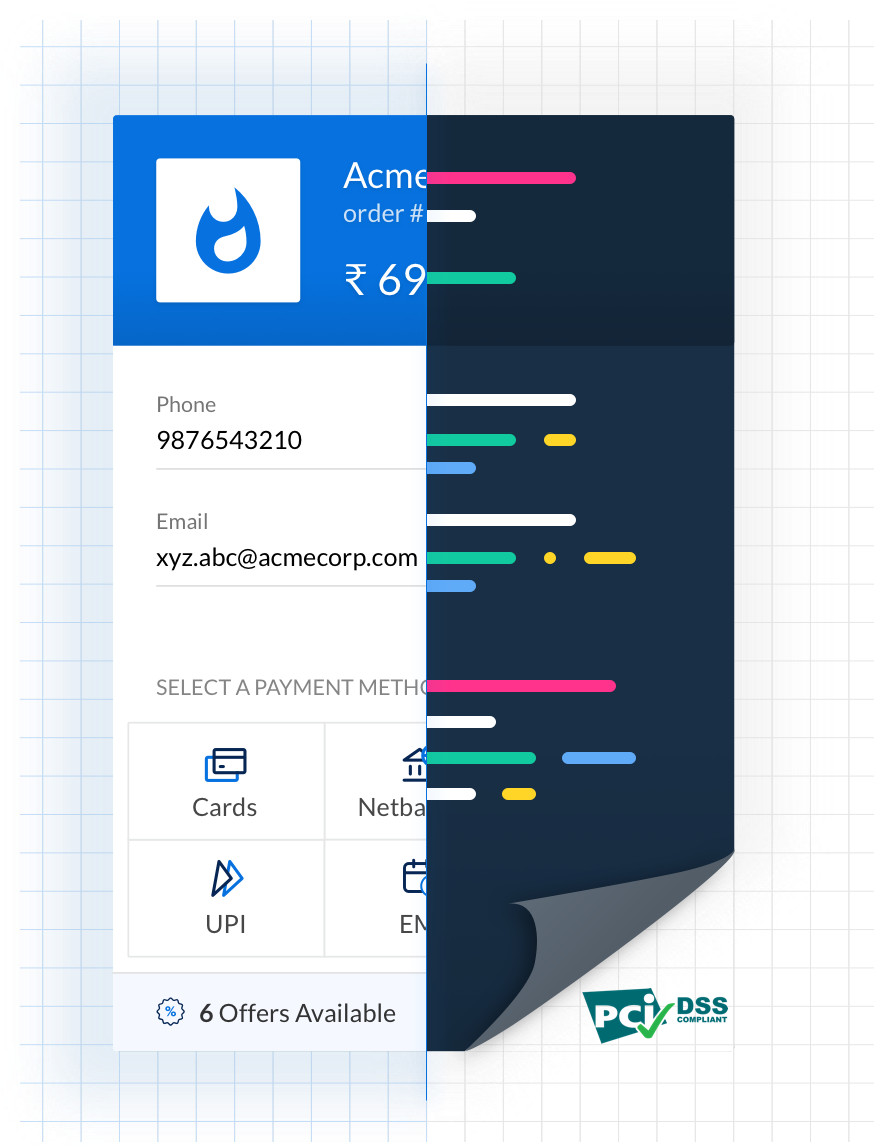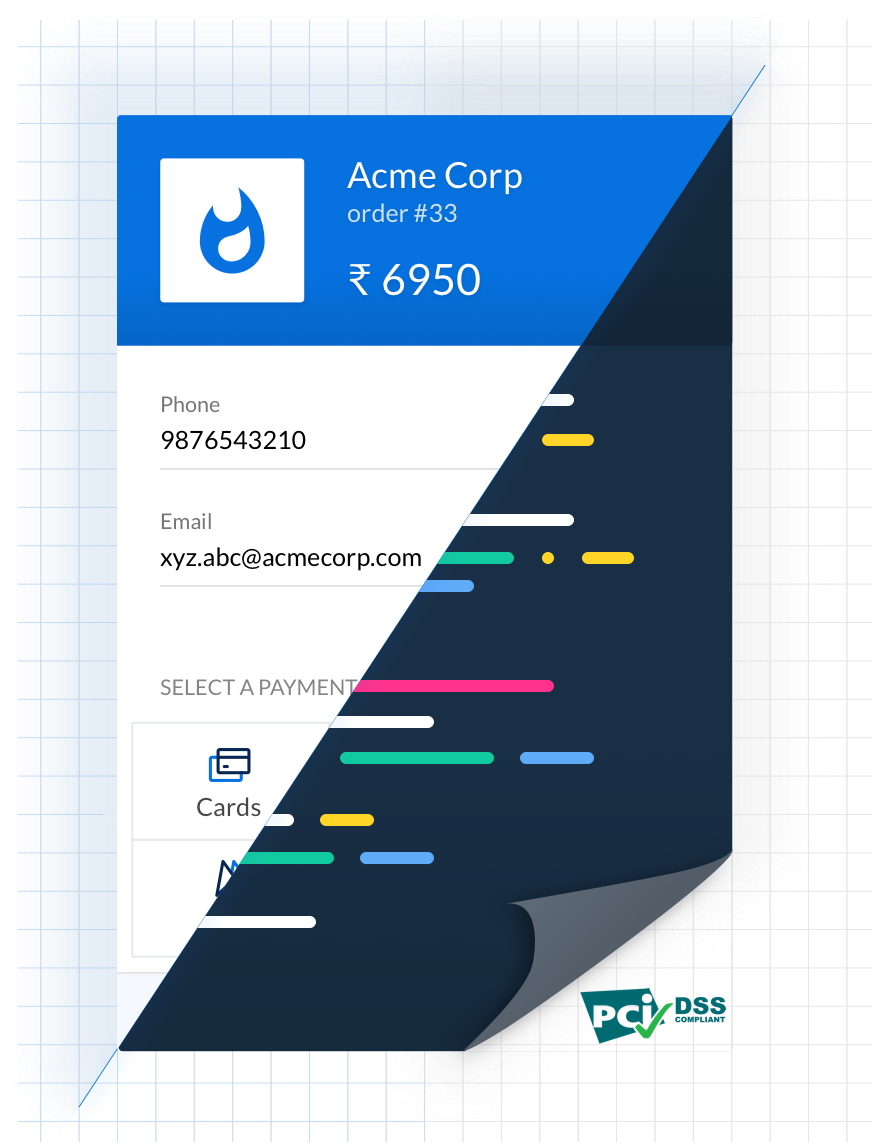 Keeps up with your high engineering standards!
Developer bandwidth is precious. We take care of the finer details, so you don't have to.
Easy to integrate with minimal code
Auto-updates with the latest payment options
The lightest payment SDKs around
PCI DSS Level 1 compliant
Go to Documentation →
How is Checkout great for your customers?
Razorpay Flash Checkout is one of the best online payment experiences for customers. It is a result of our fanatic focus and iteration over the years to understand how customers pay online. This great experience translates automatically into great conversions for you.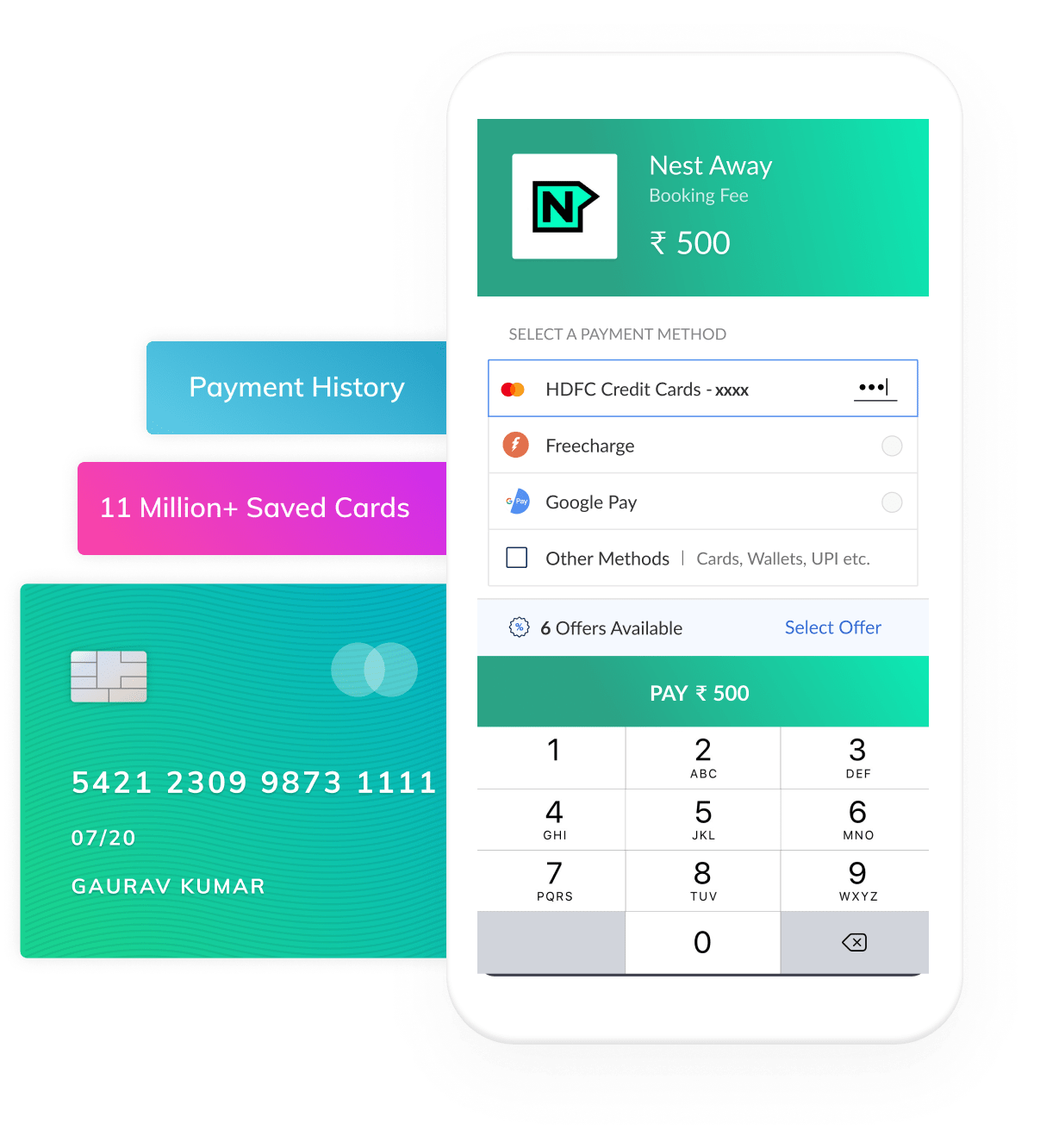 NEW
A Personalised Payment Experience for Every User
Flash Checkout studies every customers' payment behaviour and identifies their preferred payment methods in real time. By prompting the user to use those methods, we help process payments by upto 2x faster and in much lesser clicks.
4 Million+ Saved Cards across Business
With over 4 million+ saved cards across Flash Checkout , your new customers can still utilize their saved cards from Razorpay network and transact seamlessly by entering just CVV and 3D-Secure alone. We are PCI DSS Level 1 compliant and store cards safely for maximum security.
Manage Saved Cards
Your customers can easily add or delete your saved cards across Razorpay Flash Checkout. It's their data after all and they retain control over it.
Manage Saved Cards →
NEW
Native OTP: Enter OTP Directly on Flash Checkout
Users enter OTP within the same payment screen, without leaving your app/website.
Works great on low internet speeds
Better success rates, Better experience
Zero redirect, No ugly bank pages
Supported for all Major Banks and Rupay.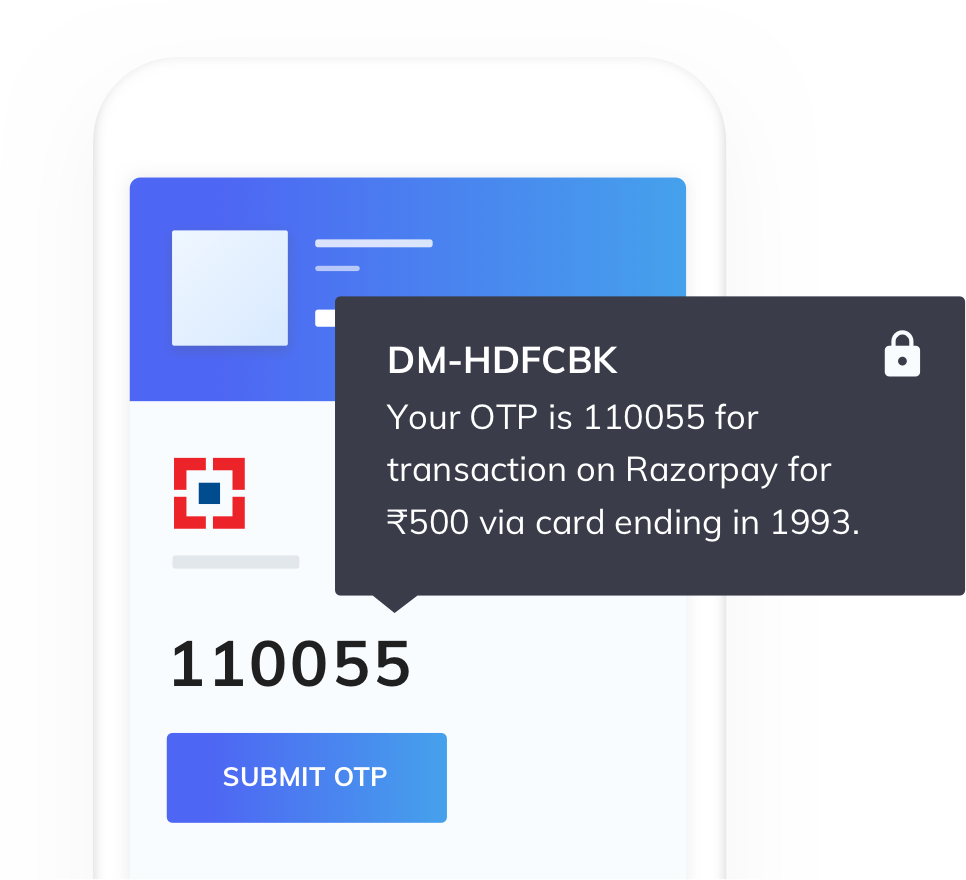 Run Offers at the Click of a Button
Run all your promotional offers via the Razorpay dashboard.
Create offers at the click of a button
Define the number of users who can avail offers
Run offers for specific banks, card networks and wallets
Razorpay customers have seen a 35% increase in sales through offers.
Use Razorpay Offers to run 'No Cost EMI' schemes for your customers.
Learn More
What else is there for your customers?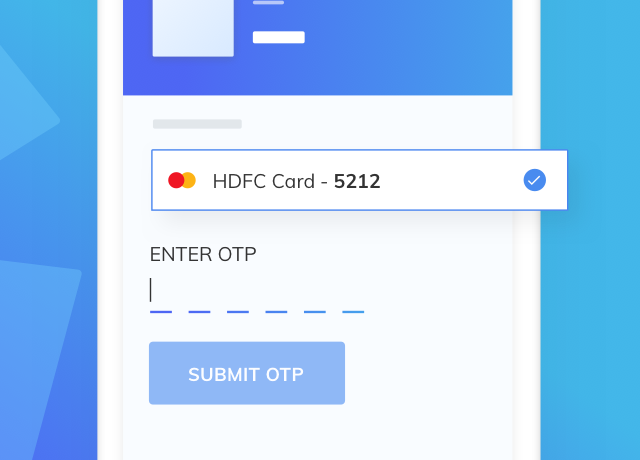 No Redirects
Start and end payments on the same page without redirecting to third-party pages. Everything is handled in a popup on top of your website.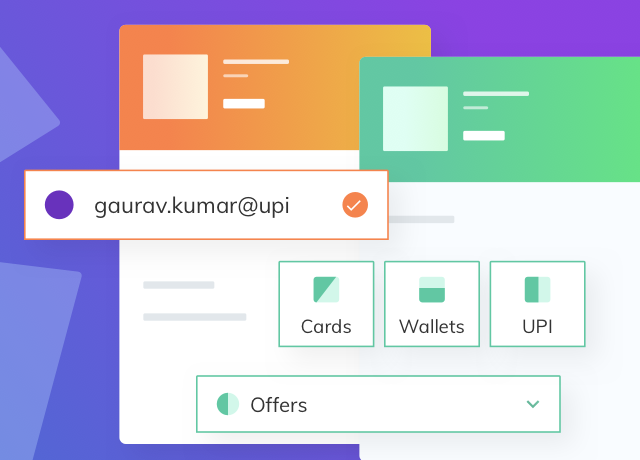 Customisable UI
Make the Flash Checkout an extension of your website. Use your brand colours and logo to maintain your ideal customer experience.
Retry Payments
Flash Checkout retains payments data during entire payment session. Convert manual errors and network failures into revenue with 1-click retry.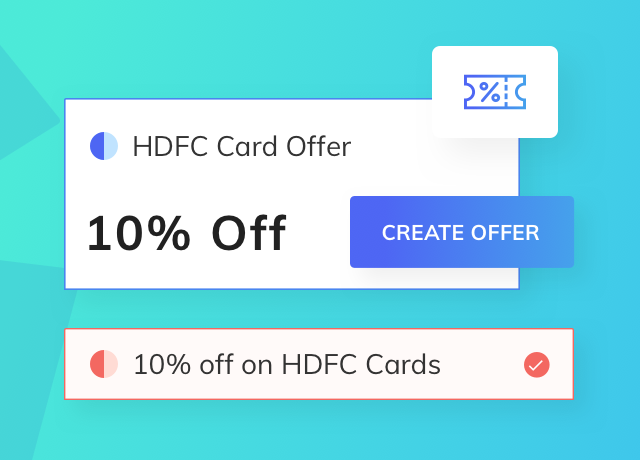 Offers & Discounts
Run offers and promotions for popular cards or wallet providers using Offers API. Offers will show up automatically on checkout.
Offers API →
Built for Performance
Flash Checkout is painstakingly curated to deliver best in the industry success rates and lowest latency on mobile networks.
Supporting all the payment methods out of the box
Razorpay Checkout supports over 100+ payment methods including Credit Cards, Debit Cards, Netbanking, EMI, Wallets.
NEW

UPI Intent

NEW

QR Payments

NEW

Cardless EMI

- ZestMoney & EarlySalary
See All Supported Payment Methods →
Why Flash Checkout is Great for Your Business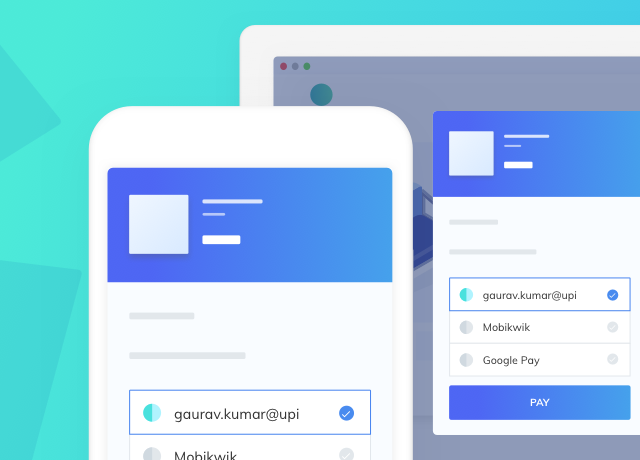 Works Everywhere
Optimized for all devices and screen sizes. Makes paying quick, easy and secure for customers anywhere, anytime.
Integrations Available →
Easy to integrate
A few lines of code and you are good to go. Precise documentation and relevant code samples available at every step.
Integration Docs →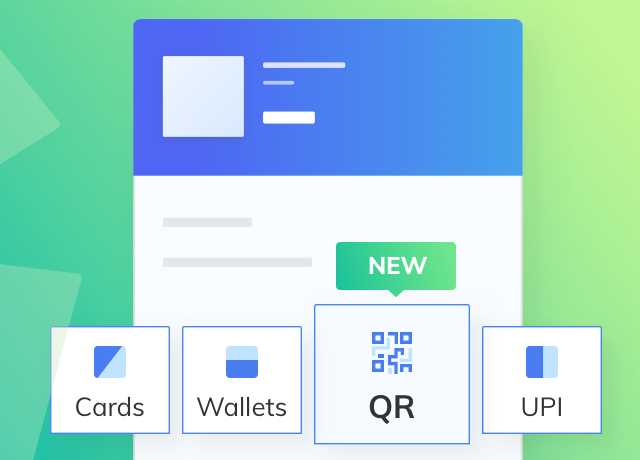 Future Proof
A checkout that gets better with time. Newest payment modes and features available automatically via Checkout.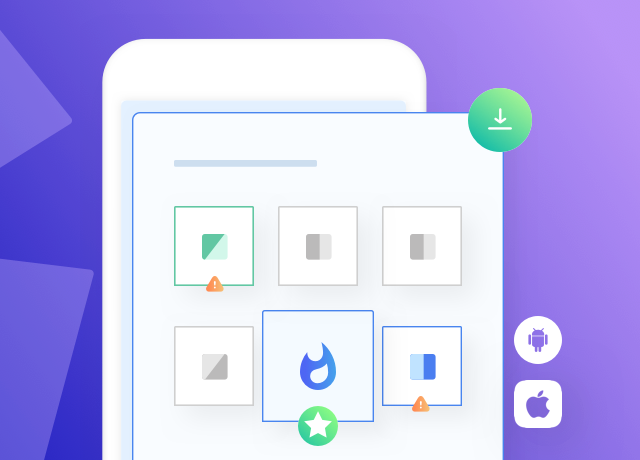 Featherweight
One of the lightest payment SDKs around, both for Android and iOS. No extra baggage for your carefully sized apps.
Security
Razorpay is PCI DSS Level 1 compliant. Your customers can rest assured knowing their payment information is secure.