Pickyourtrail is one of India's leading travel-tech companies that caters to today's DIY generation. The platform allows its customers to build, book, and manage personalised inteneries from several exotic destinations from all over the world. Their customisable itineraries offer immersive, off-beat experiences, changing the way people travel today.
The travel-tech company has customers from across India. And, when their customer base is so widespread, providing a seamless payments experience by integrating with the right payments partner was a priority to them.
The need for the upgrade
The travel industry is no stranger to cart abandonment and payment drop-offs. Most customers explore itineraries only to drop-off at the payments stage for various reasons. Pickyourtrail was trying to find a solution that would easily integrate with their internal CRM, which is when they partnered with Razorpay in March 2019 to address two problems leading to drop-offs.
Payment failure
Large ticket itineraries
Payment failure can happen due to many factors like downtime, incorrect data, pin errors, and security. Of course, the only way to complete a purchase after a failed payment is to reinitiate the payment. Razorpay Payment Links was the best suited product for this use case.
Pickyourtrail helps coordinate and customise inteneries to international destinations, which means the ticket size of each purchase is generally high. This also contributed towards drop-offs as customers abandoned their cart. This is when Razorpay Payment Links made more sense for the use case, because of its feature, Partial Payments.
Since Pickyourtrail's platform is built on React Native, Razorpay's tech team built a custom solution that worked well with their system. Razorpay also worked very closely with their team to ensure Payment Links fit right into their product without having to make changes to their ecosystem.The onboarding was swift and seamless, making sure they could start accepting payments almost instantaneously.
Beating the drop-offs cliffhanger
The most tiring and repetitive task for Pickyourtrail before Razorpay was to generate an offline link by manually inputting every single detail of their customer. The task was a lot worse if they had to generate offline links in bulk.
Razorpay Payment Links automated the process of creating links, reducing manual efforts from 180 minutes to 20 minutes. It didn't matter if they had to generate a single link or many in bulk; they were able to do it at just one click on the Razorpay Dashboard. This also increased their overall efficiency by 40%.
All they had to do was send the Payment Link via email or text message for their customer to make the payment.
The biggest problem for us was to create offline links manually by entering each customer's details. Razorpay has figured out how to solve this, and has executed it really really well.
Most customers hesitate to pay the full value before service delivery, especially in the travel and hospitality sector. Pickyourtrail observed their customers drop off from their customer journey for the very same reason. Razorpay Payment Links helped reduce drop-offs at the checkout by 27% since its feature, partial payments allowed Pickyourtrail's customers to pay for their travel itineraries in parts rather than one large sum. This also ensured the business a better conversion rate.
Another way Razorpay helped Pickyourtrail boost their efficiency was via the dashboard. Razorpay's intuitive and user-friendly dashboard generated highly consumable reports which aided the business to make better informed decisions.
In a nutshell
All in all, Razorpay helped Pickyourtrail ensure their customers convert, giving them the option to purchase their travel package in parts, via a huge selection of payment methods. They were able to streamline their end-to-end payments process by reducing manual efforts, allowing them to focus more on their business.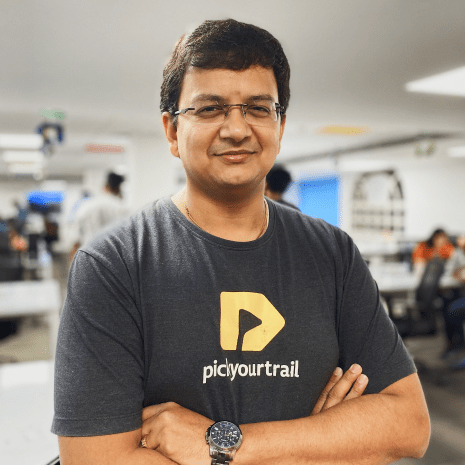 "Every travel company needs a payments partner like Razorpay. Payment Links truly increased the overall efficiency of payments, especially because of Partial Payments. This is one among many other things that separates Razorpay from its peers. The support they provide is phenomenal - the turnaround time at which they respond to our emails and queries show how passionate they are with what they do."
Kalyanaraman Rengarajan
Head of Finance
Download PDF