Follow these steps to create a Razorpay account:
Install the Razorpay Payments Mobile App from Google Play Store.
Open the app and tap Create Account.

Enter your mobile number or email address. Tap Next.
Create a password and tap Create Account.
A verification code is sent to your mobile number or email ID. Enter the code to verify the mobile number or email ID.
Business Overview: Enter your business details, billing label and provide your website/app URL. If you do not have one, select the relevant option. Tap Save & Next.
Business Details: Enter details such as business PAN and name, authorised signatory's PAN and name and the business address. Tap Save & Next.
Contact Details: Enter your name and contact details. Enable the Get account updates on WhatsApp option to receive WhatsApp notifications. You can Submit.
Your account is activated. We create the Razorpay.me URL for you instantly after account activation. You can accept payments from your customers using
Live mode is enabled once you complete the activation process.
Submit KYC details for a Razorpay account on the mobile app. Tap Complete KYC to initiate the account activation process.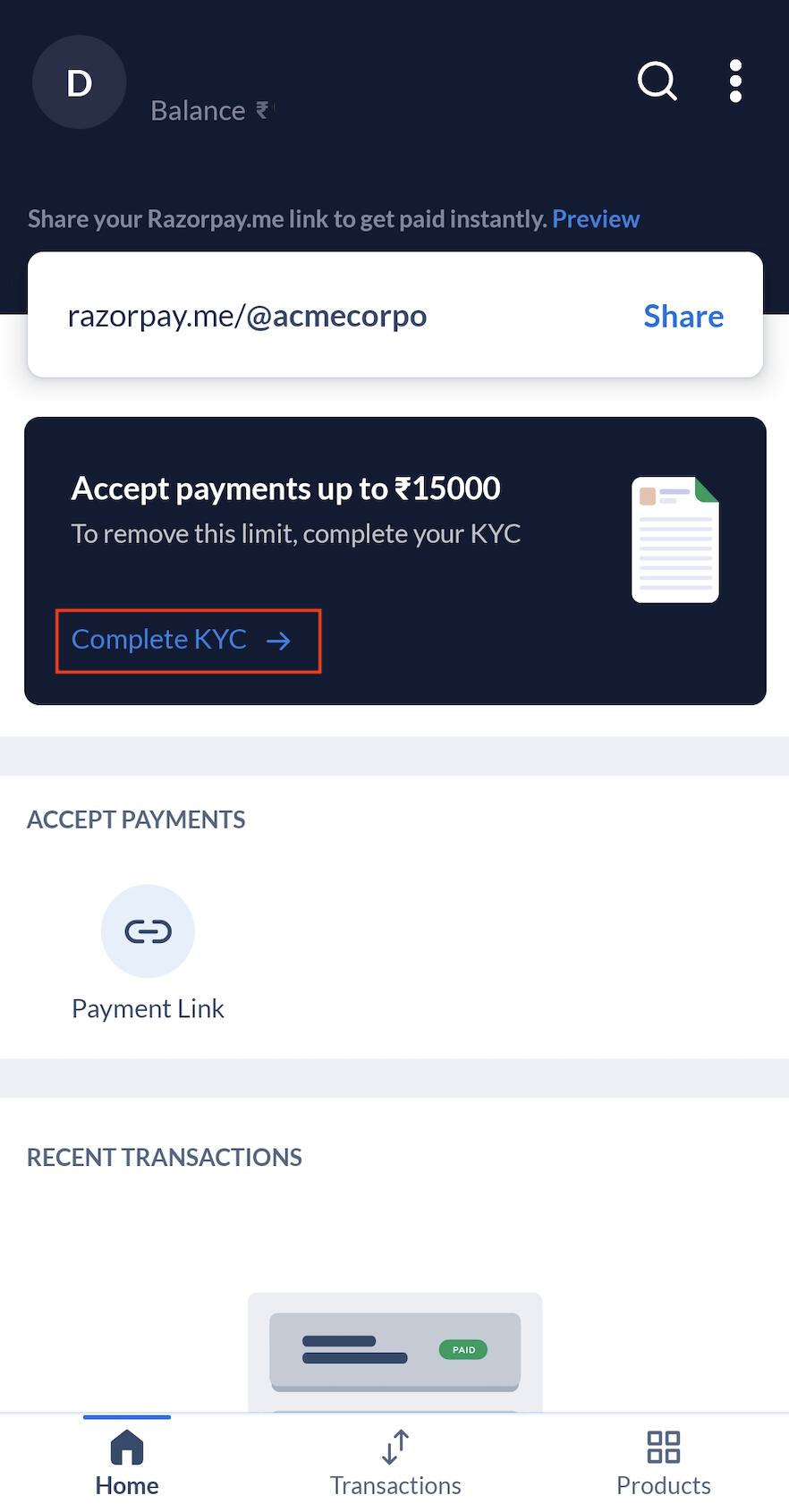 Enter the following details:
Bank and Company Details: Enter the bank account details to which Razorpay should transfer the amount collected from customers (minus fees and tax). If you are a registered business, enter company information such as CIN and GSTIN. If you do not have a GSTIN, select I don't have a GSTIN.
Documents Upload: The process varies based on your business type:

Business Type: Unregistered and Registered (Proprietorship and Partnership only)
If you fall under the above-mentioned business types, you must complete the Aadhar eKYC process by entering the following information:

Aadhar Verification (Via OTP): Enter your 12-digit Aadhar number.
Captcha: Enter the captcha shown on the screen.
Tap Submit & Get OTP. The OTP is sent to the mobile number linked with you Aadhar card.
Enter the OTP and tap Save and Verify.

Once the verification is complete, Razorpay automatically receives the Aadhar details.

All Other Registered Business Types


Supported file types: JPG, PNG or PDF files.
Supported file size: Maximum size supported is 2 MB.

Tap Save and Verify.
Our team will review the information submitted by you. It takes approximately 3 working days to complete the review process.
Watch these videos to check the business verification and document verification details required for your business type:
During the review process, we may reach out to you for clarifications. You can address these queries on the web version of the Razorpay Dashboard.
Your Razorpay account is activated upon successful review of all the information provided above.