SMEs are the future of the Indian economy. With adequate support and incentives from the government, this industry can help the economy to recover from the COVID-19 damages. They have always been true growth economic drivers, contributing around 40% to the country's export and 30% to the GDP. 
The SME sector generates approximately 110 million jobs, which is over 40% of India's workforce. Since businesses focus on building their product and growth, payroll management often takes the back seat. 
Payroll execution is one of the most crucial tasks that require eminent accuracy and efficiency. Salary calculations, compliance deductions, reimbursement, etc. consume an enormous amount of productive hours. Also, manual methods for processing payroll are error-prone, and a miss might attract unnecessary penalties.
If you are an SME owner, you should automate your payroll with the best payroll software available and save a lot of valuable time. This article will help you find the right payroll solution for your business.   
Why SMEs need to choose the best payroll software in India
Here are some reasons behind the lack of importance given to setting up a payroll process by SMEs. 
SMEs usually run on constraint budgets, and hence, an automated payroll system is considered to be very costly

Since these businesses work with fewer employees, it is assumed that it is easy and cost-effective to manage their payroll manually 

Payroll teams start having hiccups because of multiple spreadsheets and complex formulae

SMEs need to hire skilled people to make sure all payroll calculations are compliant with the latest tax laws

Changing regulations often lead to compliance issues, increasing number of manual hours

Keeping track of employees' documents is also tiresome 
Checklist for choosing the right payroll software
Before looking for the best payroll software, you must prepare a checklist of features that you would necessarily want for your business. 
Here are the features that are popular among SMEs. 
Automated payroll – Should process and execute salary payments automatically on time
Compliance processing – Should be able to handle compliance payment like TDS, PF, PT and ESI automatically, along with their statutory laws
Time & leave management – Should provide real-time attendance tracking along with leave management through biometric devices
Reimbursements – Should be able to handle employee reimbursement processes seamlessly; from adding expenses to calculating and settling them 
Insights & reports – Should be able to provide accurate insights with reports in all place; reports including salary and HR registers, PF/PT/ESI challans, employee documents, etc
Provides insurance for employees – Should provide customised group health insurance

p

olicies

for employees at affordable rates 

Employee self-serve – Should empower employees to access their payslips & Form 16, declare investments 
No hidden charges –  Should be a cloud based software for 24*7 accessibility to all the services without any extra charges 
Dedicated support – Provides dedicated hand-holding for the onboarding phase
Payroll software in India for SMEs
There are many payroll solutions available in the market. SMEs should analyse their pain points while executing payroll and consider the best software that will reduce their hassles. 
Most tools available in the market provide different features and also strive to serve multiple employee management needs at the same time. They include onboarding, attendance management, and many other functions apart from payroll execution and compliance automation. 
But there aren't many automated payroll software that provides an end-to-end payroll solution and entirely focus on simplifying and executing payroll. 
India's best payment solution organisation – Razorpay built RazorpayX Payroll Software to deliver seamless and end-to-end payroll processing experience. 
RazorpayX Payroll is an ideal payroll software for small and medium businesses. The product has been designed to take care of all things payroll, right from onboarding employees to automating compliance payments & their return filings. Click To Tweet
It helps HR, payroll and finance teams to manage payroll with a comprehensive set of features at affordable pricing. RazorpayX Payroll always strives to provide best-in-class services to its customers and not settle for anything less. 
The software eliminates manual intervention in executing payroll. It also automates compliance payments like TDS, PF, ESI and PT along with their periodic filings, salary disbursement, reimbursements, leave management and much more. 
Compliance is the most significant pain point in payroll execution. Accurate tax deductions, proper PF contributions, are no easy task for small business owners. They either spend a lot of time figuring out the laws/regulations or money in outsourcing payroll compliance to CAs or tax professionals. 
So, RazorpayX Payroll combats compliance by automating the entire process, depositing the payments to respective departments and filing their returns.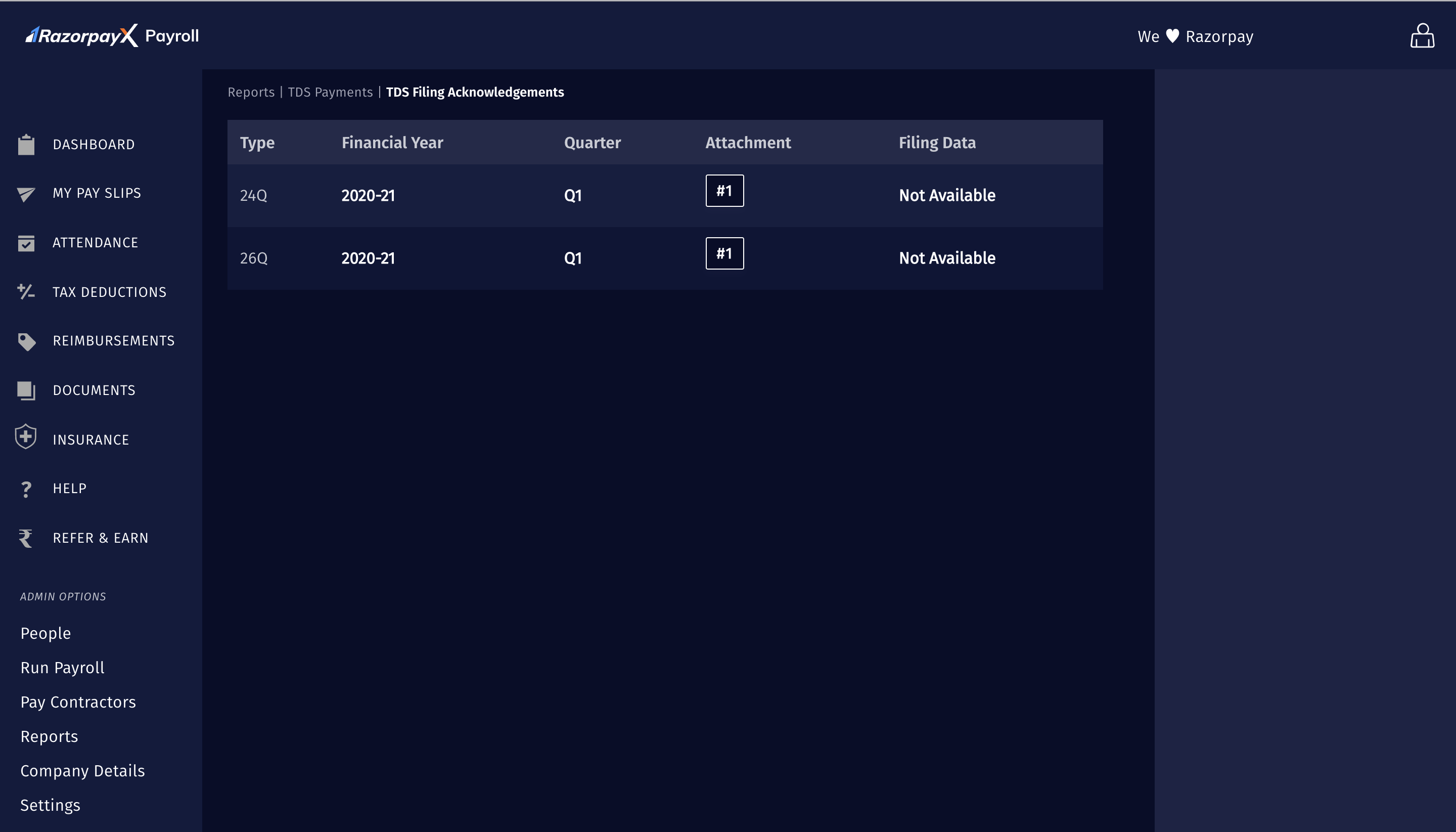 Further, the employees get access to their own account that makes it easy for them to declare investments, view/download payslips, Form 16, apply leaves, request reimbursements, etc. 
RazorpayX Payroll also provides dedicated customer support to its users without any hidden charges. 
"With RazorpayX Payroll, what took us 3 hours to disburse salaries every month, now takes 10 minutes! I truly appreciate how their team supported us during the transition. They were always a call away. "

Manoj Thakur
HR Manager, Bijak 
Additionally, RazorpayX Payroll offers best-in-class group health insurance for employees. It has partnered with a leading insurance company to provide affordable group health insurance policies to small businesses even for employee count of 2. 
Now it's your turn to automating your payroll with RazorpayX Payroll and spend your valuable time on accelerating business growth. All it takes is 3 simple steps!