We've all used NEFT at some point or the other to make an online transaction. But how many of us know what it's all about? 
What is NEFT?
NEFT stands for National Electronic Funds Transfer, and it was launched in the year 2005. NEFT allows two parties to transfer funds easily, irrespective of the banks they hold accounts with, as long as both their accounts are NEFT enabled.

Individual parties, small and medium-sized companies, and big corporates make use of NEFT over and over because of the fact that it's one of the simplest ways money transfer can be carried out. 
NEFT offers a good deal that makes it apt for both small and large value transactions. 
So, what are the features of NEFT that make it the preferred choice of many?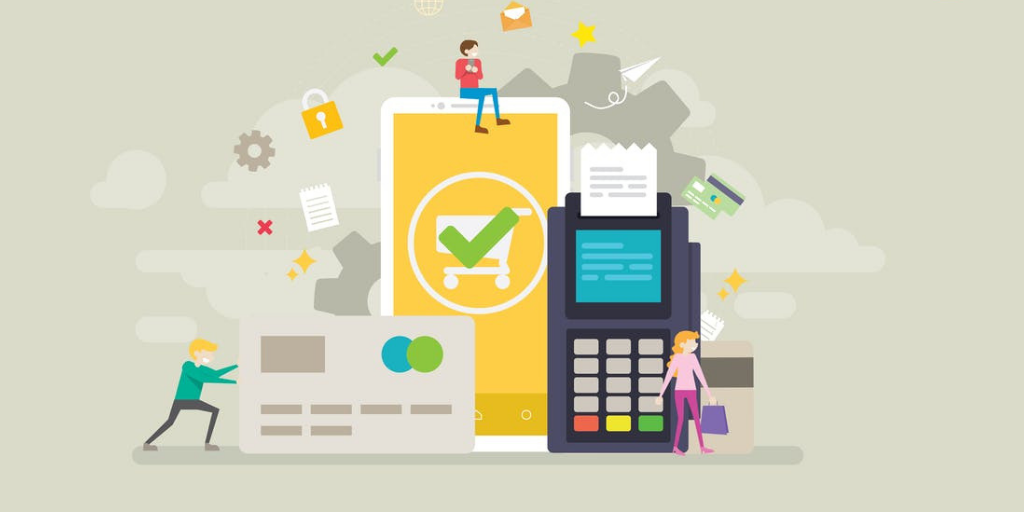 NEFT saves a lot of time and effort
To make an NEFT transaction, all you have to do is log in to your netbanking account, select your beneficiary or add one, enter the amount of money you'd like to send, and authenticate the online transaction. As simple as that!
NEFT provides high security 
Payments done via NEFT are processed over a secure mode. There are multiple authentication steps in place to make sure there is no fraudulent activity while payments are made.
Using NEFT means no transaction fee
Yes, no transaction fee. As a means to promote digital transactions, RBI has scrapped transaction fees for all NEFT transactions, irrespective of your bank.
One drawback of NEFT is that it only operates during the banking hours. 
Learn more about the features of NEFT.
How to transfer money using NEFT?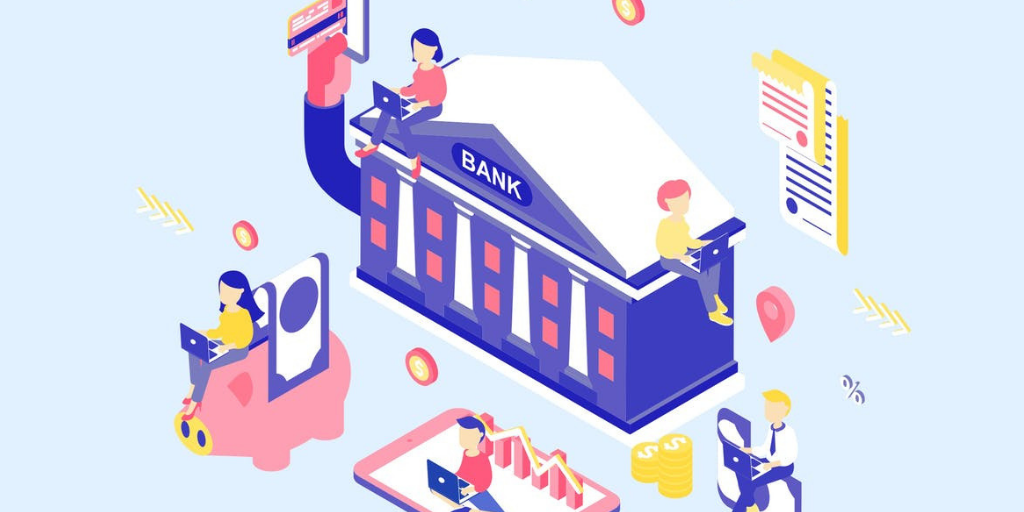 We've talked about the steps to transfer money using NEFT in a simple way earlier. Let's understand in detail, how NEFT transactions work.
Add/select a beneficiary 
You need to have specific bank details of the person or merchant you wish to transact with. You'll need the beneficiary's name, IFSC code, bank account number, account type, and the name of the bank. 
Depending on the bank you operate with, it can take anywhere between a few hours to a few minutes for the bank to add the new beneficiary.
If you already have a beneficiary added previously, just select.
Enter the amount
As the title says, it's pretty self explanatory. Just add the amount you wish to send to your beneficiary.
NOTE: If you have more than one account with your bank, multiple account details will appear when you log into your netbanking portal. Make sure to select the right one before transacting.
Authenticate your transaction
Usually, your bank will generate an OTP and send it to your registered mobile number and your registered email address. This ensures a great deal of security for your transaction. 
Once the validation is done, your online transaction gets authenticated. 
It can take 30 minutes or more for the beneficiary to receive the payment. 
We've talked about how you can make a transaction via NEFT in a much detailed way. Read more.
What is the NEFT transaction limit?
This table points out the limitations with respect to NEFT transaction limits.
What is the between NEFT and RTGS?
Another frequently asked question is the difference between NEFT and RTGS. Let's learn more.
RTGS stands for real-time gross settlement. This electronic funds transfer method is used for high-value transactions, with its minimum transfer amount set to Rs 2 lakhs. We have already talked about NEFT in this context.
This table points out the main differences between NEFT and RTGS.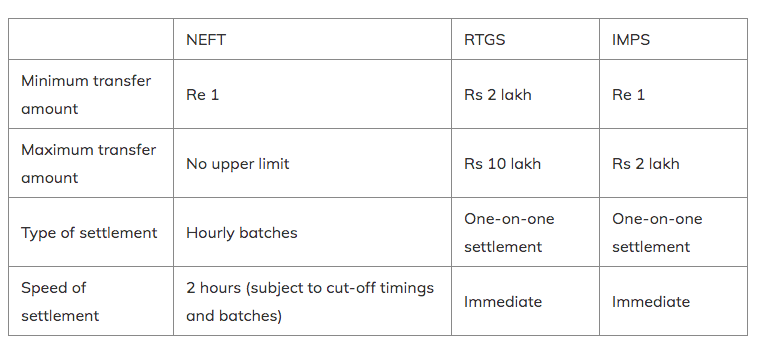 If you're confused about which payment method you should pick, read RTGS vs NEFT – Which One Should You Use to Transfer Money
Make NEFT payments round the clock
In August 2019, RBI announced that from December 2019 onwards, consumers will be able to make NEFT payments all through the day, instead of the existing window of 8 am to 7 pm.
End of the line
NEFT is an extremely convenient form of transferring funds electronically. It is quick and cost effective, and it also accommodates transfers to NRE and NRO accounts.