As a process, marketing focuses on retaining customers while sales are generally based on transactions. A company leverages these profiles to increase revenue generation in the long run. Their functions vary significantly, as do their roles. However, many companies often use these terms interchangeably in their daily operations. 
According to statistics, the companies that align their marketing and sales team earn 209% more revenue from the marketing of their products or services than their competitors. On reading this article, even you would know the benefits of and differences between sales and marketing. 
Understanding Marketing
Marketing helps attract customers to your brand in a profitable manner by detecting and analyzing their needs, demands, and wants. This process includes a wide range of activities that a company undertakes to promote its services or products. A marketer is responsible for identifying the needs of their target audience and providing certain services or products at an affordable price range for their customers. 
For a better understanding of the concept, look at the types of marketing listed below. 
Inbound marketing methodology focuses on creating long-lasting relationships with your customers so that they feel comfortable to avail your products or services during different phases of their life. A marketer invests his resources and time in helping their customers realize their dreams. Through organic ways, they try to engage with their audience by creating insightful posts and videos. For instance, a blogger talks to their audience by creating a video that explains their experience of using a product. 
Earlier, outbound marketing was the only form of marketing available for marketers. Regardless of what the customers want, marketers promote their services or products using aggressive marketing on television, social media, or banners. Cold calling is also a form of this marketing type.
Every company works around the clock to direct their energies into increasing their sales. It is defined as how a salesman sells their company's offerings to the customers by informing them about the benefits of the services or products. A salesperson must have great communication and bargaining skills to convince their customers to purchase the products at the right price.  
There are two types of sales as listed below. 
Inside Sales:

While the name suggests an intra-company sales process, it is quite different. Inside sale is a process in which the sales staff operates from a remote location without actual face-to-face interaction with the customer—for example, the process of cold calling. 

Outside Sales:

Outside sales involves meeting the prospective clients or customers face to face to sell the product. This consists of catering your responses and behaviors to suit the customer's needs, for example, selling a car in a showroom. 
What is the difference between Sales and Marketing? 
Take a look at the table below to get a clearer picture of these two terms.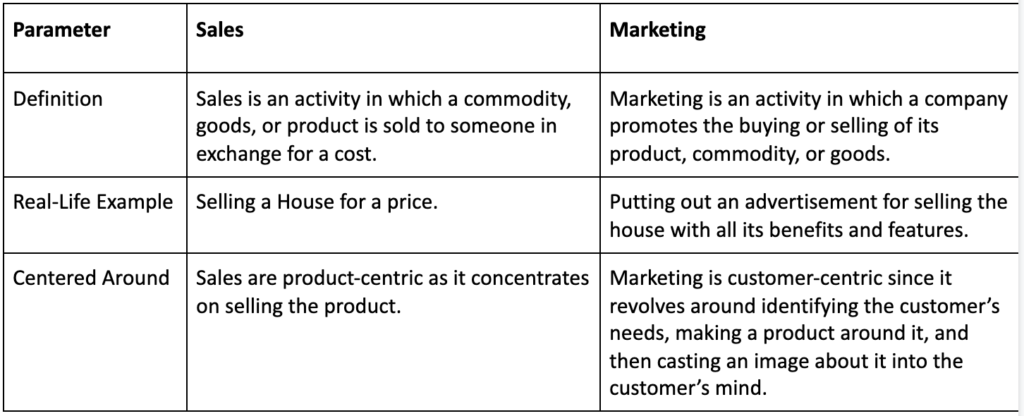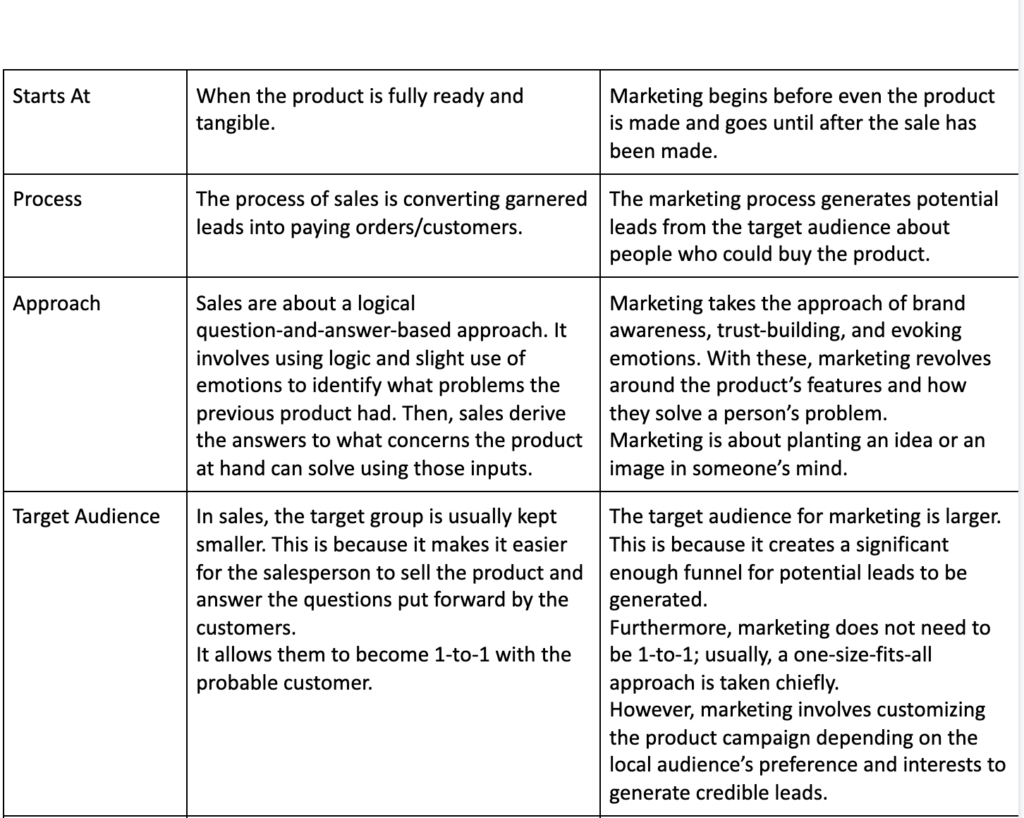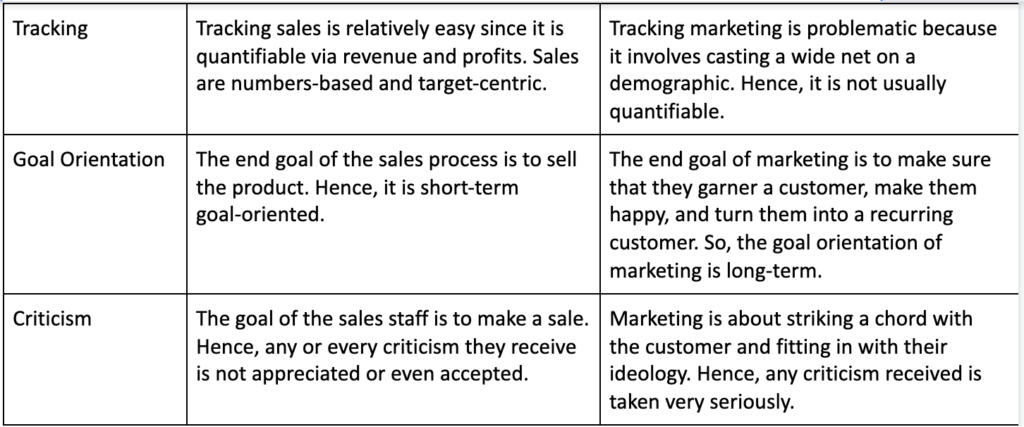 Conclusion
As the lines between sales and marketing are blurred in many business lines, there is no difference between sales and marketing. Firms that are mostly product-based have the most sales staff. Their increasing need for revenues and profits are the key drivers of the business—for example, Fast-moving Consumer Goods companies.
Customer-centric companies concentrate on marketing the products more. These products could be offered by their company or their client's. The main focus of driving business is by creating an imprint of a brand in the mind of its target audience. 
This impression is used to convert them into customers. The staff working as customer care representatives of a company are the appropriate example for this model. As 10% of revenue is lost by misalignment of sales and marketing in a company every year, you need to categorize effectively for better results.