Google Pay
Use Google Pay at the Razorpay Standard or Custom Checkout page.
---
Your customers can make payments using Google Pay at the Razorpay checkout. You can integrate and show Google Pay on any of the following platforms: Desktop Browser, Mobile Web (M-Web) and Android App.
If you are using Razorpay's Standard Checkout, you do not need to make any change to integrate Google Pay on your checkout page. Razorpay will display Google Pay as an option under the UPI section on the checkout page.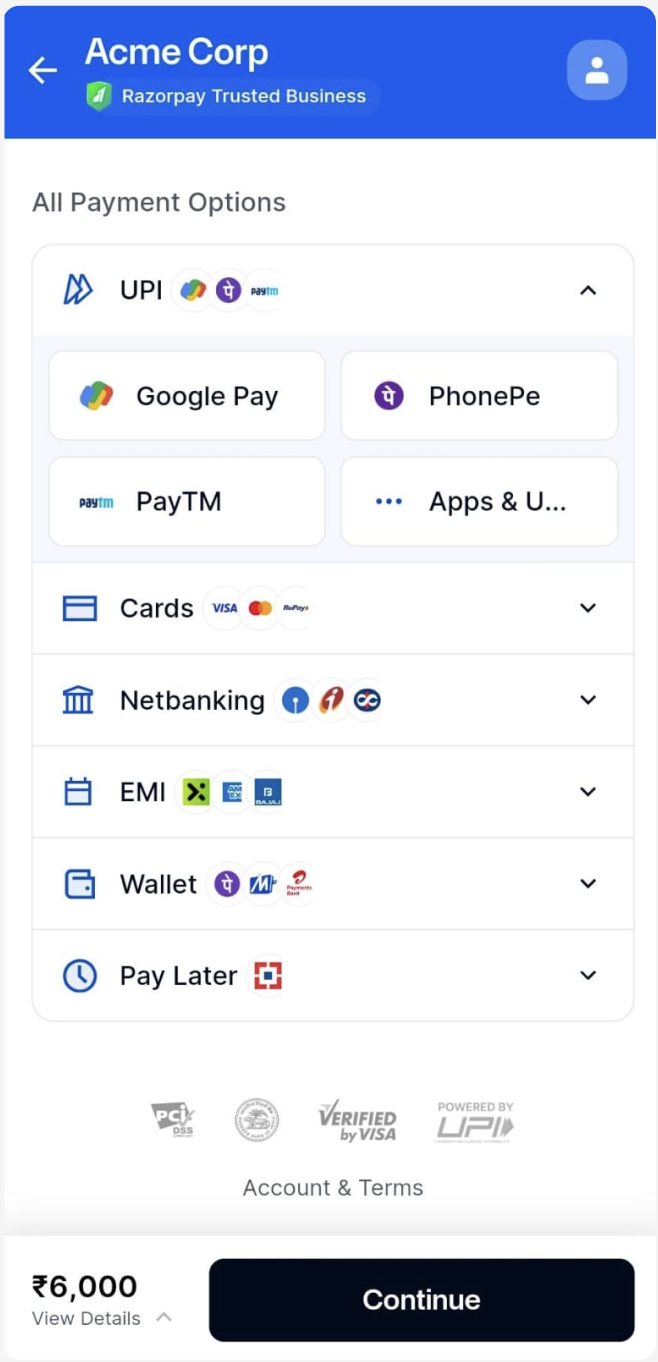 On your website, all Google Pay requests are Collect requests.
The customer selects the Google Pay option, enters their UPI handle and clicks Pay.
A request is sent to the Google Pay app installed on their mobile device.
The customer manually opens the Google Pay app and approves the request.
Customers can make intent-based payments using Google Pay on mobile-web applications. The customer is redirected to Google Pay's application, installed on their mobile devices, to complete the payment.
Watch Out!
This feature is only available for web pages running on HTTPS on Google Chrome for Android (v56 and above) and not on Google Chrome web views.
Feature Request
This is an on-demand feature. Please raise a request with our
Watch this video to know how to raise a feature enablement request on the Razorpay Dashboard.
To enable Google Pay on your custom checkout:
Show Google Pay as a separate Option.
Trigger payment when a user clicks Google Pay on your checkout.
Know more about