What is UPI? 
UPI stands for Unified Payments Interface and is a product of NPCI (National Payments Corporation of India). In simple words, UPI is an advanced version of IMPS and UPI ID/VPA can be considered as a unique email ID for the payments that are used by the banks to conduct the transaction using IMPS.
Launched in 2016, the United Payments Interface (UPI) is a great way for average consumers to facilitate daily payments. Data has shown that Indian consumers now prefer to pay using UPI over other payment methods. Even during and post the COVID-19 lockdown, UPI beat cards, and net banking by wide margins.
This is largely because UPI is seamless and easy to use. The UPI intent flow has high usage on Android devices, and with Razorpay bringing the UPI intent flow to iOS as well, the usage of UPI is only going to increase.
More than 50% of transactions on Razorpay are through the UPI payment method and it has become somewhat of a default payment mode for most of the people in India. UPI is perhaps the fastest product to hit 2 billion transactions-a-month in 2020 since its inception in August 2016.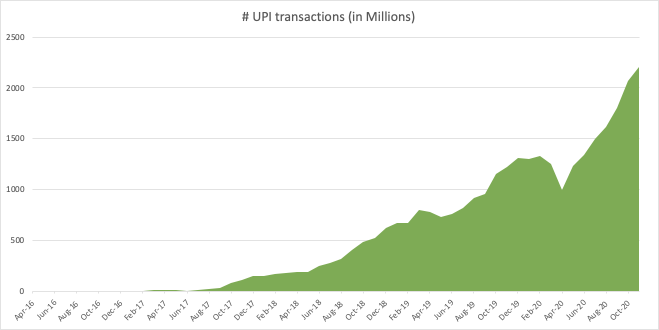 How is UPI different/better than IMPS? 
If a customer uses the IMPS services, the transaction would be done in a matter of a few seconds, but this also required the customer to enter banking details again and again which was a cumbersome task. Also, the platforms provided by most of the banks (website or app) were not great. In short, UPI is a better avatar of IMPS. 
History of UPI
The National Payments Corp. of India (NPCI), which was set up in April 2009 with the core objective of increasing the adoption of digital payments, in association with the Reserve Bank of India and Indian Banks Association (IBA), undertook the task of implementing a Unified Payment Interface to make it easy for users to transact.
The pilot launch was on 11th April 2016 by Dr. Raghuram G Rajan, Governor, RBI at Mumbai.
How UPI works? 
To process a UPI transaction, the following entities are involved: 
1. Payer app/PSP: 
PSP stands for a Payment Service Provider. Payer PSPs are apps that allow customers to initiate/complete transactions. For example: Gpay, Phonepe, Bhim, PayTM, etc. 
These apps have replaced the traditional bank apps and allow users to create UPI handles to make or accept a transaction. Any customer can install these apps and can create their UPI handle. NPCI takes care of the app certification and as of now, there are 20+ third party apps certified by NPCI for issuing UPI handles. However, all these UPI apps need a sponsor bank to start onboarding users. 
List of major UPI apps and their respective sponsor banks:
UPI App/PSPs
Sponsor Banks
Handles

GPay

Axis

@okaxis

ICICI

@okicici

HDFC

@okhdfcbank

SBI

@oksbi

Phonepe

Yes

@ybl

ICICI

@ibl

Axis

@axl

Amazon Pay

Axis

@apl
2. National Payments Corporation of India (NPCI) 
NPCI is a non-profit org set up by RBI and funded by different major banks. It acts as a trusted switch to connect banks and Payment service providers (PSPs). Similar to the role played by VISA in the case of Card payments, NPCI makes sure that data flow between banks and payment apps are routed to the correct and verified destinations.
NPCI, in the case of UPI payments, has made the banking services interoperable. Users can use any UPI app to link any of their bank accounts and can transfer or accept payments. 
NPCI also exposes a bunch of non-financial interoperable APIs for everyone in the ecosystem. For example: Validate VPA/UPI ID, Bank list, etc. 
3. Issuing Bank (Sender's Bank)
In the case of UPI payment, the money is transferred from the issuing/sender's bank account to the acquiring (merchant/receiver's) bank account. The issuing bank has to debit money on NPCI's request and send a debit response to NPCI once the debit is successfully done. 
4. Acquiring Bank (Receiver's bank)
The acquiring (receiver) bank's job is to credit money on NPCI's request and send a credit response to NPCI once the credit is successfully done. 
5. Payee PSP
This is the acquirer or payment gateway used by the merchant in the case of P2M (Person to Merchant) transactions. 
How to start using UPI payments as a customer? 
Install any UPI app/PSP available in the play store or app store. 

Open app and enter your phone number that is linked to your bank account

The app will now ask for the necessary permissions, allow them

Now, wait for the OTP and tap on the Next button

Set your UPI pin

Click on 'Add Bank Account' and then select your bank from the list

Enter your UPI pin and you will get your UPI ID/VPA

Now whenever you want to make any payment, you just need to enter 
Types of UPI payment flow: 
Intent Payment
The payer/sender initiates the transaction. For example: You send money to your friend or make a payment to a store by scanning a QR code.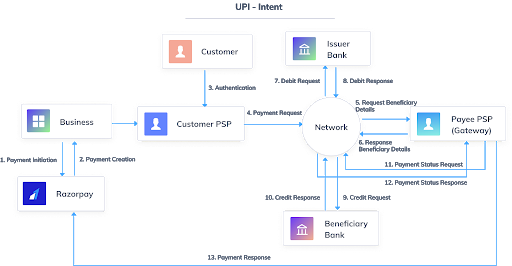 Collect
The payee/receiver initiates the transaction. For example: Your friend creates a UPI collect request asking you to settle the splitwise balance.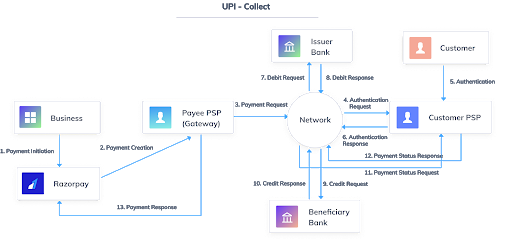 Why is Razorpay the preferred payment gateway for UPI payments? 
1. First payment aggregator to launch UPI payments in 2016 
Razorpay was the first in the industry to bring UPI payments to merchants. We were also the first payment aggregator to launch UPI AutoPay and UPI 2.0 features. Our close partnership with NPCI gives us an extra edge to stay one step ahead of our competitors. Interestingly, Razorpay is also the market leader in P2M (person to merchant) UPI payments in India. 
2. Multi bank model approach 
Razorpay closely works with multiple banks and payment technology service providers to solve the exact customer requirement. In the case of UPI payments, we work with 6 different banks and route transactions based on our Smart Routing solution. This helps businesses to keep getting best in class success rate, even if there is downtime on one bank or the other. 
3. Reconciliation and Refunds 
Razorpay Dashboard provides different types of reports to help you with reconciliations. Thus, even if we are using multiple banking partners to process your online payments, you don't have to worry much about the reconciliation. The best in class Reconciliation system, along with our 'Instant Refund' product makes Razorpay the preferred UPI payment partner in India. 
4. Developer-friendly APIs
Easiest integrations and omnichannel support for all your queries. And the best part? If you are using Razorpay Checkout, not a single extra line of code is required for accepting UPI payments. 
Want to start accepting UPI payments for your business? Visit our sign up page here. 
Frequently Asked Questions 
What is UPI Pin?
UPI PIN is an abbreviation of Unified Payments Interface Personal Identification Number. It is a 4 or 6 digit passcode that users of a UPI-enabled app set when they register themselves for the first time on the application.
Is UPI safe?
Through UPI, a user's bank account can be used as a wallet with a simple two-factor authentication that eliminates the need to store funds in any other wallet. The use of Virtual ID makes it more secure since there is no need to share credentials. Furthermore, users can link multiple bank accounts to a single smartphone too.
What should I do to set my UPI PIN?
Open the app and enter your phone number that is linked to your bank account < The app will now ask for the necessary permissions, allow them < Now, wait for the OTP and tap on the Next button < Set your UPI pin < Click on 'Add Bank Account' and then select your bank from the list < Enter your UPI pin and you will get your UPI ID/VPA
What will happen if I forget my UPI PIN?
If you have forgotten your UPI PIN, you can simply create a new one. All you need is your debit card details to reset your UPI PIN.