You can become a Razorpay Partner in two simple steps:
Handy Tips
All Partners will be onboarded as Resellers by default. If you have a use case for Aggregator or Platform Partner types, you can request a Partner type switch to:
If you are new to Razorpay, you must first sign up for a Razorpay account.
Follow these steps:
Navigate to the Become a Partner.

On the Sign Up page, enter your mobile number and tap Get Started.

Enter the OTP sent to your mobile number and tap Verify.

Enter your name and tap Next.

Select your Business Type, as applicable, and tap Next.
This completes the account creation process. As the next step, you can:
Tap Go to Dashboard to visit the Razorpay Dashboard.
Add your email address and complete the OTP verification process.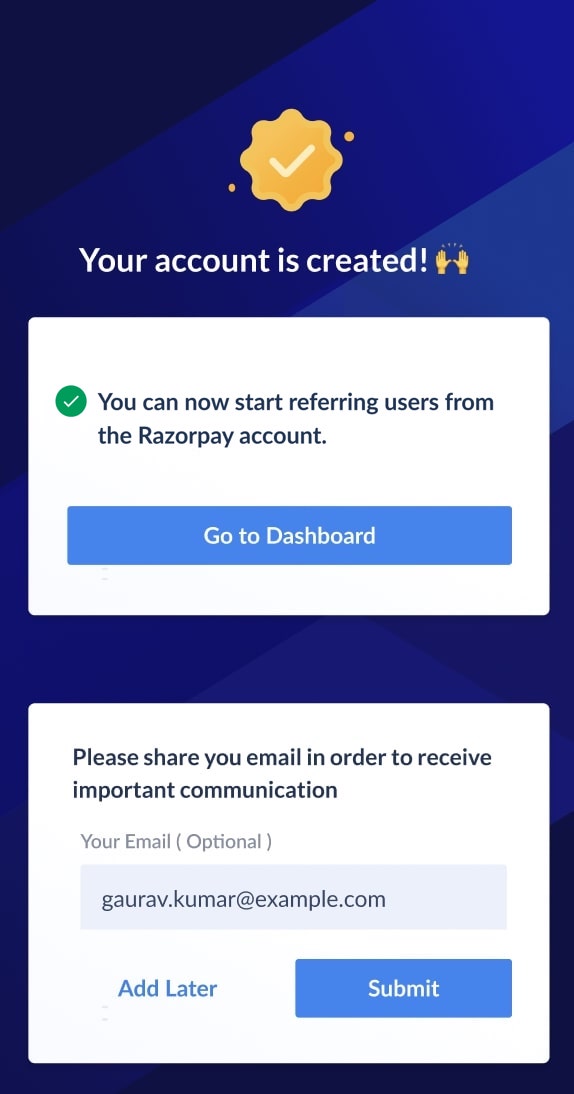 As a Razorpay Partner, you are eligible to receive
To activate your account:
Log in to the Partner → Home.
Click Submit KYC.

In the CONTACT DETAILS section, fill in your name, email and number. Click Save & Next.

In the BUSINESS DETAILS section, select your Business Type and fill in the PAN, PAN Owner's Name, Beneficiary Name, Account Number, Branch IFSC Code and GSTIN (if any). Click Save & Next.

In the ADDRESS DETAILS section, fill in your Registered Business Address, pincode, city and state. If the operational address differs from the registered address, select No and enter the details. Click Save.

Read and agree to the Razorpay Terms and Conditions. Click Submit and Verify.
After you submit the details, our team will review the KYC form.
We will notify you via email, SMS and WhatsApp if we need further information.
The review process takes 4-5 days.
Upon successful verification:

Razorpay displays the Settlements Enabled success message on the Dashboard.
Razorpay deposits the settlement amount in your bank account per your settlement schedule.