Time and again, the world has heard controversies around privacy, hacking, rumours and unverified news and a number of other negative folds of the world wide web. Despite these occurrences, the world has not stopped embracing the internet and social media. This article further talks about social media trends in 2020. 
Today, with more than 3.5 billion users across the globe, social media has touched roughly 46 percent of the world's population. That said, global digital trends show no sign of slowing. Now that you have a blurred image of the vast world of social media in your mind, it's time you get acquainted with what social media trends that will work for your business in 2020. 
#1 Invest in ephemeral content
Instagram & Snapchat stories are examples of ephemeral content. This is content that is available only for a short period of time. The truth is, people's attention spans have become short and the way they consume content has evolved. Content forms like stories are short and engaging, often becoming addictive. People get into a habit of watching them and hence, they keep scrolling for a longer duration and increase its overall reach. 
This social media trend can get more reliable by looking at the data report by Statista shown below.
#2 Remember 'less is more'
A number of social media users have adopted something called 'digital detox'. Recent social media trends suggest that more and more people are plugging off from their smart devices and plugging on to the world IRL aka in real life. While some people have already set their limits, some are trying it for themselves. But the point is, it no longer matters how many times you post. What matters is the 'quality' of your post. It's time you stop planning and stuffing your social media calendar with an urge to always stay on top of the feed and rather focus on creating a piece that stays longer in the minds of people (and not just the screen). 
[Also Read How Social Media Entrepreneurs Can Accept Payments Online]
#3 Target niche platforms
Two social media channels, Facebook & Instagram have been dominating the market for some time now. Despite this fact, there has been a rise in a number of other niche platforms. One such example is TikTok, which started in 2016. It gradually gained popularity amongst the youth. B2B companies, on the other hand, go for LinkedIn to reach the right audience. 
The takeaway here is, do not run and vouch for every social media platform that there is. Rather, look out for the one that has the maximum audience from your target audience and invest a greater part of your resource and brainstorming on it. 
#4 Look for more (and real) user-generated content
With a lot and lot of content getting generated by companies and media houses, people have found themselves in a state of confusion. What to believe and buy, and what not to. Here's where user-generated content comes into the picture. Rather than having content creators from your organisation or agency, how about inviting your readers to help you broaden your reach? 
In simple words of Tim Hanslow, Head of Social Community at Preface Social Media, "Decades of data leaks, product recalls and false advertising primed the world for real authentic user voices." 
UGC seems like the future tool for businesses to demonstrate social proof and a genuine, trustworthy voice.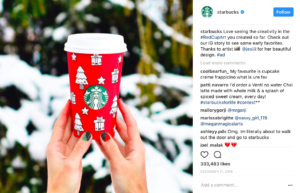 An example of user-generated content
#5 Say hello to imperfections
Recently, a Canadian-Brazilian teenage influencer, Joana Ceddia gained popularity across platforms. She has over 6,40,000 followers on Instagram, over 3 million subscribers on YouTube and over 9,50,000 followers on Twitter. The reason you ask? It's her unfiltered, natural and comedic approach to social media. While we understand that not all businesses can go quirky and 'fun' on social media, you can go a little less aesthetic on Instagram and keep things as they are. Your posts (on every platform), are understood without being overly precise. The same goes for your copy. If at all you happen to commit a mistake, abstain from deleting a post. Rather, accept that you had a typo and say 'We're but humans' loud!
The bottom line is, visuals are powerful but doing anything overly can bring in more questions to the minds of the viewer. 
#6 Open your doors to video content 
If seen from the lenses of social media trends, a report by Cisco study shows that by 2022, 82% of all online content will be video. Be it short-form video content on TikTok or long-form on YouTube, videos look like the future of social media. If your near future social media calendar does not have videos, it's time you rework on it- both for organic reach and advertisements across channels. 
#7 What's with privacy and regulations
While social media brings in a number of benefits, it also has a few negatives. Data privacy and security are two of the negatives that have time and again been in the headlines for platforms like Facebook. Due to its immensely large user base and sensitive information availability, these platforms are constantly an easy target for misuse by a number of bodies. To keep a check on this, regulatory bodies will be tightening their norms and draft more policies in place. The red signal here is, be ready for more regulations and restrictions across platforms. 
The above mentioned are some of the many social media trends that will dominate the landscape in 2020. Stay tuned to know the tips to stay a step ahead and level up your social media game. 
Social media is a dynamic and competitive space and the listed trends can help you master your presence. Keep an eye on the evolution of the platforms and map your user mind before you map your calendars! 
Recommended Reads