Every business is dependent on other businesses. A business that provides goods or services to other businesses is called a vendor; every business has at least one. 
Vendors facilitate daily operations for the business and so vendor relationship management forms an important part of business operations. 
In this blog, we discuss vendor payments, the importance of a good vendor management system for business and more.  
Vendor Payments Definition
The lifecycle of a vendor within a business, also called the procure-to-pay process, begins with onboarding the vendor and ends with making a vendor payment and accounting reconciliations.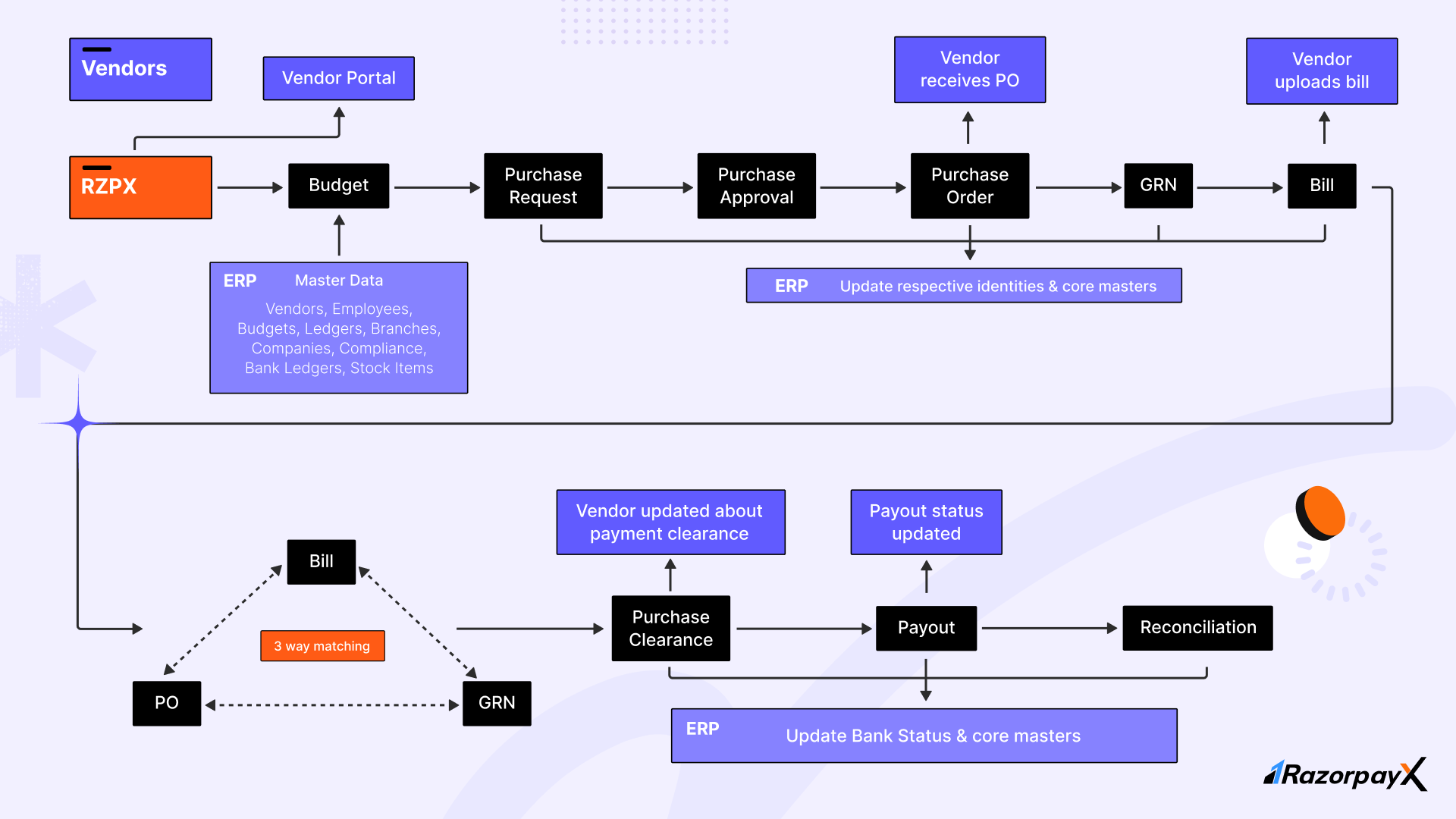 Vendor payment is the final step in this process; when the business pays external suppliers or vendors against the invoice raised for goods or services. 
Vendor payments can be a complex and time-consuming process. It is very important to make these payments on time – delayed payments result in a deteriorating relationship with your vendors, and a delay throughout the supply chain. 
Importance of Vendor Payments 
Good vendor payments help maintain a good relationship with your vendors. Here are the reasons businesses invest so much in a good vendor management system.
Builds trust and reliability:

Vendors trust businesses that pay them on time and in full. This ensures a healthy and mutually beneficial relationship between the vendor and the business. 

Resource availability:

Vendors, as long as they are paid on time, can continue to provide the business with the support they need, meaning the business has access to high-quality goods and services throughout. 

Avoid penalties:

Avoiding late payments or delays can reduce the risk of having to pay penalties or fines. It also improves the business's credibility with the vendor and may contribute to increasing credit limits. 

Reputation building:

Vendor payments help improve a business's reputation – when businesses pay their vendors on time and in full, it shows that they are a responsible and ethical business. This can help attract new customers and partners, and can also help to improve a business's credit score.
Vendor Payments Process
Paying vendors is the final part of the larger vendor management process, which starts with procurement and ends with payment. 
This entire process has recently become streamlined and straightforward with the introduction of tech-enabled solutions like RazorpayX Vendor Payments. 
Here are the steps in the vendor payment process: 
Step 1: Obtain the invoice from the vendor or supplier and validate accuracy and completion via 3-way matching of Bill, Purchase Order and Goods Receipt Note.
Step 2: Calculate and account for any advances or applicable taxes, such as TDS according to income tax regulations and ITC under GST.
Step 4: Deposit the TDS amount with the government within the deadlines specified in the Income Tax Rules, using the prescribed form where necessary. 
Step 5: Regularly reconcile the data in GSTR-2A and GSTR-2B with your purchase register. Follow up with vendors who haven't uploaded invoices that qualify for ITC and encourage them to report these in their GSTR-1. Include such ITC in your GSTR-3B return, which can be filed monthly or quarterly, depending on your business.
Step 6: Before the invoice due date, obtain approval from your business's authorized signatory to initiate or complete the invoice payment. 
Step 7: Reconcile vendor payments with accounting software such as Tally or SAP.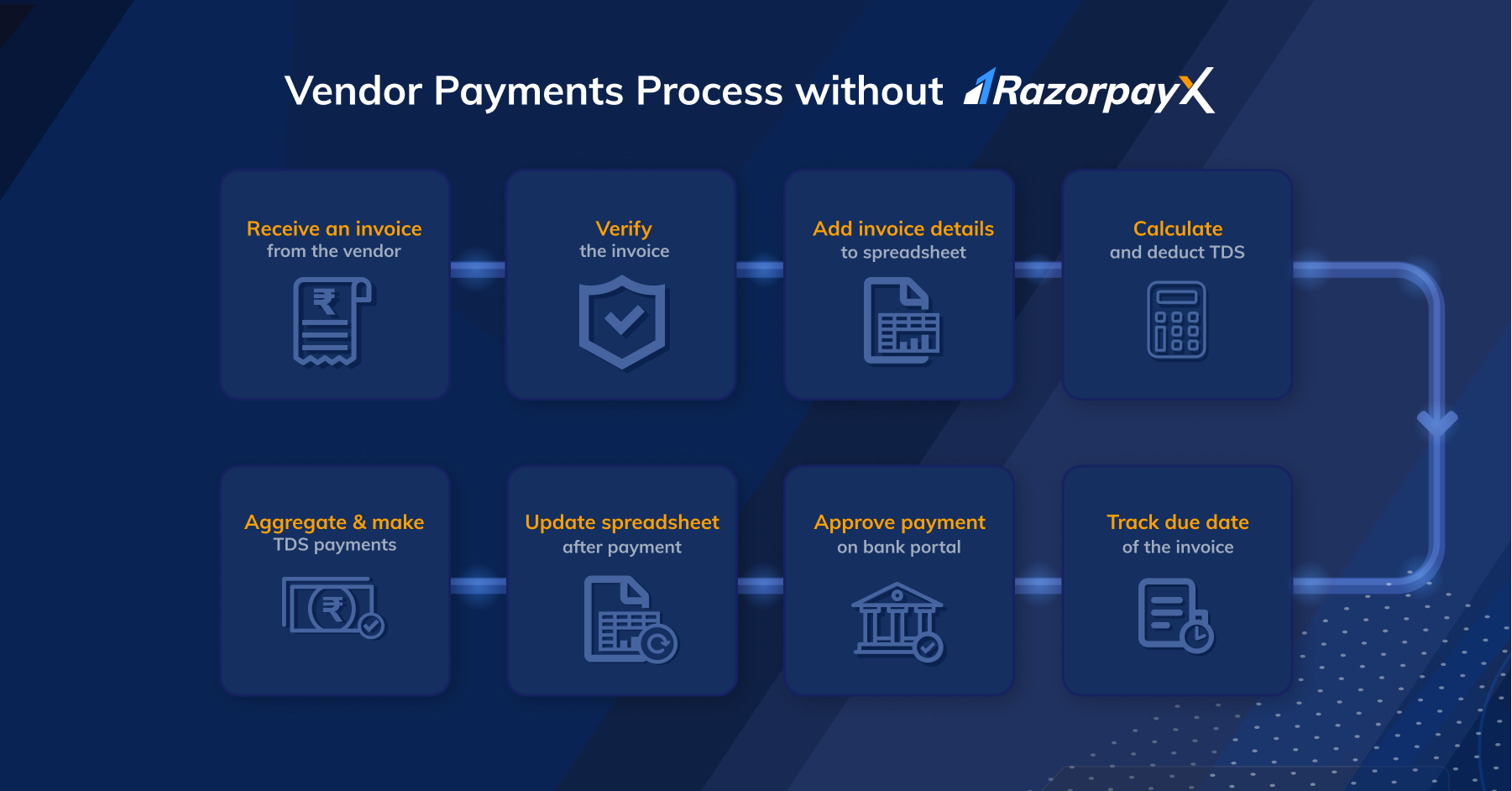 How to Manage Vendor Payments?
Paying vendors can be a complex process, and the repercussions of errors can be overwhelming. 
Previously, businesses would manage vendor payments on spreadsheets. Since this was a manual process, this resulted in delays and mistakes. 
Today, tech-enabled solutions have automated the entire process of managing vendor payments, making it easier, faster and smoother than ever before. 
Complicated compliances like TDS or ITC can now be calculated automatically with zero errors

Automated invoice sourcing and management 

OCR-tech automatically reads and auto-fills vendor information

Scheduled payments ensures no delays and no penalties

Auto-reconciliation and sync between accounting software and vendor payments 
Read more: How RazorpayX Vendor Payments helped BeerBiceps achieve YouTube success
RazorpayX Vendor Payments is an all-in-one solution for enterprise-level vendor management. With all the features above and so much more, RazorpayX will soon be ready to manage your vendors right from procurement to payment. 
What is RazorpayX? 
RazorpayX is a banking solutions suite for businesses – the best modern fintech innovation has to offer. Vendor Payments is one of our several offerings; from payroll to payouts, we have everything you need right on one dashboard.