You can pre-populate the input fields on your Payment Page such as name, email and contact and send customized Payment Pages to customers.
| Name | Email | Phone Number |
| --- | --- | --- |
| Saurav Kumar | saurav.kumar@example.com | 8999999999 |
| Bhairav Kumar | bhairav.kumar@example.com | 9999888899 |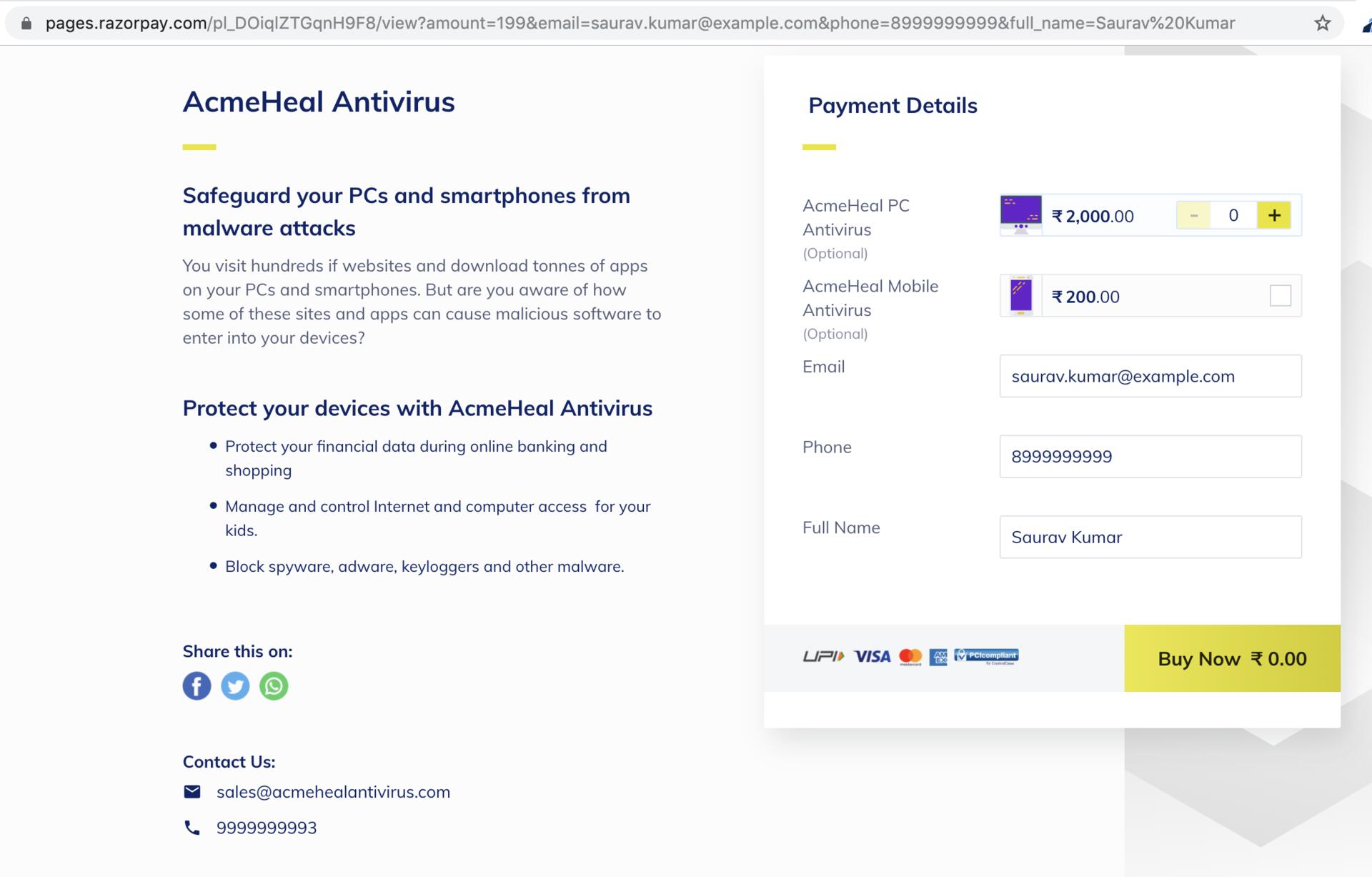 To pre-populate input fields:
On the Razorpay Dashboard, create a Payment Page titled Registration.
Fill in the details of the event such as description, venue, time and more.
Create a price field of any type in the Payment Details Section.
Create an input field with type as Single Line to capture the customer's Full Name.
Save and Publish the Payment Page.
Copy and paste the Payment Page short URL on the browser.
When you open the Payment Page short URL on the browser, it expands to a longer format. For example:
Payment Page Title - Registrations
Short URL - https://rzp.io/l/pcsLir1
Long URL - https://pages.razorpay.com/pl_CjbpJ6gnwk6Ehy/view
Here, add suffixes to the field names and values as shown:
| Field Name | Mandatory to create Payment Page | Value |
| --- | --- | --- |
| email | Yes | saurav.kumar@example.com |
| phone | Yes | 8999999999 |
| full_name(_ denotes the space between the field name words) | No | Saurav%20Kumar (%20 denotes the space between the field value words) |
The long URL appears as shown:
https://pages.razorpay.com/pl_DOiqlZTGqnH9F8/view?amount=199&email=saurav.kumar@example.com&phone=8999999999&full_name=Saurav%20Kumar
This is a unique URL that can be shared with the customer named Saurav Kumar to accept payments from him. It appears as shown below: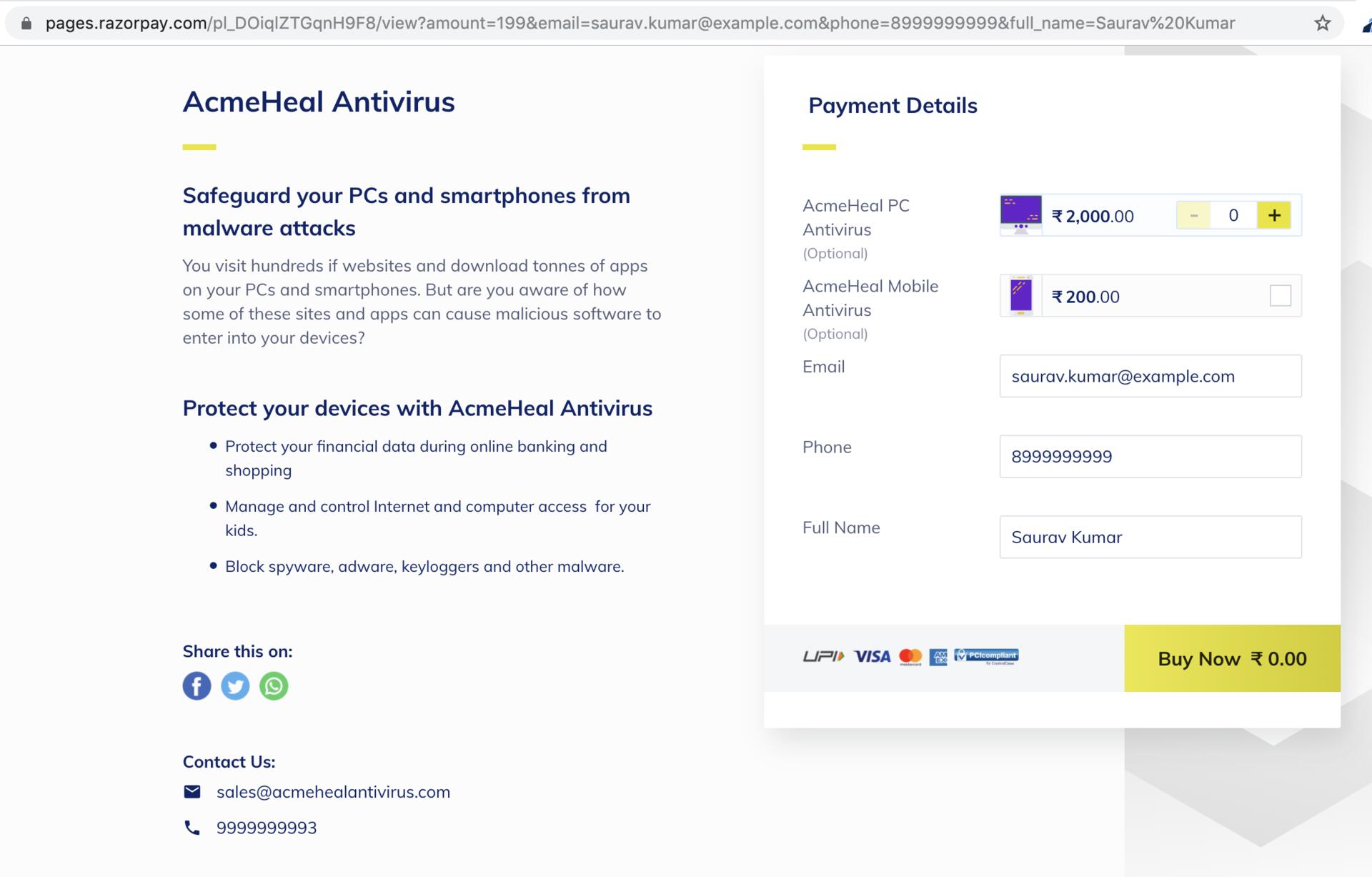 Similarly, you can add suffixes to these field names and values and create different versions of the same Payment Page for different customers.

Payment Page appears customised for Bhairav Kumar: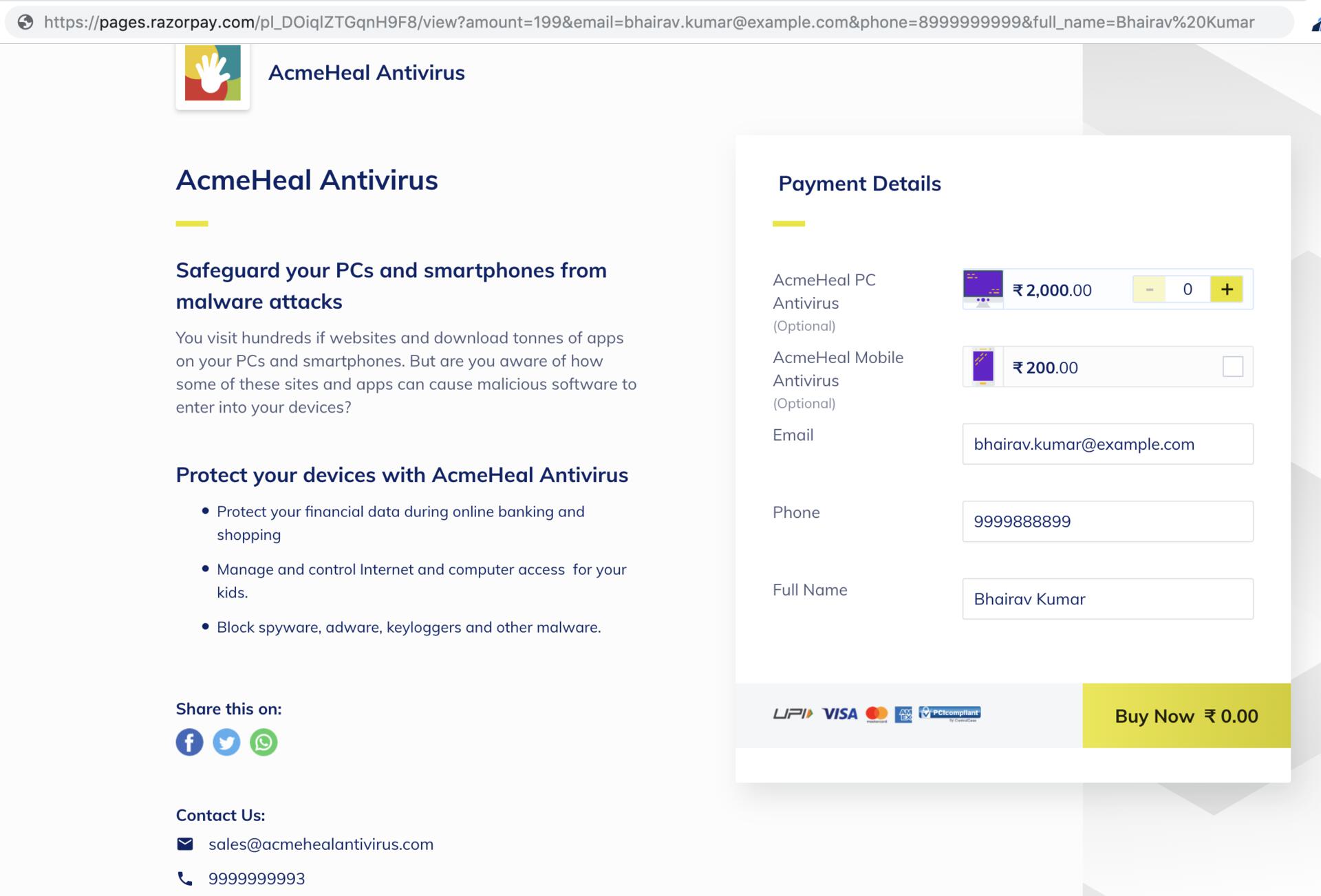 Handy Tips
Ensure that you use only lower case when suffixing field names and values in the long URL. However, you can use upper case in values of custom fields such as Full Name.
Remember that the field-level validations are in place. Hence, if you enter a character in amount value, say amount=1oo or amount=Rs.Hundred%20only, the field will not get populated.
If the custom field consists of two words, ensure to include an underscore as a separator of two words. For example, the two words in the Last Name field should be separated by an underscore. That is, Last_Name.