Employers in India have to mandatorily go through PF registration if they have a minimum of 20 employees. 
Eligible employers need to register all their employees on the EPFO portal. EPFO assigns a 12-digit Universal Account Number (UAN) to every employee. Like Permanent Account Number (PAN), UAN is also constant throughout the employee's life. 
Every time an employee changes their job, EPFO provides a new member identification number (Member ID) that is linked to the employee's UAN. 
Employees, who already have a UAN, should provide it to the new employer on joining. This will enable the employer to mark a new Member ID to the already existing UAN. If an individual is employed for the first time, the employer will have to get UAN generated for him. 
Read on to know how you can generate UAN through EPFO portal for your employees, what documents are required for PF registration of employees. And, how RazorpayX Payroll does away with the tedious task of employee PF registration. 
How to generate UAN through EPFO portal
If an individual is starting their career with your company, you will have to get UAN generated from EPFO portal for them. 
Here's the step-by-step guide for UAN generation. 
Visit the

EPFO website

and log in using your establishment ID & password

Place your cursor on the '

Member

' menu tab and click on '

Register – Individual

' 

On clicking 'Register – Individual', the member registration form will be displayed. By default, previous employment option would be 'No' that is valid for all first time employment cases

Fill employees details

in the form. All the mandatory fields are marked with a red asterisk

After that,

enter KYC details

like PAN, aadhaar number, bank details, etc.

After filling all the fields, click on

'Save'

Once you click on save, a dialog box appears asking – '

Are you sure you want to save the member detail?'

. Click on

'Ok'

If you want to edit any details, click on the '

Edit

' column against the employee name

Then, a

new UAN is generated

by the EPFO
Documents required to generate UAN
Following employee details are necessary for UAN generation.
Bank account details like account number, IFSC code, and branch name

PAN 

Aadhaar number

Other ID proof like driving license, passport, aadhaar, voter ID, etc. 

Address proof like a recent utility bill, rental/lease agreement, ration card, etc.
Please note that it is important for your employees to have UAN linked to aadhaar. 
How employees can find their UAN
Visit

UAN

portal

Click on '

Know Your UAN

' on the right downside of the portal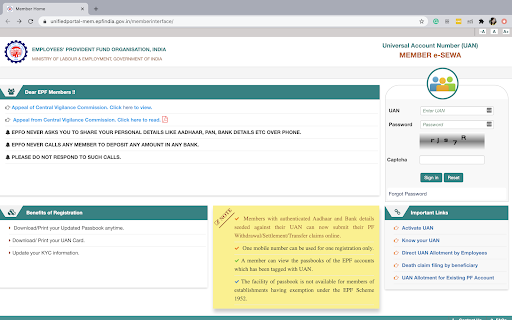 Enter '

Mobile Number

' and '

Captcha

' appearing on the screen. An OTP will be sent the mobile number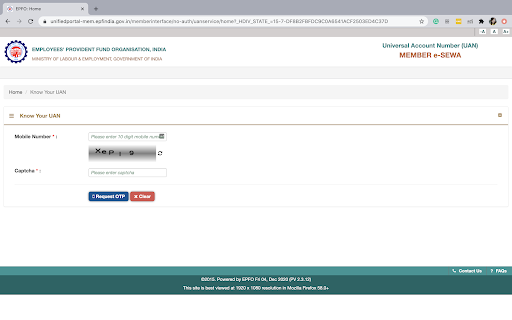 Validate 'Mobile number'

by entering the OTP and captcha
Once the OTP is validated, employees will have to

enter the details

like name, date of birth, aadhaar number/PAN and captcha appearing on the screen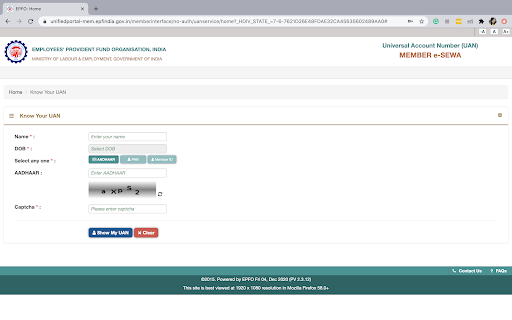 Then, click on

'Show my UAN'

and employee UAN will be displayed on the screen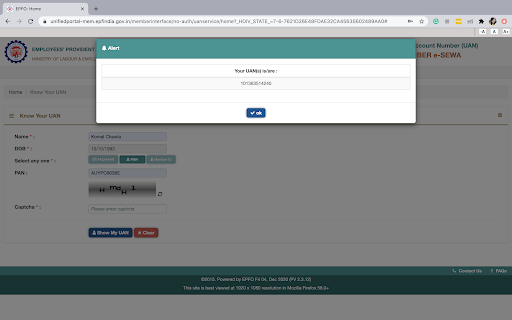 RazorpayX Payroll
As an employer, you spend a lot of collating documents from employees, applying for their UAN generation and sharing UAN with them.
With RazorpayX Payroll, you can do away with all such time-consuming payroll tasks. The software handles UAN generation and PF registration for employees automatically. 
You just have to fill and submit the employee compliance form along with details like date of birth, date of joining, aadhaar number, gender, nationality, father's name, etc. All these details should match employees' aadhaar details. 
And, we take care of the rest automatically. Also, your employees can easily get their UAN through their monthly payslips. They do not have to visit the UAN portal to know their UAN. 
RazorpayX Payroll not only automates PF registrations for employees but also takes care of the entire payroll process. Try it out now!