When was the last time you spent an afternoon watching baby videos on YouTube one after the other without keeping a track of time? Yes, this blog is one of those about YouTube marketing! ?
YouTube has emerged as one of the most entertaining sources for people worldwide and at this point in time, it is emerging as an essential tool for marketing for every business. 
According to the 'State of Inbound report', nearly half of all the marketers (48%) plan to add YouTube into their marketing strategy over a span of the next 12 months. It's time you get the basics of YouTube marketing clear in your head to make the best of this platform.
YouTube marketing: Basics simplified
Before you dive deep into investing your time and energy in YouTube marketing, remember that maintaining a YouTube channel takes a lot of time and planning. Unlike other social networking platforms that accept a wide array of media formats, YouTube bids only on video-based content. 
Make sure you do not rush into uploading just one or two videos without a long-term plan for your channel. Being consistent is one of the prerequisites when you kick off with YouTube marketing. Define the goals and the plans for yourself. Set aside ample time to plan, film, edit, market and analyze your content on a regular basis. 
Lastly, if you make it a point to devote enough time and energy into the platform, you will be able to churn out engaging and shareable content for your audience and bring in more and more traction in the long run. 
#1 It all begins from Google! Create your Google account or set up your channel
YouTube is owned by Google. Which means, when you sign up for Gmail, you automatically get access to YouTube, along with a lot more.  
However, the above-mentioned case is best only if you are an individual and do not want anyone's intervention in managing your YouTube account. But when it comes to building YouTube marketing from scratch for businesses, it is always recommended not to tie personal emails with a business YouTube channel. 
The main reason is, sooner or later, you might want to share access to the YouTube account with your team or an agency. The key is to create a common email account on Google which can be further used by multiple people.
#2 Make your YouTube account, your 'brand' account
Once you have your YouTube account ready, it's time you update and edit your channel preferences. Start with setting up your YouTube Brand Account. The difference between a generic account and a brand account is that a brand account will allow users to manage edit permissions and give a more concrete picture to you about various verticals your business comprises of. 
1. To start with, visit the profile icon on the top right corner on the YouTube homepage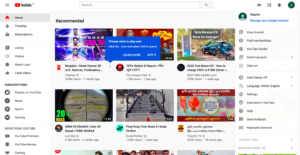 2. In the pop-up that appears, click on 'Your Channel'
3. You will get an option to create a channel. Make sure you do not enter your name and rush in. rather, click on 'Use a custom name' that appears on the left
4. You will now get an option to create a brand account. Enter your business name and click on 'Create'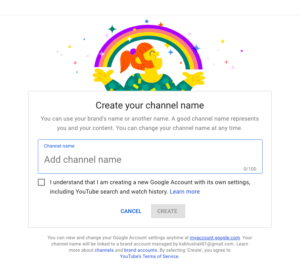 Pro-tip: Unlike Gmail accounts, you can change your YouTube name by visiting your account settings. So do not worry, if you are not 100% sure about the selected name.
#3 Now, customize your channel to start with YouTube marketing
After getting all your basics in the right place, it's time you make your account look appealing to anyone who knocks. 
1. Click on 'Customize Channel' to get started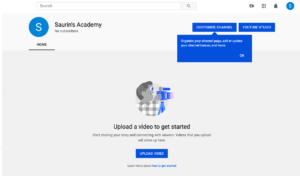 2. The first step is to make the visitor navigate further once they land on your channel. Add a channel icon and channel art
Pro-tip: Make sure these are easily recognizable and consistent with your overall branding.
3. After uploading your channel icon and channel art, add a channel description, a company email and links to your company website and other social media platforms under the 'About' tab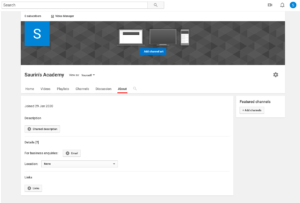 With this, you have updated the basics of your profile. Now, you can go on to add some final touches. 
Pro-tip: YouTube allows you to customize the way your channel looks to your subscribers and the way it looks to your unsubscribed visitors. 
One of the major advantages of the above-mentioned secret is by creating a YouTube channel trailer. This is a video version of your description and is shown to the visitors who have not yet subscribed to your channel. 
Source: OptinMonster
With this, you have mastered the art of starting with effective YouTube marketing. As mentioned above, remember to stay consistent. Keep your videos short, on-point and with high resolution.
Pro-tip: Ideally, It is recommended to always keep your video's quality from 720p to 1080p which is considered high definition (HD) on YouTube.
Check out Razorpay's YouTube Channel. (also, subscribe for some awesome Fintech content)
YouTube marketing essentials
Basics aside, it's time to talk about aesthetics and privacy!
Who all can access your YouTube account and at what levels
Right before you start with your YouTube marketing efforts, take care of one of the most sensitive aspects of this: access, security and privacy. Granting different levels of access to your team members will help manage the channel through their own Google accounts.
When you grant access to a Google account, there are three options for roles:
Owner:

The owners have full editing power over all the company Google properties. They can add or remove managers, edit business information, respond to reviews, and more

Manager:

Managers have almost the same editing powers as those of Owners. But they cannot add or remove page roles or remove listings. Anyone editing a YouTube channel must be a Manager or an Owner

Communications Manager:

Usually this access is granted to the ORM and the support team of the organisation. Communications Managers can respond to reviews and do several other actions but they cannot use YouTube's video manager, upload content, or view analytics
Once you start YouTube marketing, it gradually starts building itself as an extension of your brand and hence, it is important to treat it as one. Here are some quick guidelines to help you:
Channel name:

Your channel name shows up with every video you publish. So, it's important to keep it relevant and consistent with your other social media sites and overall branding

Channel icon:

Google, the parent organisation of YouTube recommends using an 800 * 800 px square or a round image. You can consider using your company logo. If you are an individual creator, consider using a professional image

Channel art:

The rule of the thumb is to use high-resolution images and videos across channels. The recommended quality to upload a channel art is 2560 x 1440 px

Channel description:

Make sure your description is SEO optimized and provides on-point information about your company and what viewers should expect from your YouTube channel as a whole

Channel trailer:

People's attention span is ever decreasing. This means that from the moment they land onto your channel to the first 30 seconds, anything you show has to be super catchy. In this context, this means that the trailer that you put up on your homepage for new visitors has to be encouraging them to be a subscriber

Channel URL:

Your channel gets eligible for a custom URL if you have over 100 subscribers, a channel icon, channel art, and is more than 30 days old. Also, you can just change this URL once in a lifetime so just be a little more cautious! 

Channel links:

Lastly, when you get everything in place, link all of the active social media channels. Cross-connections, you know. Make it easy for subscribers to connect with you on all the possible channels
To conclude, we can say that with more than a billion monthly active users, YouTube is not more limited to an off-hour entertainment platform. It has become a hub of knowledge, awareness and a lot more. 
Video drives 157% increase in organic traffic via search engines and this is BIG. Hence, YouTube marketing is a modern-day tool to meet all your targets and be on top of the users' mind always. 
Recommended Read