A shipping label is a type of identification label that helps describe and identify the contents of a container or a package. These labels contain crucial information like addresses, names, weight, and tracking barcodes. 
Though shipping labels may seem like a tiny piece in the e-commerce domino, they are critical to both inbound and outbound logistics and are also vital to your online store's success, reach, and customer satisfaction.
Also read: E-commerce Shipping: Best Strategies and Practices
Through shipping labels, you can monitor and keep control of your orders, create a good customer experience, increase brand loyalty and customer retention, and ultimately increase profits. 
Since shipping labels contain crucial information regarding the orders, they play a crucial role during an inspection at any time in the supply chain management process. 
Through the use of the latest technology and automation, the days of giving out manual instructions about where to ship the order and how to process them are over. Nowadays, automated printed labels are required to ship the product to your customers. 
Also read: Inventory Days on Hand: Calculation, Definition, Examples
How do shipping labels work? 
A modern-day shipping label generally has the following information specified:
Origin and destination address

Weight of the package

Internal shipping information

A bar code for tracking

Priority of the order
The above information is critical for delivering your orders where they need to go as quickly as possible. This is especially important if your online store offers more than one shipping option as your customers want to get what they paid for and awaited. 
The below image is a generic example of a shipping label. The shipping carrier you choose to ship your packages with may have some additional fields on its preferred labels.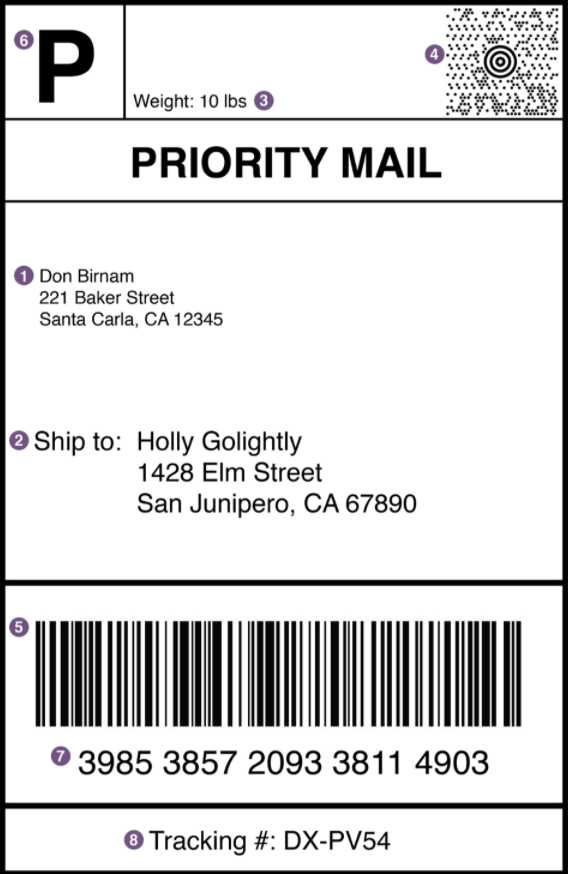 Without a just shipping label, orders can be delayed in transit, delivered to the wrong address, or get misplaced completely. Any of these situations lead to either a financial loss or a loss of customer trust, which makes a clear shipping label all the more important. 
How to create a shipping label? 
Businesses that ship out only a few packages a week often make the mistake of purchasing labels in a carrier's office, as they are paying for postage charges at the retail/bulk rate, which is a very expensive road to take. 
To save time and expenses, you can create a shipping label yourself. In doing so, you can take the advantage of postage discounts, and make pickup arrangements from your desired location with the carrier. 
You can create a shipping label manually through your carrier's services. As long as you are shipping a low volume of packages, this should do you no harm. Simply visit the carrier's website, fill out the needed information in the shipping label template, and then download the file and take a print-out. 
Carriers like UPS, FedEx, USPS, and DHL for instance are examples of carriers that can do the needful in creating shipping labels.

Though there is also an option of handwritten shipping labels (as long as it's eligible), you will still need a carrier barcode, which has to be generated by the carrier. Depending on the number of orders you have, handwriting shipping addresses can become time-consuming. So, you're better off using the variety of online tools that make the process easy and less cumbersome.
Template for shipping labels
Shipping labels are designed, printed, and used by e-commerce companies to expedite their delivery rate of orders. Certain labels are usable only by specific companies and can't be used by other businesses. 
Shipping carriers like UPS, DHL, FedEx, Amazon, etc. use specific templates for their shipping labels. This helps them and the end-consumer to monitor and track their order. Tracking the order's point of delivery is easily possible only through these shipping labels.
Shipping labels usually come in different shapes, sizes, and colors, as the labels are order-specific and customizable. This flexibility attribute of the labels makes tracking of individually placed orders much-much easier and efficient.
Before printing the final shipping label on the desired order, many companies go through a sample process of these labels. Once the sample(s) have/has been approved for printing, the shipping label making process is complete and the order is dispatched for delivery.
Print your shipping label today!
Shipping is a pivotal part of the selling process. Yet it's something that many people overlook. The more you know about printing labels, choosing the right carrier, and using the right packaging, the more efficiently your business can operate.
For all or any of the order tracking and delivery processes, the customer needs to be kept in the loop and be informed about the delivery process, as customer satisfaction and retention is the ultimate objective.
Irrespective of whether you are just starting out in the e-commerce industry or not, you need to partner up with a reliable shipping carrier to take care of your shipping needs to tackle the huge problem of RTO
When orders cannot be delivered and have to be shipped back to the warehouse, that is RTO. This puts a significant cost burden on e-commerce businesses as they lose a lot of money in shipping it back and forth and during transit as well.
So what's the way out?
With Razorpay Thirdwatch, you can now detect fraudulent factors before shipping the order and significantly bring down RTO rates. Furthermore, you can detect impulse purchases, non-deliverable addresses, irregular purchase patterns, and send payment links to your customers! 
You can choose from a variety of features such as Order Confirmations, PrePay CoD, Address Correction, and many more, that will help upscale your e-commerce business like never before!