The shipping address problem in Indian e-commerce is a unique scenario. This arises mainly due to the diversity in geographies, languages and user behaviour across different regions in India.
In this article, we will be looking at some problems that are specific to India, how e-commerce businesses are affected by it, and best practices to overcome this problem. We will also be introducing Razorpay Thirdwatch's industry-first feature, Address Correction, to help e-commerce businesses tackle the problem of losses from incorrect and non-deliverable shipping addresses.
The address system in India
Addresses are one of the fundamental concepts by which people perceive locations in the modern world. Correct shipping addresses are especially important for e-commerce business to run their operations smoothly. At a broader level, addresses can be classified into two categories:
Relative addresses

: Refers to the addresses that are defined as a consequence of landmarks/points of interest near them. 
An example: "Across the street from Tanto's, Auroville, Pondicherry." 
Absolute addresses

: Refers to addresses that are identified by their own location/name.
An example: "No.231, 2nd cross, Lloyds Road, Chennai, Tamil Nadu, India-600014."
India has 35 states and Union Territories, approximately 650 districts, about 6000 tehsil/towns and 30,000 postcodes. The administrative hierarchy in India is as follows:
State → District → Tehsil/town → Ward → Locality/village → Sub-locality → Block/pocket
Addresses come in a variety of formats all across the country. However, here are some commonly found elements in an Indian address:
Person's name

: Can sometimes be a primary identifier, especially in smaller cities and towns. In some cases, packages may also be addressed with an alternative person of contact under 'c/o' or 'care of'

House or building name/number

: Unlike Western addresses and geography, some Indian regions such as Kerala have house 'names' for identification purposes

Street name

: Refers to a street name in a particular ward that acts as an identifier in the address. In case of Tier 3 cities and villages without defined lanes/avenues, street names are usually missing and can become a bigger problem for e-commerce sellers

Area/locality:

Refers to a sub-locality within a village/town/city. A group of areas/localities are usually categorized under one pincode
Also read: The Beginner's Guide to Acing E-Commerce Shipping
Disadvantages of the Indian address system
The address system in India, while in operation, is flawed in many aspects. Let's look at how it works:
Addresses in India are spatially captured only on demand, rather than homogenous capturing. This leads to irregularities in address capturing and identification

A considerable portion of streets in Tier 3 cities and small towns with no names or unstructured addresses

Presence of unstructured areas such as slums that keep frequently shifting, making it difficult to keep track

Lack of reference datasets or GIS data infrastructure, making it difficult to build a GPS system in remote locations

Lack of a comprehensive, hierarchical data structure in smaller cities and towns
Faulty addresses- A closer look
An address can be declared 'faulty' due to a plethora of reasons. Whether it is incomplete, ambiguous or simply, non-existent, it will be categorized under a faulty or 'risky' address.
These faulty addresses are one of the major reasons behind RTO or Return to Origin losses for e-commerce businesses. In an attempt to achieve last-mile delivery with these faulty addresses, companies lose millions every year in shipping back undeliverable orders.
Here are some reasons why an address is considered faulty:
Unnecessary information – For example– 26 Mahatma Gandhi Road (on weekdays), Raheja Towers (on weekends), Dhule, Maharashtra, India"
Ambiguity – For example– Sarjapur road, Bangalore (come to the tea shop and ask for XYZ and they will guide you)
Spelling errors– More often than not, spelling errors in shipping addresses can be dangerous for e-commerce businesses. Spelling errors can cause confusion in addresses and can lead to potential returns.
Invalid addresses – Addresses that do not specify details such as house number, street or certain inroads, addresses that do not have matching pincodes, etc. are also considered faulty.
Incomplete addresses – For example– Mr. Rahul Singh, Raj Bhavan, Chandigarh– is an incomplete and vague address that simply cannot be delivered due to the lack of elements such as pincode, contact details, street name, etc.
Poor explanation of landmarks – For example– 21, North Crescent lane, opposite to blue building, Pune, Maharashtra– can cause confusion to the delivery personnel who may not be familiar with the area as a local postman would.
The impact of bad addresses on e-commerce businesses
The economic impact of bad addresses in India is significant: EmergingWorld's estimate from the top industries indicate that poor addresses cost India $10-14B annually or ~0.5% of the GDP.
Click To Tweet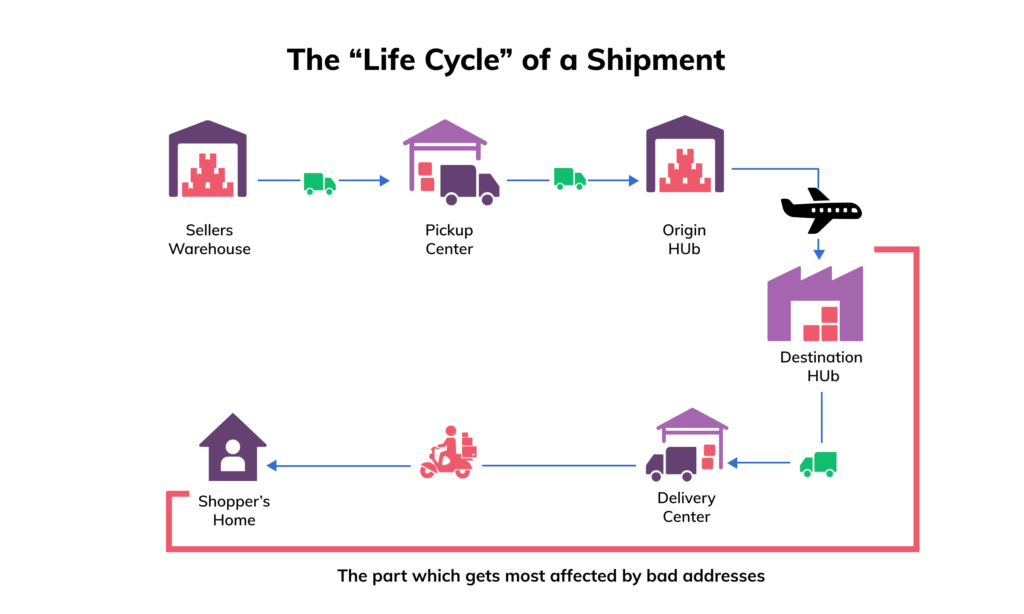 From our shipping address observations across the e-commerce industry, we have processed at least 15 million unique addresses till date and there are many disparities that we noticed– local abbreviations, colloquial neighborhood names, points-of-interest, embedded unclear directions and variations due to local languages being transliterated in English for writing. 
To top it all off, studies show that on average, 20-30% of written pin-codes are incorrect. This can put a significant strain on business as any e-commerce company trying to optimize their operations cannot do so without knowing where they need to deliver their product.
However, it's clear that in the absence of an accurate location of your customer's delivery address, it becomes harder to:
Create routes for the "last-mile" delivery personnel

Decide which Delivery Centre should perform the "last-mile" of the delivery

Decide which Destination Hub should the shipment fly to

Achieve successful delivery rates, since RTO rates shoot up due to unsuccessful orders
How Thirdwatch is solving the address issue
We, at Razorpay Thirdwatch, are ecstatic to inform the latest addition to our Thirdwatch AI suite- Address Correction. As elucidated above, the address problem in India is a unique one, with many different variations of addresses across different states. 
 It is also a known fact that a good portion of RTO orders is caused due to incomplete and non-deliverable addresses. This can be due to the diversity in addresses in different regions in India. So, what's the way out?
With the all-new address correction feature, you don't have to worry about these incorrect addresses and returns due to them. This feature will help e-commerce businesses identify the risk reason behind an order, filter out risky orders according to incomplete/incorrect addresses, and then send the customer a message to correct the address.
Identifying risky shipping addresses for your e-commerce store can significantly cut down return rates and improve deliverability and success rates across your business. With our vast database of addresses that we have processed, Thirdwatch's AI engine helps you accurately identify and correct these incomplete addresses in question.
What's better? Thirdwatch's accuracy gets better with time. The Thirdwatch engine adapts to your business needs and improves with time, providing you detailed insights and easy ways to communicate with your customers about non-deliverable addresses.
Through Order Confirmations, you can additionally send confirmation messages via SMS, email and IVRS to double-verify and prevent losses. Here are some more things you can do with Address Correction:
Automate address updation and order confirmations

Decrease chances of

RTO/cancellation by upto 30%

Regularly and easily engage with customers who place 'risky' orders
Interested to know more about Thirdwatch and how it can aid your business? Click below and get started with a one-month trial to see for yourself!
Also read: How to Provide a Good Shipping Experience