Content is king. Or is it? Can content really be the king if there's an overload of it? Maybe content isn't king anymore, but it surely is very important. 
Content can help a brand build its presence on the WWW. Having this presence is essential because today, Googling is the first thing that a consumer does before purchasing a product or service. It has become our habit to search online and read before we make a purchase decision. And if your brand is not online, then it's unlikely that your potential consumers will convert to paying customers.
Hence, a business needs content for not only their potential consumers to reach them, but also for them to reach their potential consumers. 
So yes, content is important. But before you begin building your content strategy, it's integral that you list down what you want to achieve from content marketing. Some possible content marketing objectives could be:
Build your brand

Rank for relevant keywords

Generate a higher number of leads
Of course, all of these objectives are interrelated. You can't generate leads from content if it doesn't rank well or doesn't give your brand a unique identity. But apart from listing objectives, it's important to also prioritize them. You can't publish a piece of content and expect it to immediately start bringing in business. 
Content marketing is a slow process, sometimes painfully slow. For your content to work effectively and deliver results, you need to be dedicated, consistent, and patient. Your content marketing endeavours have to be long-term and persistent. Rome wasn't built in a day, after all. 
So, let's get down to it. How can a startup, small business or enterprise build a content marketing strategy that works? Largely, your strategy can be split into three buckets:
Ideation

Creation

Distribution
Ideation: Determine what content to create and for whom
As with any marketing activity, narrowing down on your target audience is essential with content as well. The target audience for a B2C business would be different from that of a B2B business, which would also alter the style and tonality of content. 
Even for a single business, the target audience could be different for different types of content. For example, at Razorpay, our TA is not only enterprise clients and smaller businesses, but the customers of these businesses as well. We use content to market our products to big companies, startups and MSMEs. But at the same time, we want the end customer of these businesses to trust Razorpay, which is why we speak to them as well. 
Once a business has understood who its target audience is, it needs to figure out what type of content this TA would find useful and prefer to consume. "Useful" is a keyword here, because you can write about anything under the sun, but it will be of no use if your audience doesn't derive value from it. 
For example, apart from content on how Razorpay products will be useful to them, we determined that our clients and customers would also find it useful to learn how they can grow their business. This is why we create content that is not directly related to our products, but which can help businesses with other functions like technology, marketing, taxation, etc as well. This article falls into that "other" bucket as well. 
Finally, you also have to create content that your target audience is actively seeking. Carry out a keyword analysis to find out what they are searching online for. A keyword analysis will allow you give them the information that they are already looking for.
In Razorpay's case, freelancers were looking for content on how to accept payments without a website or app, MSMEs wanted information on how to register their business and bigger businesses were looking for knowledge around neobanks. Check out the links to see examples of content we created to cater to all of them.
After you have narrowed down on your target audience(s) and figured out the content that needs to be created, put everything down in a content calendar. Set a publishing schedule for at least a year and ensure you the team in place to meet this cadence. 
Creation: Produce and publish content in the best form
So, you have the list of topics that you need to create content around. You know your target audience, so you also know how formal or informal and serious or humorous you are going to be. It's now time to start creating.
The content you create can be in the form of:
Articles

Videos

Infographics

E-books

Whitepapers

Case studies

Podcasts

Webinars 

Social posts
Of course, you don't need to create everything. The persona of your target audience will help you prioritize the content types to create. Articles and videos should be on the top of the list for most businesses. 
For Razorpay, the articles are in the form of blog posts about our products or services, knowledge pieces about business functions, data stories around current trends and thought leadership opinions about the industry. Put together, these article types have helped us give our readers information, ideas and knowledge in a variety of ways.
Up next are videos, which are as important as articles because of two reasons: 1) People prefer to watch videos than read articles and 2) YouTube is used as a search engine to seek information. At Razorpay, we create two types of videos:
We publish articles and videos on a regular basis to ensure that our readers and viewers have fresh and engaging content to consume every time they visit us. 
Among the other forms of content, a business should create what they believe would work for them. It's a good idea to experiment as well. Host a couple of webinars to see the kind of response you receive. Release an e-book or three and check the kind of traction they get. 
Case studies are important because they are actual validation of how your products or services help your customers. Case studies are likelier to turn a potential customer into a transacting user than most other types of content, especially if your potential customer is from the same industry as your existing one. 
Infographics and social posts are a great way to get your content shared across various channels. They have the potential to go viral and increase your brand's reach by leaps and bounds. 
While creating and publishing content, it is important to ensure that it is consistent with your brand's voice and style. But at the same time, there is no reason to stay stuck with one style or voice. Forms of content that allow you to experiment can be used to project a humourous or cheeky side of your brand, as long as you ensure you are not being offensive, rude or disrespectful. 
Distribution: Take your content to your target audience 
So, your articles are published and your videos are uploaded. What do you do next? You can wait for somebody to find their way to your website and check out what you've created. But the internet is a fishmarket. The chances of somebody chancing upon your content are very low. It's you who will have to go to them.
Distributing content is a function that creators often neglect. It's a project by itself. This is where the "marketing" part of content marketing comes in. After you have published your content, you have to put it out on the right channels to reach your target audience. You have to go where they hang out.
The most obvious place to begin is social media. Every piece of content that you produce should be put out on your social media channels. These include platforms like Facebook, LinkedIn and Twitter, to begin with. Instagram is probably not the right place for articles, but your infographics would do well there. Apart from these regular channels, you can also explore other social platforms like Reddit, Pinterest or SlideShare. 
While posting on social media, it's not a good idea to spam your audience. But don't post too less either. Try to space out your posts over a day and repost older content pieces as well, since your new followers might not have come across it earlier. 
Another important channel of distribution is newsletters. Your blog should give your readers an option to subscribe to updates via email. And new pieces of content should periodically be sent to your subscribers through the newsletter. Experiment with the layout, subject line and sending times of the newsletter to see which combination gives you the highest open rates and click-through rates. 
Often, your target audience, apart from searching on Google, would be asking questions on Quora as well. This is a big distribution opportunity for you to explore. Answer questions on Quora about your products, services or industry and link it back to more of your content that can be explored. Once in a while, also head over to Facebook and LinkedIn groups to share your content and participate in conversations. 
Finally, the articles you write, particularly data stories or thought leadership pieces, can be distributed through the media and guest blogging as well. PR is an important channel because it opens up an entirely new world for your content and brand. Build strong opinions and give them to the media. They can carry them as exclusive articles, which can later be republished on your company blog. 
In conclusion
There is a lot more to content marketing than what has been covered here. But it's a good place to start. As mentioned earlier, it is important to be persistent and not give up. With content marketing, businesses usually reap the benefits of their hard work after a few months have passed. 
At Razorpay, our content marketing efforts kicked off in a planned manner around this time last year. In fact, Razorpay Learn is less than a year old! We started creating videos a few months later. Of course, we can't give out exact numbers here, but the graph below shows how signups from our content activities have increased month-on-month over the past 10 months.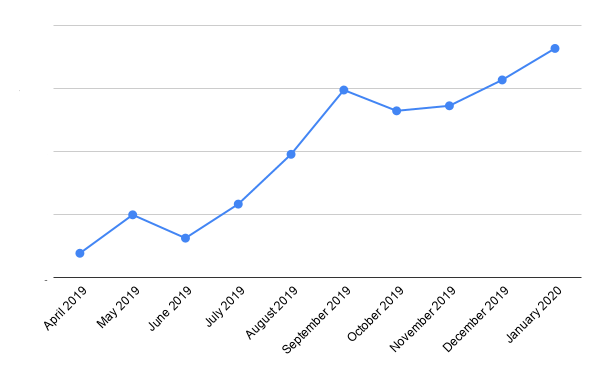 So go ahead and build your content marketing strategy. Start small but keep doing more gradually. Don't be content with the content you have – always aim to create more. And then some more. 
Happy ideating, creating and distributing.