As per a survey conducted across 19 countries by Expedia, 75% of Indians feel vacation deprived which is the highest in the world. 
Are you paying attention to your employee leave management system?
Leave management is an integral part of core HR responsibilities. If you're new at it or wondering what constitutes a good leave management system, you've come to the right place. 
In this blog post, we'll cover everything from what leave management is, why it's so important, types of leaves, and how to choose the right leave management software for your business. Let's get right to it.
What is a leave management system?
A leave management system helps in recording, managing, and tracking employees' time-off requests. Its main objective is to handle employees' leave requests impartially while ensuring that the employees' absence from work doesn't adversely impact the business. 
If you still use paper forms, emails, or excel sheets to record employee leaves, you're heading for a disaster. It can be anything from payroll processing errors, legal compliances, or employee crunch on a particular day.
Contrarily, a good leave management system provides a unified view of employee availability across your company and saves you from all these troubles. Some solutions, like RazorpayX Payroll, also synchronize employee leaves, shift timings, and holidays with payroll for automated payroll processing.
Now, before proceeding further, let's look at the various types of leaves in India.
Types of leaves
There are various types of leaves that are either instructed by the government or willingly provided by the company.
1. Earned Leave (EL) or Privileged Leave (PL)
The employees earn these leaves when they work for a particular period in an organisation. For instance, some organizations provide 1 EL for 23 working days. The employees can avail these leaves without any salary deductions, provided the employees have prior approval from the management (except during emergencies). This leave can be encashed as well.
2. Casual Leave (CL)
These leaves are for short durations and require prior approval from the management. At a stretch, an employee can avail of 3 to 7 days of casual leaves, a number that usually varies across companies and industries.
3. Sick Leave (SL)
The employees can request these leaves if they fall sick and can't work. The employees may be required to provide a medical certificate if the number of sick leaves, at a stretch, extends beyond a specific period.
Some companies like Razorpay are renaming sick leaves to 'wellness leaves' to encourage employees to take leaves for mental health, given the work from home situation. CEO & CoFounder, Harshil Mathur said,
4. Leave without pay (LWP)
When the employees exhaust all their leaves and still need more leaves, the additional leaves result in loss of pay and hence the name. However, the employees can also adjust these leaves against their future leaves if the leave policy allows.
5. Compensatory off or Comp off
When the employees work during holidays, they are compensated with additional leaves that are less than equal to the number of holidays worked. Every company has a different policy for compensatory off.
6. Maternity Leave (ML)
In India, women employees are eligible for 26 weeks of paid leave for their pregnancy, provided they worked for at least 80 days during the 12-month period preceding the delivery date. However, after the birth of the first two children, the eligibility reduces to 12 weeks only.
7. Marriage Leave
It isn't a legal entitlement in India. Employees may be granted anywhere between 1 to 15 days, while most companies offer three days of marriage leave. Also, this leave can be availed only (first marriage in most companies) once during an employee's entire employment period.
8. Paternity Leave
It is a leave type offered to the father of a newborn baby so that he can take care of the infant and the mother. The leave entitlement may vary between 2 days to 4 weeks based on company policies.
9. Bereavement Leave
It is a leave granted to an employee when there is a death in their family so that the employee can participate in the last rites, take care of personal matters, and grieve. The leave entitlement may vary between 2 to 20 days based on company policies.
Why is a leave management system required?
Leave management is an integral part of any organisation for various reasons, such as:
1. Statutory compliances
You must maintain a record of the paid leaves that your employees have taken during a particular period. This information is needed to comply with the statutory requirements of the states.
2. Record keeping
To create & maintain a leave policy, it's essential to record the leaves taken and outstanding balance. Besides, this record also helps the employees to keep track of their leave balance and entitlements.
3. Business operations & planning
You must ensure that the business operations don't suffer due to the absence of some employees. The leave tracker helps admins decide whether to approve or reject leaves based on the availability of resources.
4. Reporting & analytics
It provides a holistic view of the trend in leaves and how it affects the overall operations. You can draw meaningful insights based on the reports and take corrective measures if required.
Leave management challenges
Some of the most significant difficulties companies face in the absence of a modern leave management solution are:
1. Tracking leaves
Leave tracking is the fundamental requirement of a leave management system, but it can be pretty challenging. It is difficult for the management to keep track of employee leaves and attendance with papers and sheets while carrying out important business operations. 
Inability to track leaves properly can result in staffing shortages, workload build-ups, and business losses.
2. Payroll processing error
It's impossible to think of accurate payroll processing without proper leave management. If there is an error in leave tracking, it will subsequently lead to errors in payroll processing. Hence, it is essential to maintain the type of leaves granted to the employees to compute the compensation accurately. 
RazorpayX Payroll's online leave management system is integrated with payroll and ensures error-free employee salary payments.
3. Communication 
Many organisations fail to communicate the leave policies and the entitlements to the employees appropriately. It results in confusion, frustration, and discontent among the workforce. It is an employee's right to know about the organisation's leave policies and the related benefits.
Routine admin activities in leave management
Let us now look at the routine activities of an admin engaged in leave management.
Decide on a comprehensive holiday list based on office location.

Create leave types to ensure employee wellbeing.

Layout pro-rated leave policies based on days, months, and other round offs. 

Decide whether or not to club the weekends or holidays with the leaves.

Configure frequency of leave accretion – weekly, monthly, or yearly.

Set the number of compensatory leaves (if applicable) credited for work done during weekends or holidays.

Create an approval mechanism that clearly shows who approves which type of leave requests.

Create customisation for approvals based on multiple criteria.

Generate comprehensive leave and employee attendance reports.
RazorpayX Payroll: India's best online leave management system and payroll software
RazorpayX Payroll is a cloud-based leave management solution that helps automate and integrate the leave management process with payroll so that a single platform caters to all employee administration needs.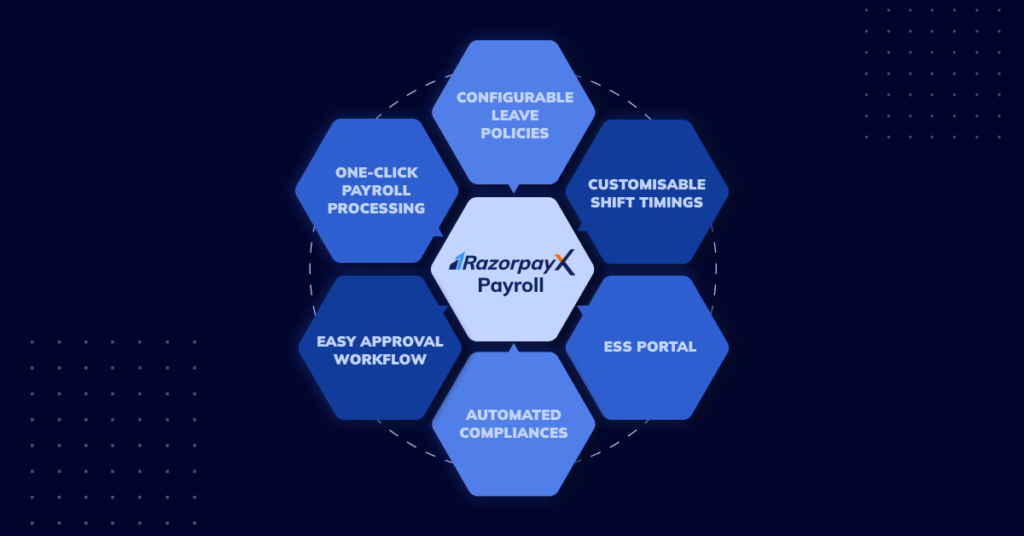 Benefits of using RazorpayX Payroll are:
1. Track leaves from a single dashboard
Your employees can view leave balance from a single dashboard before applying for leaves. An administrator can choose even to allow a negative leave balance in RazorpayX Payroll. RazorpayX Payroll provides a list of holidays in the software; all you have to do is select the checkbox of the leaves you want to incorporate in your organisation.
2. Make a unique holiday list
We understand that 'one size doesn't fit all.' That's why RazorpayX Payroll provides easily configurable fields such as leave types, holiday list. You can add custom holidays that fit your business-specific needs. You can set custom shift timings and track them in the software with just the click of a button.
3. Access it from anywhere
Since RazorpayX Payroll is a cloud payroll software, it ensures hassle-free access to the leave management system online – from any device, at any time. You also get rid of software update hassles and server infrastructure costs. All the responsibilities of managing and maintaining it lie with us.
4. Do it all from Slack
We didn't just stop at cloud. RazorpayX Payroll is integrated with Slack, a business communication platform. With this, employees can apply for leaves and admins can view all leave requests and take action without leaving Slack. Employees can even view the complete list of holidays from the Slack app itself.
5. API ready system
You can even synchronise an existing leave and attendance management system with RazorpayX Payroll through API. It will automatically fetch the data and include it while making month-end payroll calculations.
So, what are you waiting for? Sign up for RazorpayX Payroll today and Xperience the combined power of automated leave management and payroll system.
Or you can also book a demo with us. We'll be happy to walk you through our solution and answer any questions you have.