The cloud payroll software industry has witnessed a whopping growth over the past few years. Its global market size will reach US$ 10.8 billion by 2027.
Businesses, small or large, are gradually shifting from legacy payroll systems to cloud payroll due to operational efficiency and cost savings.
If you're wondering what cloud payroll software is and whether your business needs one, you've landed on the right page. Let's get started.
What is cloud payroll software?
Cloud payroll software is a payroll management system that collects, manages, and maintains employee data to automate employee payments remotely—on cloud.
Further, well-designed cloud payroll software can help a business lower its operational costs while staying aligned with the latest financial and legal obligations.
It helps manage your employees, right from their onboarding to exit stage, with nothing but a computer and an internet connection. It's highly beneficial when your employees, including the HR department handling payroll, is working remotely. The salary can be disbursed from anywhere securely, with the click of a button.
9 Eye-opening benefits of cloud payroll software
Let us now dive deeper into the key advantages of using cloud payroll software for your business.
#1 Lower operational costs
With cloud payroll software, companies don't need to incur upfront costs of purchasing legacy on-premises systems such as hardware and server infrastructure. It also eliminates the expenses associated with hiring people required to maintain such systems.
Cloud payroll software is a disruptive technology, and that's why the costs are affordable for businesses of all sizes, even startups. Some software, like RazorpayX Payroll, even come with a forever free plan.
Even maintaining & upgrading cloud payroll software is easier than legacy payroll management systems. Usually, it's updated by the vendors once or several times a year with very little to no involvement of your in-house IT team. The responsibility of maintaining it also lies on the shoulders of the vendor, making your life easier and stress-free.
#2 Faster and more efficient
Legacy payroll systems can't keep up with the needs of the fast-paced, well-connected, and data-driven world we live in. Even a legacy system of the highest standards falls short of cloud payroll software as the latter requires fewer resources & time to complete similar tasks.
Moreover, cloud payroll software allows access to the payroll & employee information from anywhere at any time. This allows your HR or finance team to respond faster and more efficiently to employee requests & queries.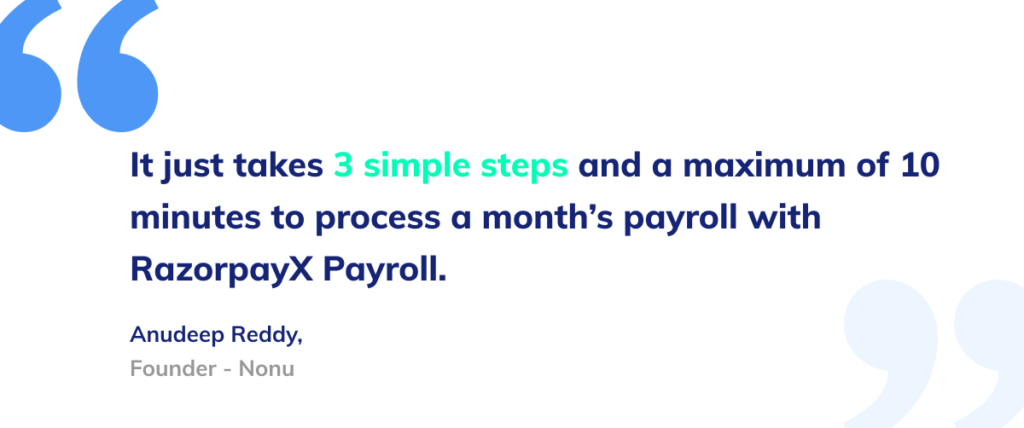 #3 Automated compliances
Cloud payroll software automates compliances like TDS, PF, ESI, PT and their return filings. It also helps organisations comply with the changing regulations on the fly. This automatic compliance feature is particularly useful because of frequent changes in regulatory laws & tax obligations, like when the government introduced the dual tax regime law. 
When a new law is passed, or any existing law is changed, your staff doesn't have to manually update the payroll system. The payroll software automatically incorporates the changes, ensuring that your business stays compliant with statutory requirements.
#4 Centralised employee data
The HR department handles a large volume of employee life cycle-related data, such as onboarding, compensation, salary revisions, attendance, investment declarations, etc. It is challenging to manage all this information accurately if the employee records aren't centralised. Cloud payroll software allows the payroll department to handle all employee information using one centralised data source.
#5 Relief for the HR team
Every month, the HR team collects expense proofs from employees to validate them, which takes quite a bit of time. Further, they also need to respond to employee reimbursement-related questions. This results in a large volume of back-and-forth emails, consuming a lot of time.
Cloud payroll software ends the pressure on the HR team with the help of employee self-service portals wherein the task of proof submission is delegated back to the employees. This relieves HR of the responsibilities of proof collection.
All they need to do is validate the submitted proofs online. With some software like RazorpayX Payroll, even the proof validation can be outsourced to the payroll solution provider. All this saves time and lets your HR focus on other more important tasks such as – recruiting, planning, and other company initiatives.
#6 Easily scalable & customisable
Cloud-based payroll software has pre-built features, but it still offers the flexibility to configure and customise settings. For instance, you can customise offer letters and salary break-ups for different employees. You can even configure settings around user roles, API access, contractor payments, reimbursements, leave and attendance tracking, and much more.
Whereas on-premises solutions hardly offer flexibility and can become cumbersome as a company scales and adds new employees. As new roles, salary structures, and complexities are added, cloud-based payroll remains easy to use and far less complex than legacy systems or spreadsheets.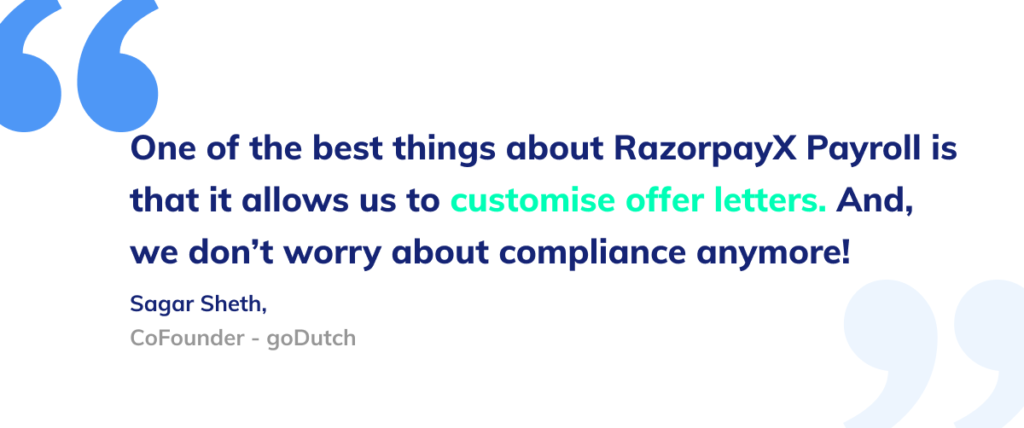 #7 Comprehensive reports and analytics
One of the significant challenges of the legacy payroll system is generating management reports and analytics. These systems are clogged with unorganised, irrelevant, and duplicate information, making it difficult to sort and build any meaningful insights. The reports retrieved from such systems aren't helpful for decision-making.
Cloud payroll software overcomes this shortcoming and delivers insights after consolidating payroll metrics based on real-time data at the click of a button. It doesn't require any separate business intelligence systems or data warehouses.
RazorpayX Payroll offers a multitude of reports such as Salary Register, HR Register, Variance Report, Documents, Attendance, Tax Deductions, Audit Reports, Reimbursements, and more!
#8 Unified and simplified administrative tasks
In some companies, the HR and finance team join hands to complete the payroll processing month after month. An employee's personal information, tax declaration, attendance, commissions, and other non-salary data must flow into the payroll system to execute payroll.
Unlike legacy payroll systems where departments working in silos struggle to bring all the information together, cloud payroll software makes the integration much more effortless and seamless. Such a unified approach ensures that the payroll processing is smooth and simple.
#9 Automated employee onboarding
Cloud payroll software also serves as a great employee onboarding tool. New hires can upload all the documents such as degree, Aadhaar, employee contract, bank account details, etc., with a few clicks. HR can automate common checklists and necessary processes from the software, making processes quicker and efficient.
Looking for new-age cloud payroll software?
Your search ends here.
RazorpayX Payroll, a cloud payroll software solution, requires minimal human input and can immaculately handle the most complex calculations in minutes. It also provides immediate updates for any change in the regulatory laws and automates compliances.
Its user-friendly and intuitive design boosts operational efficiency while offering significant cost benefits. Also, it scales as your business grows and is hence appropriate for organisations of all sizes-small, medium, or large.
The best part is that it's affordable for companies of all sizes. It comes with various plans to suit different companies. The basic plan is free forever, and the pro upgrade costs as low as 100 INR per employee. The software is intuitive and easy to use with no or minimal training required. Hence, it remarkably reduces the overall spending of a business.
Sign up for free and Xperience the power of RazorpayX Payroll today. It will take you less time than it took to read this line.
Need more convincing? Click here and read why top Y combinator Indian startups trust RazorpayX Payroll.