What is payroll management?
Payroll management is crucial for businesses of all sizes. It's an end-to-end process of onboarding employees, calculating their monthly salaries, bonuses, benefits, tax deductions like EPF, PT, TDS, ESI.
It's essential to carry out the payroll management process error-free to avoid salary delays. Additionally, an efficient payroll management system establishes integrity and financial stability, which further promotes employee morale.
If you're struggling with payroll management, this blog post is for you. We'll detail the different methods of payroll management available and what they bring to the table. But before that, let us look at various steps involved in payroll processing.
Payroll processing steps
Payroll processing involves careful planning and consists of many activities. Below is an overview of all the steps involved in payroll processing.
1. Employee onboarding
It is the process of introducing new hires to the company, setting up their accounts, getting documents such as PAN, Aadhaar card. If you are doing payroll for the first time, you need to prepare a list of all the employees in the company and subsequently keep adding new hires to it.
When you are just starting up, creating this list is easy, but it gets challenging as your business scales. This is where intelligent payroll software helps. It has features like employee self-service that makes the employee data collection process a breeze.
2. Defining payroll policies
This step involves defining payroll policy for your business. You need to factor in pay policy i.e., the net amount to be paid to different employees based on their role and position, divide the salary structure based on the benefits you are offering such as flexible benefits, HRA (house rent allowance) etc. You also need to define your leave and attendance policy.
Pro tip: Using payroll software, you can do all these things in one place, without any paperwork involved. In fact, it automatically divides the salary into all the components once you input the number. 
3. Gathering inputs
Usually, you gather employee inputs such as PAN, bank account details during the employee onboarding process. Other data inputs required for payroll processing include leave and attendance data of employees, income tax declaration, eligibility for various benefits, shift timings, comp offs, and reimbursements claimed. The finance and HR team collaborate to get this data in small organisations. 
Pro tip: Smart payroll software allow you to handle all this in one place quickly and even let employees make tax declarations. Since there are two tax regimes in India, the software should support both the old and new tax regime.
4. Validating inputs
After gathering the inputs mentioned in the previous step, you need to validate them so that everything is as per the company policy. Also, check if all the active employees are included in the record before payroll execution and inactive employees are deleted.
5. Calculating payroll
This is the process of doing actual payroll calculations. Arriving at the "net pay or gross salary" for all the employees after doing necessary deductions and taxes. Calculating payroll using spreadsheets or manual methods is complicated. A missing zero or an additional one can result in heavy payroll errors. This has several repercussions from incorrect salary payment, incorrect tax filings, and ultimately employee distrust.
Recommended Read: Signs That Your Business Needs Payroll Software
6. Disbursing employee salaries
After doing all the payroll calculations, you need to ensure there are sufficient funds in your business bank account to transfer salary to employee salary accounts. Then, a salary bank statement is sent to the respective branch. This statement contains details like employee name, employee ID, salary, etc. All this hassle can be avoided if you have payroll software. All it takes is just 3 clicks to execute payroll through RazorpayX Payroll software.
7. Paying statutory compliances
There are statutory deductions that businesses need to calculate such as TDS (Tax Deducted at Source), PF (Provident Fund), ESI (Employee State Insurance) in payroll execution. These amounts are calculated and then filed at appropriate government portals. If you do not pay these on the due dates, your business could face legal penalties. 
That's why it is necessary to consider all such deductions while computing salaries. Income tax is one such deduction. At the beginning of the year, employees are asked to declare their taxes and choose one tax regime from below.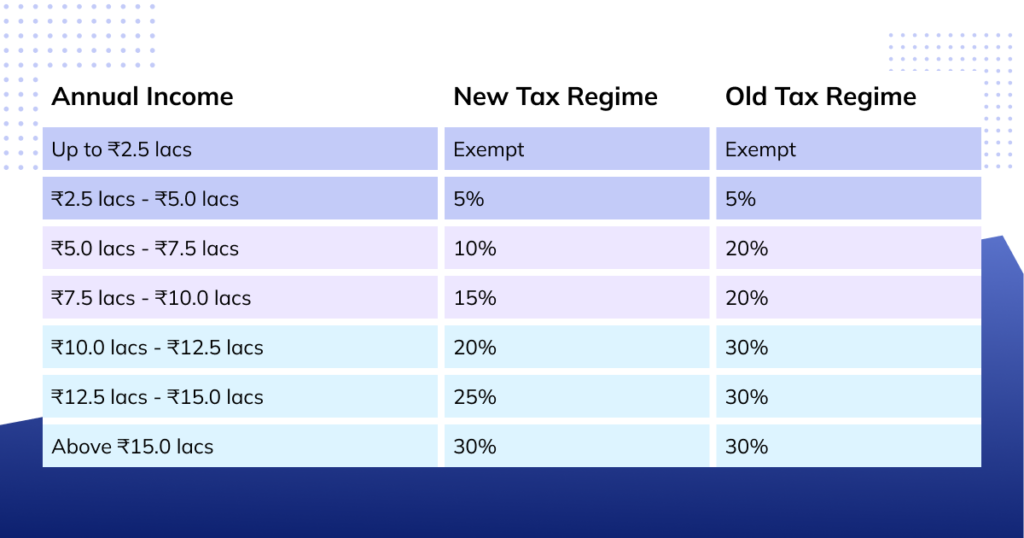 Based on the above tax slabs, you calculate the monthly tax liabilities of employees. Read more in our blog 'How to calculate income tax on salary with examples.'
8. Distributing payslips to employees
The last step of the process is to share payslips with employees. This is mandated by legal laws in India. With payroll software, you don't need to send payslips to individual employees over emails. They can access it for any month at any time from the employee self-service portal. 
Methods of p
ayroll management
1. Manual
payroll management
This method involves collaboration between payroll, HR, and finance teams to calculate payroll manually. After the employees are onboarded, the HR team collects essential employee details like PAN, address, bank account details, etc. Then, the finance team calculates net salaries after the necessary deductions and taxes.
All this process is done using spreadsheets which makes it cumbersome and error-prone.
After the net salaries are validated, the finance team needs to ensure sufficient money in their bank accounts to make the transfers. Next, the founder needs to share an OTP with the finance team to process the payment for each salary disbursal.   
And in case something is missed or calculated wrong, your business could run into payroll management troubles such as statutory compliance issues, which can incur huge penalties for companies. And the worst part is – all this time spent by different teams could have been put to better productive work that could translate to business growth.
2. Automated or computerized payroll management
In the automated payroll process, technology takes care of all the above mentioned tedious tasks. It automatically calculates salaries after factoring in leaves, statutory deductions, bonuses, and other factors required in payroll calculations. 
Advanced payroll software like RazorpayX Payroll even takes care of compliance from registration and payments to accurate return filings for TDS, PF, PT, ESI before disbursing salaries. 
In terms of the speed of the process, security and confidentiality, automated payroll management is the most reliable method. Additionally, it's time-saving, accurate, and transparent.
3. Outsourced
payroll management
This method relies on a third party to manage the entire process of payroll. Though this method completely takes away the burden of payroll management from the company, it comes at the cost of heavy fees and, more importantly, confidentiality. Usually, this method is preferred by large companies with ample resources, but the advent of automated payroll processing is changing that.
Why spend a heavy chunk of your money every month on outsourcing if you can do it with a software solution at a lower price? 
Now that we've covered the different methods of payroll management, let's dive deeper into why the automated payroll management solution is the best of them all.
Benefits of
payroll management
software
Automates compliance
Businesses, and especially startups, can run into legal issues due to compliance mistakes. Payroll management software automates compliance payments like TDS, PF, ESI, PT and their periodic return filings. The software also ensures that you stay ahead of new tax and labour laws by picking up changes automatically.
Saves time
Many companies spend a significant amount of time managing staff payrolls, which could be used for business growth. Not to mention, without proper payroll management, accounting for relevant factors like overtime, vacations, and bonuses can become quite complicated. An intuitive software saves time,  simplifies, and speeds up the payroll process.
Convenient & easy-to-scale
A cloud solution automates repetitive and tedious payroll calculations. It even backs up the data in storage devices in case of system failures. A company only needs an active subscription to maintain the payroll process. Thus, payroll management software allows the company to scale effortlessly. 
Reduces overheads
Since payroll directly affects a company's budget, using payroll management software ensures that vital resources like skilled professionals don't waste time doing manually intensive tasks. It also ensures that money is not wasted on outsourcing payroll management services, thus saving companies a lot of resources, time, and money.
Boosts employee satisfaction
An efficient payroll management system is vital to ensure that benefits, perks, and compensation are provided on time. Since all these factors are central to an employee's experience at a company, automating the payroll system results in efficient and heightened employee satisfaction.
RazorpayX Payroll: India's only fully automated payroll software
If you're running a startup and looking for the easiest, most efficient payroll management software, look no further. RazorpayX Payroll's all-in-one HR Software helps 2000+ companies manage multiple aspects such as attendance management, document management, employee self-service and directory, reimbursements, leave balance system, payroll processing, and statutory compliance.
Seamless payroll
RazorpayX Payroll helps manage employees throughout their lifecycle – from onboarding to exit. It helps generate the offer letter from a predefined template, manages attendance, and allows employees to apply for leaves. The HR software also has an employee self-service portal to manage their pay and taxes. It provides employees access to payslips, salaries, documents, reimbursements, and tax declarations.
Automated compliance
RazorpayX Payroll software not only automates compliance for PF, TDS, PT and ESI but periodically files returns. It generates reminders, alerts, and reports that give the employer and the employee.
Affordable employee insurance
With RazorpayX Payroll, you can insure your employees' health with the best-in-class plans and at affordable premiums. The health insurance plans are simple to understand with an initiation journey of less than 5 minutes. Employers can automate insurance management, provide 24×7 support, and an exceptional claim settlement rate. The insurance plan is available to big and small companies alike. That is not all. RazorpayX Payroll also comes with group health insurance for employees.
Easy Slack integration
Furthermore, RazorpayX Payroll can be integrated with the Slack App. This facilitates the accounting and execution of common payroll tasks related to leaves, reimbursements, payslips, and holidays without interrupting the workflow.
Long story short
Our all-encompassing payroll management software supports hassle-free and error-free administration for your company. It saves crucial company time and money while gaining the trust of employees.
Get started with RazorpayX Payroll today!
Still not convinced? Take a free demo and Xperience the power of RazorpayX Payroll in action.