'All things are difficult before they are easy' – Thomas Fuller
So is processing payroll. 
If an organisation has employees, they will have to process and execute payroll irrespective of size or type of business. 
Managing and executing payroll through traditional methods can be a tedious and time-consuming task. These methods involve manual intervention that can also lead to erroneous payroll execution. 
Although there are no set standards for executing payroll, every organisation should aim at processing payroll efficiently. Unfortunately, processing payroll manually results in some unavoidable errors!
To get deeper insights into traditional payroll methods and their flaws, we spoke to a few but extraordinary & unique Y Combinator startups. These companies have been solving age-old day-to-day problems, right from body fitness to payments for millennials in India. 
About Y Combinator
Y Combinator provides seed funding to startups. Their goal is to get early-stage startups through the first phase. This means – get to a point where startups have built something impressive enough to raise money on a larger scale. Then, introduce them to later stage investors or even acquirers.  
Let's understand the idea behind these startups, their payroll processing methods and how Razorpay Payroll – RazorpayX Payroll made a significant difference for them. 

Thunderpod is a platform, founded by Rahul Khanna that aims to make fitness affordable and effortless. People can perform a full-body workout with no human guidance involved. 
The obstacle
Initially, Thunderpod outsourced their payroll to a CA firm who calculated monthly salary payouts and compliance deductions for all the employees on a spreadsheet. After the finalisation of payroll figures, Rahul transferred salaries to individuals accounts one-by-one. 
The entire process of transferring salaries, making statutory payments and sending payslips to employees took around 6-7 hours. 
Moreover, the difficulty increased with every new onboarding. They had to send details over mails to their accountants and miscommunication created a lot of confusion. This resulted in the loss of documents, error in salary calculation, incorrect TDS deductions, and much more. 
But, Rahul found a way to get away from all these issues. We will keep the secret remedy for the end; until then – keep reading the payroll problems other startups faced!

Founded by Anudeep Reddy, Nonu combines quality medical advice, scientific solutions, Ayurveda and lifestyle changes to solve men's personal issues.
The Obstacle
Just like the case of Thunderpod, Anudeep also experienced a tough time tackling payroll since Nonu used manual methods. 
It was difficult to manage employee records, statutory payments like TDS, PF, PT, ESI and salary calculations on spreadsheets. One wrong input would jeopardise the entire payroll calculations for the month. 
Being an early-stage startup founder, Anudeep wanted to focus on the product and branding. Instead, he was spending long hours to process and execute payroll. 

goDutch is a platform that empowers group payments for millennials. Users can split payments on the go without any reminders, delayed payments, or multiple transactions. 
The obstacle
goDutch ran payroll manually just like other companies. They used spreadsheets to maintain employee records and folders for documents.
The business collected their employees' bank account details and spent hours on making individual IMPS transactions to disburse their salaries. They were concerned about the different aspects of compliance like TDS, ESI, PF, and PT, along with reimbursements. They also believed the system they followed was not secure. 
Another major issue faced by goDutch was reimbursements. They reimbursed employees on an approximate basis. There was no set method for verifying documents, expense approval and reimbursements. 
But, they quickly realised that their payroll process was not all that efficient. 

Arpit Agarwal, co-founded farmtheory with an aim to curb food waste by increasing farmer incomes and giving access to healthy, affordable and yet remarkably farm-fresh produce to every family.
The obstacle
Despite having a dedicated team to manage payroll, Arpit had to spend his valuable time on processing salaries and making statutory payments. The team calculated and processed the month's payroll on spreadsheets that were prone to human errors. 
More than full-time employees, Farmtheory had contractual agreements with contractors and professionals. Managing their invoices, deducting TDS before payments and making contractual payments were significant pain points. A simple TDS miscalculation would trouble them with interest and fines. 
Then, a few other startups backed by Y Combinator suggested a solution that took away all the payroll problems from Farmtheory. 

OrangeHealth creates services and products that doctors can use in a clinic or remotely to assess and diagnose patients' health in a better way and provide the right treatment.
The obstacle
For an early-stage startup, there are a lot of things to manage, and payroll is one of the crucial tasks that has to be done effectively. 
Dhruv Gupta, the Founder of OrangeHealth, said – 'As a new company, our top priority building brand & product and achieving sales targets. Instead, a lot of valuable time is spent on manually executing payroll.'
They dealt with payroll calculations and salary disbursements manually, but the primary cause of concern was offer letters, salary customisation. They had to customise offer letters, salary break-ups for different employees manually and feed those details in the spreadsheets. The entire process was tiresome and time-consuming. 
But, OrangeHealth also found a partner, similar to others, to help them manage their time and money efficiently. Stay tuned with us!
Edyst, founded by Srinivas Sriramdas, bridges the gap between skills the industry demands and the skills the students possess.
The obstacle
Processing payroll wasn't a smooth sail for Edyst too. We maintained spreadsheets for salary calculations, compliance payments, reimbursements, etc. It was difficult to make last-minute changes to salary figures and manage statutory calculations like TDS, PF, ESI and PT on spreadsheets. 
Edyst employed many teachers on contractual basis. But, they didn't have a smart solution to help with contractual payments, managing the due invoices and deducting accurate TDS. 
Edyst desperately needed a solution that could take care of payroll and compliance, and they could focus on achieving their mission. 
FamPay is India's first neobank for teenagers. People below the age of 18 can create an account to send or receive money. Also, they can make digital payments via their prepaid card and UPI.
The obstacle
FamPay processed payroll calculations on spreadsheets. And, the same was sent to a CA firm to verify and execute payroll for a particular month. 
In conversation with the Finance Manager at FamPay, Akash Srivastava, we figured that there was a lack of communication between the CA firm and the in-house team. This friction led to several mistakes with salary disbursals, statutory deductions, F&F calculations and much more. 
We know, those were some lengthy conversations and it might have bored you. But, our intention was only to let you know the major pain-points these startups faced with managing payroll. And, help you find the right solution as they did!
Here's a quick summary.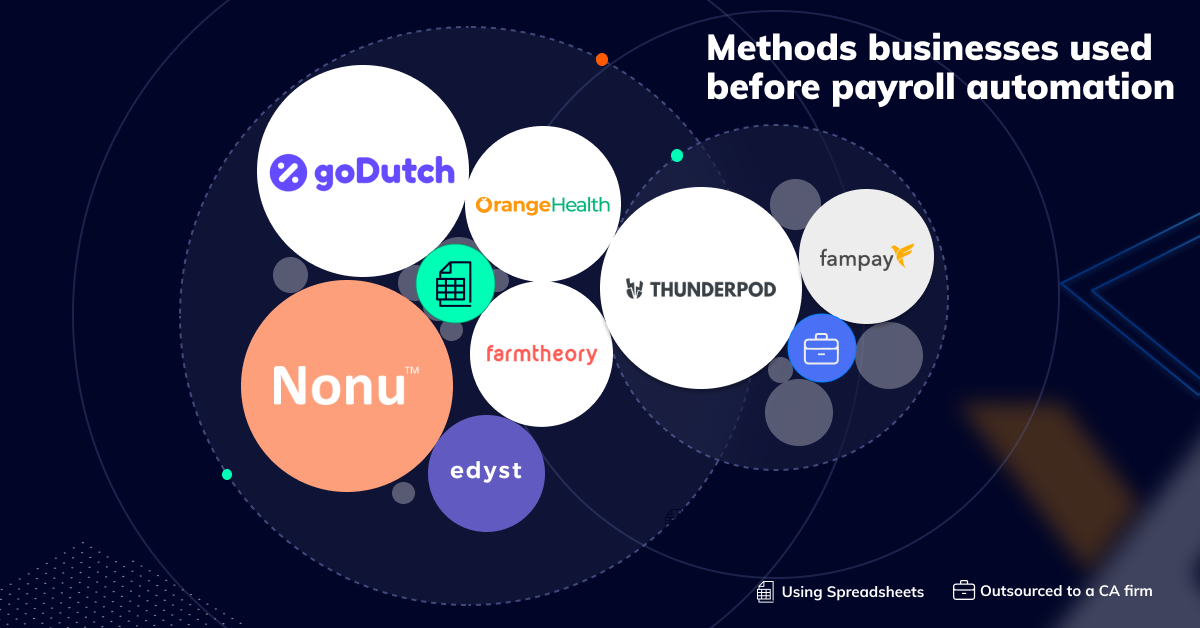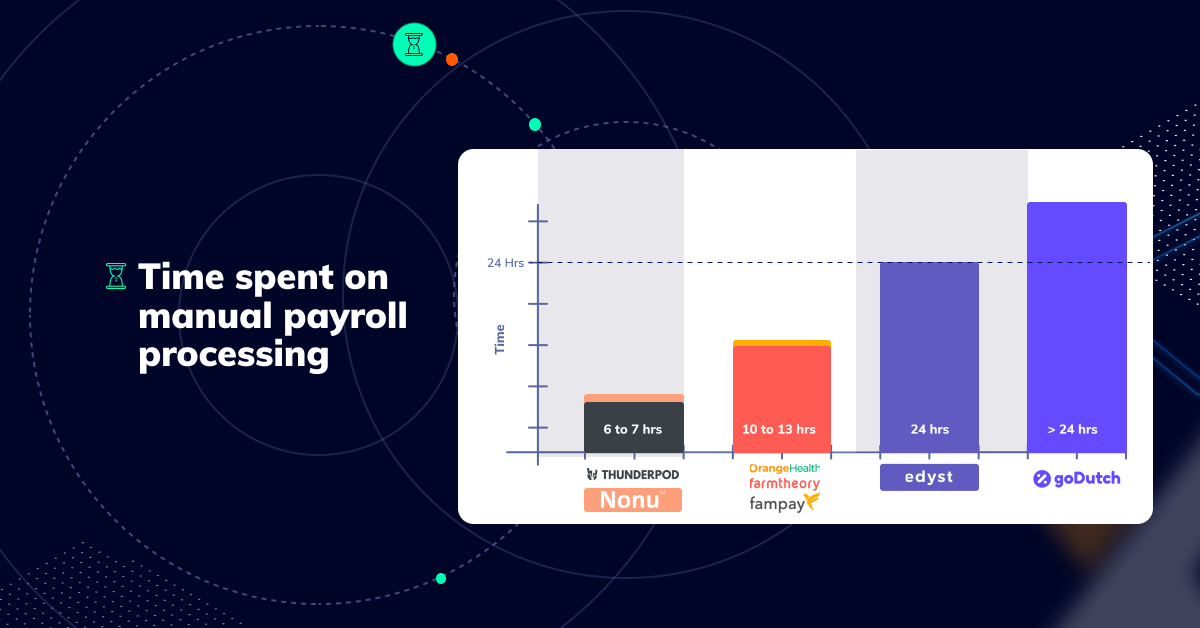 RazorpayX Payroll – The only payroll solution you need
RazorpayX Payroll was built by a team of accountants, developers and designers headed by Anuj Jain. All of these people were familiar with the pain of running small businesses in India –– especially issues faced with manual payroll execution. 
We at Razorpay acquired RazorpayX Payroll, in November 2019 to make headway with payroll solutions for small and medium businesses in India. This acquisition enabled companies to not only manage their entire payroll process and fund transfers but also manage compliances through a single platform, without hiring any external vendors.
Since then, RazorpayX Payroll has been streamlining payroll processes for startups and SMBs. And, will continue to create a dent to make the entire payroll process simple, easy, and quick for businesses. 
Download our Payroll and Compliance Ebook
RazorpayX Payroll partnered with these unique Y combinator startups to solve their operational payroll efficiencies, while they were solving age-old problems for the human ecosystem. 
RazorpayX Payroll is a payroll software that has been designed to automate payroll processing, from onboarding employees to compliance payments & their return filings. It eliminates manual intervention from the entire process.
Click To Tweet
In our conversations with these startups, they shared some amazing experiences with RazorpayX Payroll.
Processing payroll is a breeze 
With RazorpayX Payroll, everything related to payroll processing and execution is seamless. 
It just takes 3 simple steps and a maximum of 10 minutes to process a month's payroll. Otherwise, manual processing methods took a lot of time and effort.

Anudeep Reddy, Founder, Nonu
Everything is handled automatically with RazorpayX Payroll. Being a 360-degree payroll processing platform, RazorpayX Payroll makes processing payroll a breeze. 
One-stop solution for compliances 
RazorpayX Payroll handles compliance calculations like TDS, PF, PT and ESI, payments automatically, along with their return filings.
The software enables accurate TDS calculations and proper PF calculations. Without compliance automation, companies spent a lot of time figuring out the regulations and taking corrective actions. 
One of the best things about RazorpayX Payroll is that it allows us to customise offer letters. And, we don't worry about compliance anymore!

Sagar Sheth, Co-founder, goDutch
Best-in-class support
With RazorpayX Payroll, there is no need to become a payroll specialist or hire a professional to execute payroll. 
The software provides best-in-class customer support to its users. Representatives provide dedicated hand-holding whenever and however needed. 
Dedicated support from the RazorpayX Payroll team is extraordinary. We get help from the support team whenever we ask for it. I'm glad that we are using RazorpayX Payroll for our organisation.

Srinivas Sriramdas, Founder, Edyst
Employee management
Employees get easy access to their payslips with RazorpayX Payroll. Companies can organise employees and contractors into departments for easy management and reporting. The software facilitates paperless employee onboarding. 
Moreover, employees can claim reimbursements directly from their account. All they have to do is upload their invoices, and RazorpayX Payroll processes the reimbursements. 
RazorpayX Payroll empowers employees to choose the best-suited tax regime. Once employees upload their investment declaration, the software automatically calculates their tax liability under both, new and old tax regime. And, let the employees choose the better-off regime. 
That's all about our conversation! Now it's your time to try RazorpayX Payroll and let us know your payroll experience. 
We would love to share it with the world and make payroll seamless for every business.