Visual mediums have always been the strongest support to storytelling and what is marketing if not great storytelling. Everyone is using media sharing platforms to get their message across to the audience in the most appealing way possible. It can be via the Instagram ads that pop up slyly while you tap through your stories or the linked YouTube posts that you feel compelled to click on. 
What is social media marketing?
Social Media Marketing is the process of promoting and displaying your brand, company culture and offerings to audiences on various social media platforms with the help of specially curated content. 
The statistics below show how rapidly businesses are taking to social media.
Brandwatch has concluded that around 91% of retail brands are on two or more platforms.

Almost 81% of SMEs use some form of social media to promote their business. 

92% of marketers can vouch for the fact that social media has helped them increase their exposure. 
92% of marketers can vouch for the fact that social media has helped them increase their exposure.
Click To Tweet
The bottom line is there lies an enormous opportunity in social media which can reveal itself to you and your business if tapped correctly.
What social media platforms are the best?
Most businesses assume that being on each platform is the golden rule of social media marketing. It is essential to understand that not all platforms are meant for all firms, and not all content formats can be used on all platforms. Which platform you decide to be on is a culmination of multiple factors which we will discuss further. Every platform has its strengths and weaknesses, suitable content formats and some core objectives, based on which, we can classify them into three categories:
With the constant up-gradation of social media platforms, the points of differentiation between them are slowly disappearing. However, their core functionality is what makes them stand apart from each other.
Media sharing platforms: Gateway to visual storytelling
Media sharing platforms, as the name suggests, allows users and brands to share audio-visual content including images, videos, music and live streams. The main of these platforms is to engage users by distributing media since pictures and videos tend to have a higher reach than text.
Using media sharing platforms on social media allows you to achieve the following goals.
Brand awareness
These platforms help in forming more reliable connections with audiences by sharing brand stories and features in the format of product images, how-to videos, video testimonials, visual ads and celebrity endorsements.
Conversion rates
A prospective customer has a higher chance of being interested in your product or service if a visual medium accompanies the information. Brands use images and videos to get customers on-board be it a test drive, a newsletter sign-up or a sale.
Audience engagement
Media sharing platforms use interactive and targeted content formats to get their followers to comment, like, share and tag, increasing brand recall in the customer's mind.
User-generated content
Much like audience engagement, UGC helps your brand to maintain relationships and involve people with your brand. With the increasing popularity of these platforms, the UGC campaigns which give best results are videos and images, in addition to tweets.
Each media sharing platform has certain distinctive features and benefits. Let's try to understand each one in detail.
Understanding media sharing platforms: Instagram
Founded in 2010, Instagram has rapidly climbed the charts as one of the most popular media sharing platforms for social media marketing. Since Facebook acquired it in 2012, the platform has disrupted media sharing, thanks to features such as story polls, quizzes, direct DM option, swipe up feature etc.
Here are some useful Instagram statistics to keep in mind:
In India, currently, there are more than 110 million Instagram users.

Almost 65% of these users lie in the age group of 18-34 years of age.

On Instagram, 73.5% of the content is images, 13.7% is video, and 12.7% is carousels. 
Successful content formats on Instagram
Instagram requires more effort in terms of content curation when compared to other social media platforms. This is because visual content is necessary to be more engaging and aesthetic to trend on Instagram, as compared to written content. The most successful content formats, as listed below, often need to be backed by strong visual and copywriting skills.
Hi-res photos and videos
Being a visual-first platform, good images and videos tend to gather a lot of traction on Instagram. Most brands use hi-res photos to display their products or introduce a new product range. Photos like selfies and group images, which might get mixed with user photos, tend to underperform as compared to other image formats.
1. Nykaa uses hi-res product photographs to highlight the multiple beauty products which tend to catch the eye. Their feed is in sync, which adds to the aesthetic value of the brand.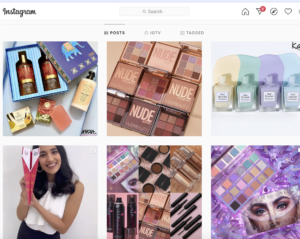 2. Indigo airlines follow a uniform font style and a signature blue colour which has come to become distinctive and indicative of their brand. They are using visual media and copy-heavy images together by connecting them via a common theme.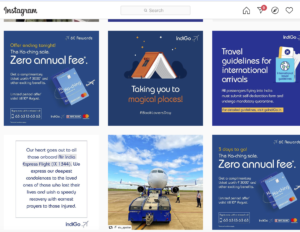 Stories and features
When Instagram stories debuted, it changed the way marketing was done on the platform because of the multiple updates and features that followed. Story features like Q&A, Quiz, Poll, Countdown and Support Small Business offer opportunities for real-time customer engagement, market research and information dissemination. Here's how some brands are using Stories to disrupt the marketing landscape.
Story features like Q&A, Quiz, Poll, Countdown and Support Small Business offer opportunities for real-time customer engagement, market research and information dissemination.
Click To Tweet
Interactive Q&A
McCaffeine, a coffee-based beauty brand in India, is using their stories to know about customer preferences for their product range. It not only leads to consumer engagement but is also an effective way to gather consumer insight.
Swipe-up actions
Instagram allows brands to insert a swipe up option which will direct your followers to the webpage of your choice. Brands like PopXoShop are effectively using this to direct traffic to their website for higher sales.
Q&A engagement
A great way to create excitement among consumers is by allowing them to express their views on a brand-related question. Go Noise, a growing earwear brand in India asks questions on their stories inviting answers about their latest product launch which allows them to gauge consumer sentiment.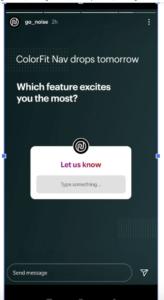 UGC Campaigns
Instagram has one of the highest response rates for UGC campaigns. Driving a contest or a reward-based campaign inviting submissions of users is an effective way to increase brand awareness and brand engagement. These submissions can be in the form of selfies, product stories, tagline competitions, tagging contests and much more.
Adidas, in an attempt to promote its Neo brand, launched a campaign inviting Adidas-centric images and posts from people. Called #MyNeoShoot, the campaign winners were offered a chance to model for Adidas's Instagram channel. The user-generated content broke all records and led to 71,000 mentions of the #MyNeoShoot hashtag.

On the event of World Photography Day, Samsung India offered a chance to consumers to be featured on their handle. The brand promoted the campaign via Stories and used the countdown feature to build excitement.
Instagram Live
Instagram Live offers an opportunity to brands to engage in real-time with their audience, building traction and engagement. Post-COVID, a lot of brands have used Instagram Live to engage their audience by organizing influencer sessions, celebrity Q&As and wellness classes.
Puma India got Sara Ali Khan to do an Instagram Live workout, encouraging their viewers not to let the fitness streak die in lockdown and join hands with their brand ambassador, Sara.

Amazon India got Simon Jacob, an entrepreneur, onboard to have a chat on all things children and playtime. They promoted this on their story via the countdown feature.
Understanding media sharing platforms: YouTube
When it comes to video content, YouTube is hands-down the most popular platform. Since it started in 2005, YouTube has stayed true to its mission of enabling people to share video content with a large number of audiences. The success of YouTube comes from the fact that it stuck with perfecting video content sharing by making the platform diverse and straightforward for its users.
Here are some key statistics about YouTube's reach in India.
YouTube (2 billion) is the only social media platform to surpass Facebook (1.79 billion) in terms of monthly active users.

With more than 265 million users, YouTube India has over 1200 channels which have passed the 1 million subscribers mark.
With more than 265 million users, YouTube India has over 1200 channels which have passed the 1 million subscribers mark
Click To Tweet
India has the second-highest contribution to YouTube's traffic, which is around 8%.

T-Series is the most subscribed YouTube channel, with more than 100 million subscribers.
Successful content formats on YouTube
Videos are a great way to launch brand campaigns and get your audience on board. The most successful video formats on YouTube showcase a seamless integration of brand and customers.
How-to videos and guides
According to Google, 86% of people on YouTube use it to learn a new skill or enhance an existing one. How-to videos are a perfect combination of learning and utility, which is why growing brands tap this format to educate customers on different ways of using their products and services.
Lakme India uses its YouTube channel to educate its audience on make-up tips, new looks and product usage, by releasing tutorial videos regularly.

IFB, a leading kitchen appliance manufacturer in India, uses YouTube videos to release recipe videos which not only cover the subject of how to use IFB microwaves but also teach new and innovative recipes to viewers.
User-generated videos
YouTube is a great platform to invite UGC because a lot of users are already looking for opportunities to post new content on the platform. From video submissions to testimonials, UGC can be requested for brand campaigns and brand building activities.
GoPro is a brand which uses customer videos to showcase how sturdy and useful their products are. The UGC features adventure sports, life-risking activities and daring stunts by people who have shot them using the GoPro camera.

Airbnb covers customer testimonials and host stories in video formats to form an emotional connect with the audiences by showcasing real-life incidents.
Sponsored content
Sponsored content is a collaborative effort between two brands, one of which pays the other to integrate their product or service in the latter's content. Many upcoming brands pay established content platforms to make videos highlighting their products. This is done by way of web series, video series, product featured how-to videos or storyline integration.
1. Veeba, an upcoming sauce and dips manufacturer in India, collaborated with leading YouTube cooking channels like YourFoodLab wherein the latter made recipe videos hero-ing Veeba products.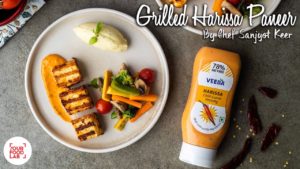 2. Content curators like TVF and Dice Media regularly make brand-focussed sponsored content. For example, Dice Media created a video called "Diwali With Your In-Laws" which was sponsored by Swarovski and highlighted their jewellery collection.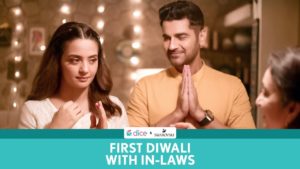 Also read: Social Media Marketing for Businesses: Decoding Discussion Forums
YouTube Live
YouTube Live, like Facebook and Instagram, enables real-time streaming which can be attended by a large number of audiences virtually. The live feature on YouTube works best when it is backed by a famous Youtube celebrity or content curator, as compared when a brand does it individually. 
Many brands have collaborated with content creators to do YouTube live sessions on mental wellness, yoga and dance sessions. There has also been a surge in masterclasses with field experts and live chats with celebrities.
Understanding media sharing platforms: Snapchat
Started in 2011, Snapchat was described by its management as a 'camera company' which shares pictures and videos with your friends, for a duration of 1 to 10 seconds. Snapchat was also the first-mover on the 'Stories' and 'filters' features which were then picked up by Instagram. Though it has faced fierce competition from Instagram and TikTok, Snapchat still is a lucrative media sharing platform for many brands.
Here's a quick glance over some important Snapchat facts.
The daily active user base rose by about 120 per cent YoY in March 2020

India accounts for the second-largest user base on Snapchat with 33.8 million users.

As per

Statista

, around 41% of teens consider Snapchat as an essential social media platform.

The highest user base on Snapchat lies between 17-24 years of age, making it a relatively young platform.

To cater to the Indian audience better, Snapchat is available in four languages – Hindi, Punjabi, Gujarati and Marathi.
Successful content formats on Snapchat
It is concluded by many studies that Snapchat is an ideal platform if your brand is looking to connect with younger audiences, below 34 years of age. Thus, the type and tone of content that works best here also have a young and pop-culture undertone to it.
Discover feature
The Discover feature on Snapchat is available on right swiping the camera screen. According to studies, users spend 35% more time on the Discover page, consuming brand-led stories and features. From news highlights to life hacks, brands keep experimenting with pop-culture, fun and short format content.
Global brands like Cosmopolitan, Tastemade and Buzzfeed keep publishing their content in short video format on Discover.


In India, brands like Filtercopy and Pinkvilla use Snapchat to tell stories about news items, contextual features, Bollywood and sports.
Sponsored AR lens
The AR lens is the original filter. Snapchat debuted with the concept of AR lens much before it got popular as filters. Users are spending more than 70% of their time on Snapchat trying different lenses. Herein lies an exciting opportunity for brands to come up with their AR lenses displaying their products. The platform also allows a 'Shop Now' button to be displayed next to the lens.
Taco Bell, on the occasion of Cinco De Mayo, released a filter which transformed the user's face to a taco shape. In the 24 hours that the filter was active, it was seen 224 million times.


To prompt her new single, Queen, singer Nicki Minaj launched an AR lens which made the user adorn fancy headgear. She also used the Shop Now so that people could buy the famous Queen necklace directly from the lens window.
Fun and creative content
If there is one thing which you shouldn't do on Snapchat is being serious. The app has a lively and colourful vibe which is what you should display to your viewers as a brand. You can make use of features like Cameo and 3D camera to weave a fun story around your brand. Even the content you post on via your Snapchat account should be contextual, crisp and playful.
Adidas launched a virtual try-on feature on Snapchat in 2019. They also used the latest 3D camera feature to display their products better. 
The perfect media sharing platform for you
Determining which media sharing platform your brand should be present on depends on three factors:
Goals
Before undertaking social media marketing in any form, a brand must have complete clarity about its marketing objectives. Refer to the table below to understand some essential marketing goals and which media sharing platforms can help you accomplish the same.
| | | | |
| --- | --- | --- | --- |
| Features  | Instagram | YouTube | Snapchat |
| Market Research | Excellent | – | – |
| Relationship Building | Good | – | Good |
| Brand Awareness | Good | Excellent | – |
| User-Generated Content | Excellent | Good | |
| Audience Engagement | Good | Average | Excellent |
| Long Format Content | – | Excellent | – |
| Creative Campaigns | – | Good | Excellent |
| High Conversion Rate | Good | – | Average |
Audience
All your marketing efforts are meaningless if the audiences are not aligned. Before you choose any platform, you must perform a thorough check on the demographics and psychographics of the audience, so that your message reaches the intended audience.
For example, if your brand caters to wellness services for new mothers, then Snapchat isn't the right platform since it caters to young audiences who like fun communication. On the other hand, if the brand specifically targets audiences between the ages of 16 – 28 years, then Snapchat and Instagram are excellent platforms to be on.
Capabilities
It is vital to judge and ascertain your in-house capabilities and budgets before narrowing down on media sharing platforms. Video content might work well on YouTube and Snapchat but producing high-quality videos requires paraphernalia like good scripts, shooting equipment and more. Thus, every suitable format is not meant for every company.
The platform you choose should be at the confluence of the three factors mentioned above. As a thumb rule: "The platform where my target audience is the most active and thus, allows me to achieve my marketing goals within my budget and capabilities is the platform I should go for."
Managing your media sharing platforms
Once you have chosen the suitable media sharing platforms, the next steps are to curate, publish and monitor your content pieces. There are three main steps to managing a media sharing platform effectively:
Creating content
After choosing viable content formats, you have to start creating posts or videos as per the requirements. Websites like Canva and Crello provide free templates for various types of content including posters, videos, reports, banners and thumbnails.
Publishing your content
There are specific websites on the internet which can help you publish and track your content. They assist in steps like scheduling posts, formulating content calendars, enhancing content and optimising the current strategy. 
Websites like Sproutsocial, Buffer and HootSuite provide good publishing and tracking services which deliver excellent results.
Analysing and monitoring your content
Once your post or campaign is live, the next thing you need to focus on is the reception of your content. This is done by keeping a close eye on some metrics which tell you how audiences are responding to your content. Some of the critical metrics to keep in mind while using the respective media sharing platforms are given below:
Instagram:

Engagement metrics(Like, Repost, Comment), Reach, Follower Count, Impressions, Engagement on Stories, Saves and DMs

YouTube:

Number of Subscribers, Comments, Views, Shares, Audience Retention, Watch Time, Video Rankings, Average Percentage Viewed

Snapchat:

Follower Count, Story Views, View Time, Fall-off Rate, Completion Rate, Screenshot Count
Media sharing platforms help make a brand more visible and likeable to your audience by ensuring quicker engagement and interactions. There is no one formula for cracking the code to a successful social media strategy. Thus, you will have to experiment with your content and campaigns regularly. As a result, you will find the sweet spot between brand and consumer where "the real connection" exists.