While looking for suitable smartphone brands for my next purchase, I went to the current users or experts for feedback and suggestions. Some of these people were my known, present on the WhatsApp group with my friends. I found the others in a sub-Reddit of tech enthusiasts and on a Quora page discussing the new range of X brand mobiles. Discussion forums host some of the most direct conversations about brands, more than any other social media network.
What is social media marketing? 
When an enterprise uses social media platforms to communicate their activities, propositions and culture, with the hope of improving specific metrics, it is called social media marketing.
The statistics below show how rapidly businesses are taking to social media.
Coschedule.com noted that 97% of marketers use social media for marketing purposes.

78% of salespersons are using social media to move ahead of their peers.

Oberlo noted that 73% of marketers said that social media marketing had given them results lying between "somewhat effective" to "very effective".
The essence here is that businesses are slowly realising the power of social media. They want to tap into the infinite opportunities that it holds. However, these opportunities will give the best results only when your content is in sync with your social media.
What is the best social media platform for your business?
The biggest myth of social media marketing is that your reach is as high as the number of platforms you are on. Not every platform is suited to every business. Similarly, not all content formats can be used on all platforms. The social media platform(s) for your business should be selected after reviewing multiple factors, which we will discuss further. Every platform brings with it various pros and cons, list of suitable content formats and some defining characteristics. Based on these features, they are divided into three categories:
At some places, the differentiating factors between these platforms might get blurred. However, their core functionality is what makes them stand apart from each other.
Discussion forums: Building reliable communities 
Discussion forums are platforms which facilitate conversations among like-minded people, around topics which interest all members on the forum. These are known as community-building platforms because the ultimate goal for these forums is to create close-knit communities. These communities can then influence their members positively with respect to brands, products and services. The content strategy for discussion forums isn't that direct and format-driven, which we will see further.
Including discussion forums in your social media strategy helps you achieve the following goals.
Honest customer feedback
Discussion forums allow consumers to express their honest views about products, competitors and performance. Since forums feel like a "safe space", members often discuss what a product lacked and what they thought could be better. This allows brands to make a note of the suggestions and implement them effectively.
Lead generation by referrals
Many people, including me, rely on discussion forums for honest reviews and recommendations. Since members in these groups are enthusiasts or experts of the subject matter, they are heard. Strong referrals coming from discussion forums can influence prospects into considering and even, buying your products.
Market research
For many marketers, discussion forums are like an open FGD where participants are their most real self. Discussions include everything, ranging from industry and brands to influencers and general interests. This can be particularly helpful in designing content and communication suited to your target audience's lingo and tastes.
Community building
One of the most effective brand-building activities is to form a community around your product or service. Discussion forums can help mobilize lovers of a brand to create a community which becomes an open space for discussions, events and tips. For example, Spotify has multiple subreddits to share playlists, learn interesting hacks and share user experiences.
Building brand trust
Quite often consumers have doubts and complaints which they don't necessarily take up with the brand's customer support. Discussion forums are excellent platforms to clear doubts, reinforce positive attributes and solve complaints targeted to customers.
Let's try to understand the two major discussion forums – Quora and Reddit – in detail.
Understanding discussion forums: Quora
Quora is a game-changer in community building platforms. It is a community-led site where people can engage via a question-answer setup and help each other on all things, big and small. The most helpful answers are up-voted by readers which increases the validity of both the solution as well as the respondent.
Here are some statistics which prove Quora can be vital for your business.
Quora has 300 million monthly active users.

22.2% of Quora's user base comes from India.

Quora is an educated platform, as 65% of users have a college degree, and more than 37% of users are expected to be holding managerial positions.
Quora is an educated platform, as 65% of users have a college degree, and more than 37% of users are expected to be holding managerial positions.
Click To Tweet
Adults spend 2x the time on Quora than they do on LinkedIn.
Optimal content strategies for Quora
Quora is the go-to platform to engage in direct marketing without directly marketing your product or service. The trick lies in answering questions tactfully on Quora and following some basic strategies. This can help you build your brand image, enter the consideration set of prospective customers and directly contact people who can benefit from your product. 
Getting your brand on Quora
Quora is not as direct as other social networking sites when it comes to establishing your brand. You cannot per se make a page, or a profile for your brand like you can do on Facebook and Instagram. However, you can create a Topic. A Topic is a page that displays the questions people are asking about your brand.
To get your brand to enter answers on Quora, you need people – employees, users and top management – to talk about your brand. For example, when someone on Quora has questions about Razorpay, our team answers them by citing relevant resources and their own experiences. Make sure the people representing your brand mention their credentials and positions clearly on their profile.
Answering the right questions
To succeed on Quora, you have to do what the platform is primarily made for – answer questions. What you have to master is which questions to answer. 
Follow topics related to your company and industry to keep getting real-time notifications. Quora often suggests related topics which can widen the avenues where you can be present. For example, if you want to follow Design and search for it on Quora, the 'Topics' tab on Quora will suggest other popular Design related topics which you can choose to follow.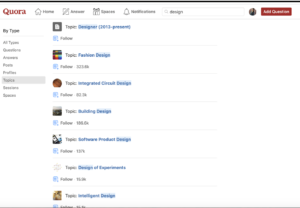 Answer questions which are directly related to your area of expertise or experience. Don't try to force-fit your business into unrelated areas, even if they might seem popular.

Choose threads with a lot of upvotes. When you answer questions on upvoted threads, you have higher chances of being seen and clicked.

If you have written a blog or a paper on a particular topic, say Taxation in India, then you should target questions relating to the same issue. This is because while answering such questions, you can leave references and links to your articles which increases your credibility with the readers.
Becoming an industry leader
Quora is not a platform of customers but of communities. People aren't coming on Quora to be bombarded with direct marketing messages but to discover useful information. In such a scenario, the best way to make sure that millions of people read your words is by becoming a reliable industry leader. 
This can happen in the following ways:
Make your profile reliable. Add where you currently work, your designation, your areas of expertise and your interests. Adding information like schools, college, and previous companies also helps a lot.

When you answer questions, Quora displays a 50 character tagline beneath your name. Make sure to include your brand name in that tagline. 
Many sources, including The Crazy Egg Blog, note that a good Quora answer is one which draws somewhat from personal experience and is backed by statistics and references. Thus, your answers should reflect knowledge and expertise to be considered at the level of an industry leader.

Answer often. This does not mean that you answer the same questions worded differently. Scout for different kinds of problems related to your area of expertise which allows the readers to see what a good grasp you have of the topic. For example, if you are a tech junkie, answer questions about mobiles, video games, gaming laptops and tablets which show your holistic experiences.
Correct, formatted content
Consider it snobby but answers which are grammatically incorrect or have spelling mistakes are a big turn-off for many readers on Quora. Always make sure that your answers are proper in all aspects.
Format your answers by including bullets and paragraphs.

Bold the headings and subheadings for easy reading.

Use apps like Grammarly to point out any grammatical and spelling errors.

Add links wherever necessary to give your answer authority and authenticity.
Also read: Social Media Marketing for Businesses: Decoding Social Network Platforms
Understanding discussion forums: Reddit
Launched in 2005, Reddit is different from any other social media platform. Driven by users, it is a platform for community building which operates heavily on the algorithm of downvotes and upvotes. Reddit becomes a difficult space for brands to crack since Redditors don't support branding and content creation on the platform.
However, marketers and entrepreneurs have realised that Reddit is a goldmine for consumer research, targeted engagement and conversions. Using Reddit for business might be tricky, but if done correctly, it can bear amazing results.
Here are some statistics which indicate why you should consider Reddit for social media marketing.
Reddit has around 430 million active users and gets about 47 million searches daily.

The platform has more than 130,000 active communities where users are free to discuss and dissect any topic.

According to the Reddit Blog, 82% of GenZ depend on Reddit for learning more about products and brands.
According to the Reddit Blog, 82% of GenZ depend on Reddit for learning more about products and brands.
Click To Tweet
Optimal content strategies for Reddit
Redditors take their guidelines very seriously. This means that if you outright try to force-fit into a community by bending the rules, they might downvote you till you're out of the picture. As a business, you have to realise that Reddit loves and values authentic contributions. This is what your brand should try to do – learn and engage with communities.
Make your brand's Reddit account
This basic step is specially mentioned here for a reason. If you are new to the world of Reddit, the subreddits – which are communities dedicated to a single topic or issue – are depicted as r/. However, users – anyone who makes an account on Reddit – are represented by u/.
Subreddits are not brand pages – like Facebook page or Twitter account – but are pure discussion forums. You will not be able to drive conversation or ensure engagement with users just by making r/"yourbrand".

The best way for businesses to start their Reddit journey is by making a user account for your business. This account will help you become part of valuable communities. You can also be a silent spectator to the numerous conversations your target groups are having.
Being present in subreddits
This is possibly the only step which will form the basis of any engagement you plan to do on Reddit. It is imperative to find and be present in all subreddits related to your product, brand(if there is such a Reddit) and users.
One way of finding subreddits is to type what topic you are looking for, and Reddit will show a list of all related topics.

There is a subreddit called r/findareddit where you can ask what you are looking for and kind Redditors help you with viable results.
Do note that being present in subreddits does not mean being active in them. Many times, brands just eavesdrop on the conversations to learn about consumers, product perception and business opportunities. Also, being too active might make you seem promotional, which in turn can lead to you being downvoted.
Engagement for organic traffic
To drive organic traffic on Reddit, you need to be an active contributor to the Reddit community. To do this, you need to earn Karma points. These points are like a scorecard for Redditors which they earn by commenting, sharing links and getting downvoted or upvoted. To engage efficiently: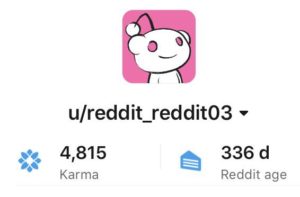 Observe conversations around your brand and give honest comments without sounding promotional. For example, imagine you are a mobile service provider and a subreddit called r/India is posting about low connectivity in India. As a brand, you can be honest with them about why India has low bandwidths and the problems your brand encounters.

AMA or Ask Me Anything, is a fantastic format which brings effective traffic to threads. Many brands get their employees or management to host an AMA where Redditors are free to ask anything. The person is expected to respond with full honesty. Stadia, a gaming service by Google, has hosted multiple AMAs in the past. They get their developers to conduct these sessions and gamers all over Reddit tune in to ask the most intriguing questions.
As a brand, you can start your own discussion threads but keep in mind that they should look as non-promotional as possible. Some skin care brands like to post about the maintenance of products and makeup hacks. Some gaming companies start threads on cheat codes and gaming hacks. For example, if you are a food delivery business, you can start a thread inviting weird delivery stories from customers.

Both upcoming and established brands can post their content on suitable subreddits. For example, Netflix posts the teasers of its upcoming shows on r/trailers. Similarly, a tech company launching a new cloud software can post the same on r/tech or r/TechNewsToday.
Promoted Ads
Reddit paid ads are not as developed and polished as other social media platforms. Still, the promoted content helps brands in getting views, reach and clicks. Video ads work wonderfully on Reddit, so brands often try to promote similar content.
While promoting ads, make sure you match your content to the subreddit. For example, Hubspot correctly pointed out that Toyota understood the platform well while advertising. When Toyota promoted a video on the Formula One subreddit, they made sure the video was about racing and sports cars. The brand was mindful that the ad was not some fancy Toyota promotional video, which would have been unrelated to the subreddit.
The perfect discussion forum for you
When it comes to discussion forums, Quora and Reddit are the best in business. They are different in terms of content, audience interests and success formulas. So we are here to help you decide whether you should be on Quora, on Reddit or on both.
Goals
Before deciding on a discussion forum, a business must be clear about its marketing objectives. The table discusses common goals and which discussion forum can help achieve them.
| | | |
| --- | --- | --- |
| Goals | Quora | Reddit |
| Market Research | Maybe | Yes |
| Customer Support | Yes | No |
| Resource Sharing | Yes | Maybe |
| Community Building | Maybe | Yes |
| Lead Generation | Yes | Yes |
| Resolving Queries | Yes | No |
| Effective Paid Ads | Maybe | Yes |
| Brand Engagement | Yes | Yes |
Audience
All our community-building efforts are meaningless if the audiences are not aligned. Before you choose any forum, you must analyse the demographic, behavioural and psychographic tendencies of the audience.
For example, suppose your aim is to see the behaviour of 20 to 30-year-old gaming enthusiasts. In that case, Reddit is a better platform since it has close-knit communities and a younger demographic in its user base. However, if you want to see honest customer feedback and queries about your product – demographic no bar – then Quora should be your choice.
Capabilities
It is vital to judge your in-house capabilities and budget limitations before selecting a discussion forum and content format. It is true that discussion forums are not as demanding as other social media platforms in terms of content requirements. Yet, a business must evaluate things like time limitations, topical knowledge and fluency in the written word before choosing any of them. 
The forum you choose should be at the confluence of the three factors mentioned above. As a thumb rule: "The platform where my target audience is the most active and thus, allows me to achieve my marketing goals within my budget and capabilities is the platform I should go for."
Managing discussion forums
Once your profile is active and you start regularly engaging with users on Quora or Reddit, you must keep a close eye on some parameters. This helps you decide how well you are doing in terms of engagement and reception. Do keep in mind that qualitative and subjective analysis is more critical on discussion forums as compared to quantitative and numerical data.
You should consider the given metrics while evaluating your performance on the two discussion forums.
Quora
Upvotes and shares on your answer, answers to your questions, views and clicks on paid ads, sentiment analysis of questions about your brand, counting positive and negative reviews
Reddit
Upvotes and downvotes, shares, number of posts on your subreddit, engagement on your replies and threads, karma points, followers, metrics to track paid ads
Community building platforms are spaces where your brand can build a sense of pride and authenticity. These forums also help humanise the brand with the kind of candid conversations and banter you choose to participate in. There is no single success mantra which can guarantee you a successful marketing strategy. You will have to experiment and engage with your content time and again. Soon enough, you will find the sweet spot between brand and consumer where "the real connection" exists.