A reseller business, in concept, is something that we have seen around us. The stores that sell seasonal products like Diyas during Diwali and colors during Holi are some common examples. But with the times we are living in, every business format is going online – from a Kirana store to a reselling business.

Like any new business, the reseller business has its own characteristics and advantages. Establishing an online reselling experience for your customers requires specific prerequisites and processes to be set in place. Read this article to understand the online reseller business format and how you can launch one of your own successfully.
What is a reseller business?
As the name suggests, a reseller sources products from suppliers (manufacturers or wholesalers) and then sells it to the end consumers. Unlike a homegrown brand or label that sells its own products, resellers focus on selling ready-made products to its customers.
Some resellers even get their products from sites like eBay, Alibaba, Meesho, or the second-hand goods market. They are usually not product-focused and sell a wide variety of products via their business model.
What is the difference between reseller and distributor?
Based on the definition, one might think that a reseller performs the same function as a wholesaler or distributor. Both parties buy goods from suppliers or manufacturers and sell it forward. Though similar, a reseller and distributor have two primary areas of differentiation.
Relationship with the manufacturer
The distributor usually has a stronger relationship with the manufacturer, as compared to the reseller. Distributors often go the extra mile by doing more than just buying the products from the manufacturer.
Distributors assist in marketing, labeling, and government permissions, which leads to a closer relationship between them and the manufacturers.
Click To Tweet
However, a reseller is not closely related to the manufacturer and sometimes might never get in touch with the latter. They obtain their goods from the wholesaler or the supplier for the sole purpose of selling it forward. Resellers don't provide any after-sale service or marketing assistance to the producers. 
Inventory management
Distributors usually buy inventory of merchandise from the manufacturers, meaning they buy in bulk. They ensure ample and abundant storage and warehousing services for the said inventory, so it doesn't deteriorate in any way. Owning and managing the inventory effectively makes them feel more responsible for selling the products most efficiently. 
Resellers don't hold on to any kind of inventory. Their model is based on a demand-based approach. They usually procure only those items for which the customers have placed orders. They are simply a middleman between the manufacturer and the final customer.
Is online reselling a good business option?
Reseller businesses can be based out of a physical premise or can be entirely online. With the outbreak of the COVID-19 pandemic and the subsequent push to online companies, online reselling is the more lucrative option. It brings all the benefits of a typical reseller business, plus the perks of an online enterprise.
Lucrative business idea:

It is a viable business option for anyone who wants to sell online but doesn't have the means and skills to produce their own goods

Multiple product listings:

There are no fixed rules for resellers. You can dabble and sell numerous product types – which may be related or unrelated. All resellers need to ensure is that they sell demand-fulfilling products

Easy to establish:

For online reselling, you have to ensure that your platform is in place – be it a website, blog, or a social media page. Post that, you can instantly start listing the products which are up for sale and become open for business

No inventory costs:

Reselling business does not require you to spend on warehousing, compliance or bulk purchases

Low financial commitment:

Online setups require minimal cost and time. With no inventory costs and low shipping prices, you can set up your online reselling business with ease.

Work-from-home resellers: Many reselling apps provide guidance on becoming a partner reseller. People can start their online reselling enterprise from home; all you need is a dependable internet connection
How do I start reselling online?
An online reseller can be anyone – a student, a homemaker, a professional, or even a freelancer. All you need is a strong entrepreneurial spirit and a thorough understanding of the process of reselling. We are here to help you to understand the steps required in starting your online reselling business.
Finalizing the business specifics
Reselling is a vast area of selling. As listed above, one of the advantages of online reselling is that you can choose to deal in multiple products. Thus, before starting a business as an online reseller, there are a few areas you should decide upon.
Reseller industry: This means the broader area or product lines that your reselling business will cater to. Though there are no restrictions on the kinds of products one can sell, it is advised to maintain uniformity.

For example, a reseller's industry can be apparel and clothing. Under this, he/she can sell bed covers, dresses, curtains, and suits. However, a reseller a mobile phone and a baby blanket together might seem odd to the customer

Target audience: Another good practice is to narrow down who you want to target with your business. Having a customer profile in mind helps you decide the communication channel, marketing strategy, and even pricing decisions. 
If you want to target middle-aged homemakers, then launching the reselling business on Whatsapp might get you more leads
Click To Tweet
Competition analysis: Any business requires a thorough understanding of the competition and current business practices. Resellers differ in multiple aspects – from tone and branding to pricing and variety. Have a good look at your competitors so that you can set your policies accordingly
Sourcing the products
This is possibly one of the essential steps in launching an online reseller business. There are two primary sources from where resellers get their merchandise.
Reseller Apps: They are platforms from where resellers can source the material. Some apps like

Meesho,

a social commerce platform in India, provide a wide range of products available for reselling. People can share their selected catalog with the customers after adding their margin to the price.

The best part of Meesho

is that you only pay for a product once the customer confirms his/her order. There are also reselling apps like eBay, OLX and Cartlay.com, which have been gaining popularity as a reseller platform.

Local sourcing channels: Some resellers don't necessarily source their products online via an app. They try to find merchandise around their surroundings, which can be effectively resold. This ensures the scope for higher margin without involving any third party for sourcing. Some of these channels include: 

Your own home

Friends and family

Flea Markets and Antique Malls

Consignment auctions

Garage sales

Retail store clearance

Facebook groups
Setting up a communication channel
You can source the right products, price them right, and be ready for business. But all these steps won't be as significant if the customers don't get to interact with your reseller business. Here are the different ways you can set up an online platform for your reseller business.
Social media channels: One of the often-used ways of reselling online is by leveraging social media. Resellers use their personal or business accounts on Instagram, Facebook, and Whatsapp to showcase their product range. Orders are then received over direct messages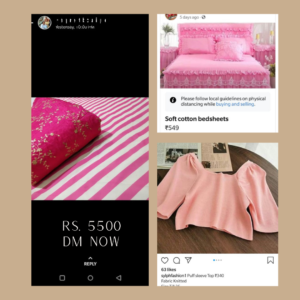 Blogs: Resellers can also set up blogs on WordPress, Medium, or personalized websites to set up an online reselling platform. As a reseller, you can post images of your merchandise, details, and other useful information on the blog. People can then place orders via the blog itself

Mini websites: Websites like Wix offer themes and templates to make small-scale websites in a short time. These websites can serve as an e-commerce platform for your reselling business
Research your target audience's likes, dislikes, and online habits. For example, homemakers tend to be more active on WhatsApp, whereas GenZ likes to shop from e-commerce sites.
Click To Tweet
Marketing it right
No business is complete without effective marketing. Even for reselling businesses, targeted marketing strategies can play a significant role in increasing sales. It is entirely the reseller's discretion on how he/she wants to market their products.
Some of the commonly used marketing strategies in reselling are:
Pricing products lower than the competition

Offering free delivery

Offers like Buy One, Get One

Lucrative messaging like "Offer valid till stocks last" or "Last few pieces left"

Customer testimonials

Referral discounts
Finalizing payment channels
If you plan the above steps well, customers will likely engage and buy from your online reselling initiative. However, the last and one of the more crucial steps post receiving orders is processing payments.
In an online reselling set-up, there might be issues like late payment, sending daily payment reminders, and looking for a consolidated way to accept payments. With Razorpay Payment Suite, you can solve each of these problems in no time.
With a high-end user interface and consolidated payment setup, you can accept payments seamlessly in no time. Read below to discover which Razorpay products can help your online reseller business.
Razorpay: The payment partner for online resellers
Razorpay's payment suite has a product for every reseller and every platform. Razorpay provides a safe, secure, and hassle-free way to accept payments online. This helps businesses to focus on their venture without worrying about payment-related formalities.
Our team at Razorpay understands that resellers conduct their business via different channels, as also discussed above. So whether you use a website, a blog, or any social media platform, Razorpay products can assist you everywhere.
Razorpay Payment Links
Payment Link is one of the simplest ways to accept payments via social media seamlessly. With Razorpay Payment Links, you can accept payments in just two steps. First, generate a link from the Razorpay Dashboard or ePOS app, and second, share it with your clients. Payments can be made within minutes by clicking on the link.
Razorpay Payment Links provide your four major advantages, which ensure timely and accurate payments.
100% secure ecosystem guarded with PCI DSS compliance

No prior coding or design knowledge

More than 100 payment options to a customer

Shareable and customizable link for any platform
Use cases of Razorpay Payment Links
Social media seller

Whatsapp resellers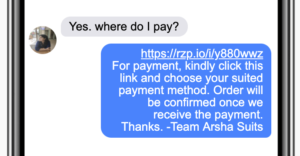 If you're an online reseller showcasing your products on social media, order processing will get significantly simplified with Payment Links. When the customer confirms his order over direct messaging, send him a Razorpay Payment Link. You can also use Payment Links to send reminders for follow-up payments. 
Razorpay Payment Buttons
Razorpay Payment Button is a line of code, added to any website or blog, to facilitate payment acceptance. The best part about Payment Buttons is that it doesn't require any coding or design knowledge. You simply have to copy and paste the code provided by us, and within less than 5 minutes, you will be open for business. 
Use cases of Razorpay Payment Buttons
It embeds a button on your Wix website or WordPress blog, which can be clicked by the customer to check out the order. What's more, you can choose any of our existing templates or customize a Button of your own!
Razorpay Payment Pages
Razorpay Payment Pages is a way to set up a mini-website for your enterprise in less than 10 minutes. Payment Pages allow you to add information like product images, descriptions, and prices. You can also add terms and conditions if any. It provides an integrated payment checkout option along with the feature of displaying your products. 
Use cases of Razorpay Payment Pages
Assisting in social media

Substitute for website
If building a website or starting a blog is not your strong suit, we have something more comfortable for your online reselling business. With our ready-to-use templates, you can accept payments for multiple payment modes.
Razorpay Partner Program
Apart from assisting your existing reselling initiatives, Razorpay also gives you an opportunity to become a reseller for our brand. This is what we call the Razorpay Partner Program. As a Razorpay Reseller Partner, you will be responsible for referring and integrating Razorpay to other businesses.
You shall only be held accountable for bringing the clients onboard successfully. Our model works exclusively on commissions earned by our reseller partners, based on their referrals. If you are a merchant who deals and knows online businesses that can benefit from the Razorpay product suite, then join our Razorpay Partner Program today.
Join Razorpay 
Reselling seems to be the next big thing coming up in e-commerce. If you are operating or planning to launch a reseller business, let Razorpay take care of all your payment needs. With our diverse product suite, we can help you make transactions seamless while you focus on expanding your customer base.