During the COVID-19 lockdown, Razorpay saw a number of SME businesses – especially Kirana stores – going online with our products. We have tried to capture the learnings and experiences of all such Kirana store owners by building this hypothetical situation.
When PM Narendra Modi announced a nationwide lockdown on March 24, Mahesh Bansal was still at his shop. The shop, called Bansal Shopping Mart, is a Kirana store in C-Block of Lajpat Nagar, Delhi. Everyone had anticipated that the government would implement a strict measure to safeguard the lives of citizens, but no one seemed prepared for it. While the announcement was still unfolding on his television set, Mahesh saw a swarm of customers approaching his shop.
These anxious customers thought no better than to indulge in panic-buying. On enquiring from some of his customers, he realized that two things scared the customers:
The lockdown might affect the availability of essential items in the market, so it was better to hoard as many as possible

Scared of how deadly this virus might turn out to be, customers hereon didn't want to risk anything by going out to shop
That night, as Mahesh and his son, Sanjeev looked at their Kirana stores' empty shelves, they realized that it was the urgent need of the hour to do something which safeguarded their customers. At the same time, Mahesh had to ensure that his business would not be adversely affected. It was time to go online.
Going online with Razorpay Payment Pages
Being present online was a wise thought but its implementation harrowed the father-son duo immensely. They thought of launching an app or a website but when Sanjeev researched, he concluded that this was a mammoth task. With no background or experience in coding, it was impossible to launch an app. Mahesh suggested that they could get a specialized web agency on board but the fees turned out to be too high for the Bansals to afford. 
They were one of the many Kirana stores struggling to find their ground in this lockdown. Finally, through a common reference, Sanjeev heard about Razorpay Payment Pages.
Payment Pages by Razorpay is an easy, seamless way to accept online payments without setting up a website or integrating payment gateways. When we launched this product, in 2019, our aim was to enable people to take their business online in a span of 10 minutes. However, this unforeseen circumstance of Coronavirus increased our use-cases by leaps and bounds.
Razorpay Payment Pages can be set up in a matter of minutes by following some simple steps. Like Mahesh, any business can modify them as per their needs and desires. Follow the procedure explained below to set up your payment page.
[Recommended Read: Build Your Own Online Store with Razorpay Payment Pages]
1. Set up your payment page via the Dashboard
2. Insert additional details about the business like contact details, guidelines and social media handles

3. Add or modify details in the payment checkout tab as per requirement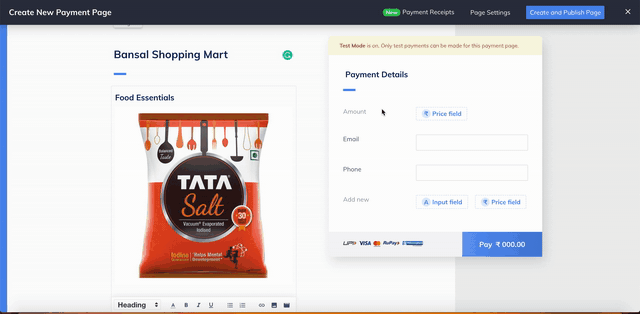 4. Generate the link and copy it to share anywhere

Navigating COVID with Razorpay online kirana stores
Objectives
Bansal Shopping Mart had three goals in mind when they decided to go online.
Safeguard customers by providing an online shopping experience to them. This included online payments so that there was minimal contact between them and their customers

Safeguard the owners – Mahesh and Sanjeev – by taking orders online

Ensure that business is unaffected by serving and helping as many customers as possible
Operations
In the C-Block locality of Lajpat Nagar, residents were restless and panicked. Many assumed the worst that lockdown would lead to no availability of food and essential items in the market. The Bansals decided to control the situation since they owned the only grocery store in the vicinity. They sent out a series of Whatsapp messages explaining the situation and launching the Razorpay online Kirana store for everyone's convenience.
Bansal Shopping Mart had to adapt itself to the COVID situation and abide by lockdown guidelines. They used Razorpay to set the following guidelines for their online store.
Customers could place their order between 7 AM – 11 AM. The owners imposed this restriction because they wanted to take orders in the morning and do deliveries in the evening

The payment had to be done online via any of the methods available on the payment page

Bansals used the automated receipt option on the dashboard to ensure all customers got receipts as a sign of order confirmation

They did not hire any extra personnel for deliveries, because labour wasn't available easily due to COVID. Both Mahesh and Sanjeev would go around the C-block, delivering groceries to houses. They always maintained the no-contact delivery protocol by leaving the bags at the doorsteps
Razorpay online kirana stores: The benefits
When Mahesh chose Razorpay to set up his online Kirana store, he got the following benefits.
Extensive product listings
Payment pages allow you to list multiple items along with their image and description. Apart from this, businesses can design multiple payment pages catering to specific segments.
With the help of his son, Mahesh made four payment pages catering to the four main categories of essential goods. These four categories included food, cleaning and household, staples, and beverages.
No coding requirements
Setting up a payment page is extremely simple and requires no additional coding knowledge. One can simply fill the details given on our existing templates and customise it as per their needs. You can set up your venture's payment page in less than 10 minutes.
Setting up a payment page is extremely simple and requires no additional coding knowledge. One can simply fill the details given on our existing templates and customise it as per their needs.
Click To Tweet
The idea for an online store struck Mahesh on the night of 27th. By 28th morning, he had discussed the plan with his son and decided to move ahead. By 28th afternoon, they had all four payment pages set up, ready for business.
Customised purchase controls
With payment pages, anyone can set a limit to the minimum and maximum transaction amount, the least number of products customers can purchase and more.
Since Mahesh was short on workforce and needed to cover his costs, he set a minimum purchase limit of Rs. 100 on the payment pages. Anything above Rs. 100 would ensure home delivery by Mahesh and his son.
Enriching mobile experience
The customer today is going mobile-first. Thus, it becomes essential for businesses to provide their consumers with a dynamic mobile experience. Keeping this in mind, Razorpay payment pages are compatible on all mobile devices and allow users to choose from multiple payment options.
Mahesh and his son used Whatsapp to float their payment pages to their regular customers and asked them to forward it further. Consumers were able to pay from their UPI IDs, mobile wallets, cards as well as from net banking.
Intuitive reporting
Payment pages enable you to receive real-time insights for each transaction that takes place. The dashboard provides information which can help you assess situations and make better business decisions.
Mahesh's son was concerned about this change of going online so he kept a close eye on the dashboard insights. After analysing consumer drop-offs and products sold, he was able to take a call on how to regulate their online Kirana store.
[Also Read: Add a Payment Button to Your Website & Accept Online Payments with Ease]
Razorpay online kirana stores: The results
By taking their business online, Bansal Grocery Mart saved a large number of citizens from indulging in panic buying and hoarding. The unprecedented time of COVID was a challenge to individuals and businesses alike. But people like Mahesh and Sanjeev Bansal used online stores to help themselves and others.
With Razorpay payment pages, the Bansals (and hundreds of online kirana stores owners) achieved the following:
From April to June, the Bansals served 3800 online orders from C-Block residents

They were able to complete all deliveries without exchanging any cash or coming in contact with any customer

Their monthly sales increased by 48% as compared to February and March, the pre-lockdown months

They were able to analyze the drop-offs and low demand products from Dashboard analytics and changed their strategies accordingly
Take your offline stores online
This pandemic has taught us to be ready for the worst. At Razorpay, we are proud of the fact that our payment pages assisted 3000 small businesses like Bansal Grocery Mart in their endeavour to help and protect others. With online selling and no-contact workplaces picking momentum, we encourage all businesses to set up their online front, in these times of uncertainty. 
Sign up for Payment Pages today to take your venture online.