Do you run a blog and want to drive revenue from it? Or, are you planning to take your business online? If yes, we have just built an awesome product for you! 
One of the most challenging steps for an individual or business comes when they want to enable digital payments. In a world where everything online is becoming a norm, you must have access to the most comfortable ways – the one that does not involve coding or design efforts. 
Our latest offering at Razorpay, 'Payment Buttons' is one of those products that is designed for ease. Read this article to know the details. 
Razorpay Payment Button
Razorpay Payment Button is designed for everyone who wants to accept online payments within one ecosystem, without any redirections. It requires zero coding and design efforts.
Click To Tweet
A business or an individual can copy a line of code and paste it wherever they would like to embed it. They can also choose to customize the button as per their requirement. The best part you ask? Well, you can get going within 5 minutes! 
[Read More: Introducing Razorpay Payment Button: The Easiest Way To Get Paid]
Types of Payment Button
Multiple types of payment buttons can be used with Razorpay Payment Button on your website that is built on any website builder:
Quick Pay Button:

By embedding this type of button, you can offer your customer to make quick payments for a fixed amount by their preferred online method like the card, netbanking, wallet etc. 

Donate Button:

NGOs and similar organizations can use this button to accept donations with a pre-set amount or can offer their customer to pay the amount of their choice by entering the desired value. 

Buy Now Button:

This type of button is suited for event organizers and product or service sellers. You can choose to sell multiple items with varying quantities by embedding this button.

Custom Button:

This is designed for power users with capabilities for different amount types, custom forms etc. 
[Recommended Read: Payment Button Templates for Every Business Need: Use Cases & Examples]
How to add a Payment Button
You can add unlimited payment buttons on your website within minutes. Just follow these simple steps:
1. Sign up with Razorpay and click on 'Payment Button' on the left navigation bar.
2. Click on 'Create Payment Button' option on the left side of the screen that appears.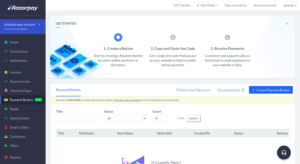 3. Choose the Button template from the options available.
4. Add the 'Button Details' as per your requirement.
5. Add the details you want your customer to provide under 'Customer Details'.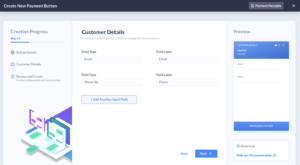 6. Review all the details you entered and create your button.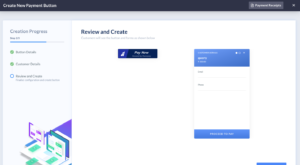 7. If you wish to send automated receipts, click on 'Payment Receipts' option on the top right of your dashboard. Select your preferences and click on 'Save'.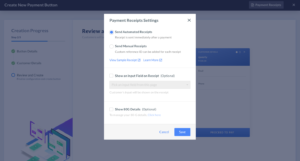 Pro-tip: You can also send 80G receipts automatically with Razorpay. Know more here: Introducing Automated Receipts On Razorpay Payment Pages
8. That's it! You will get a line of code on your screen. Copy this code and add it anywhere on your website or a blog.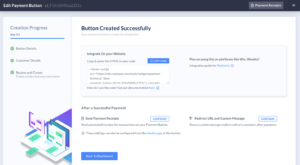 9. Check your button details anytime by logging into your Razorpay dashboard. 
Add Payment Button on WordPress, Wix, Shopify & more
Are you looking for a solution to add a payment button on your website built on WordPress, Wix, Shopify and alike website builders? Well, Razorpay payment button is the solution. Follow the steps mentioned above and get ready to accept secure payments. 
Confused while choosing a website builder? Create a Payment Page with Razorpay and build your own online store with Razorpay Payment Pages.
Here's why you must choose Razorpay Payment Button: 
Go live in 5 minutes
What differentiates our Payment Button its #NoCode feature. Customize your button easily and go live in minutes. 
Multiple payment methods + International payments
Offer 100+ payment modes, including credit/ debit cards, netbanking, UPI, wallets. Enable international payments to accept international payments. 
Dynamic mobile experience 
Offer the best in class experience to your customers. Reduce drop-off rates on both mobile and desktop with our redirection-less experience. 
Intuitive reporting 
Get detailed insights for each item sold, based on real-time transactions from the dashboard to help you make better business decisions.
Unlimited payment button
Create any number of buttons you wish to add on your website, along with required details and descriptions for each one of the items.
…and a few more! Sign up to experience the uniqueness today.
Over to you
Razorpay Payment Button gives you the power to offer seamless checkout experience to your customers leading to higher conversion and lesser cart abandonment. 
The best part is that you can make the best of it, play around and see what works the best for you and get started, all by yourself. In all, this is one man's job kind-of product!