Consumer spending is the total amount spent on goods and services by people in a region. Typically, it refers to spending on consumption in the present. According to platforms like Statista and Trading Economics, as of 2020, consumer spending in India amounted to a figure of over 17 INR trillion.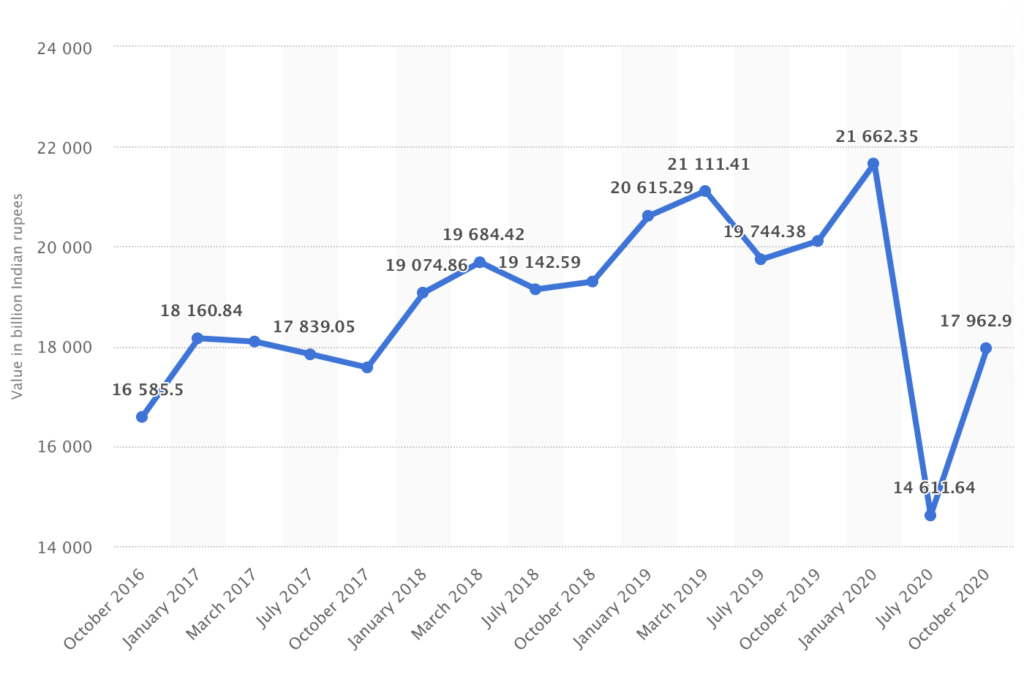 Since the COVID-19 pandemic led to a contraction in consumer spending last year, it is projected that the spending rates will ideally get back to growth levels this year.
Economical factors like personal savings, investment spending, and the rate of production in an economy can be deemed as the supportive factors of consumer spending. 
In the economical bracket, many types of consumer spending are observed. The primary types of consumer spending are the costs incurred on necessities, non-durable goods, durable goods, and luxury items. 
Some terms to keep in mind
Let us have a look at some terms you need to keep in mind to understand the concept of consumer spending easily. 
1. Base interest rate 
It is the rate of interest used by commercial banks as the basis for their lending rates. The base rate is also known as the bank rate or the base interest rate. While commercial banks are free to set their interest rates for lending, the rates that they charge on loans and offers on savings are to be derived from the base rate.
This means that central banks can use base rates to encourage or discourage consumer spending, depending on the state of the economy.
2. Disposable personal income (DPI)
DPI is the amount of money that an individual has to spend or save after the deduction of taxes. Disposable personal income is closely monitored as one of the key economic indicators used to judge the overall state of the economy.
Though DPI, economists, and business analysts can calculate metrics such as discretionary income, personal savings, and much more. 
3. Gross domestic product (GDP) 
GDP is the market value of all the finished goods and services produced within a country's borders in time. 
It can be calculated by adding up all of the money spent by consumers, businesses, and government in a given period. It can also be evaluated by adding up all of the money received by the participants in the economy.
4. Income per capita
The income per capita is an inference of the amount of money earned per person in a nation or geographic region. Per capita income can be used to determine the average per-person income for an area, evaluate the standard of living of individuals, and the quality of life of the population staying in that region.
5. Mortgage rate
A mortgage rate is the rate of interest charged on a loan that's used to finance a property. Mortgage rates are determined by the lender, which can either be fixed or fluctuating with a benchmark interest rate. 
The rates vary for borrowers based on their credit profile. Potential homebuyers can estimate mortgage rates by looking at the prime rate
If we speak about digital consumer spending in 2021, the rise in digitalization in the country is giving many covid-19 led impacted small and medium businesses a chance of a fresh start through online retail. 
6. Digital consumer spending 
The demand for establishing online stores, setting some paid ads, online promotional expenses, and other miscellaneous costs have given a significant rise to digital consumer spending. 
The need for online retail and enticing online shoppers to make purchases have become indispensable. With a majority of businesses trying their best to adapt to the given environment, the competition between online businesses is sky-high, and each business has set up its strategies to stay afloat in the market. 
Also read: How To Tweak Your E-Commerce Website to Drive More Conversions
Consumer spending in India 
The rise in internet penetration, an increase in the millennial population, steady growth in disposable income, and a shift in the attitude towards online shopping have made people change their shopping habits.
Consumer spending is an important factor that affects economic growth and development in a country. It is projected that In the future, India will be among the powerhouses of Asia in terms of growth in GDP, consumption, and wages. 
Several factors are affecting the consumer spending pattern in India; for example, the growing income levels resulting in more disposable income with individuals, changes in prices, the introduction of new products, increased literacy, growing brand consciousness, and rapid urbanization to name a few.
People belonging to the middle class consider essentials and education as their top priority, followed by lifestyle goods. The upper class tends to spend more on luxury goods and international brands.
It is observed that as disposable income increases, consumers prefer branded goods, and the expenditure on transport, amenities, and communication also thereby increases.
Importance of consumer spending on the economy
Consumer spending is very important to the economy and businesses. The more money consumers spend on a brand, the better that brand performs. 
For this reason, it is not surprising that many investors and businesses pay great attention to the numbers and patterns of consumer spending. Investors and businesses closely follow consumer spending statistics when making forecasts and future business transactions.
With regards to the economy, governments and central banks often examine consumer spending patterns when considering current and future fiscal and monetary policies. Consumer spending is often evaluated and disseminated by official government officials. 
Even a small drop in consumer spending damages the economy. As it drops off, the economic growth slows. When prices drop, it creates deflation and there is a rise in the loss of jobs. If there is a pitfall in consumer spending, the economy contracts. 
Too much consumer spending can be hazardous too. As an effect of the same, there is an increase in the prices when consumer demand exceeds the manufacturers' ability to provide the goods and services. If a similar pattern continues, it leads to inflation.
Factors that influence consumer spending
As you can see in the image below, several factors affect consumer spending. We will be discussing the most important factors that alter spending and consumption levels. Interest rates influence mortgage interest payments and the cost of borrowing. Higher interest rates increase the cost of mortgage payments. Hence, higher rates lead to lower spending because consumers have lower disposable income.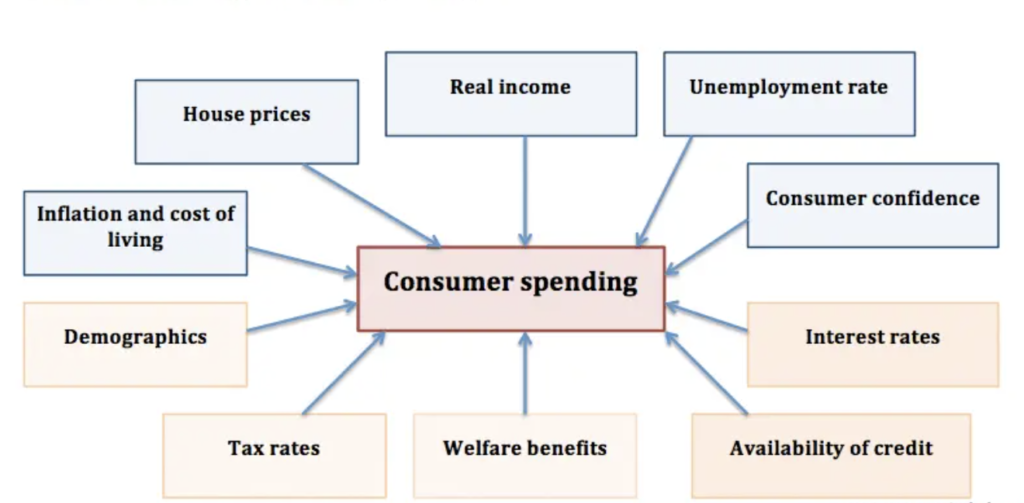 Availability of credit or credit limit
The credit limit is the total amount of money available to the borrower. Available credit refers to the variance between the credit limit and the account balance. Available credit helps a borrower to determine how much money they have left to spend.
When a borrower uses all of their available credit, they have reached their credit limit, and their available credit comes to zero. Once the account is maxed out, the borrower can no longer make purchases without exceeding their credit limit.
Welfare program benefits
Typically funded by the government, welfare programs refer to sponsored assistance programs for individuals and families in need, including programs like health care assistance, food stamps, and unemployment compensation to name a few.
The aim of welfare looks to promote the pursuance of work, education, and a better standard of living. Eligibility for benefits is based on some factors, comprising mainly income levels and family size.
Tax rates
The tax rate is the ratio at which a business or person is taxed. There are a variety of taxes applicable to Indian citizens under the taxation structure. But, almost all taxes under the Indian taxation system can be primarily distinguished into direct and indirect taxes.
Keeping tax rates at a reasonable level can encourage the development and formalization of businesses. Modest tax rates are particularly important to small and medium-sized enterprises, which contribute to economic growth and employment.
Inflation 
Inflation is a rise in the price level in an economy over some time. It is the rate at which the value of a currency is falling, and consequently, the general level of prices for goods and services is rising.
As a currency loses value, the price of goods and services increases. This loss of purchasing power affects the cost of living for the public which ultimately leads to a deceleration in economic growth. 
Consumer confidence
Consumer confidence or consumer confidence index is an identifier that evaluates the level of optimism shoppers have about the overall state of the economy and their financial situation. 
The level of consumer confidence is a pivotal factor that determines the willingness of consumers to spend, borrow and save. A high level of consumer confidence will encourage higher consumption levels, and a fall in level is an indicator of an economic dip.
What to expect in 2021 and beyond
In India, consumer spending increased to 17 INR trillion in the third quarter of 2020 from  14 INR trillion in the second quarter of 2020.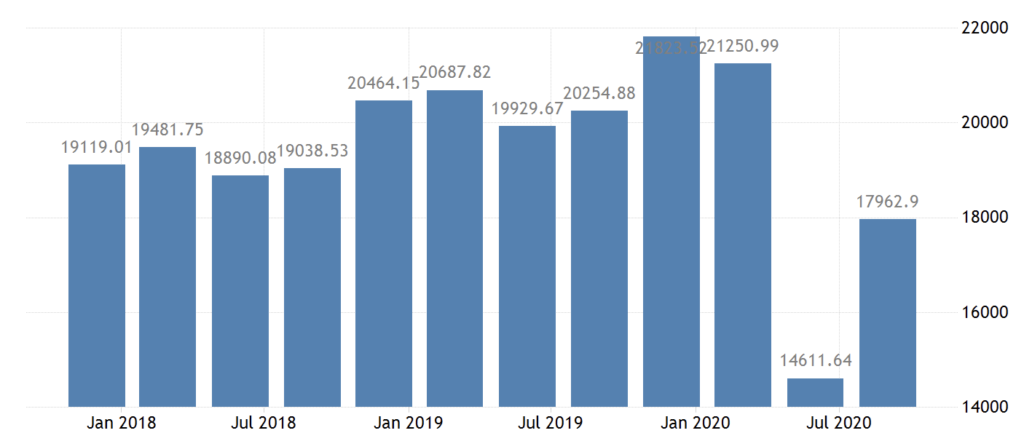 As discussed above, the coronavirus pandemic had its altering effects on consumer spending and investment in 2020. Since the pandemic put a full stop on physical shopping for months in India, it is not surprising that consumer spending has contracted by 12.6% in 2020. 
It is estimated that spending levels will return to pre-covid levels only after the second half of 2021-2022. In general, Spending on non-essential categories is expected to take a hit over 2021 as households will cut spending on non-essential items.
Consumer Spending in India is expected to be 20 INR trillion by the end of this quarter. And looking forward, Consumer spending is set to stand at 19 INR trillion in 12 months. 
In the long-term, as there is a rapid rise in digitalization, online shopping, and technology advancements in the country, consumer spending is projected to trend around 22 INR trillion in 2021 and 23 INR trillion in 2022, according to Trading Economics.

Rise in digitalization = Rise in online shopping
Since all brick-to-mortar businesses had to be shut for a large part of 2020, India observed a significant rise in online shopping in 2020.
The new wave of internet penetration has enabled a large number of people to access the internet-be of any age, income profile, education level, language skill, and cultural background.
Since the rate of internet usage in the country is showing no sign of faltering, a rise in buyers and sellers in the online landscape is expected as well. A rise in online shopping will result in the surge of incomplete delivery of orders and packages. 
This is not all, with spending levels reaching similar to pre-pandemic figures, it's surprising to see that 70% of India's population prefers cash as the primary payment method. 
Though this method of payment is very convenient for shoppers, the same cannot be said for sellers. Incomplete information, return to origin orders and other frauds are just the initial things a seller has to ponder upon while providing CoD as a payment option. 
Razorpay Thirdwatch to the rescue! 
As the e-commerce space is rising due to the demand for online retail, the rate of return to origin orders and incomplete orders is rising too. Hence, we at Razorpay Thirdwatch, have come up with a few ways in which we can help upscale your e-commerce business. 
Through Thirdwatch, you can identify complete and incomplete addresses, get RTO insights, flag and identify risky orders based on various data points gathered, get information about RTO orders, and so much more!
With the revolutionary PrePay CoD feature, you can convert risky orders into prepaid by sending payment links to your customers! What's more? You can automate payment links in Hindi to make the overall payment experience far more convenient for your customers. 
Also read: Introducing Address Correction For E-Commerce Businesses