ESS or employee self-service portals help employees and HR teams easily access information about leaves, payroll, employee benefits, etc., helping them focus on things that matter. 
Global surveys reveal 54% of employees are interrupted from their work a few times or more per month to spend time looking for or trying to get access to information, insights, and answers.
With a good Employee Self Service (ESS) portal, businesses save hundreds of hours for their employees.
What is an ESS or Employee Self Service Portal?
ESS or Employee self-service portals are tools used by companies to enable employees to carry out HR, IT and administrative tasks on their own. These include updating personal information, applying for leaves, managing insurance plans, and other benefits.
An ESS portal saves HRs a lot of time and shifts focus from manually intensive tasks to more important work.
ESS portals also help streamline administrative tasks as they consolidate knowledge from various web pages, ensuring that employees spend less time information hunting.
Elements of Employee Self Service (ESS) Portal
ESS portals perform several functions. They empower employees to self-serve and be self sufficient. Here are some of the elements of a typical ESS tool:
1. View documents and letters
Employees and HR can share, update and view multiple documents on an ESS portal. Investment declaration proofs such as -house rent allowance, and education loan statements are a few examples. The HR department can also use the portal to share and distribute documents like the employee handbook, notices, and company policies.
Not only does this unify all the information but also creates a single source of information for your employees, irrespective of their geographical locations.
2. Payroll information at fingertips
A significant function of an ESS portal is to let employees manage payroll related information. This makes it easier for employees to access payslips anytime, anywhere; especially when they're applying for credit cards, leasing houses, or getting a loan.
Some advanced ESS portals integrate payroll software as well. With this, employees can declare taxes and investments from the ESS portal itself.
RazorpayX Payroll creates a one-stop shop for employees and contractors to access payslips, Form 16s, and declare investments. RazorpayX Payroll also automates statutory compliances like TDS, PF, PT, and ESIC filings.
3. Leave and attendance tracking
Employees can apply for leave and time off on the ESS portal. Managers can review the applications on the portal itself and grant or deny leave requests in minutes. Along with a system for tracking leaves, an ESS portal helps managers to track attendance.
This ensures that there is no human error – traditional attendance-keeping systems like registers, paper cards, or punching can result in erroneous records.
Employee Self Service (ESS) Portal Benefits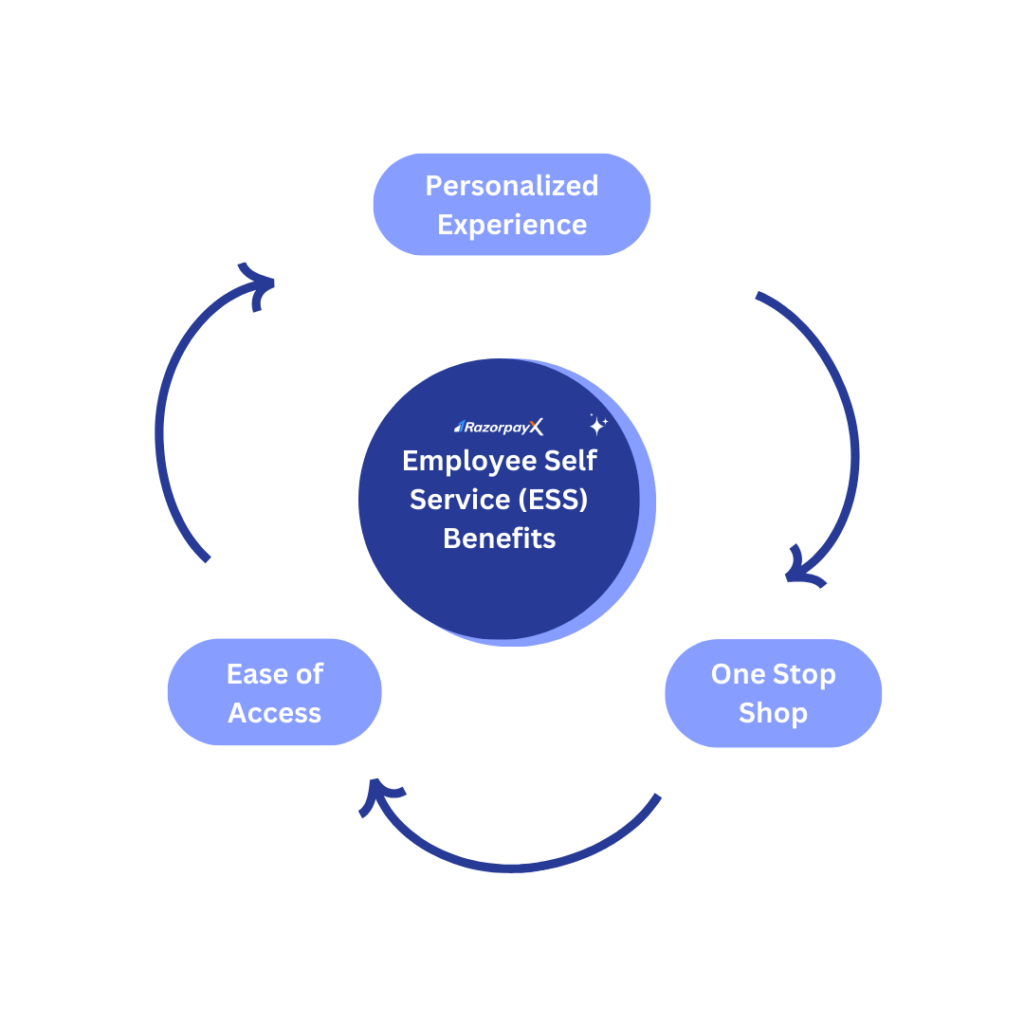 An ESS portal digitises several HR processes. Here are some of the benefits of having an employee portal:
1. Ease of access
ESS portals give employees easy access to essential data. Employees simply log on to the online portal for various documents like their payroll, payslips, attendance and leave data. This ensures that they promptly and easily get required documents without having to request the overburdened HR departments.
2. One stop employee data store
An employee self-service portal can act as a record book of all employee data. Their personal information, leave records, all documents and company communication are stored in one place.
Hence, employees don't have to switch from one portal to another to find information, improving the overall employee experience.
3. Personalised experience 
Personalisation has become the holy grail of employee experience. It is especially useful when employees are spread across various geographical locations.
An ESS or employee self-service portal allows employees to view information relevant to them and easily differentiate between information meant for organisation-wide circulation and individual intimation.
4. Safe and secure
An employee self-service portal contains sensitive employee information, which is why it is imperative to have a secure system. Typically, it has a firewall to protect employee information and company documents.
Thus, ESS portals ensure not only easy but safe access to all the important information as opposed to traditional methods of information management like paper-based systems.
Paper-based systems are more susceptible to loss, damage, and unauthorized access. They can also be difficult to search and update. ESS portals, on the other hand, are more secure and efficient. They provide employees with easy access to the information they need, when they need it.
Payroll Integrated Employee Self Service (ESS) Portals
RazorpayX Payroll facilitates employees to access payslips, and 28manage taxes and leaves in one place. 

It allows the direct deposit of salaries into employees' bank accounts after considering leaves and other deductions. It also automates compliance like TDS, PT, PF and ESIC.

Finally, it extends insurance coverage to employees automatically.
The icing on the cake? Integration with Slack.
With our latest integration with Slack, employees can execute common payroll tasks related to leaves, reimbursements, and payslips from Slack itself.
Know more about the RazorpayX Payroll Slack app