On 18th March 2023, the passionate team of Technical Writers and Content Creators at Razorpay hosted its first, one-of-a-kind event, curated for Technical Writers from across various domains and industries. They arrived to share experiences and ongoing trends, network and learn from the best.
This was TWX 2023, Season 1. See what transpired when the best minds in the industry come to discuss how to build fine documentation for users!
Introducing TWX 2023 – A Platform for Tech Writers to Share Experiences
TWX 2023, Season 1 offered a grand platform for Technical Writing pioneers from various domains and industries like IT services and consulting, AdTech, FinTech, Software Development and Digital Adoption sectors, to come together, connect and network.
There were 8 esteemed working professionals, with an average work experience of 10 years, coming from eminent organisations like PayU, inMobi, Cisco, Zeta, Whatfix, Hewlett Packard and more. They took the stage to offer glimpses into their lives as Technical Writers and presented their findings from their treasury of experience.
This cohort spoke about their achievements, discussed challenges and solutions throughout the day. The day began with presentations from the attendees who brainstormed as a joint Tech Writing Community and discussed approaches and solutions to problems both mundane and magnificent in scale and complexity.
The Razorpay Docs User Research Program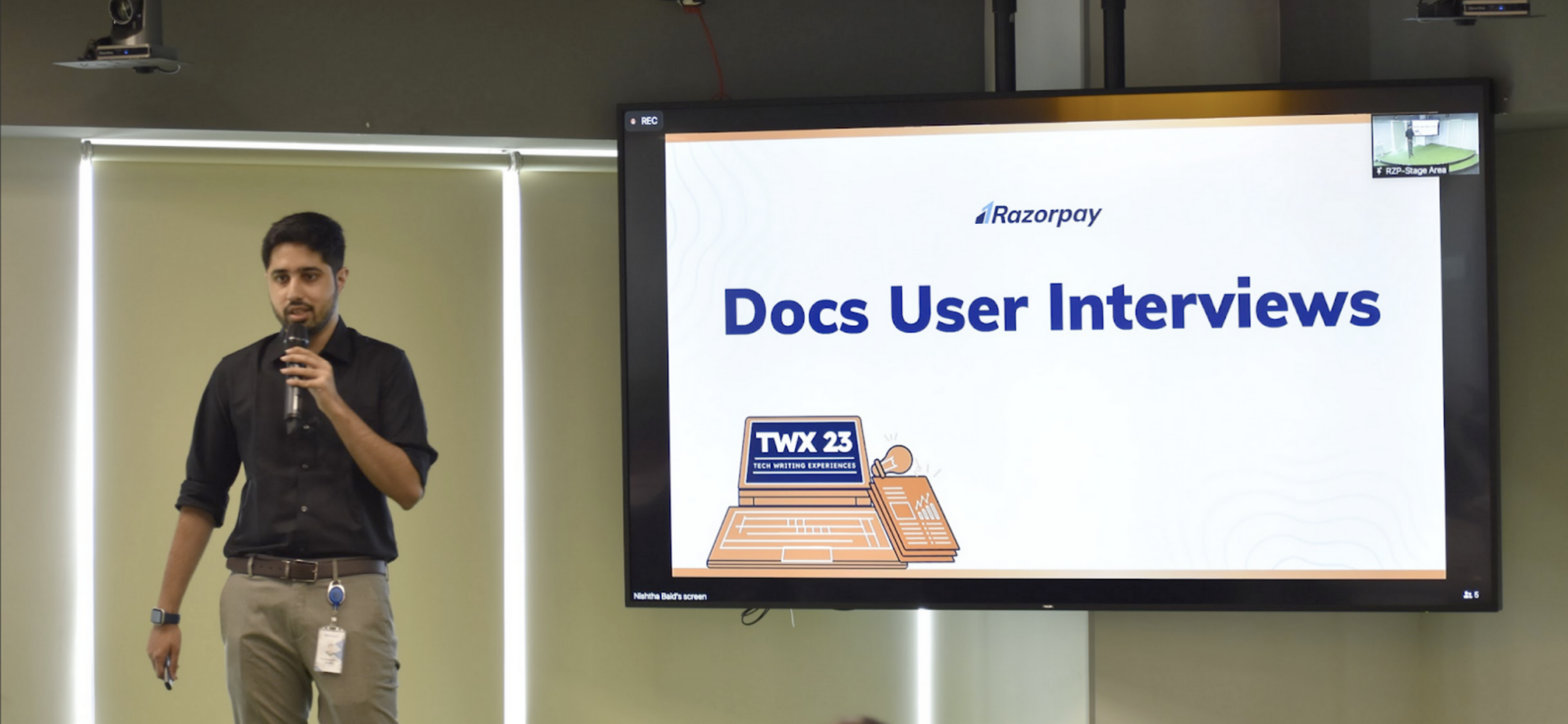 Dronal Kumar, Senior Technical Writer at Razorpay, took the audience through how User Interviews were a breakthrough discovery as a part of the Razorpay Docs User Research Program. He highlighted how crucial interviews are in bridging the gap between the Documentation and the end user. 
From user interviews, we gather qualitative data directly from the users about their experiences, motivations, needs and behaviours. We innovate & improve, and develop more user-centred products. 

Dronal Kumar, Senior Technical Writer, Razorpay
The audience nodded raptly, keen on understanding the need for user interviews and understanding how one could address user challenges.
Impact of ChatGPT on Technical Writing
Raghuram Pandurangan, Senior Manager for Technical Writing at PayU, spoke about Technical Writers shaking hands with ChatGPT and threw light on how one could best utilise the power of AI to streamline the documentation efforts. "ChatGPT is a wonder, but it is not always right," he said. 
The AI is artificially intelligent, but it is not contextually adept. It misses facts and lacks in-depth understanding. It's thus necessary to verify the contents from the AI before passing it on to the audience. 

Raghuram Pandurangan, Senior Manager, Technical Writing, PayU
Would ChatGPT replace Tech Writers? "At least not for the next five years", said Kailash Nagendra ominously, which made everybody laugh.  But subconsciously, everyone shook their heads, and then proactively discussed that AI replacing any kind of writer is nearly impossible. 
Involving the User 
Next, Nibu Thomas, the Director of Information Development at Whatfix, presented his findings and keen insights on Interactive Content. "It means involving the user," he specified, citing the various ways in which interactive elements could enhance the Documentation experience. 
The best way to remember anything is to be involved in it. Interactive content involves the user, strips away the monotony and boredom associated with documentation. By making your content interactive, you are involving your users in the act. This way they tend to remember.

Nibu Thomas, Director of Information Development, Whatfix
Research, Relevance and Relatability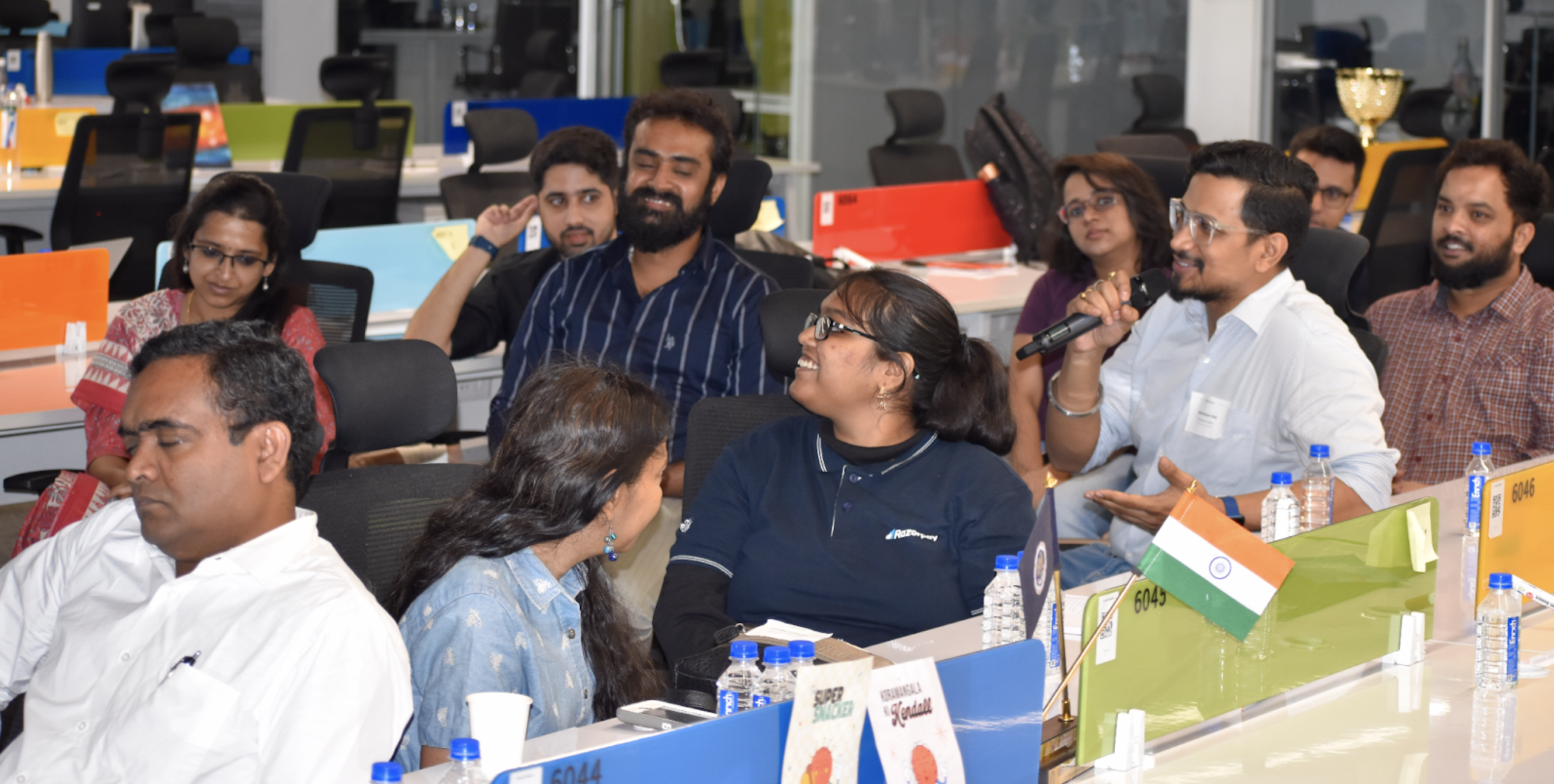 "The uncommon aspect of Tech Writing," said Kailash Nagendra, Lead Technical Writer at i-exceed, "is that writers do not adequately leverage the value of market research and reporting." He talked about understanding the unique perspective an end user can get based on market research and marketing events. 
It adds to a Tech Writer's repertoire. Users relate to you when you understand them. This improves the documentation–user interaction.

Kailash Nagendra, Lead Technical Writer at i-exceed
Geetha Krishnan, Akhilesh Shukla, Sreekanth Athikunte, Ujwala Jagadish, Neelanjaan Deb— Senior Technical Writing folks in various domains — and the Razorpay Tech Writing team, an enthusiastic lot of 12 Technical Writers and Content Creators — collaborated on interesting questions and banter, a session that Sai, Associate at Razorpay, continued and moderated. 
Docs – A Game Changer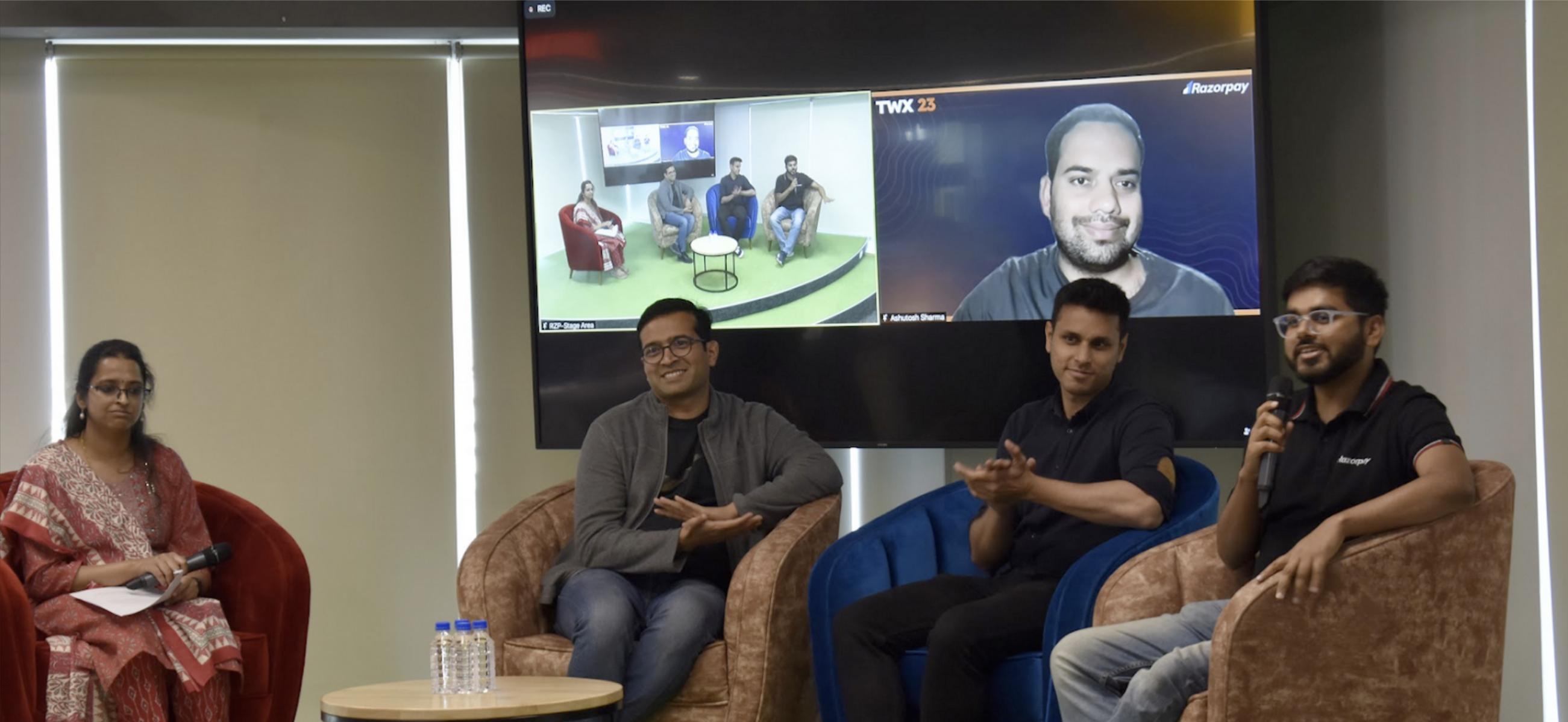 Post lunch, Vinita Jagannathan, Lead Tech Writer at Razorpay, led a panel discussion around the topic: Docs – A Game Changer. 
Prasun Jain, Senior Director of Product Management, Venkatesh Gupta, Product Manager for Razorpay Docs, Paritosh Kumra, Product Designer for Razorpay Docs and Ashutosh Sharma, Engineering Manager for Developer Experience pod at Razorpay, shared their thoughts about how Razorpay uses Docs as a lever to create awareness about Razorpay products and offerings, make integrations easier and help users self-help and improve overall user experience.
Venkatesh began the discussion with an anecdote. In 2016, a user took to Twitter and asked Shashank Kumar, the co-founder of Razorpay, asking him for resources to help him integrate the Razorpay Payment Gateway. Shashank, in reply to that tweet, linked the documentation website and opened a challenge: The integration would take him less than an hour to set up and finalise. The user replied in less than an hour; his integration was successful!
That is the power of having precise and up-to-date documentation!
Vinita moderated the event with her insightful questions pondering how Razorpay Docs moved from being just a 'Deliverable' to a full fledged 'Product' like any other Razorpay offering, needing regular care and optimal maintenance. The panel continued exploring the meaning of innovation in a documentation context and how Razorpay Docs has continued with its vision to empower users and delight them.
Prasun specifically highlighted the significance of having good product documentation. Quoting his experience while using Instagram to create and post a Reel, he mentioned he was unable to find any help on the app and had to instead rely on Google to find answers.
As ubiquitous as the app is, the need for docs is unmistakable.
Taking Challenges Head On
The spirit of the discussion lingered in the audience long after the panel discussion was over. Sai took up the Q/A session once more. This time emphasising the problem statements of Tech Writing processes, collaboration, and challenges in document delivery and maintenance, the discussion was a sombre one.
It detailed the struggles of maintaining timeliness when there's a cross-functional dependency on teams. "How do you meet deadlines and what best practices must we exercise to stick to timelines in the face of collaboration?" The discussion also spurred into adhering to content relevancy and accuracy.
"It's important to set deadlines and communicate them to the relevant teams. Discuss their alignment," Nibu ventured. Neel agreed, mentioning: "We need to rely on vocal communication, not just textual communication, especially with folks who are known to be unavailable."
Sriparna Saha, Associate Director of Technical Writing at Razorpay echoed a sentiment that every Technical Writer felt strongly about. "We mostly work in the background and often do not get the limelight that we deserve," she began, and the audience nodded, already empathising.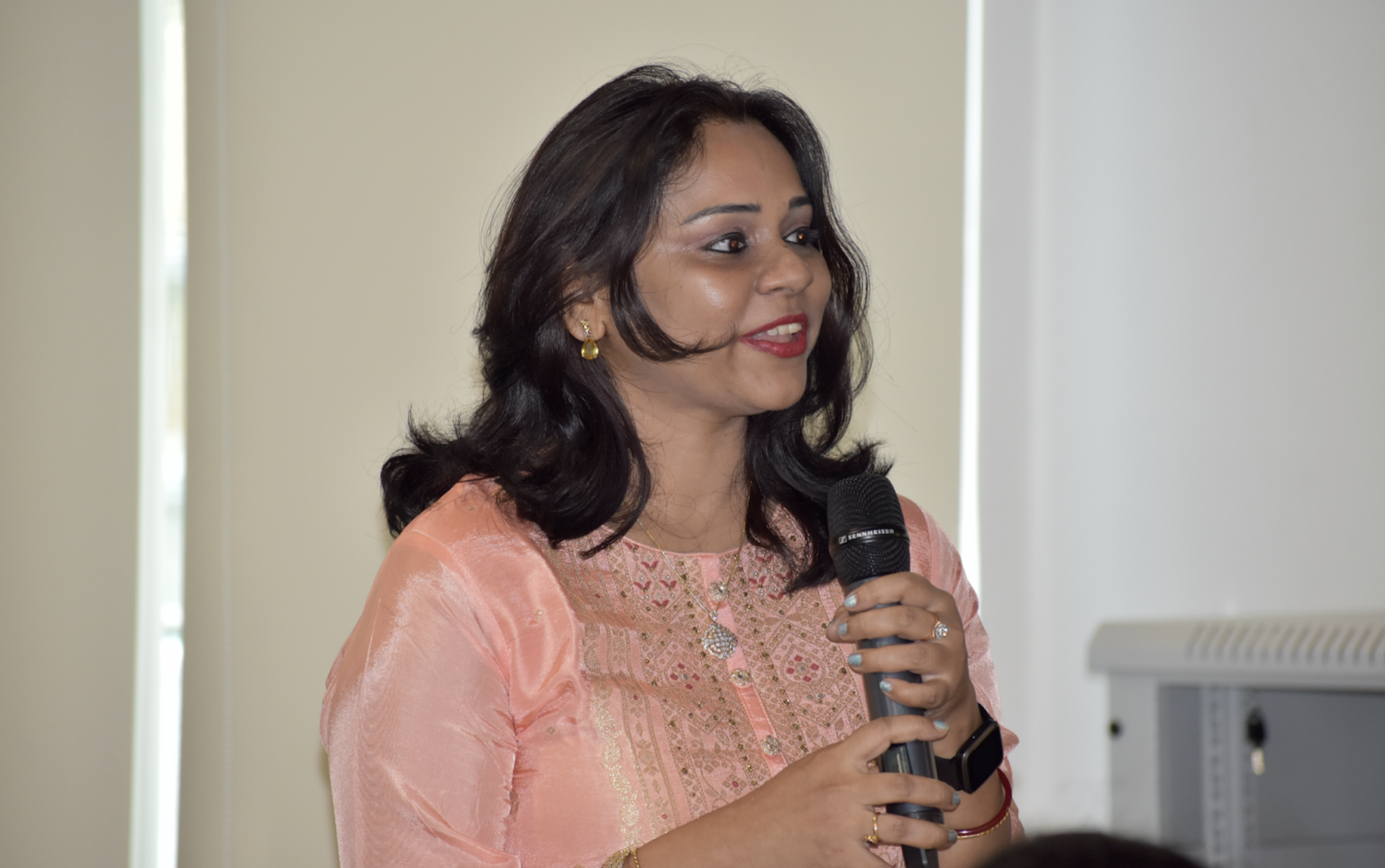 Nibu highlighted an important point. "Us being the background is the usual. We writers aren't known to talking praise of ourselves. So we must also make the move to be recognised. We take matters into our own hands and show ourselves on the centre stage, getting what is rightfully ours."
Documentation is a design of empathy and should accommodate every user reading it. "A Tech Writer has to design the content to make it accessible," Ujwala, Technical Writer at Altair Engineering, said. "Create videos for the know-from-video folk, provide complete coverage to the reading-centric crowd." The cohort discussed the surge in video requirements while also holding on to the text and context that supported Technical Writing in the first place. 
Wrapping Up
On that note, the participants bid goodbye to each other, satisfied with the quips and laughs they shared in the twilight moments. They expressed their contentment with the day, its events and the company. Raghuram and Nibu extended an invitation for the Tech Writers to attend another prestigious event happening in person after a long time.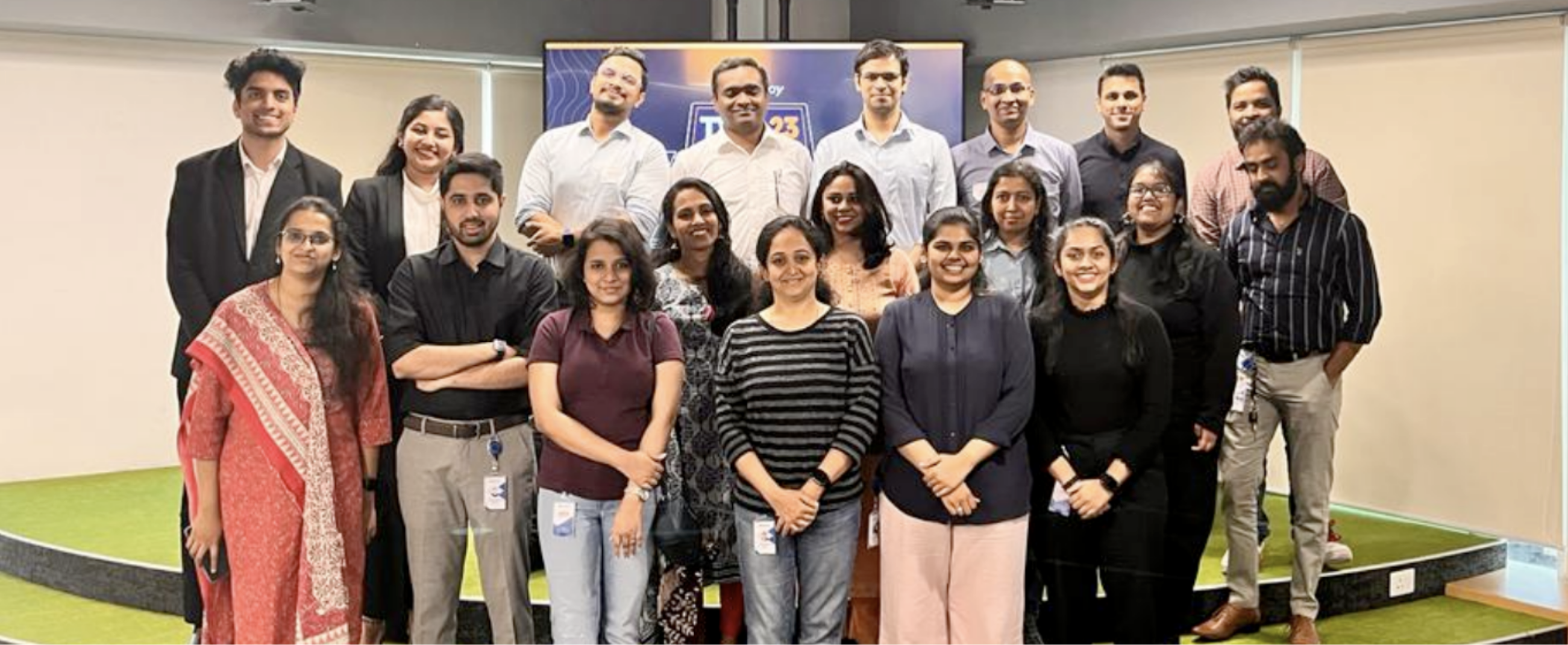 Sriparna rang the final bell for the event with a Thank You note to the guests, committing to host TWX every year and foster this platform for Technical Writers to come together, share experiences and learn from each other. After all:
There is power in knowing, but there is a greater power in sharing!