Keyword research is the basic foundation of organic search engine optimization (SEO) and paid advertisement campaigns.
Think of it this way: you will have to base your paid advertisements and content strategy on the keywords that users are typing to find businesses similar to yours on Google.
As a part of its paid ads ecosystem, Google has a powerful tool called Google Keyword Planner (formerly known as Google Keyword Tool).
If you are just getting started with keyword planning, you may want to go for free keyword research tools to do the job. Google Keyword Planner is a free tool that can provide keyword ideas to drive organic traffic to your page or ad campaigns.
What is Google Keyword Planner
Google has created the Google Keyword Planner to enable advertisers to make their campaigns better. This tool also provides valuable data like bid estimates, search volume, keyword difficulty, etc.
How to use Google Keyword Planner
To get started, you need a Google Ads account. After logging in, select 'Tools & Settings' on top of your screen. Select 'Planning' and then select 'Google Keyword Planner.
Time to get started!
Step 1: Set up a Google Ads Account
Before you start using Google Keyword Planner, you'll need a Google account. If you don't have one, creating an account only takes a few minutes. Once you've created an account, go to the Google Ads home page and click Start Now. Now select your Google account to sign in.
After signing in, Google Ads will walk you through how to set up your account and your first ad. You will then have to add your credit card information whether you plan to run ads or not. If you do not wish to run the ad that it walked you through creating, you can put it on hold after adding your information and going through to your account. Remember to pause it right away, or you will incur charges for the ad.

Step 2: Access Google Keyword Planner
To open Google Keyword Planner, click "Tools & Settings" on the right top corner. From the drop-down menu, select "Keyword Planner" noted under Planning.
You'll then see two options
Discover new keywords – This option gives you new keyword ideas that you can use to increase your website traffic.
Get search volume and forecasts – You can use this option to find out the trend, search volume, and forecast for your desired list of keywords.

Step 3: Try the Discover New Keywords Option
After selecting Discover new keywords, you'll see two tabs: Start with Keywords and Start with a Website.
Start with Keywords

Under start with keywords, you can enter words (example: Excel) or phrases (example: how to use Excel) to find keywords. You can enter up to 10 keywords/phrases, and if you want, you can enter a domain to use as a filtera as well. After entering the desired terms, click "Get Results."

Start with a Website

If you go with the start with a website option, you can enter a website URL to find keyword ideas. Google Keyword Planner then uses the website you entered as a source and brings up search terms for you to use.

It even gives you a choice to search the entire website or a specific page. After entering the URL, click "Get Results."
This option is ideal for looking at what your compettion is doing and how they are sourcing ideas from their keywords. You czn simply enter their website URL and see the keywords they're working on.

Once you click the "Get Results" button, Google Keyword Planner will bring up results using the URL or the keywords you entered and suggest multiple new keyword ideas for you.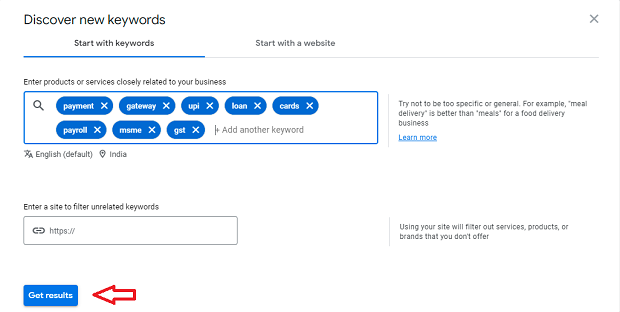 Step 4: Try the Get Search Volumes and Forecasts Option
In this step, you simply have to enter your keywords or phrases in the box, separated by commas or on the next line, and click "Get Started." For the keywords you enter, Google Keyword Planner will then forecast the total number of clicks, impressions (how many times your ad would be displayed if you were running ads), overall cost, average position, and the cost-per-click (CPC) you could expect for the next 30 days.
There are no keyword ideas in this report, as it's only meant to display the information for the specific keywords you entered. To make the most of this report, you need to head over to the "Historical Metrics" tab, where you'll see the average monthly searches and competition for each keyword you have entered.
You can also scout individual search terms or enter a website address to see keywords. The bidding values and the competition level is a great source for understanding how attarctive the keywords are. It helps you to then select monetary keywords that can help you increase sales.

How to choose keywords using Google Keyword Planner?
Choosing which keywords to focus on can be tedious, but it can make or break your SEO strategy and your organic traffic numbers.
Generally, there are a few best practices to use when choosing keywords:
Choose a variety of keywords that are both high and low competitive. That'll make you take longer to rank for the more competitive ones, but you might be able to rank for the less competitive ones sooner. This gives you some balance between getting traffic earlier and later.
Do research into each keyword before targeting it with content. You can implement other keyword research tools and your own Google searches to maximize your research.
Lastly, don't give into certain keywords because they don't have a huge search volume. You obviously want to target keywords with some volume, but if it's a solid topic for your site, you should cover it anyway.
Organic traffic isn't the only type of traffic! You can also create content that's perfect for newsletters, social media, emails, etc but doesn't have a huge organic search volume.
Types of keywords
There are four types of keywords on the Google Keyword Planner platform:
Broad match: This gives maximum reach and, at times, may have minimum relevance. This is the default category of keywords chosen by Google to show your ads to a maximum number of people.
Example: Broad match keywords – Men's Shirts
Matching searches:
Summer shirts for men
Stylish men's shirts
Shirts and pants combo for men
Phrase match: This keyword type lies in between broad match type and exact match type. This category has a medium reach but also provides medium relevance in return. In this case, ads will be shown to users searching for keywords that include the meaning of your keywords.
Example: Phrase match keyword – Men's Shirts
Matching Searches:
Black shirts for men
Men's shirts near me
Summer shirts for men
Exact match : The exact match keywords are expected to have minimum reach and maximum relevance. In this case, ads are shown to people who have the same meaning as your keywords.
Example: Exact match keyword – Men's Shirts
Matching Searches:
Men's Shirts
Shirts for Men
Negative keywords: This keyword type is used to increase the relevance of the traffic being generated from your ads. For instance, if you sell men's shirts but do not have checked shirts, you can include 'checked shirts' in the list of negative keywords.
Once you have the list of keywords that you want to place your ads on, it is essential to list the negative keywords before starting your ad campaign.
Pro tip: You can use 'Filters' to experiment and find keywords that have the potential to drive profits for your business.
Best keyword planner alternatives
Though Google Keyword Planner is a free yet powerful tool to get great keyword ideas, there are other SEO plugins and tools that offer other, different features:
Semrush

Semrush is a popular SEO tool that's packed with features that will not only boost your SEO performance, but also help you improve your content, social media presence, paid traffic, and much more.

It allows users to enter any search term, and it will show them detailed information about its search volume, CPC (if you plan on running ads), and a complete view of search results.

By looking at the search outcome, you can easily understand the search intent behind a keyword. This way, you know what people are looking for, and you can create content based on their requirements.

Ahrefs

Ahrefs is one of the best SEO tools you can get out there mainly due to its caseload of features. Many SEO experts and business owners prefer this for understanding their competitors. It lets them can enter any URL, and Ahrefs will show them detailed reports about the keywords, their rankings, the total number of backlinks, and the top pages, and it lets you find content gaps and loopholes between your competitor and your website as well!