To start making payouts via Payout Links, you have to first integrate Shopify with RazorpayX. To do this:
Open the Payout Links App page on the Shopify App store using this link .

Click Add app.

Click Install app as shown below:
You are redirected to the RazorpayX Dashboard to complete the rest of the integration steps.
To complete the integration:
Select Merchant. Please note that only users who are owners or have admin rights have access to integration.
Click COMPLETE INTEGRATION.
Upon successful integration, a success message is displayed on the screen. With this, the integration is complete.
To create Payout Links for refunds on Shopify:
Log in to your Shopify store.

In the Store Home page, go to Orders in the left menu. The Orders page is displayed with a list of orders placed in the store.

Select the order for which refund has to be made.

Under the More actions option in the order page, select Refund via Payout Links as shown below:
You are redirected to the Create Payout Link window of the RazorpayX Dashboard. If you are not already logged in to the RazorpayX Dashboard, you will be redirected to the login window. Please login to continue.

On the Create Payout Link pop-up page:
The order details such as Amount, Order Id, Customer Name, Customer contact information are automatically fetched from Shopify.

Verify the payout details for creating a refund and click PROCEED TO CONFIRM as shown below.

To confirm creation of payout link, enter the OTP sent to the registered mobile number. Once confirmed, a success message is displayed as shown below:
After a Payout Link is created using Shopify, the Payout Link is displayed in the ADDITIONAL DETAILS section in the right panel of the Shopify Dashboard as well.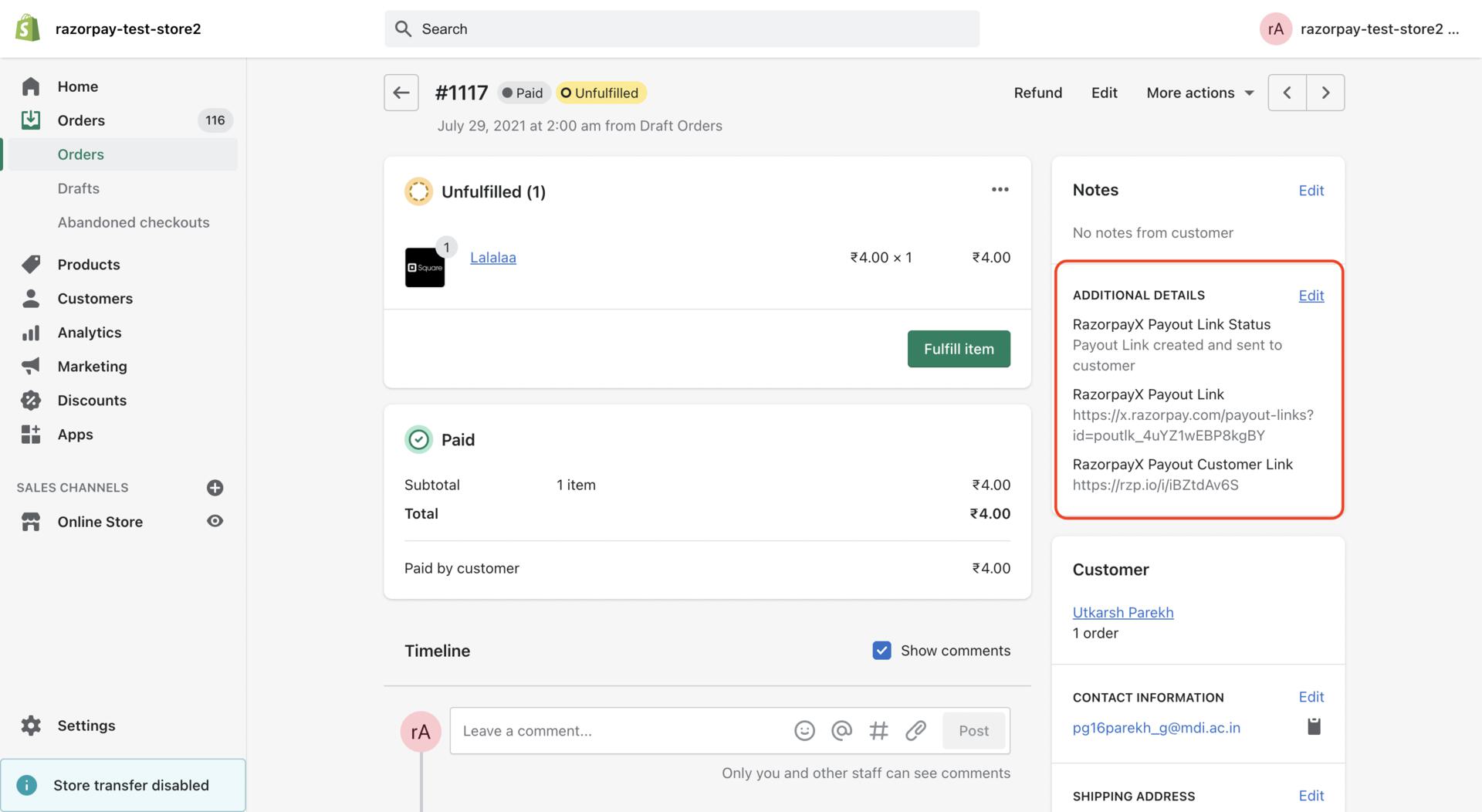 Handy Tips
You can view Payout Links created using Shopify in the Payout Links page. You can use the 'Using Shopify' filter in the QUICK FILTERS option.