What is Employee Lifecycle?
Employee lifecycle refers to the various stages an employee goes through during their tenure with a company. Understanding the employee lifecycle is crucial for any employer who wants to create a positive work environment and maintain a healthy and productive workforce.
In this article, we'll provide a comprehensive guide to the employee lifecycle and the different stages involved.
Stages of Employee Lifecycle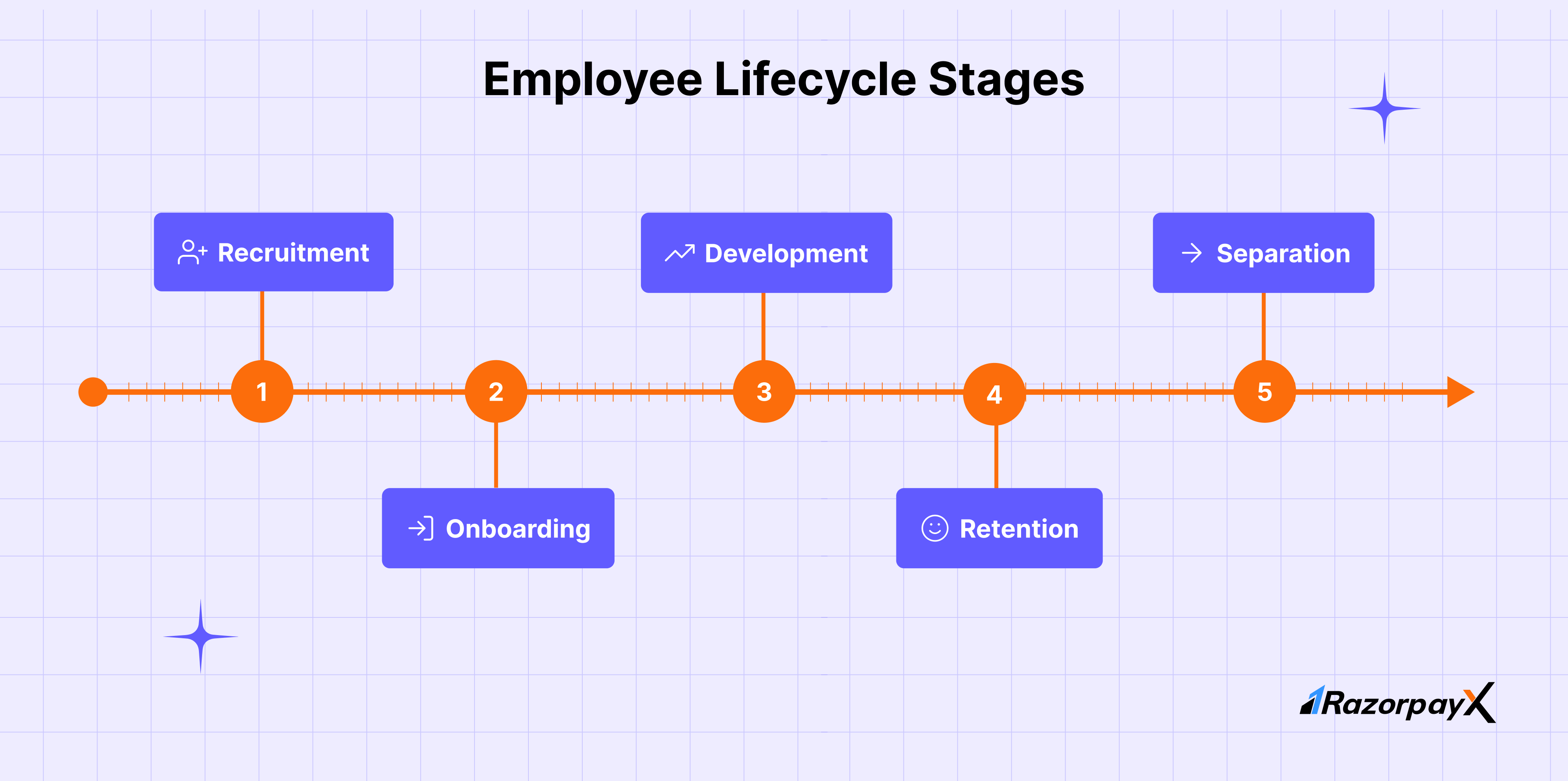 The lifecycle of an employee includes the stages of recruitment, onboarding, development, retention, and separation. Each stage is crucial in determining the overall success of an employee's career within the organisation.
Stage 1: Attraction
The first step in recruitment is building a strong corporate brand to attract top talent. Building a good corporate culture is an important part of corporate branding. Companies with a positive culture, strong values, and competitive benefits are more likely to attract and retain top talent.
Read more: 4 Powerful Secrets to Making Your Business a Great Place to Work
How do you know if your employer branding efforts are working? Here are a few employer branding metrics you can track: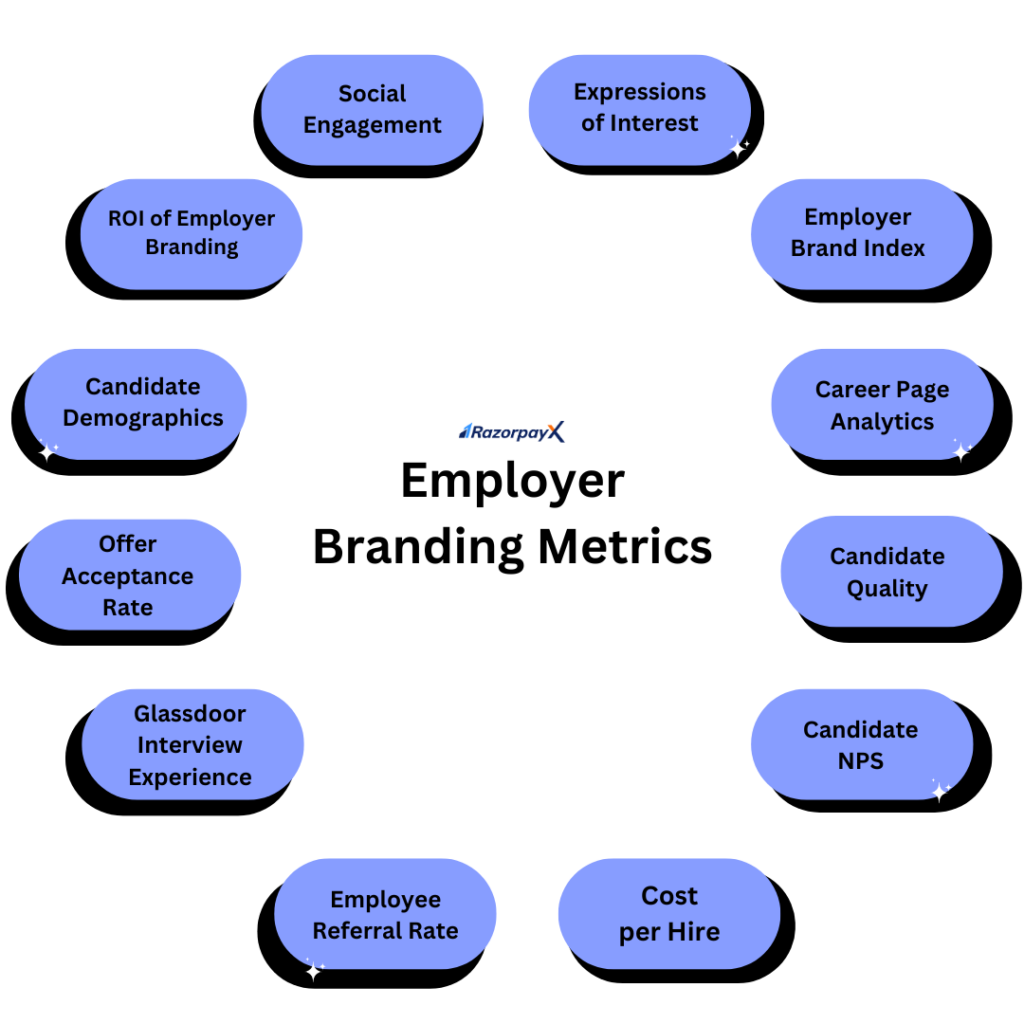 Stage 2: Recruitment
The next step in recruitment is recruitment. This step includes posting a job opening on various job portals or contacting potential candidates. There are plenty of online job portals with top-quality candidates.
A good job posting is important to get only the best and most well-qualified candidates.
Here are some tips for writing a good job posting:
Be clear and concise in your description of the role and its responsibilities.
Highlight the key skills and experience you are looking for in a candidate.
Be honest about the company culture and what it is like to work for your company.
Make sure that your job posting is free of any discriminatory language.
Candidates apply with their resumes and cover letters, which the HR and the hiring managers then process. After a few rounds of interviews and testing, the best candidates are chosen and offered the job.
Stage 2: Onboarding
Once a candidate is hired, they move to the onboarding stage. At this stage, the new employee is introduced to the new business's culture, its values and the people.
Onboarding is an important step in making new employees feel at home in a new company. Without a strong onboarding process, companies have high employee attrition rates.
Stage 3: Development
Development is when employees receive training and development opportunities to improve their skills and abilities.
Strategic professional development is good for both the company and its employees – talent is more likely to feel valued and stay with the company for longer if offered opportunities to learn and grow.
The company also gets the most out of its workforce if they are updated on the latest trends and developments. There are many ways to implement L&D within the workforce:
Internal training: This includes compliance training, leadership, soft skills training, and more specialized topics.
External training: Employees can also receive training from external stakeholders in seminars and conferences. These external trainings are especially important since they help employees stay up-to-date on the latest trends and technologies in their field.
Stage 4: Retention
This is the part where you keep the people you hired. Retention involves recognizing and rewarding employees for their hard work so they feel valued within the organization.
Building a positive work environment and keeping a close pulse on the workplace culture is also crucial to retaining top talent. This is the longest stage since it could last years or even decades.
Good retention efforts keep attrition rates low and result in a better bottom line since you don't have to spend money, time and resources on hiring and firing.
Read more: 9 Strategies to Retain Employees Forever
Stage 5: Separation
This is the final stage in the employee lifecycle – when the employee leaves the company. Separation can happen due to resignation, termination or retirement.
This is a challenging and tricky stage, and employee-employer relations must be handled with sensitivity and professionalism. A good exit interview is important to understand the reasons for the separation so the company can learn from it and protect its reputation.
It is extremely important to ensure employees who leave the company are happy and satisfied. Happy ex-employees are more likely to recommend your company and boost your reputation.
They are also more likely to consider returning or continue supporting the business and its goals. Here are a few ways to keep departing employees happy:
Exit interviews: Conduct exit interviews with departing employees to get their feedback on their experience working for the company. Use this feedback to identify areas where the company can improve.
Severance packages: Offer severance packages to departing employees, including financial compensation, health insurance coverage, and outplacement services.
Testimonials: Ask departing employees to provide testimonials about their experience working for the company. These testimonials can be used on the company's website or in marketing materials.
Stay in touch: Stay in touch with departing employees by sending them email updates on the company, or inviting them to company events.
Importance of the Employee Lifecycle
Why is it important to know and keep track of a company's employee lifecycle?
First,  clarity into a business's employee lifecycle helps identify and address problems in the employee journey. Companies with high turnover rates can use employee lifecycle data to identify problem areas.
Second, employee lifecycle data helps companies improve employee experience. Problem areas can be identified through surveys and interviews and can be solved by implementing appropriate solutions.
Third, employee lifecycle data can help companies to make better decisions about their workforce planning. For example, if a company knows that a large number of employees are retiring in the next few years, they can start planning to fill these positions well in advance.
Measuring Success in Employee Lifecycle
A successful employee lifecycle can be measured through a number of metrics:
Employee engagement: Employee engagement is a measure of how involved and committed employees are to their work. HR executives can measure employee engagement through surveys, interviews, and focus groups.
Employee turnover: Employee turnover is the rate at which employees leave the company. HR executives can track employee turnover rates by department, job title, and other factors.
Time to fill open positions: This metric measures the average amount of time it takes to fill an open position. HR executives can use this metric to track the efficiency of their recruiting and hiring process.
New hire success rate: This metric measures the percentage of new hires who are still with the company after a certain period of time, such as one year or two years. HR executives can use this metric to track the effectiveness of their onboarding and training programs.
In addition to these quantitative metrics, HR executives may also measure success based on qualitative factors, such as employee feedback, customer satisfaction, and company culture.
By measuring and tracking employee lifecycle metrics, HR executives can gain valuable insights into the employee experience and identify areas where the company can improve. This information can be used to improve the employee experience, make better workforce planning decisions, and boost the company's bottom line.
How to Manage Employee Lifecycle
Focusing on each stage of the employee lifecycle can become difficult if manual tasks like payroll, salary calculation, and tax filings end up eating your time. RazorpayX Payroll is an all-in-one HR software that automates tedious, manual tasks like:
Direct salary calculations & transfers to employees, interns and contractors
Automatic filing & payment of compliances like PT, PF, TDS and ESIC
HR Management from onboarding to exit, powered by Zoho People
Instant reimbursement claims and payslip generation on WhatsApp
Exclusive employee insurance plans from Plum at 70% lower costs
FAQs
What is the employee lifecycle?
The employee lifecycle refers to the various stages an employee goes through during their time with a company, including recruitment, onboarding, development, retention, and separation.
Why is the employee lifecycle important?
Understanding the employee lifecycle is crucial for creating a positive work environment, retaining employees, and maintaining a productive workforce.
What is the recruitment stage of the employee lifecycle?
The recruitment stage involves sourcing, attracting, and hiring suitable candidates to fill open positions within the organization.
What is the development stage of the employee lifecycle?
The development stage involves ongoing learning and development, coaching, mentoring, and performance management to improve employee skills and abilities.
What is the retention stage of the employee lifecycle?
The retention stage involves employee recognition and rewards, employee engagement surveys, and a positive work environment to keep employees motivated and engaged.