A small business loan is a financial product designed to provide funding to small and medium-sized enterprises (SMEs) to support various business needs. These loans are typically used by business owners to start a new business, expand an existing one, cover operational expenses, purchase equipment or inventory, or fund other business-related initiatives.
Small business loans are offered by banks, financial institutions, government agencies, online lenders, and alternative lenders. They come in various forms, including term loans, working capital loans, equipment financing, and lines of credit. The specific terms, interest rates, and eligibility criteria for small business loans can vary widely depending on the lender and the type of loan.
In return for the loan, the borrower agrees to repay the principal amount along with interest and fees over a predetermined period, typically through regular instalments. Small business loans can be either secured or unsecured. Secured loans require collateral, such as business assets or personal assets, to secure the loan, while unsecured loans do not require collateral but may have higher interest rates.
Small business loans play a crucial role in helping entrepreneurs and business owners access the capital they need to start, grow, and sustain their businesses. They can provide the necessary financial resources to invest in infrastructure, hire employees, purchase inventory, expand marketing efforts, and address cash flow gaps, among other business-related expenses.
Applying for a small business loan in India
Applying for a small business loan in India involves a systematic process. Here are the steps you can follow to apply for a small business loan:
Determine your loan requirements:
First, assess your business's financial needs and determine the specific purpose of the loan, whether it's for working capital, expansion, equipment purchase, or any other business-related expense. Calculate the loan amount required accordingly.
Choose the right type of loan:
Research and select the type of loan that best suits your business needs. Common types of small business loans in India include term loans, working capital loans, equipment financing, and government-backed loans.
Select a lender:
Research different lenders, including banks, financial institutions, online lenders, and government-backed schemes, to find the one that offers the most favourable terms and suits your business requirements.
Check eligibility criteria:
Review the eligibility criteria of the selected lender or loan scheme to ensure that your business meets the necessary requirements, such as business vintage, turnover, credit score, and other specific criteria.
Complete the loan application form:
Fill out the loan application form provided by the lender accurately and completely. Ensure you provide all requested details and attach the necessary documents.
Submit the application:
Submit your loan application along with the required documents to the chosen lender through their designated channel, which can be online or through a physical branch, depending on the lender's processes.
Evaluation and approval:
Wait for the lender to evaluate your application. This evaluation may involve a credit check, assessment of your business's financial health, and adherence to their specific criteria.
Loan agreement review:
If your loan application is approved, carefully review the loan agreement terms and conditions provided by the lender. Make sure you understand all the terms, including interest rates, repayment schedule, and fees.
Accept the loan offer:
Once you are satisfied with the loan agreement, formally accept the loan offer by signing the necessary documents.
Disbursement of funds:
After accepting the loan offer, the lender will disburse the loan funds to your business account.
Loan repayment:
Begin making repayments according to the agreed-upon schedule. Ensure timely and consistent repayments to maintain a good credit history.
Also read: Top 10 Signs Your Small Business Needs Credit to Survive
Documents required for a small business loan
The documents required for a small business loan application in India can vary depending on the lender, the type of loan, and the specific requirements of the loan scheme. However, here is a general list of documents that are commonly requested by lenders when applying for a small business loan in India:
Identity proof:
– Aadhar Card
– Passport
– Voter ID
– PAN Card
Address Proof:
– Aadhar Card
– Passport
– Voter ID
– Utility bills (electricity, water, or gas) in the name of the business or proprietor
– Property tax receipt
– Lease agreement or rent agreement
Business Proof (For Proprietorship):
– Business registration certificate (if registered)
– Business license or permit
– GST registration certificate
– Shop and Establishment Act certificate
– MSME registration certificate (if applicable)
Business Proof (For Partnership, LLP, or Private Limited Company):
– Certificate of Incorporation
– Memorandum of Association (MOA) and Articles of Association (AOA)
– Partnership deed (for partnerships)
– GST registration certificate
– Shop and Establishment Act certificate
– MSME registration certificate (if applicable)
Financial Documents:
– Audited or unaudited financial statements, including balance sheets, profit and loss statements, and cash flow statements for the past few years (typically 3 years)
– Income tax returns (ITR) for the business and individual partners/directors
– Bank statements for the business account
– Sales and revenue projections
Loan Application Form:
– A duly filled loan application form provided by the lender
Business Plan:
– A comprehensive business plan that includes details about the business, its objectives, market analysis, product or service description, sales and marketing strategies, and the purpose of the loan
KYC Documents of Promoters/Partners/Directors:
– Identity and address proof of all promoters, partners, or directors
Passport-size photographs
Proof of Ownership or Lease Agreement:
– Ownership documents of business premises (if applicable)
Lease agreement for the business premises (if applicable)
Collateral Documents (if required):
– If the loan is secured, documents related to collateral, such as property papers, land records, or any other assets being pledged as security
Guarantor Documents (if required):
– If a guarantor is involved, their identity and address proof, income proof, and collateral documents (if applicable)
Existing Loan Documents (if applicable):
– Details of existing loans or credit facilities, including repayment schedules and outstanding amounts
Other Documents (as per specific requirements):
– Any additional documents that the lender may request based on their internal policies and the nature of the loan
Please note: It's essential to check with the specific lender or financial institution you plan to apply to, as their documentation requirements may vary. Additionally, be sure to provide all documents accurately and ensure they are up to date to improve your chances of a successful small business loan application in India.
Did you know?
Razorpay provides small business loans up to Rs. 50 lakhs via Line of Credit.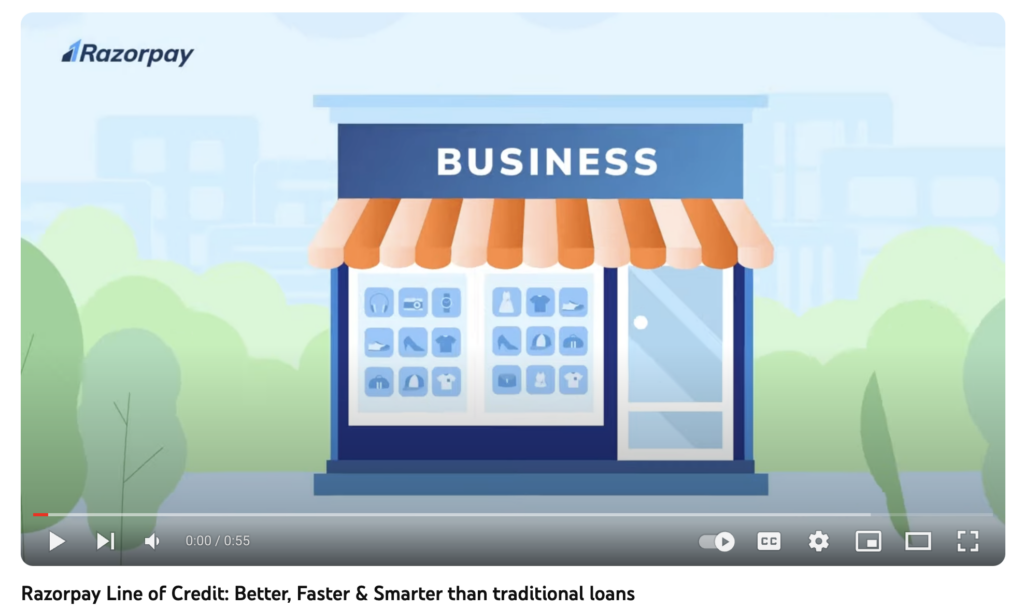 All you need are:
– Bank statement of your primary bank account
– Major shareholder KYC documents
– Business KYC documents
So what are you waiting for? Apply for Razorpay Line of Credit today!