"I bought this on Instagram."
"I ordered this from Facebook." 
Today, customers are buying not just from a brand's website but also from social media platforms. Sites like Facebook and Instagram are integrating a seamless shopping experience within a user's social media journey. In the past few years, especially, these platforms have picked up significant momentum. 
The following data points are testimony to this evident behavioural shift.
Globally, there are more than 25 million business accounts on Instagram

Economics Times notes that 80% of Instagram users follow a business account

1/3rd of the most viewed Instagram stories are from business profiles

Facebook Marketplace had more than 800 million users within two years of its launch

In one study, Shopify found that 85% of orders from social media sites come from Facebook
Globally, there are more than 25 million business accounts on Instagram. Facebook Marketplace had more than 800 million users within two years of its launch
Click To Tweet
With the boom in social media businesses, comes a new term and concept called social media payments. Any kind of business transaction that takes place over social media involves a settlement. This includes accepting online payments on social media, sending reminders and closing sales at the right time.
All your hassles around accepting social media payments can go away with Razorpay Payment Links. Read this article to understand how. 
Understanding
Razorpay Payment Links
Let's say you have built an online store for your business on a social media platform. You have a prospective buyer approaching your business account via direct messages. She is getting answers to some of the questions she has before making the payment. The moment she feels convinced, you can extend the option to pay via Razorpay Payment Link. 
A user is likely to change their decision any minute if they are presented with a plethora of choices. Hence, you must convert the user into a customer the minute they are convinced.
Razorpay Payment Links enable businesses and individuals to accept digital payments, from any social media channel, in a hassle-free manner. You can create a payment link right from the Razorpay dashboard or via using the Razorpay ePOS application on your mobile. Once created, you can copy the link and share it with your customers to accept social media payments.
Some of the notable features of Razorpay Payment Links include:
Safe money movement with our 100% secure ecosystem guarded with PCI DSS compliance

Automated notifications via powerful webhooks every time a customer pays using the payment link

Easy to share links which can further be personalized to enhance your customer's shopping experience

Requires no complex integrations, coding and design knowledge to get started

Fulfils multiple present-day requirements like chatbot payments and pay-on-delivery

Enables businesses to offer 100+ payment options to their customers 
Generating Payment Links to accept
social media payments
Creating a Razorpay Payment Link is as simple as 1-2-3-4. You just need to follow the steps mentioned below.
Via Razorpay Dashboard
Use your account to access Razorpay dashboard and click on 'Payment Links'

Enter the details and generate your link 

Copy the link, if required

Share it with your customers and get notified about the payments
Via Razorpay ePOS app
Log in to the Razorpay ePOS app

Click on 'Create Link'

Enter details like amount, phone and description

Generate the link and share it on any platform via your mobile device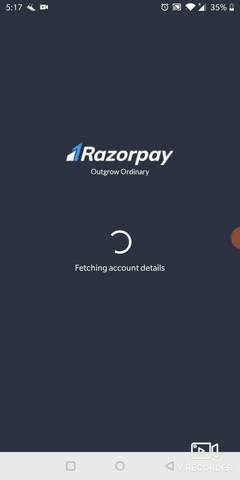 Pro-tip: Razorpay Payment Links can further be customised, as per your convenience, to highlight the brand name. You can also change the look and feel of the checkout page to make it suited to your brand image. 
[Also Read: Razorpay ePOS App – Simplifying Digital Payments for Offline Businesses]
Payment Links
for social media payments
on Facebook
In an article by ET in 2019, Facebook had confirmed that 6 million Indian businesses are live on its platform. Click To Tweet
Around 75-80% of these businesses claim that their presence on Facebook has helped them increase their customers. No doubt, the social networking giant is an active hub of small businesses looking to take their place online.
There are two ways through via with you can take your business on Facebook:
Facebook Business Account:

Facebook business account, also called a business page, is a free tool available to customers. Owners and stakeholders can create a business page to increase brand awareness, showcase portfolio and convert leads. 

Facebook Marketplace:

Launched in 2016 in India, Facebook Marketplace is a free service where customers can explore, buy and sell products at a consolidated platform. Facebook does not get involved in the delivery or payment of items. It merely provides a space for prospects and sellers to interact. 
How are the sellers using Facebook for business
When the Facebook business page was launched initially, its aim was to educate and engage with the customers. Gradually, small businesses started using these pages for online sales. These sales did not require any formalities or processes to get started. Roughly, this is the pattern they follow:
The business page posts photos of the products with details like price, quality, material and more

Interested customers can message the page owner to ask queries, check the price or place an order

Over the next few days, the order is accepted and shipped to the customer
Why sellers are not able to optimize Facebook for business
The biggest challenge with the existing format is that there is no checkout page

The person managing the business page has to share their bank account details with every prospective customer. This makes the process of accepting social media payments tedious and entirely manual

There is no guarantee of instant payment which often leads to delayed payments or customer drop-offs

Even Facebook, to date,  does not have any payment system in place for such business accounts

Payments on social media have a higher drop-off or failure rate as compared to websites
[Suggested Read:  Decoding Social Media Marketing on Social Networking Platforms]
How can sellers simplify Facebook for business
This is where Razorpay can be a game-changer. Using Razorpay Payment Links in business pages is extremely simple and hassle-free. You can quickly generate a payment link and share it with your customer. Refer to the 'Understanding Razorpay Payment Link' section above for a step-by-step guide to generating payment links.
These payment links will provide your buyers with an instant checkout window while offering a range of payment options. Not just this, the business will get notified when a customer makes a payment, simplifying the entire process of social media payments.
Follow the steps below to use payment links in Facebook business pages and marketplace DMs.
1. Accept orders over DMs, as is your business practice
2. Once a customer confirms the order, share Razorpay Payment Link with or without a message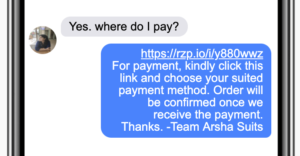 3. The customer can click on the link and complete his/her social media payment within seconds
4. Process your orders, post the receipt of payment and grow your business every day!
Payment Links for
social media payments on
Instagram
Instagram for Business is the future of social media e-commerce. Instagram has realised the immense advantage of being a visual-first platform which makes shopping more lucrative for the customer. Click To Tweet
Over the past four years, the platform has introduced various features and plug-ins to improve the level and ease of business. Deutsche Bank says that these efforts could estimate the ventures on Instagram to be a global market worth $10 billion by 2021.
Shopping on Instagram is primarily done with the Instagram business account. But with new additions to the bouquet, there are various ways to attract customers. 
Via Business Account:

This is the simplest way to transact with your customers. Much like a Facebook business page, ventures display their products and items by posting photos on Instagram. Interested customers can DM the business account asking for requisite details. 

Via Shop feature:

This is a new addition on Instagram. In the Explore section, you can find a dedicated tab called 'Shop'. Upon clicking any image in Shop, you get a product tag showing the name and price details of the product. This addition has helped increase traffic to business websites because of instant redirection.
Why Instagram is not completely optimized for business 
The person managing the Instagram business account has to share his/her bank and card details with the customer, every time. Just like the process followed on Facebook business page, this is also a tedious and repetitive process

The Shop feature on Instagram redirects a customer to the website for placing the order and making the payment. This transition often leads to customer drop-offs

Customers on Instagram tend to falter with their social media payments with the excuse of redirection, net banking servers not working and UPI linking issues
[Suggested Read: Decoding Social Media Marketing on Platforms like Instagram]
How to ensure seamless transactions on Instagram
Razorpay Payment Links work very well for Instagram businesses. With customised links, multiple payment options and instant notifications, businesses like you will face no hassles in accepting social media payments. Refer to the 'Understanding Razorpay Payment Link' section above for a step-by-step guide to generating payment links.
Use Razorpay Payment Links to remind customers of due payments. With multiple payment options in one place, the customer feels compelled to settle accounts. This also reduces the chances of bad debts and missed payments
Payment links can also be directly sent over DMs, while a customer is placing the order

To reduce drop-offs in the Shop feature, use Instagram's new DM ME sticker to invite orders over Instagram. This reduces the chances of a customer abandoning his cart items since order payments can be accepted over DMs itself with payment links
Using Razorpay Payment Links for other use cases
Apart from Instagram and Facebook, payment links can be used for other social media payment issues as well. Businesses today are operating on multiple platforms. From website to social media to a phone call, all orders are beneficial.
Thus, no matter which medium your customer chooses to place an order, you can receive payment via Razorpay Payment Links.
To accept payments via SMS or Email
If a customer has placed an order over call or an e-mail, you can send him a payment link over any of these channels. Razorpay dashboard has an in-built option from where the system directly sends SMS or e-mails the customer with the payment link.
To serve as a retry option for failed payments
Sometimes, businesses have small-scale websites which don't have a robust payment system in place. In case a customer experiences a failed payment due to some reason, you can send the payment links. With multiple payment options available, they can instantly settle their dues while offering a smooth experience to the customer.
For all kinds of
social media payments
One of the features of Razorpay ePOS app is that it allows instant sharing of payment links on many social media platforms. This means you can share the link on Twitter, LinkedIn, Truecaller or Reddit, based on your requirements.
To assist in cash-on-delivery payments
Cash-on-delivery payments often face blockers like unavailability of change and network error for card payments. By sending a payment link, customers can complete their payment within minutes via the multiple payment options available. This helps in completing the deliveries quickly and reduces the drop-off rates.
Get on board
Social media businesses are the new wave in e-commerce. With social media platforms playing multiple roles at once, consumers can connect and shop at the same time. Even the smallest order demands full customer comfort and satisfaction. Thus, businesses should always aim to have a good product collection, instant query resolution and robust social media payment systems in place.
Over 5000+ merchants use Razorpay Payment Links for their online orders – on and off social media. Seems like this is something your business needs? You can start within minutes by signing up on Razorpay today!