For some, TikTok is perhaps a passing fad; for others, TikTok is a mere recreation. Whatever side you're on, it's impossible to deny the effectiveness of TikTok, the app that will serve as a much-needed bridge to the next generation.
If TikTok wasn't already popular enough, the COVID-19 situation and the home quarantine has brought in more popularity than ever before to this entertainment platform. With a rising penchant for byte-sized music, TikTok has become the ideal playground for businesses of the future.
The Chinese parent company ByteDance currently has over 800 million active users and 1.5 billion total users worldwide! What's more interesting? 41% of TikTok users are aged between 16 and 24, making it the next big thing for business owners to connect to their target audience across the globe. 
What makes TikTok tick?
While TikTok initially started off with its Vine-like length of 6 seconds per video, with the app's raging popularity came many changes, including the increase of video length to 15 seconds. You can also string four videos together for a total of 60 seconds. It's the ultimate in instant gratification with short bites of entertainment ideal for mobile consumption. This and the quality of content on offer is what makes TikTok so compelling.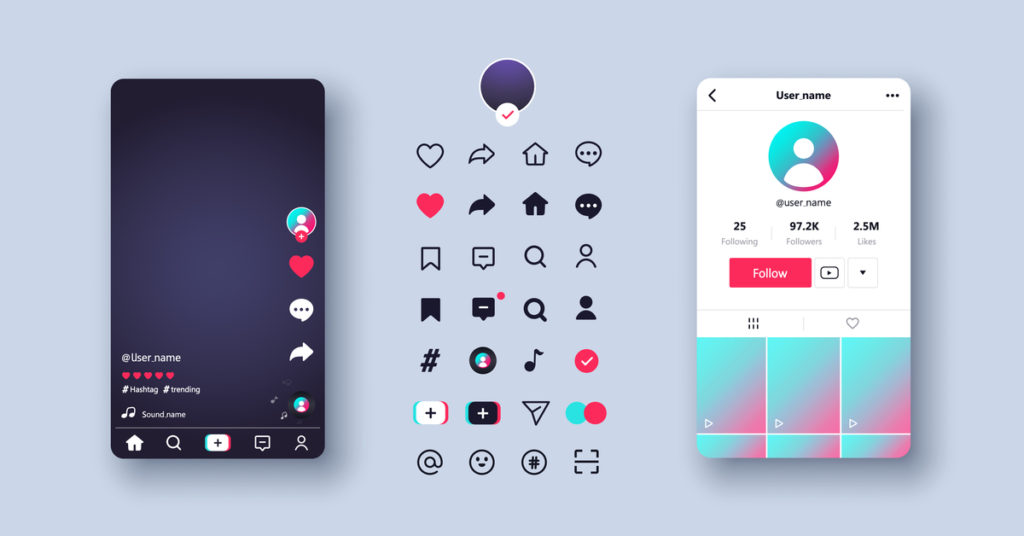 TikTok provides a very unique offering with a combination of a clever algorithm and an addictive UI that makes it almost impossible to keep track of time. TikTok's UI is specifically designed to increase viewership and engagement. The app might look random at large but with more frequent use, it intelligently suggests content that you may be interested in.
One more reason for the widespread popularity of TikTok is perhaps its unparalleled ability to tie people from all parts of the world together. TikTok offers a level playing field to all users alike and guarantees exposure to users across all continents.
Music lies at TikTok's core, and its users can post videos with background tunes from popular acts from movies and music albums alike. Its emphasis on music has given TikTok an edge over Instagram and Snapchat and has cut through to younger audiences. 
The widespread popularity of TikTok can also be attributed to its cross-platform sharing. Across different social media platforms, we can see users downloading TikTok videos and sharing it on other platforms like Instagram and Facebook. This voluntary sharing can be due to the short format of videos, too. 
Younger celebrities and popular influencers– from Kylie Jenner to Deepika Padukone are a part of TikTok and indulge in a variety of endorsements in a 'relatable' manner. A combination of all these features makes TikTok incredibly entertaining and explains its phenomenal download rate among 16 to 24-year-olds.
TikTok and e-commerce: A match made in heaven
75% of younger-aged consumers shop online on their mobile phones! The advent of many online marketplaces such as IG Shop and Facebook Marketplace has only encouraged more users to shop online.  If you own an e-commerce business, online marketplaces could potentially be an untapped market for you, especially if you want your marketing to be subtle, yet effective.
 'Marketing fatigue' is a problem of the current generation where they are tired of witnessing ads and marketing pitches everywhere they go, especially on social media. Over time, business owners have faced increasing difficulty in marketing their products in a fun, creative way and TikTok has made it easier on them by providing creative avenues for marketing.
With novel methods such as face filters, visual effects, emoji stickers, etc, TikTok can be a great platform for you to connect with innovative advertisements for the younger generation. 
How to advertise your e-commerce business on Tiktok
Below are the different kinds of advertising options on TikTok. You can choose which ones will best suit your requirements and proceed to optimize the same accordingly.
One of the recent fads on social media is for users to engage in different kinds of online challenges. This generally works in a method where users nominate their friends to complete a challenge, which is a dance or a small jig specific to the campaign. One such example is the popular #Kikichallenge that gained traction worldwide. 
Content creators develop hashtag challenges by attaching a specific, often sponsored, hashtag pertaining to the content in the video. The creator encourages other users to mimic the video contents tagging it with the same hashtag. 
Challenges can be incredibly fun and engaging for all participants and guarantees a great brand impression. In a retail scenario, users are able to shop the products associated with the hashtag within a separate in-app tab. The TikTok online shopping experience offers easy purchasing.
A brand takeover takes place when a user opens the app and an advertisement appears, "taking over" the opening screen. As far as these advertisements are concerned, they can either be an image or a video, depending on choice.
Once it's opened, the advertisement redirects TikTok users to another place, whether it's a TikTok user page or an external web link. This can be compared to the 'swipe up' feature on Instagram. However, brand takeover ads on TikTok are currently limited to one advertiser per day. 
Much like their counterparts Instagram and Snapchat, TikTok has also not failed to make an impression in the Augmented Reality face filters space. TikTok's branded lenses allow users to tell stories using 3D stickers and face-altering filters. AR lenses have shown to encourage high engagement, with many tuning to see how popular users transform their hairstyle or makeup. 
Popular cosmetic and makeup brands have also seen high levels of engagement. In India, e-commerce sites — including Voonik, Myntra, and Snapdeal — have all begun advertising on the platform beginning earlier this year.
In-feed advertising refers to advertisements in the user's 'For You' timeline. This is an advertisement that auto-plays when a user skims through the said feed. It introduces itself to users when people scroll through their feed, which you expect on a platform full of 15-second videos. The in-stream video arrangement allows the ads to flow through people's feeds without disrupting their user experience. 
There are three advertising models available for biddable ads.  
Cost Per View (CPV): Cost per view model requires advertisers to pay when users view their ad. It's limited to a six-second time frame. 
Cost Per Impression (CPM): This model requires advertisers to pay when their ads appear in a user's TikTok feed.
Cost Per Click (CPC): Advertisers only pay when the user clicks on their ad.
TikTok's biddable ad targeting options allow you to filter users by the following criteria:
Boosting e-commerce sales via TikTok marketing
Original, creative ideas: TikTok provides a host of avenues for you to express your views in a different way. So, don't hesitate to get creative to promote your brand. After all, it seems like that's what the next generation is looking for, too.
Get risky: As far as risk-taking goes, you don't need to be shy on TikTok and can risk your ad failing as the platform is still in its infancy. TikTok also shows brands in a different light as compared to other social media platforms. By taking creative risks, you just might hit the jackpot trying something you wouldn't usually do on Facebook or Instagram, which have higher risks of exposure. Just like the generation it caters to, TikTok is truly a high-risk-high-reward arrangement.
User-generated content: When you hit this 'jackpot' of virality that we're talking about, user-generated content can help you get more popularity than even paid advertising. Millions of people mimicking viral content can be a great push for your brand's identity.
Engagement is essential: The reason behind TikTok's undeniable popularity is because of the numerous ways it provides to promote engagement. Make sure that you make full use of the platform's engagement methods such as collaboration on hashtag challenges, posting duets, commenting on relevant profiles, etc.
Avoid marketing fatigue: The average attention span has dropped down to 4 seconds since the beginning of 2000, and rightfully so with the increasing popularity of smartphones. With such short attention spans, standard advertising methods aren't as effective.
Today, you want to catch people's attention quickly and keep it.  With TikTok ads, ensure users who see your ads don't have marketing fatigue since your ads are only five seconds at most. TikTok's algorithm works intelligently with ad placement- in a way that users don't get bored or irritated. 
The best marketing channel for Gen Z: We started off the article with this point, so it makes sense to end it as we've come full circle. With regular engagement and a few clever hacks, we can be sure that TikTok, whether you like it or not, can be our best chance of connecting to the next generation.
Conclusion
It's not difficult to conclude that just like its predecessors, TikTok is sitting pretty on top of the social media platform game. Just like every platform will reach its saturation point, TikTok will someday reach a point where another platform will take over.
But, for the time being, it's important to seize every opportunity that you can get with TikTok and use it to scale your business like never before. We hope that this article helped you in understanding TikTok a little better today. We'll see you soon with the next one! 
Until then, find out how Thirdwatch can help your e-commerce business here!