You might be an artist, but to create value for your fine pieces of art, you should also be an entrepreneur. You should learn how to deal with the non-creative components of the art business to succeed and grow. A successful artist creates a balance between creativity and business.
Many leading artists, irrespective of their stature, experience, or reputation, are monetising their art online. All they have to do is know where to find admirers or patrons for their kind of art and promote their creation through some deft marketing measures. But first, you must learn how to sell art online.
Today, there are multiple ways for artists to sell their creative work online. Over the years, Instagram has become the most popular resource for artists to promote their work. The channel, which is largely seen as a visual platform, has become the game-changer for the artists' community. While Instagram is the go-to platform for many artists, there are other options such as Etsy and Facebook Shops. More engaged followers are all you need. If you have a considerable following on Instagram, you will find more admirers for your art. Consequently, it will attract more buyers.
1. Sell Your art online using Instagram
You can sell art online and monetise your artwork on Instagram by following these steps:
Make Sure that Only Your Best Work Goes Online
In the real world, you can't imagine a piece of art leaving your studio until you are sure it's done well, right? The same logic applies to selling art online. Poorly clicked images and blurry photos can instantly put off a potential buyer. Worse, it can create a negative image of your work.
Artists are generally not good marketers, and that's why branding can be an alien concept for most of them. With many artists vying for the attention of buyers, branding becomes a crucial component in online selling efforts. With the attention span of buyers becoming increasingly short, you must learn how to grab the attention of your audience quickly and make sure that you get your brand statement through. Make your Instagram feed look professional and credible. Those art collectors must get a great first impression.
Make Creative Content a Powerful Hook
Words have immense power. And on social channels, they act as your voice to boost engagement. Some of your best photos may get overlooked because of insipid captions. You must learn how to use creative content with your art pieces to attract attention and excite potential buyers. 
Many artists are using the much-admired progress posts method, which details the various steps in creating your art piece. These are behind-the-scenes kinds of stories that people love to read. You can even do a video tutorial about your work to let people get an insight into the effort that has gone behind creating that wonderful painting.
Use Hashtags to Connect with Relevant Buyers
In the world of social media, hashtags work like maps in a desert. These are keywords that make your posts discoverable from the sea of similar content for those interested in art, like the ones you create. It should be specific to your art niche. Take a look at the strategy used by some of the most successful artists and creators and follow the tactic. 
Organise contests and giveaways
Everybody likes to win, however small it is. Organising contests and giveaways are perfect ways of engaging your audience. Just keep in mind that the prizes you give are reasonable and budget-friendly.
Your post will act as a pitch to your audience. You can even post stories with product tags which can redirect the viewers to another page within Instagram where people can check out the artwork in detail. This can further lead them to a website or payment page where they can go ahead with the purchase.
Art commission-based earnings
This is also called affiliate marketing which allows you to promote the product/service of another brand using your artistic skills. This is a great way to monetise your Instagram page by placing affiliate links in your posts. This way, you will earn a commission every time a sale is made by clicking on that link. If you have a huge following, this can be a great way to make money.
2. Other creative ways to sell Art online
Even though Instagram has emerged as the most popular platform to monetise your artwork, there are other ways for artists to sell their creative work online. Some of them are given below:
Best sites to sell artwork
There are platforms available for the specific purpose of showcasing and selling the artwork of artists across the globe. These platforms or websites are like art galleries. The most popular ones are Etsy, Amazon, Fine Art America, ArtPal and UGallery. 
Such platforms take care of the marketing needs, and if a sale is made, they pay a predetermined amount to the artist.  They attract millions of visitors as they are reputed resources for quality art creations. This way, the artist can just focus on their art while the rest of the things are being taken care of. If you are confident about standing apart despite the tough competition, you just have to set up an account, list your work, and find a way of accepting payments.
If you can write articles about your work, technique, artistic style or inspiration behind each piece, it will build an emotional connection with the potential buyers. Moreover, the more articles you write, the higher your ranking will be in search engines like Google. Thus, your blogs can help to increase your visibility among art lovers. 
If you have a blog or website, a Buy Now or Support Now payment button is the easiest way to collect payments for your art
You can integrate the payment button on your website with no coding knowledge, customise the page to sync with your brand, generate automated receipts
If you have a website or blog showcasing your designs and art, Razorpay Payment Button is a perfect solution to start accepting payments in less than five minutes. Add a buy now, subscribe now, pay now or support now button, and get started with one-time or recurring payments at the touch of a button.
Read more: Step by Step guide to add a payment button on your WordPress site
This is the era when most of the skills are being imparted online by influencers. Many artists have also started online classes for interested students. It can help increase the number of followers or subscribers in the initial phase. Once you have established yourself, you can sell your creations or put a call-to-action at the end of your video to purchase your creations or like your page. The artists can set up a highly secure and robust platform for accepting payments. By using the best online payment apps, they can set up a payment system within minutes by simply generating a link from the app and sharing the same with students of art.
Sell artwork for merchandise
For those artists who want to sell their artwork for merchandise or create content for an art blog site, the same system of creating simple and secure payment methods can be easily established within no time.
3. Sell Art online using Razorpay Payment Pages
Selling art online is not just about promoting your art. You must also take care of a few other aspects, which are vital components in the selling process. Creating payment pages is perhaps the most important of them all. There are ready-to-use payment pages available from leading online payment services, such as Razorpay.
With payment pages, you can set up your own mini landing page in minutes. Add and collect relevant information with multiple listing options.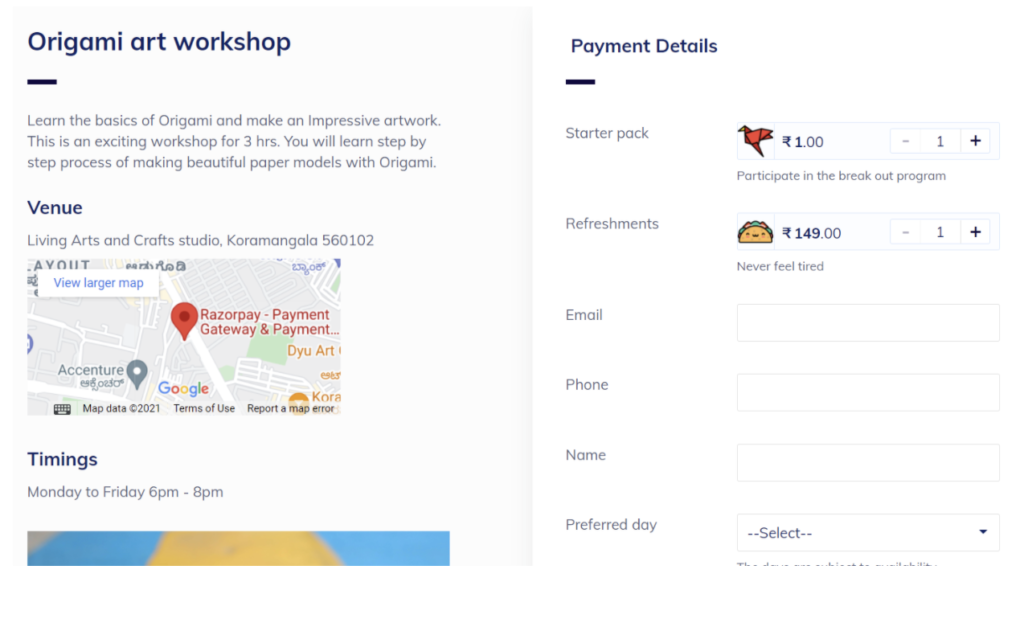 FAQs on Art selling Online
What is the best site to sell artwork?
Some of the more popular sites include: Art.com, Saatchi Art, eBay and Etsy.
Is selling art online worth it?
Yes, selling art online can be worth it. There are a number of ways to sell art online, and each has its own benefits and drawbacks. The most important thing is to find the right platform for you and your art.
What is the best way to sell art online?
Selling art online using Razorpay is the easiest way to sell art online at a good price.
How do beginner artists make money?
There are a few ways that beginner artists can make money. They can sell their artwork, teach art classes, or work as a freelance artist.