The e-learning market is booming in these COVID-19 times. Hence, it has become extremely important for e-learning institutes to know how they can create and sell courses online. Many professionals are investing a good amount of time to start an online education business. However, you might face challenges, especially concerning how to create and sell courses online. Before starting an e-learning business, remember that it requires good planning like any other business. In this article, we have enumerated some steps to ensure good returns as well as stability.
Additionally, the government is also investing in the e–learning sector, which is expected to boost the market growth.
Steps to Create and Sell Courses Online
You can follow the below-mentioned steps to create and sell courses online:
Select a subject that has demand in the market
Always choose a subject that people are interested in learning. People purchase online courses due to the following reasons:
Willingess to gain knowledge to change careers or to start a career.

Getting certification to boost career opportunities.

To further continue their education.

For academic preparation.

They want to learn a new skill or subject.
Often people search for courses that can give a boost to their careers. Some of the courses that are in demand right now are:
Computers and Technology

Health and Fitness

Information Technology

Content writing

Business and Entrepreneurship

Education

Arts and Crafts

Entertainment

Social Science

Science and Maths
These are some of the broad subjects. There can be more additions to this list. For example, in Information Technology, you can choose Selenium under Automation Testing as it is in demand with IT companies.
Increase Your Online Presence or Your Brand's Presence
It is necessary to educate your audience about your products or brands. This can be possible through various ways such as a YouTube channel, a blog, podcasts, etc. This is generally a good starting point for experts who want to share their knowledge with the general public and supplement other services.
Get the Right Devices
After choosing a specific subject, it is essential to have appropriate devices to start your classes. Your e-learning courses should have better quality. And to start, you will require: 
A good HD Camera

Lights

Proper Software to edit

A well-scripted script
Though you cannot set up a professional set-up, try with the best equipment.
Choose a Host Platform
Choose a platform where you can host and sell your courses such as Udemy. Look out for a hosting system that will provide easy access to your course. There are three valid options when it comes to hosting as well as selling your online course. They are:
An online course platform that is designed to meet all the requirements of the course creator that is from video hosting to marketing.

Secondly, you can choose self-hosting. Though this option is a bit expensive, you will still get complete freedom and power over your online course.

A marketplace to sell online courses such as Udemy. It will let you customize your brands and also create some revenue.
Decide the Charges for Your e-Learning Course
Pricing is always a guessing game. There can be trial and error before fixing a perfect price. Until you start creating your courses online regularly, you will understand your customer value. In the beginning, you will have to do some calculating and testing. The price of online courses can vary as per the topic, expertise, and audience. You can consider the following points while determining the price of the online course:
What amount do you have to spend to create, market, and host the course?

Check on the competitor's prices.

Income level of the target audience. 
You can then select the following ways to make payments for the online courses:
A lump-sum payment for lifetime access to the online course.

Monthly payments

Multiple payments
Launch Your Online Course with a Small Audience
After your online course is produced, check if it is ready for the public. Before launching it on the main platform, check it with a small audience to help you find the loopholes. This is also known as seed launch. With this type of launch, you will be able to:
Refine and converse with the target market.

Uncover any relevant questions and needs.

Identify and fulfill what a market really wants. 

Check what the target audience is willing to pay.
Create and Decide a Journey for the Buyer
A buyer's journey consists of a series of choices the target audience makes during a purchase. The three primary stages of a buyer's journey are:
Becoming aware of a problem: The market here is aware that there is a problem. Hence, they start to look for solutions.

Solutions to the problem: The market then starts looking for solutions for the problem. 

Decision: People finally decide to make a purchase.
Ask the Customers to Recommend Your Courses to Others
After you gather a bunch of customers for your online courses, give them attractive offers and ask them to recommend your courses to others. Provide them with attractive offers, such as if they bring one customer, they get a certain amount of discount. Word-of-mouth will help you gain more customers in the future.
Key Takeaways
You can create and sell your online courses by following the below-mentioned steps:
If you sell a course online, you can teach a new skill to anyone from anywhere.

Consider and choose a subject that will help people to stay ahead in their careers or improve the quality of their resumes.

By using the right equipment and script, create your online courses.

Increase your online presence by choosing the right and appropriate platform.

Choose a host platform and then start selling your courses there.

Decide the price to be charged for the online course.

Release your online course to a small audience and fix all the adjustments before launching it to the public.

Choose and familiarise yourself with e-learning software management tools like Google Classroom. 

Create proper marketing content and choose appropriate channels like social media or emails to spread the word about your course.

Create a strategy for sales around different steps of the purchaser's journey.

Choose the right payment mode for making online payments for the courses.

Ask the web developer to add a Payment Button on your website or to set up Payment Pages. 

Ask people to recommend your courses in the future.

Onboard new students in new batches.

Check for technical glitches and make sure everything is up and running on your website. 
The above-mentioned steps will help you to start your online education business with a well-planned strategy.
How Can Razorpay Help You Sell a Course Online?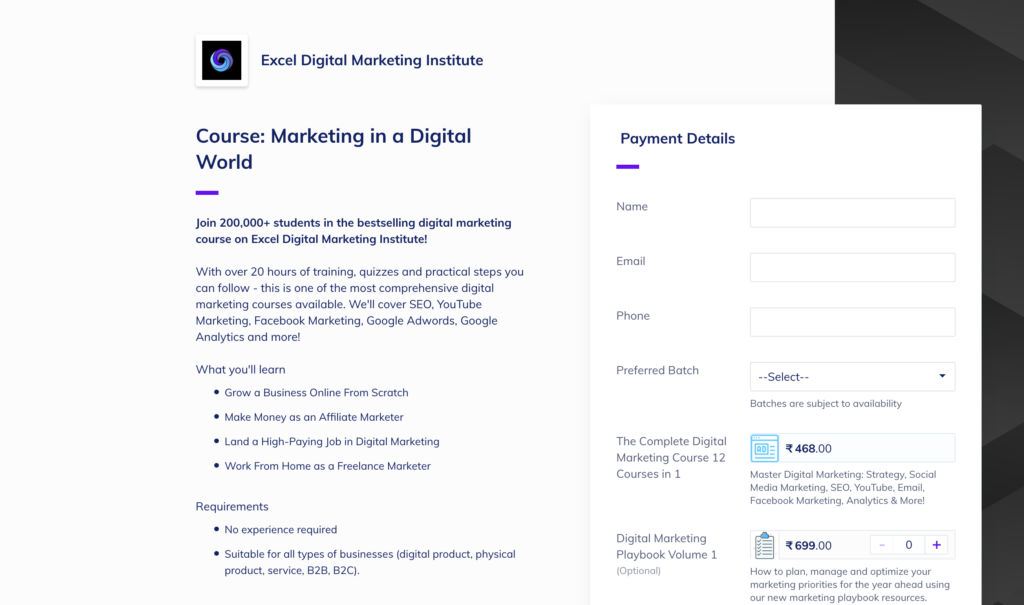 Razorpay Payment Pages is the best solution to go live instantly with your online course. Create a branded landing page with images, videos, links, and custom content. Set up your online courses mini website within 5 minutes. With the help of payment pages, you can add all your information with regard to business and accept payments. We will provide you ready-to-use templates that will help you to accept payments from multiple payment modes such as credit card/debit cards, UPI, wallets, etc.
List all your modules/courses with multiple pricing field options. Collect important information and student preferences within the page. Track and record all the information with our easy-to-use dashboard. Get started faster with payment pages.