With online commerce penetrating the Indian market by 74%, close to 329.1 million people are projected to buy goods and services via online stores by the end of 2020. 
Hrithik has just completed his graduation. He has a flair in digital art and creates some unique designs. Before he gets himself a job, he wants to get some of his best pieces embossed in t-shirts, hoodies and a variety of loungewear and sell them via an online store. 
However, at this stage, he is not very confident if this idea is worth investing a lot of money, especially when he has no income coming in. He explores multiple platforms to get started. He needs a platform that lets him create an online store, accept online payments and gives him reports on the store's performance.  
Like Hrithik, there are hundreds of people who wish to give their creativity a chance. The only hurdle for them has been the availability of an integrated payments platform. And at Razorpay, we have built a solution for this! Read this article to master the art of creating an online store that converts every visitor. 
The need to go online
Before we talk about how to create an online store, let's take a moment and understand why this shift from offline to online is essential. Reports suggest that today, most Indian consumers rely on online stores to make their purchases. With online commerce penetrating the Indian market by 74%, close to 329.1 million people are projected to buy goods and services via online stores by the end of 2020. Clearly, there's a need for every business to go online. Click To Tweet
That being said, there are two facts all of us shall agree with:
There's a massive rise in the online e-commerce and the industry as a whole which brings in potential for every industry to invest and jump on the bandwagon

Small businesses still face some challenges in the most basic infrastructure: right from creating an online store to accepting online payments
If you are just getting started with an online business or are a freelancer, you know what are we exactly talking about. 
So, how do we streamline all of these pieces and make things easier? 
Introducing Razorpay Payment Pages 
10 minutes. Zero coding. No website or an application needed. 
That is how we define Payment Pages in a few words. Razorpay Payment Pages are explicitly designed for people who do not have a website and want to accept online payments. You can create an online store within 10 minutes and accept payments from anywhere, anytime. Yes, we support international payments too! 
Let's discuss the significant benefits of payment pages in brief:
Unlimited product listings
List any number of products/services you wish to sell on your Payment Page, along with images and descriptions for each one of the items.
PS: You can also create unlimited Payment Pages and manage each one uniquely once you have signed up with Razorpay.
Smarter purchase controls
Have control over the minimum or a maximum number of products your customers can buy, set a minimum amount your customers can donate, and more.
Intuitive reporting 
Get detailed insights for each item sold, based on real-time transactions from the dashboard to help you make better business decisions.
Dynamic mobile experience 
With everything and everyone going mobile-first, offer your customers a dynamic mobile payments experience while giving them the option of choosing from many payment modes.
Reordering input fields
Move the input fields/items on your Payment Page to arrange newer items or frequently purchased items higher by merely dragging them up or down in your list of items.
Personalised URL
Edit and customise your URL as per your choice. Share the URL with your audience via Facebook, WhatsApp, Instagram and let them have a redirection-less experience. 
How to create an online store
Now that you understand the importance of going online and have learned about the feature set that will help you boost your conversion rates. Let's quickly follow the process to create an online store.
1. To begin, sign up on Razorpay. 
2. Once you have created an account, you will land up on Razorpay's dashboard. 
3. Choose 'Payment Pages' on the left panel. 
4. Click on 'Create Payment Button' 
5. Now, you will have to choose a template from several options. Depending on your need, select one of the templates.
6. After selecting your store type, you will be asked to add your page title, logo, product images & descriptions, amount detail etc.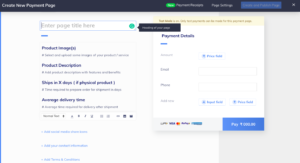 7. After you have entered all the required details, you will be able to publish your page. 
8. You will find a pop-up on your screen with the details of your page. At this point, you can also choose to edit your URL and name it as per your choice.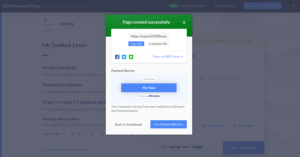 Please note: You will have to activate your account and go on live mode to change your URL details. 
That's it! You are all set to start with your next big idea with Razorpay payment pages. Want to experience before you build an online store for yourself? Check out our demo page here.
Hear it from our customers
"During the Kerala & Kodagu floods last year, as a responsible brand we wanted to enable our consumers to be able to donate to relief funds. We had very little time and needed an instant and sustainable solution. This is where our association with Razorpay helped – with Payment Pages, we were able to quickly create a page with no integration or coding. It's a wonderful partnership, and we look forward to more successes in the future."
Sankshep Malhotra, Principal Product Manager
"We had the option to use any payment gateway company in India, but we chose Razorpay as their response time is excellent, and the team is so friendly to work with. It seems like they really want your business to succeed. The best part of Razorpay I like is their payment pages which help us to use links to collect payments easily. They know what they are doing."
Avik Kedia, Founder & CEO, FinanceBazaar
With the faith of over 7,000 customers, we at Razorpay are empowering businesses and individuals to #OutgrowOrdinary. If this sounds, like a thing to you, sign up and get started with Razorpay today!
Recommended Reads