How do nano influencers with less than 10,000 followers create a sustainable income in the world of Kylie Jenner  (333m Instagram followers) and Virat Kohli (125m Instagram followers)?
Every time you open your Instagram and start scrolling through your feed, you're likely to bump into someone you follow promoting a brand, whether it's a nano influencer, a wannabe celebrity, or that random girl you went to college with who's somehow managed to become a famous fashion blogger.
They have names now. Mega influencers. Macro influencers. Even nano influencers (ones with anywhere between 1,000 to 10,000 followers). And each of them is playing a key role in driving the Influencer economy forward.
Influencer marketing grew into a $10 billion industry in 2020 as more consumers turned to YouTube videos and Instagram Reels for anything from a recipe to fitness inspiration and more consumer-focused brands began to realize the relevance. 
First, who are these influencers?
Any expert, celebrity, or even a social media user with a large enough following of other users who trust their opinions can be an influencer. You could be a blogger (with your own website or on other open platforms like Medium), a video creator (usually on YouTube), a podcaster (on Apple Podcasts Connect, Spotify or the newly-popular Clubhouse), an expert in your field of work, or anyone with perceived credibility because of the kind of work your showcase on your social media profile. 
Why are brands betting on nano influencers? Brands believe that as someone with a strong connection with their audience, an influencer holds the power to sway consumers' opinions in favour of their products. Today's brands understand the authentic connection and engagement that nano influencers bring to the table. 
And nano influencers boast the highest engagement rate of all tiers of influencers (a whopping 8.8 per cent according to Simplilearn). Think of it this way: you won't ask Gordon Ramsay, who has 12.3 m Instagram followers, for restaurant suggestions. That job is reserved for the passionate foodies within your city.
In other words, what nano influencers lose in terms of audience size they gain with their engagement rate.
What Revenue Channels Can Influencers Use To Monetise Their Audience: 
Influencers typically work with two functional components to make money: the audience and the endorser/brand. 
Good influencers understand their target audience on a personal level. They create close connections with their "fans" and build a close community of people that trust their opinions. They use their authenticity and their unique value proposition to their advantage. 
So, a nano influencer can make money even if they don't have brands coming after them. But, a nano influencer is nothing without his/her audience.
We break down the five most lucrative ways that influencers can make money by harnessing the power they wield over their audience- with and without brands. Naturally, factors like audience size, platforms, and industry can affect these numbers. 
Brand-Dependent Ways:
1. Brand-sponsored posts on social media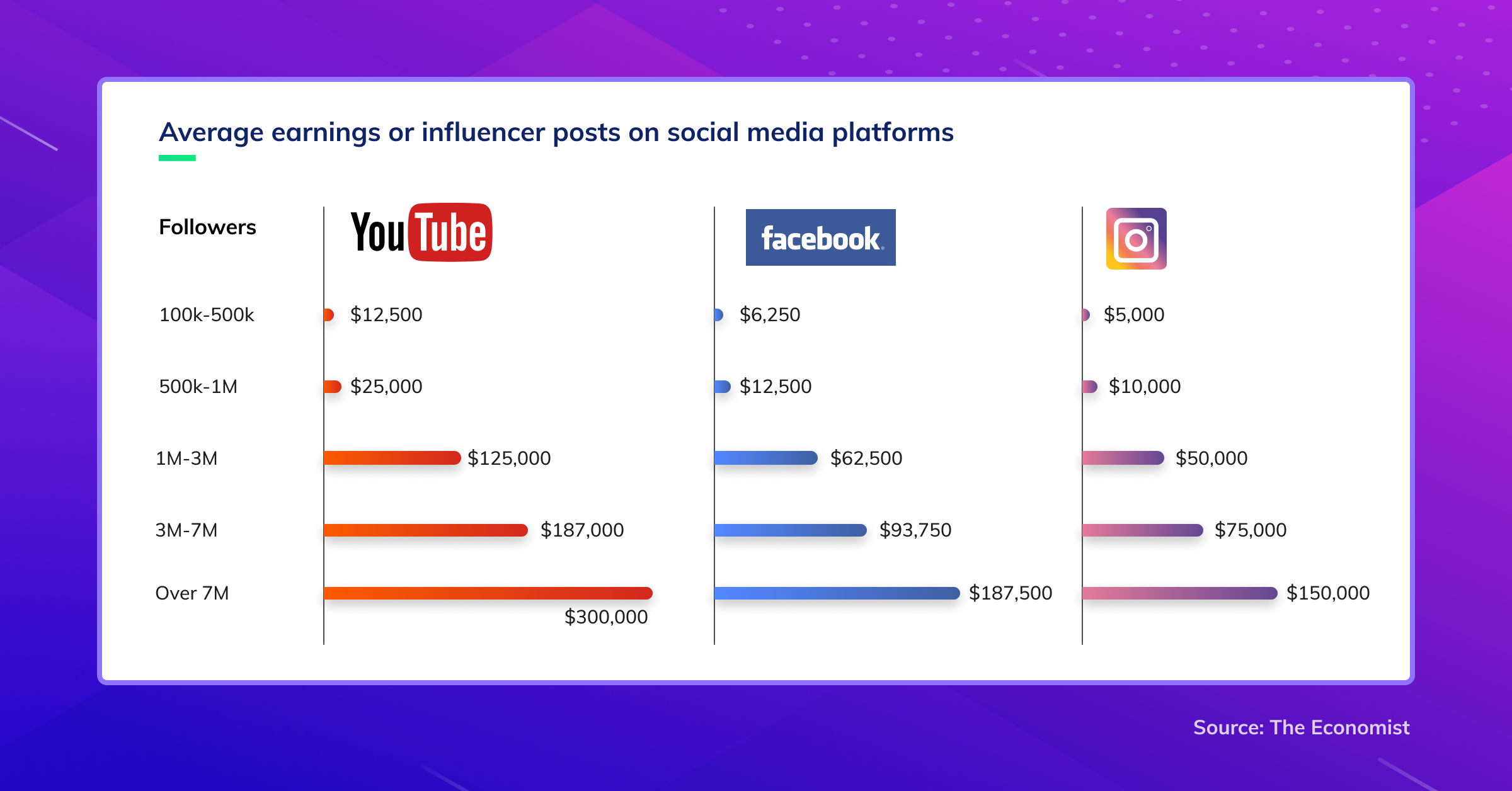 According to Hobo.video (an online video shopping platform), Indian nano influencers are earning an average of Rs 5,500 per brand-sponsored post on Instagram, Rs 5, 000 per video on YouTube, Rs 1,500 per post on TikTok, Rs 700 per post on Twitter, and up to Rs 10, 000 per post on Facebook.]
Apart from sponsored posts, you can also earn money by receiving free promotional products or samples to feature them on your social media. Brands can provide you with free products, services, and product discounts. They can also be shop credits, coupons, gift cards, etc. 
2. Affiliate marketing
With affiliate marketing, influencers can place links or coupon codes that lead to product pages within their posts. When their followers click on these links or use the codes and pay for those products, the influencer gets a small cut from the sale aka a commission. In order to earn this commission, one must use uniquely trackable links (known as affiliate links) to track how many clicks or sales came directly through your promotions.
Most brands with an active affiliate program will provide you with some form of a dashboard, so you can monitor exactly how many clicks and sales your affiliate links are generating — and how much you will earn if your followers complete a purchase for your commissions to come through.
It's important to understand that affiliate marketing is a long game. As a total beginner, you might think you are losing money in terms of the time and effort you put into the project. However, according to Affise.com, even low-level affiliates can earn up to Rs 2,200 per day, but these are one-off cases and can't be counted as sustainable income.
However, to help you decide where to focus your effort, we prepared a basic list of affiliate commission structures available across different industries: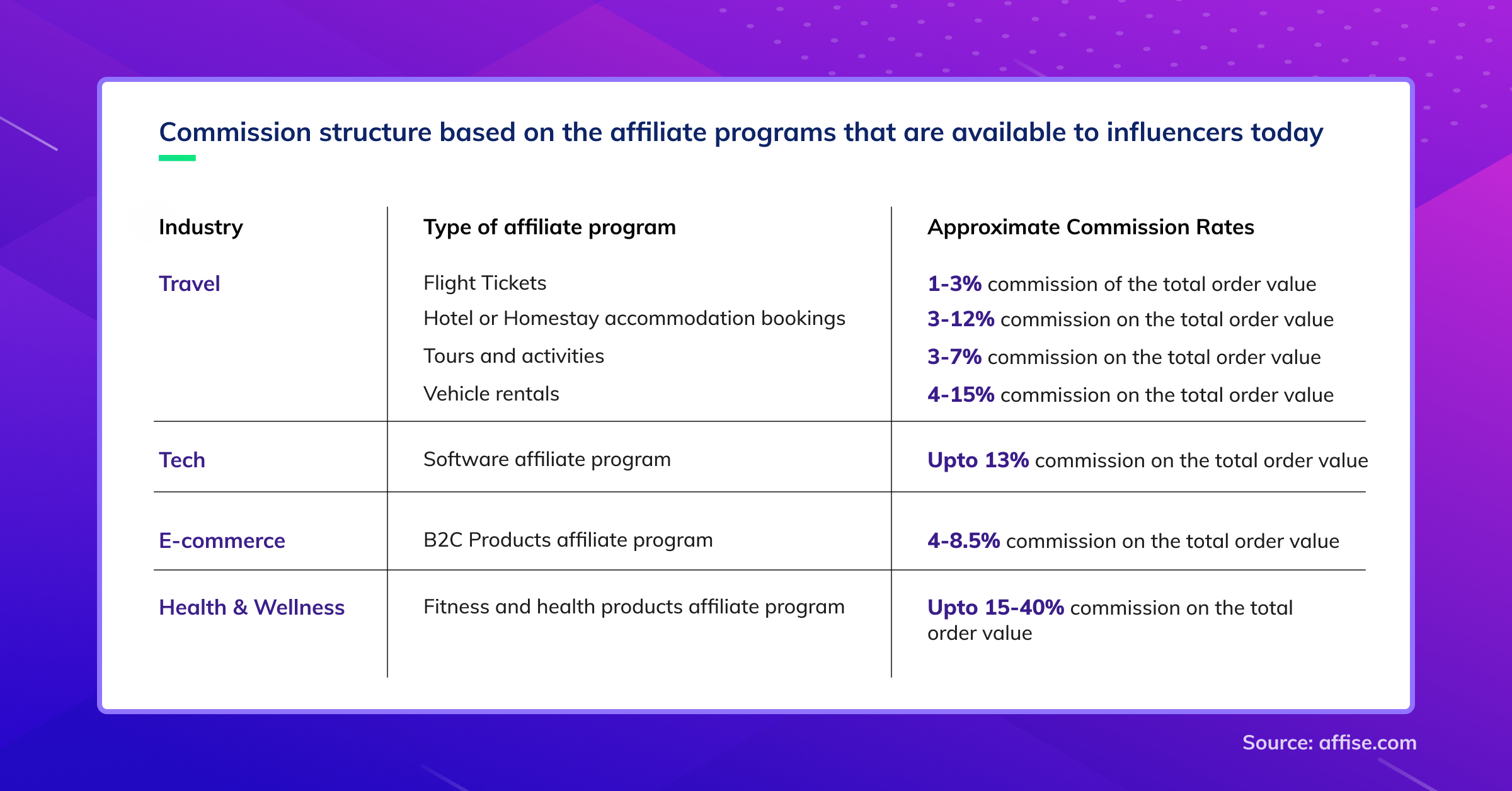 Obviously, your total earnings as an affiliate marketer will entirely depend on the traffic and the number of customers you will be able to drive to buy the products you promote.
Razorpay also has an affiliate marketing program for influencers called the Razorpay Partner Program where influencers across all tiers can introduce their fans to a fleet of payment solutions to earn a passive income. As a nano influencer, this is a lucrative way to also associate yourself with a respected fintech brand while you start out. When you become a Razorpay partner, you get a flat Rs.1000 as a referral bonus whenever your followers start using Razorpay. All your commissions can be easily tracked through the Razorpay partner dashboard. 
Money tip: You can include special affiliate links or promo codes in your brand-sponsored posts. This combination can help you easily track your affiliate earnings from a campaign.
Brand-independent Ways:
#3. Crowdfunding through platforms like Patreon
If you're just getting started or catering to a small, niche audience, it may be hard to depend solely on content creation to make money as a nano influencer. 
Platforms like Kickstarter and Indiegogo could help you fund a project in one shot if you have a unique value proposition. Other platforms like Patreon help you easily monetise your subscriber base on any platform and eliminate the inconsistency and uncertainty of influencer paychecks by introducing monthly patrons. How? You can use Patreon to build a strong community of passionate fans who have followed you from your other platforms to fund your work. You can either gain a regular recurring income or ask for one-off payments from your patrons. By supporting you, your fans will not only themselves patrons, but also gain exclusivity. The majority of influencers on Patreon are artists, vloggers, musicians, and podcasters.
Now, let's say you have bifurcated your earnings for your patrons at Rs 500, Rs 1500, Rs 3000, and Rs 5000. If most of your patrons pledge Rs 500-Rs 1500, then your average earning per patron is roughly Rs 1000. 

#4 Ad Revenue Share (eg. YouTube) / Display Advertising
A lot of mega influencers today started out by making money through ads on their content. As a nano influencer, ads are one of the most direct ways of earning a passive income independently. In this method, you will not lose any control over your content, and you also get to choose which brands you want to work with. YouTube also gives you an option to control ads based on sensitive categories. 
Let's look at YouTube specifically (since monetization is relatively simpler to understand on this platform.) To start with, you need 4000 public watch hours in the last 12 months and 1000 subscribers to begin monetizing your audience. Let's say, you have 10,000 subscribers on YouTube, and you know that 50 per cent of your audience is actively engaged with your content. Assuming you are uploading at least 1 video per week, you can be receiving anywhere between 5000 and 7000 views per week or 600 views per day on your channel. 
According to Influencer Marketing Hub's YouTube Money Calculator, this could make you Rs 3,300 to Rs 5,500 per month. Remember, as your content repository grows so will your subscriber count, engagement rate and earning potential.
[The range is a blatant approximation because many factors come into play when calculating a CPM on an ad like the quality of traffic, source country, niche type of video, price of specific ads, Adblock, the actual click rate, etc.]
If you're a web blogger, you can sign up with third-party ad networks or sign up with Google AdSense where you can list your blog as a display property. (where you decide what ad or bran variants you want to show) All ad revenues pay up depending on the engagement and clicks your content generates. So, make good content and the money will come.
#5. Merchandising (Creating and promoting your own product lines) 
Any kind of product selling depends heavily on your audience engagement. If you have figured out a good way to keep your fans engaged, then it's time to market your own products to them.  Don't have an idea on how to create your own products yet? Tons of companies offer print-on-demand services and even eCommerce platforms (like Shopify). All you have to do is design your own products and then promote it—no inventory, no minimum sales to worry about. Platforms like Razorpay also offer a fleet of payment solutions to get your money to the bank simply and easily. 
With these nitty-gritty details out of the way, how much can you really make by selling merchandise as a nano influencer?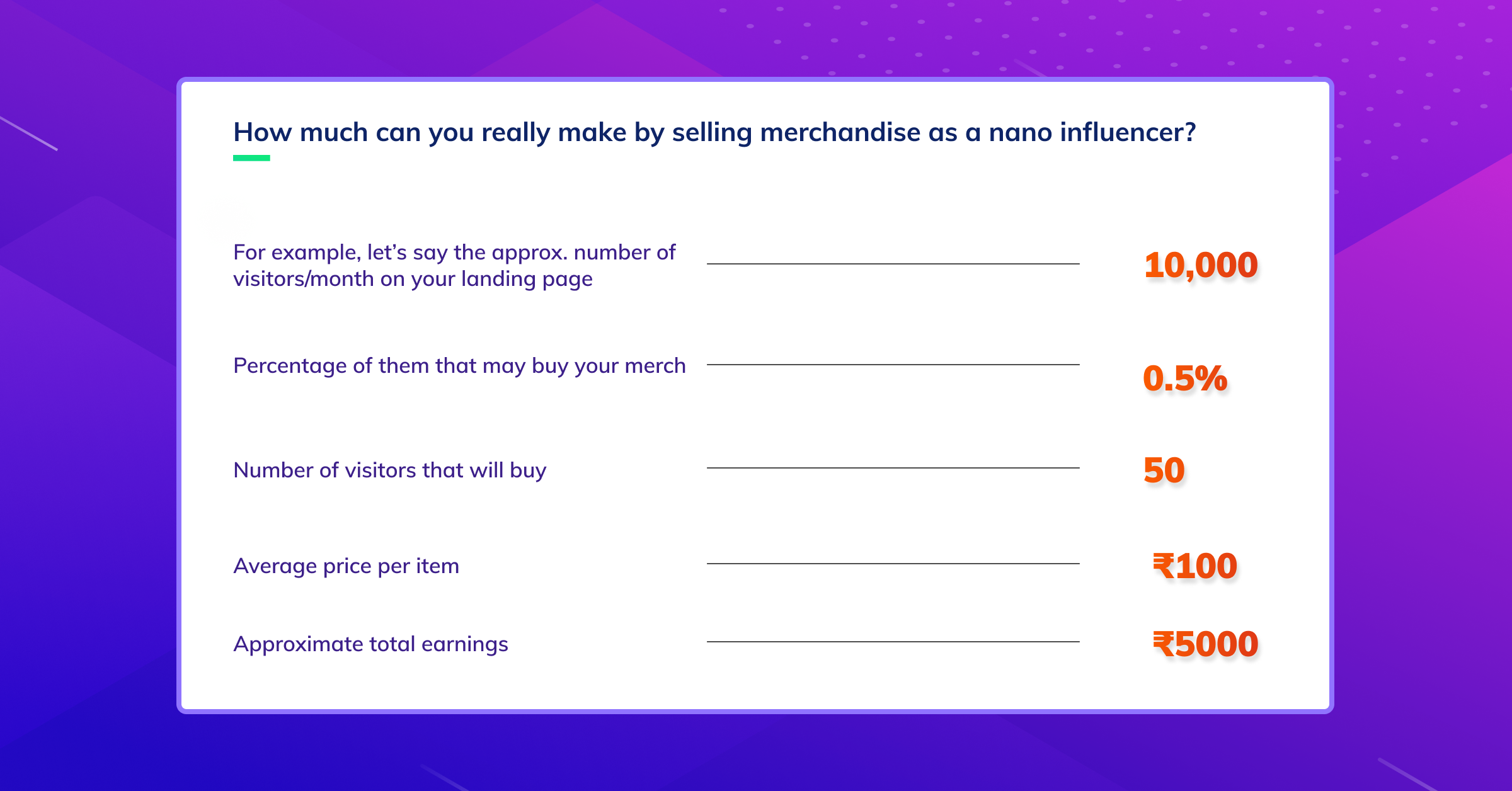 Other Key Areas that You Must Pay Attention To:
There are a number of other factors that decide how much brands or clients are willing to pay an influencer. In the current market, it's rare to find an influencer who charges a flat rate. Most influencers set their rates based on what brands will pay. While our list doesn't cover everything that goes into determining how much an influencer might charge, these are the things that have an impact:
Size of the campaign (No. of posts and type like images, videos, and audio)

Time and energy required to execute the campaign

Where the ad will be promoted/cross-posted

Agency fees (if the influencer is with an influencer marketing agency)

And most importantly, your engagement rate
Are you already counting your likes, followers and engagement rates? Well, we might be looking at another new nano-influencer then.