Since e-commerce businesses are fully operational again post the peak of COVID-19, the scope of starting your store on an e-commerce platform such as Shopify is very high due to the demand for online retail.  Here's a guide to help you find the best Shopify apps for your e-commerce store!
Shopify is an e-commerce platform that enables businesses to set up their online store and sell products conveniently. To be precise, It is a SaaS platform (software as a service) that works on a monthly subscription basis where you can sell your products through your Shopify store.
With affordable pricing plans presented to a business of any size, startups to established businesses can make use of Shopify as their primary e-commerce platform. Furthermore, hundreds of thousands of people from over 175 countries trust Shopify due to their various integrations and plug-ins that help them upscale and grow their business. 
How does Shopify work?
As mentioned above, Shopify is a software that presents you with a dashboard where you can add products, store products & data, and get useful insights based on all your operations.  
Through their design and editing tools, you can pick a custom creative of your choice or opt for Shopify's free or paid design templates that fit your brand's theme. Furthermore, Shopify allows you to take a break from all the monitoring and supervision of your products by keeping a track of your inventory more efficiently through its inventory tracking features and Stock Keeping Unit (SKU). 
If you have a variety of products to sell, Shopify collects all the required data and automatically generates a page for each category. Make note that this is possible only if you make use of an intermediary app that allows you to do so. 
As you may know, the logistics part of e-commerce can be a very big hassle, if not monitored properly. Thankfully, through Shopify, you can enter a single rate for shipping a package, regardless of the size and weight, and connect your store with various carriers like FedEx, UPS, and DHL to name a few. 
Dropshipping is a type of business model where the seller accepts orders for goods that aren't in stock and buys the desired products from another entity which is then shipped directly to the customer. Shopify is among the leading solutions for dropshipping because their model automatically helps you connect with reliable dropshipping providers like Amazon Fulfillment, Shipwire, Rakuten, etc, and also gives you an option of manually connecting with other entities. 
If you are ambitious about finding other channels to sell your products, Shopify lets you sync your inventory with other channels like Pinterest, Facebook Messenger, Amazon, etc, and enables you to manage the core components of your business through Shopify's backend. 
Another way in which Shopify lets you reach out to more viewers and potential customers is through the blog feature, where you can build your brand's social proof, reach, and SEO ranking. You can update, write, edit, and publish blogs through Shopify's built-in feature from the admin dashboard. 
Shopify has made the payment method very simplified by offering an array of online payment processes for your customers, along with the addition of manual order processes like cash on delivery, money orders, and bank deposits. 
The integration of your store on Shopify with Razorpay enables you to accept payments via debit & credit cards, net banking, UPI, and other available supported wallets. This offers you a consistent integration that works across all browsers and gives a customer a hassle-free experience with payments without being redirected to another page. 
If you're wondering how to include profit margins & get real-time GST inclusive and exclusive rates for your e-commerce store you can check out our free GST calculator.
Best apps to choose on Shopify
Since there is a wide range of apps available on Shopify, we have categorized the applications under functions that are most relevant to the e-commerce industry. We have carefully segmented and presented the best-performing apps on Shopify based on a number of parameters.
Note: The number of reviews received, the overall rating of the app, and its importance to your business are the main parameters that are taken into account. 
Without further ado, let us have a look at the most important and relevant apps that can cover your site's optimization, logistics, marketing, and other business needs. 
Apps used for payments and fraud detection
Razorpay Shopify plugin:
Make all your payments more simplified and with a click of a button with the help of the Razorpay Shopify plugin!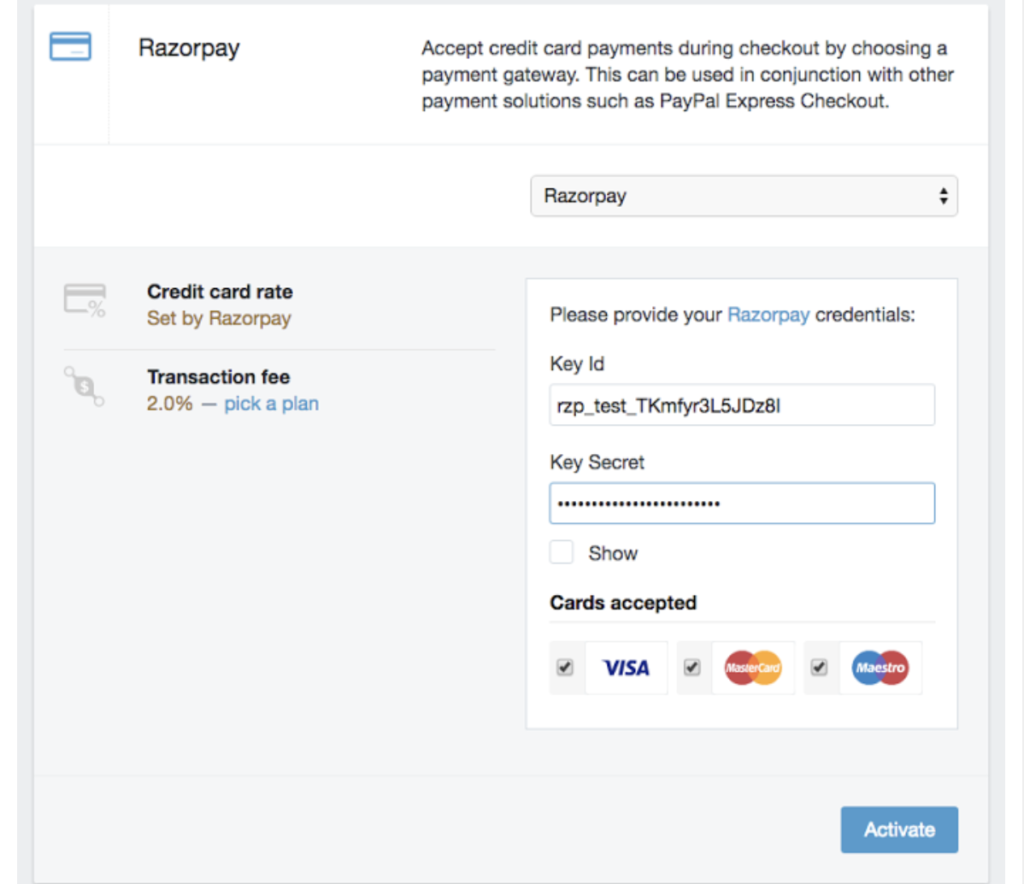 You can now accept payments via debit card, credit card, net banking (supports 3D Secure), UPI, or through any of our supported wallets for simplified payments. Furthermore, this plugin offers seamless integration, allowing the customer to pay on your store without being redirected. This allows the plugin to work across all browsers for a seamless experience for our users.
NoFraud Fraud Protection:
NoFraud Fraud Protection is an app that offers fraud prevention through Virtual Identity Verification. With its automated software, it gives you real-time decisions based on various data points regarding each transaction without the interference of manual work.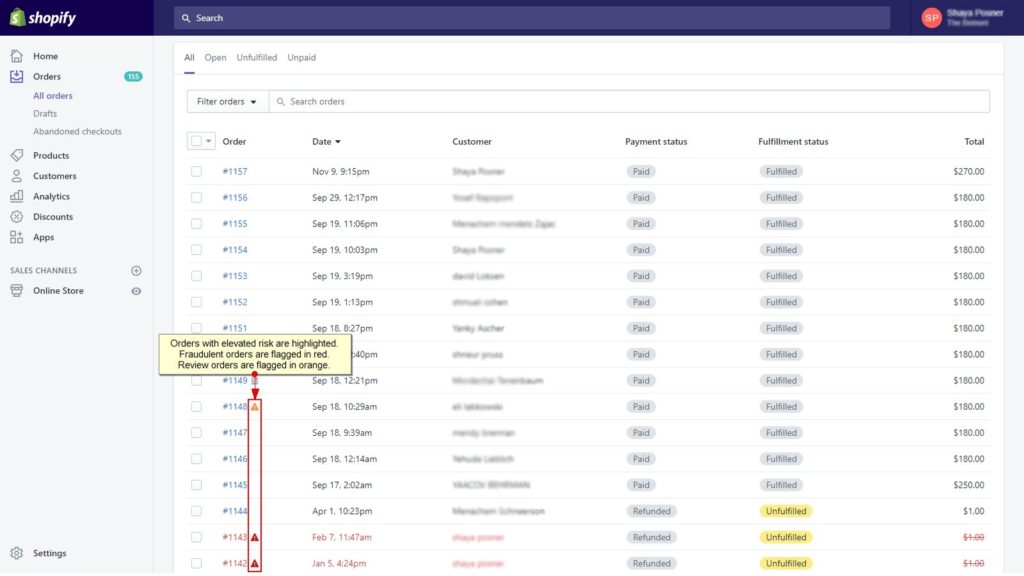 If an order is deemed fit to be shipped and yet gets a chargeback on it, NoFraud Protection reimburses you the full amount. Moreover, you can get detailed insights into review results, order statuses, fraud attempts, etc that make you more aware of fraud and your business. 
Overall Review on Shopify: 4.7/5
Number of reviews on Shopify: 104
Shop Workflow Automation:
Shop Workflow Automation is an app on Shopify that auto-detects fraudulent orders, flags the orders accordingly, and lets you know by notification as well. To reduce chargebacks, you can authorize the order before it's shipped after the AI flags it fit.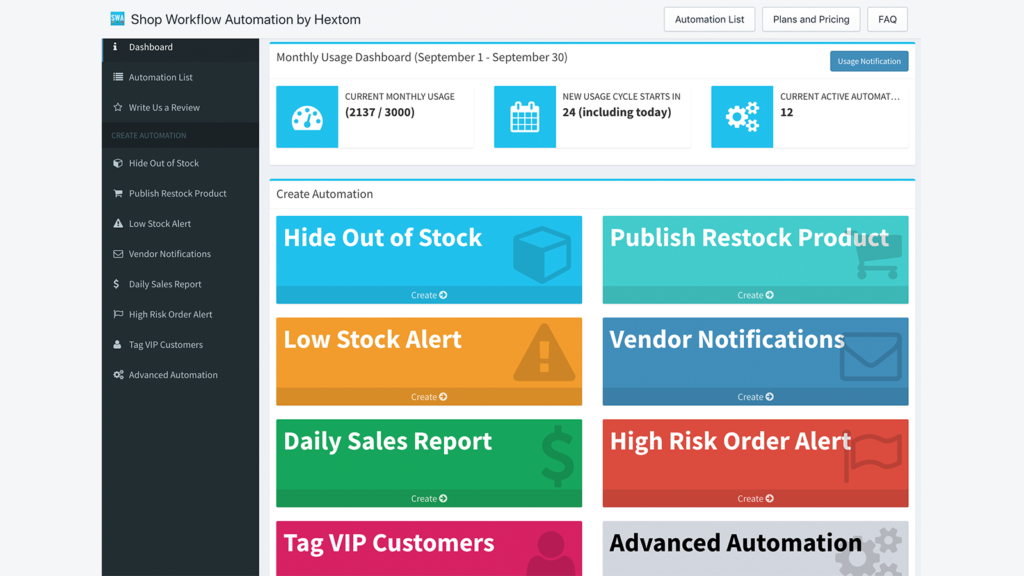 Furthermore, through Shop Workflow Automation, you can hide the products that are out of stock, republish the stocked items available in your inventory on your online store, notify suppliers about the orders that are due to be delivered, and monitor any events with proper CTA's. 
Overall Review on Shopify: 4.5/5
Number of reviews on Shopify: 136
Signifyd:
Signifyd is an e-commerce protection platform that leverages data and other learnings to provide useful results on fraudulent orders, INR claims, and order fulfillment to name a few.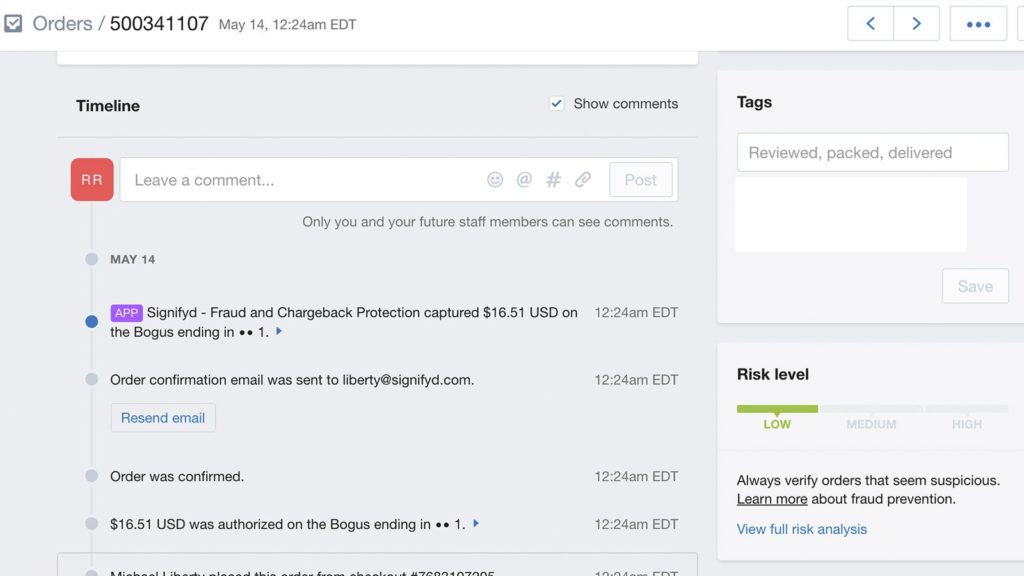 Similar to other fraud prevention apps, Signifyd automatically reviews the order once it's placed, and lets you cancel the orders that are deemed risky.   
Overall Review on Shopify: 4.4/5
Number of reviews on Shopify: 149
Apps to increase your sales
Here are some of the apps that you can make use of to make your website stand out from your competition and drive more sales and attract more traffic on your website.

Weglot: 
Weglot is a translation tool that helps you to convert any website content to multiple languages that give you and the customer a good viewing experience. Since this app is already SEO-optimized and fully automated, there is no need for human intervention and any prerequisite knowledge of coding.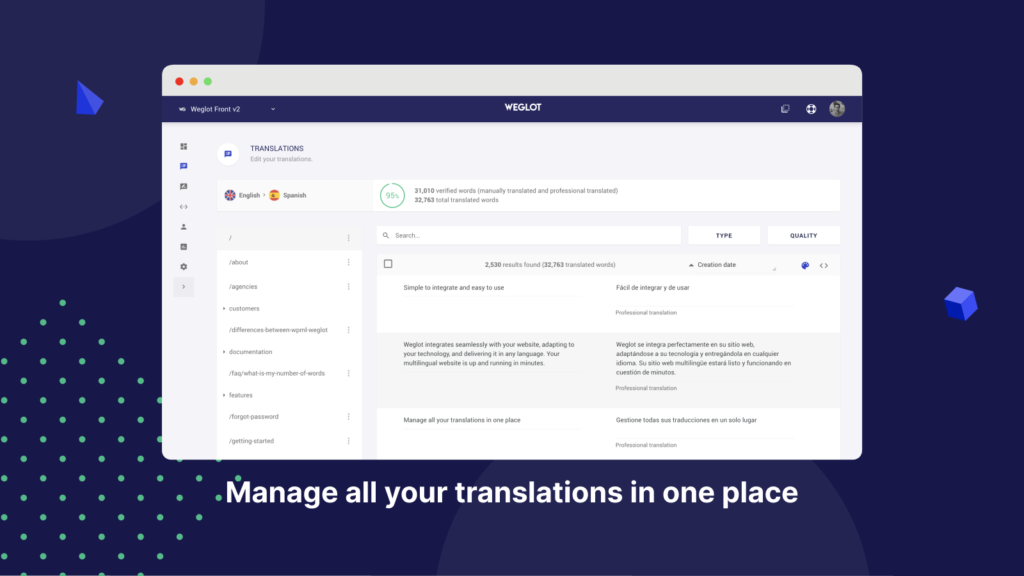 72.4% of consumers still prefer to buy products in their local language. So, by installing Weglot, you can increase your reach among existing and prospective customers and take full control over your website as you get a dashboard for editing all your translated content as well. 
Overall Review on Shopify: 4.7/5
Number of reviews on Shopify: 963
Lucky Orange:
Lucky Orange is a monitoring tool and lets you understand why people are abandoning their shopping carts from your website. Through visual dynamics and heat-maps, it reduces your time in guessing things and helps you act faster with useful insights. 
With their analytical dashboard, you can quickly compare historical data, keywords used, location matrics, and the content that is used to drive sales and traffic on your site. With user-friendly chatbots and content, it allows you to convert your visitors to prospective customers.  
Overall Review on Shopify: 4.6/5
Number of reviews on Shopify: 551
PushEngage:
PushEngage is a push notification tool that allows you to send custom notifications from your Shopify site so that you can re-engage with your visitors and reduce the chances of cart abandonment and drive more traffic on your site. 
Through this app, you can send alerts related to dips in product prices, new additions to inventory, and also send notifications to customers in other local languages as well. 
Overall Review on Shopify: 5/5
Number of reviews on Shopify: 15
Epic Product Descriptions:
Epic Product Descriptions is an app that includes over 300+ copywriters in their team, who produce perfect, high-quality descriptions related to your product or website. Since the description is written exactly based on your requirements, it saves you time in figuring out how you can pitch your product online and helps you invest your time in other parts of your business.
Overall Review on Shopify: 4.7/5
Number of reviews on Shopify: 18
Shipway
Shipway is an app that allows you to notify customers about their shipments, track shipment statuses, show real-time details about your shipment and so much more!
With this app, you can increase your customers 'overall buying experience, reduce customer queries & misunderstandings, get good order reviews, and deep insights on your shipping statuses. 
Apps for dropshipping 
As you may know, dropshipping is It is a form of retail wherein the seller sells the product with the use of an intermediary, so that there is no requirement of a physical store, and the costs incurred in storage and inventory are eliminated. Let's look at some of the best-recommended apps for dropshipping on your Shopify store!
Oberlo:
Oberlo is a Shopify exclusive app that is used to upload a wide range of products onto your store on Shopify and makes sure that the inventory and prices are kept up-to-date. Since the app is fully automated, it enables you to cut out all the unnecessary steps in the dropshipping process and have a smooth experience regarding the same as well. 
Overall Review on Shopify: 4.1/5
Number of reviews on Shopify: 2380
ShopMaster Dropshipping:
ShopMaster Dropshipping is an app that is dedicated to providing insightful solutions by letting you add products associated with more than 20 suppliers like AliExpress, eBay, Alibaba, etc and import orders in bulk as well.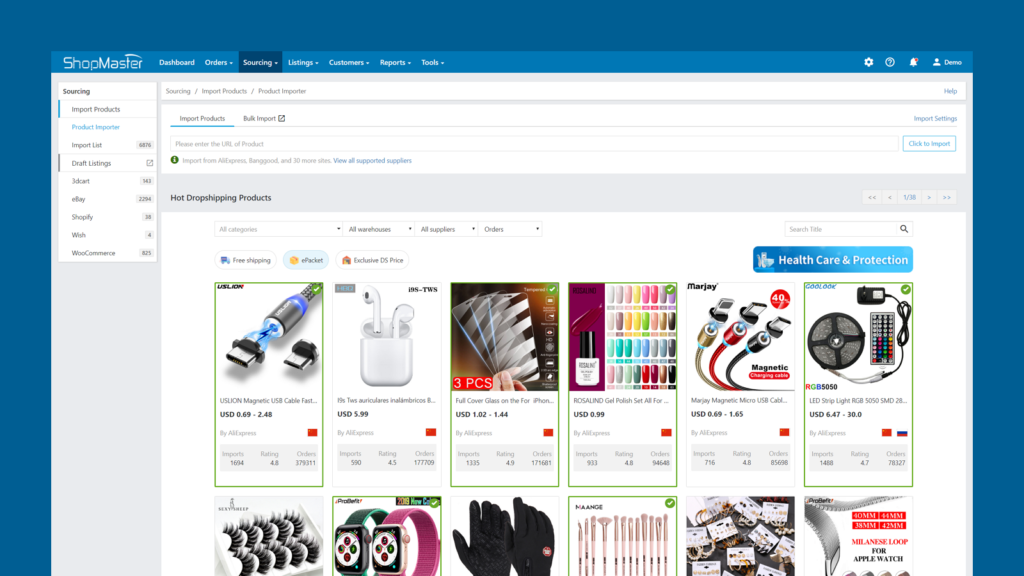 In addition to these features, the app helps in monitoring your inventory, synching & updating products to your store, set up the desired dropshipping rates, etc that helps you in easily starting a profitable online store.  
Overall Review on Shopify: 4.8/5
Number of reviews on Shopify: 257
Modalyst:
Modalyst is a dropshipping app that allows you to add various products from independent brands all over the world. It's automatic inventory updates, free shipping rates on selected products, and real-time synchronization regarding your products makes this one of the "must-have" apps in terms of dropshipping.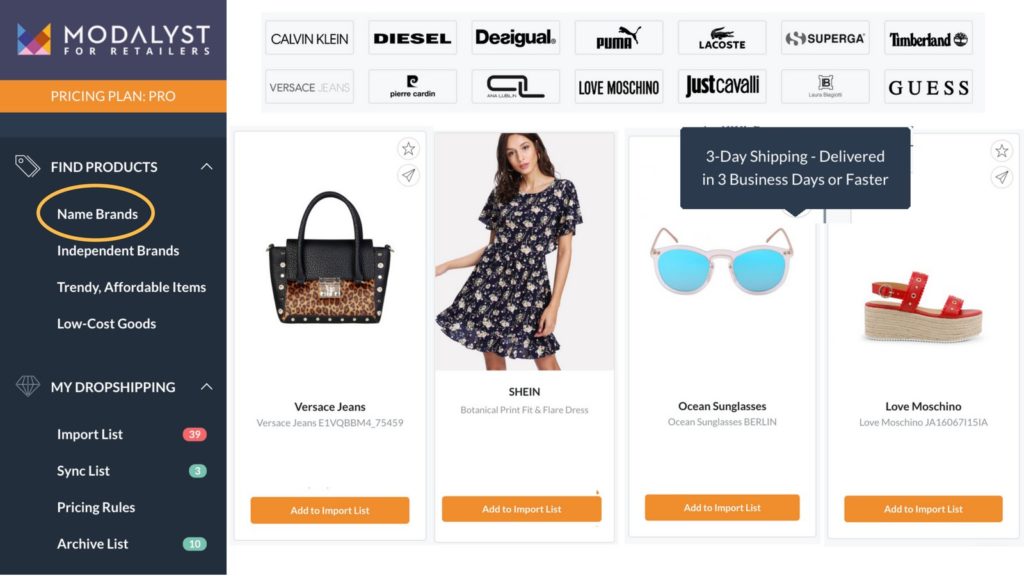 Through Modalyst, you can onboard reliable suppliers to your website, communicate directly with suppliers, and also manage thousands of dropshipping suppliers in one place.
Overall Review on Shopify: 4.6
Number of reviews on Shopify: 912
Apps for e-commerce shipping
One of the hardest things to do while having inventory and sending out products to your customers is the prospect of shipping the right products to the right people. Take a look at the below apps that can make your shipping experience better and more convenient. 
AfterShip:
AfterShip is a tracking tool that helps you engage customers and boost sales with a good tracking experience. Through AfterShip, you can keep your customers updated on the whereabouts of their orders until it has reached their doorstep through a personalized tracking page that is equipped with automated notifications.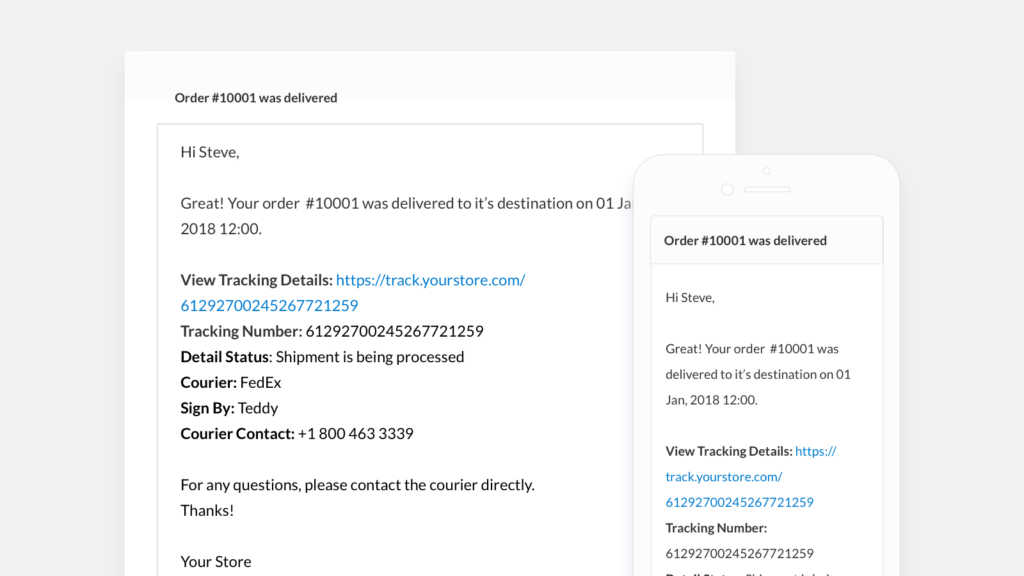 Furthermore, the app allows you to build your tracking page where you can add your logo or tagline as a way to upsell, and also lets customers track their orders and reduce tracking inquiries as they can see live updates through the registration of their tracking number. 
Overall Review on Shopify: 4.5/5
Number of reviews on Shopify: 3671
Easyship:
Easyship is a shipping platform that lets all merchants reach their customers with increased conversion rates and low shipping costs. With access to pre-negotiated solutions to shipping rates with over 100+ couriers, you can sync your account with one of these couriers and use your desired rates with them.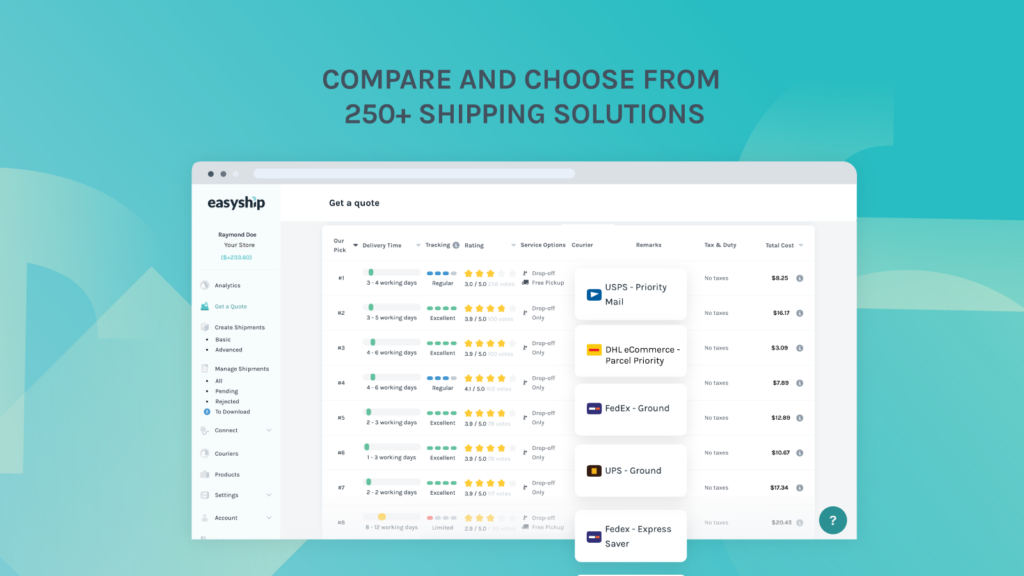 Through Easyship, you take control of your finances by having access to past invoices, transactional documents, and receipts related to shipping. Furthermore, with their automated dashboard, you can track & update orders, generate return labels, and figure out solutions based on the features of the products to be shipped as well. 
Overall Review on Shopify: 4.4/5
Number of reviews on Shopify: 293
Shippo:
Shippo is a convenient shipping tool on Shopify for your e-commerce store, that enables you to get discounted rates, send tracking information to your customers, and send print labels that help in growing your business. Through Shippo, you can import orders from your Shopify store and other storefronts like Magento, eBay, Amazon, etc, and you manage all the shipping process under one dashboard.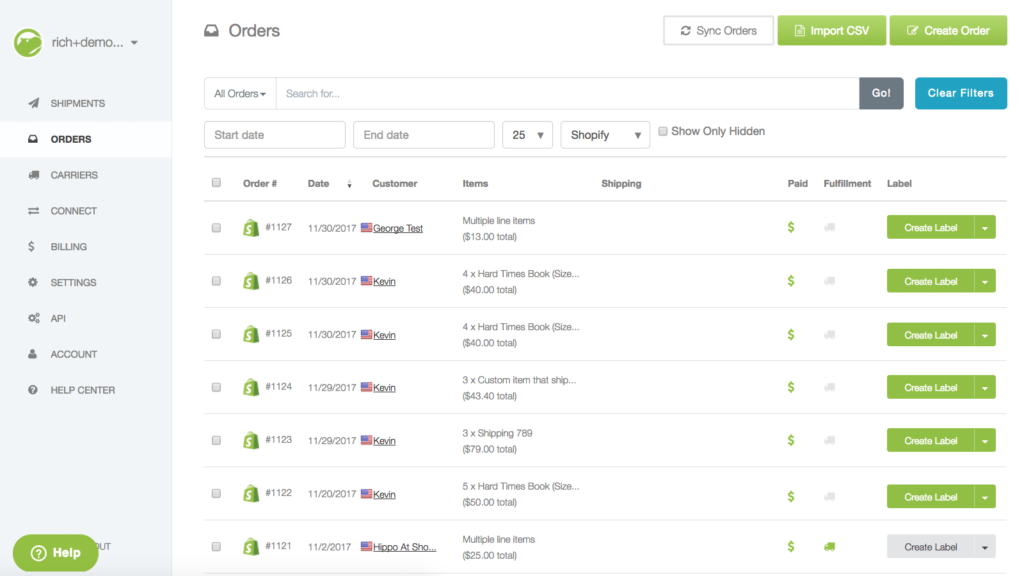 You can print close to 100 shipping labels at once and delight your customers by adding return labels inside packages to give them an excellent post-purchase experience. Additionally, you can split your orders based on relevance and importance and ship these orders to different locations too. 
Overall Review on Shopify: 4/5
Number of reviews on Shopify: 482
Parcelify:
Parcelify is a shipping app that lets you customize your shipping rules and rates. With this tool, you can offer free shipping for orders that are at a certain price range, offer local delivery or in-store pickup for orders that come under certain zip-codes, offer rates based on the weight of your products and so much more!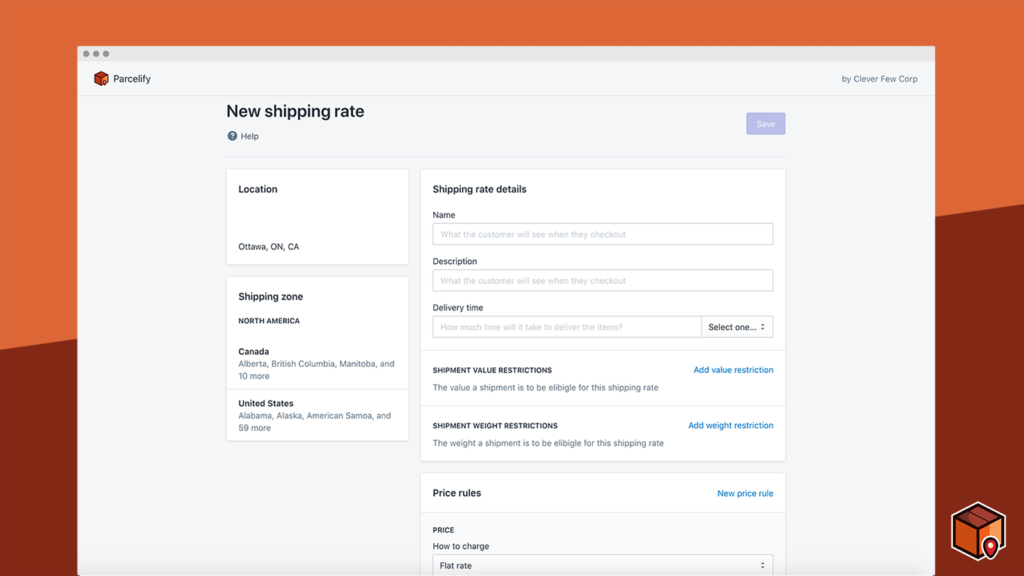 Overall Review on Shopify: 4.8/5
Number of reviews on Shopify: 240
Shipway
Shipway is an app that allows you to notify customers about their shipments, track shipment statuses, show real-time details about your shipment and so much more!
With this app, you can increase your customers 'overall buying experience, reduce customer queries & misunderstandings, get good order reviews, and deep insights on your shipping statuses.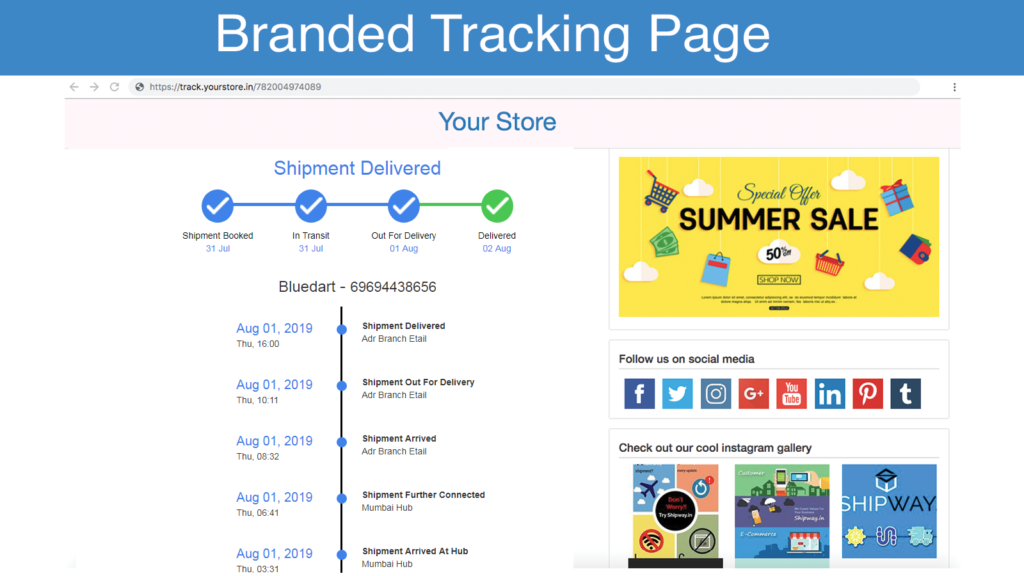 Their multi-lingual order tracking pages and the new feature that lets you track orders on Shopify's order tracking page has made all things related to order tracking more convenient.
Overall review on Shopify: 4.9/5
Number of reviews on Shopify: 143
Shipping Rates Calculator Plus:
The Shipping Rates Calculator Plus app decreases the chances of abandoned carts by showing your customers the rates of shipping upfront so that the misinformation regarding the same isn't existent. 
Through the app's unique API, it auto-detects the customer's location and sets a shipping rate according to the locality. To make things convenient, the shipping rates are displayed on your shopping cart page and allows you to enter your location so that it sets a shipping rate accordingly. 
Overall Review on Shopify: 4.9
Number of reviews on Shopify: 274
Apps for SEO and social proof
Search Engine Optimization or SEO is among the crucial elements to attract traffic on your website or any web page in general. It is nothing but a process of improving your website's traffic from the primary search engines used by most individuals. 
Social Proof too can be considered to be among the crucial factors that drive the purchase decision of buyers. In marketing terms, it is a situation where a website seeks validation through the actions of other users. 
Ali Reviews:
Ali Reviews is a product review app that lets you build social proof and maximize conversion rates through the display of various reviews across your webpage and is classified as one of the best apps on Shopify for your e-commerce store. You can import various product reviews either from AliExpress, or from any other source as well.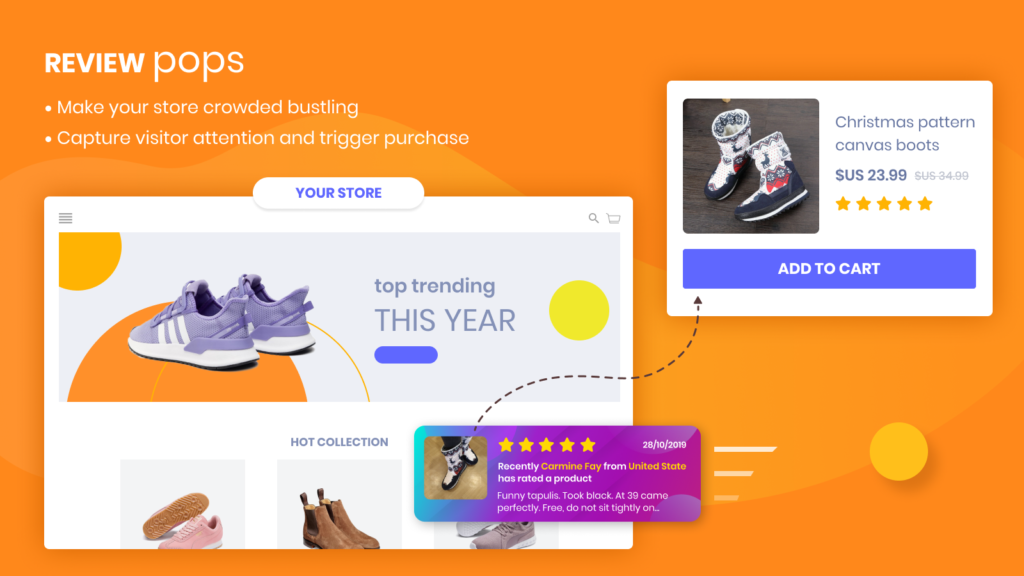 Also, Ali Reviews automatically updates any new addition of reviews, makes your store look more appealing by displaying various pop-ups, gets you more reviews through their automated emails, and showcases the popularity and reach of your online store through various review pops to name a few. 
Overall Review on Shopify: 4.8/5
Number of reviews on Shopify: 4646
SEO Optimizer:
Since 26.79% of searches are primarily done on Google Images, SEO Optimizer is a featured app on Shopify which ensures that you don't miss out on organic traffic through Google Image searches.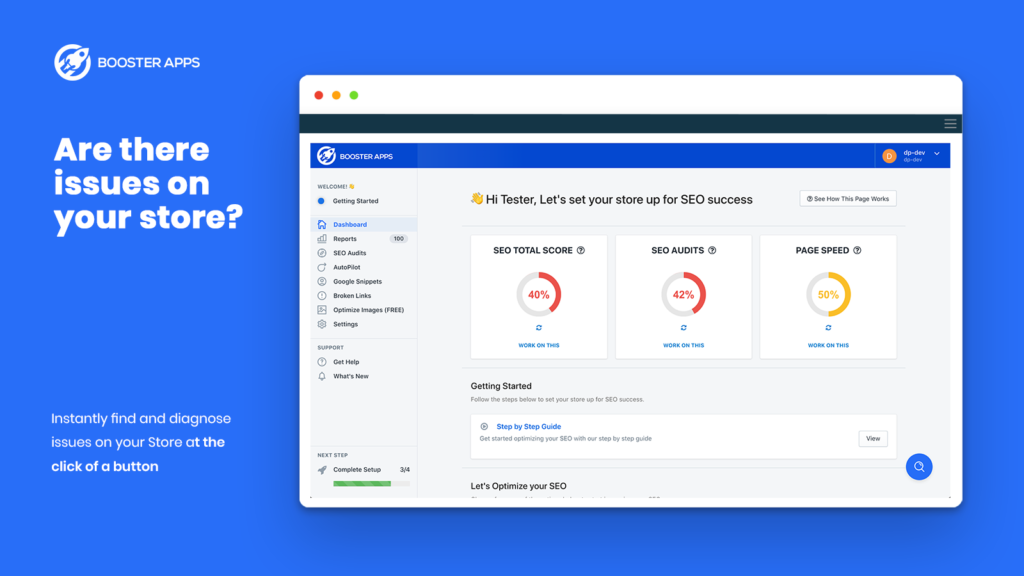 SEOThough this app doesn't add any backlinks for your store, it will ensure that you have on-page SEO success as it constantly monitors and optimizes your store to meet the requirements of Google's SEO practices. 
Overall Review on Shopify: 4.5/5
Number of reviews on Shopify: 2528
SEO Booster:
SEO Booster is a must-have tool if you are still starting with SEO and want to get more insights regarding the same. With just one click, you can auto-check and analyze any hurdles regarding SEO and ensure that your store meets the latest SEO requirements of google and other search engines.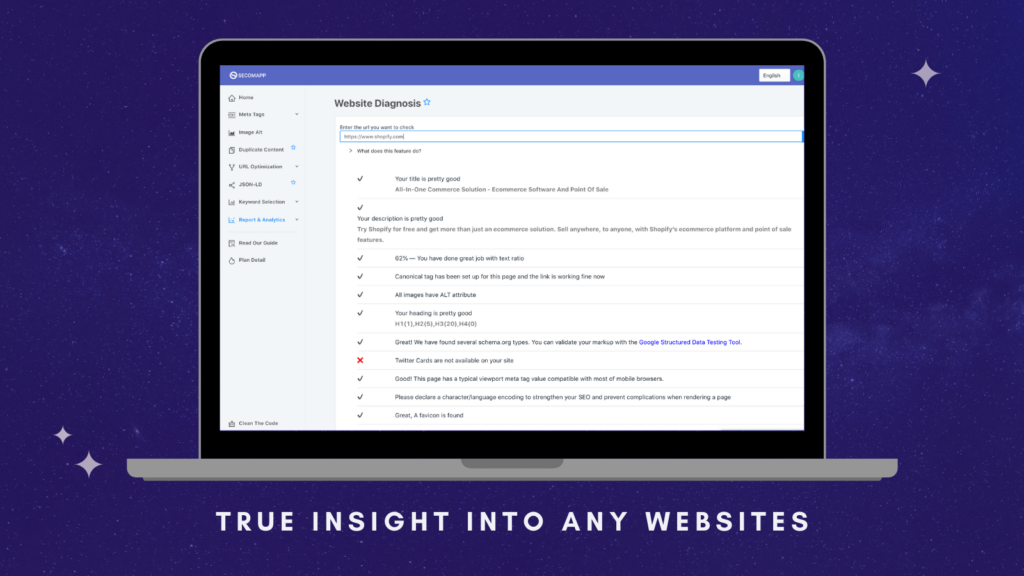 This app gives you more information about your SEO score, budget savings, invalid links, etc that helps you boost your conversions without the need for coding. Furthermore, SEO Booster updates alt texts for new images, drives traffic to your store by updating trending keywords from your selected geographical areas, and makes you learn the keyword interest surrounding any topic. 
Overall Review on Shopify: 4.7/9
Number of reviews on Shopify: 1759
Bulk Image Edit:
Did you know that the rate of conversions on your store and the ranking of it depends on the speed at which your website loads too? Bulk Image Edit is an app that can dramatically reduce the image file sizes by a single click, without losing any visible image quality, which will, in turn, help in faster loading of your website or page.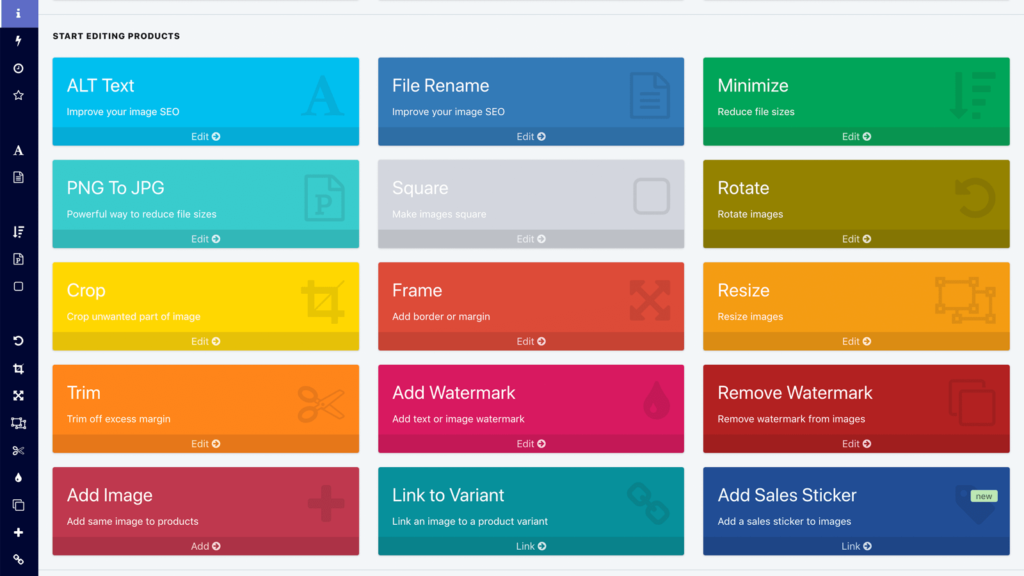 Concerning alt-texts and file names, Bulk Image Edit will mark your images with product titles and options to ensure that Google will display them to as many potential customers as possible.
Overall Review on Shopify: 4.8/5
Number of reviews on Shopify: 1889
Plug in SEO:
Plug in SEO is an app that specializes in improving your Google ranking, driving organic traffic to your store, and managing things related to SEO optimization. 
To be more specific, Plug in SEO fixes issues related to headings & subheadings, page titles & descriptions, broken links that ensure smooth recovery of traffic, keyword tracking & analysis, etc that makes your conversion requirements a lot more convenient. 
Overall Review on Shopify: 4.7/5
Number of reviews on Shopify: 2245
Time to start selling!
Now that you have certain insights about what Shopify is and what are the best Shopify apps you can use to upscale your e-commerce business, bear in mind that there are a host of other apps and categories from which you can find the most relevant ones to choose for your needs. 
With regards to Shopify itself, it is an excellent, hassle-free selling platform through which you can create different solutions to all your problems regarding the establishment of your e-commerce business. 
Though we encourage you to explore more about other platforms before coming to any conclusions, keep in mind that if you are in search of a dependable, easy to use and efficient online platform to sell,  Shopify has to be at the top of your wishlist. 
Also read: How to start an online store on Shopify