You can become a Razorpay Partner in two simple steps:
If you are new to Razorpay, you must first sign up for a Razorpay account.
Follow these steps:
Navigate to the Become a Partner.

On the Sign Up page, enter your mobile number and tap Get Started.

Enter the OTP sent to your mobile number and tap Verify.

Enter your name and tap Next.

Select your Business Type, as applicable, and tap Next.

Choose the Partner Type and tap Next.

Reseller Partner: Choose this type if you only want to refer other businesses to Razorpay and do not want to manage transactions on their behalf. Know more about
Aggregator Partner: Choose this type if you want to refer and manage the payment stack for your referred accounts. Know more about
This completes the account creation process. As the next step, you can:
Tap Go to Dashboard to visit the Razorpay Dashboard.
Add your email address and complete the OTP verification process.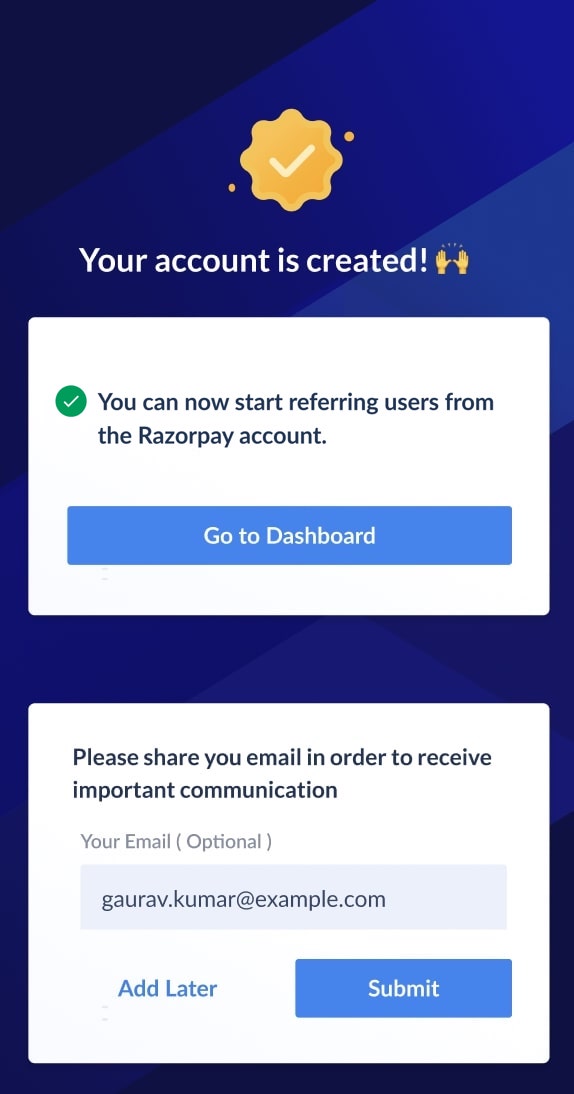 As a Razorpay Partner, you are eligible to receive
To activate your account:
Log in to the

In the left panel under Products, click Account & Settings.

Under the Website and app settings tab, go to Business website detail.

Complete the KYC Verification process.
After you submit the details, our team reviews the KYC form.
If we need any further information from your end, we drop a mail to your registered email address.
The review process takes 4-5 days.
Upon successful verification:

Razorpay displays the Settlements Enabled success message on the Dashboard.
Razorpay deposits the settlement amount in your bank account per your settlement schedule.