You can join the Razorpay Partnership program by signing up on the Razorpay Partners webpage and completing a few simple steps on the Razorpay Dashboard.
If you are new to Razorpay, you must first sign up for a Razorpay account.
To sign up on Razorpay Partners page:
Navigate to the Become a Partner.

On the Sign Up page, set a password and click Create Account to create your Razorpay account.
Before you can complete the signup process, select your business type from the list and add business contact details.

Click Finish.
On completing the signup and pre-sign up process, you receive a verification email on the provided email address. Click on the Verify Email button to complete the verification process.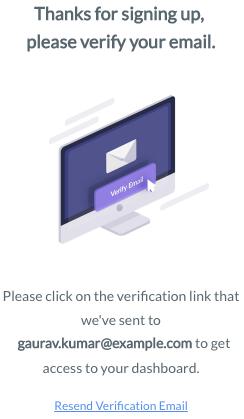 A message will be displayed to confirm the successful verification of your email.
Once the email verification is done, log into the
Click the down arrow next to your business name at the top-right corner of your dashboard and click on Explore Partner Program in the drop-down menu.

The Welcome to your Partner Dashboard dialog box appears displaying commission details. Click Next.

In the What do you want to do as a Partner dialog box, choose either of the below-mentioned Partner Types or other available options as per your business needs:

Refer Merchants:
Refer and Manage Merchants:




If you are an enterprise-level partner or looking for customized enterprise solutions, please contact the
If you do not want to be a Partner and be a merchant who uses Razorpay Products to accept or disburse payments, click I just want to use Razorpay products.

On the selection of either of the Partner Types - Resellers or Aggregators, click Next
In the Terms and Conditions modal, click Accept and Get Started.
You have successfully become a Razorpay Partner. You can now enable settlements by completing the KYC process and start adding new sub-merchants.
Handy Tips
For Aggregators partner type, Partner Auth has to be integrated for commissions to be paid out. Know more about
As a Razorpay Partner, you are eligible to receive
To activate your account and complete KYC:
On the Razorpay Dashboard in the left panel, click Products and select My Account.
Under the Profile tab,
Complete the
Once you submit the details, your KYC form will be reviewed by the Razorpay team. In case we have any questions or need clarifications, we will reach out to you at your registered email address. The review process will take 4-5 days. Upon successful verification, the Settlements Enabled success message displays on your Razorpay Dashboard.
The settlement amount will be deposited in your bank account as per your settlement schedule.