The Indian government's push for a digital economy is very much real. In the past couple of years, we have seen numerous endeavours from the government to drive the adoption of digital payments. The recent removal of MDR charges on transactions done using UPI and RuPay is a case in point. 
Coming on the heels of this move, the Central Board of Direct Taxes (CBDT) released a notification under Section 269SU that aims to increase the use of UPI and RuPay for business-to-business (B2B) payments. And why not? UPI has grown by leaps and bounds in the consumer payments space. Google Pay, PhonePe are now common household names and synonymous with P2P money transfers. It makes sense that the convenience and speed of UPI payments be utilized by businesses as well.
Hence, as per the government's latest notification, businesses with gross receipts of more than Rs 50 crore need to provide the facility to their customers of making payments through UPI, UPI QR codes and RuPay debit cards. 
Here's the circular for your reference.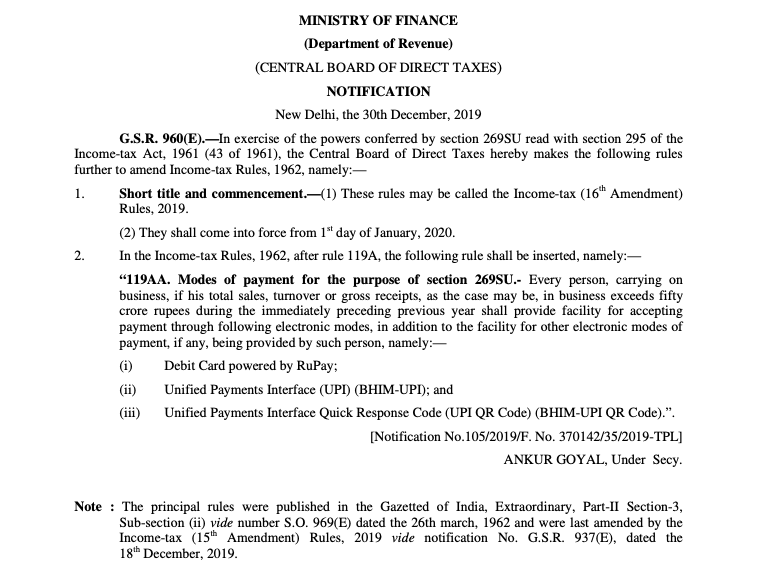 Source: IncometaxIndia.gov.in
This notification under Section 269SU came out from the Central Board of Direct Taxes on 30th December 2019. It set the deadline of 31st January 2020 for businesses to install this facility into their systems. The penalty for not meeting this deadline has been set as a fine of Rs 5,000 per day from 1st February 2020 onwards.
The nitty-gritty of the notification is that the rule has to be followed by businesses where the turnover exceeds Rs 50 crore in the immediately preceding fiscal year. Besides any electronic payment modes you may already have, every applicable business needs to mandatorily also support:
Debit card powered by RuPay

Unified Payments Interface (UPI) (BHIM-UPI)

Unified Payments Interface Quick Response Code (UPI QR Code) (BHIM-UPI QR Code)
UPI and RuPay are both properties of the National Payments Corporation of India (NPCI). Apart from promoting digital payments within the country, the government also aims to increase the adoption of state-sponsored payment infrastructure through the adoption of UPI and RuPay.
As mentioned earlier, UPI has seen immense rise in usage all through 2019. It contributed to 37.7% of all digital payments through 2019 on the Razorpay platform. While most of this contribution came from the B2C space, we believe that UPI has great usability in the B2B space as well.

How to accept B2B payments in UPI and RuPay
Coming back to the CBDT notification, with the 31st January deadline looming, the best way for businesses to fulfill the notification would be by integrating with a payment platform like Razorpay.
A payment gateway is a system that is designed to handle end-to-end payments. A payment gateway, when integrated with a business's website or app, allows the business to accept domestic as well as international payments through all electronic modes. This includes netbanking, credit cards, debit cards and the notification's requirements of UPI and RuPay. 
The best part about the Razorpay Payment Gateway is the ease of integration. With well-documented SDKs, RESTful APIs and support for popular plugins, getting onboard with Razorpay Payment Gateway will be a breeze to help your business meet the government's deadline.
Quick onboarding and integration

Developer-friendly APIs and plugins

PCI-DSS Level 1 security

Support for all payment modes 
The other options that your business can explore are Razorpay Payment Pages and Razorpay Payment Links. Payment Pages allows you to build a custom-branded page to showcase your brand, products and services, and accept payments on the go. 
No coding required

Go live in minutes

Meet your brand guidelines

Create a memorable URL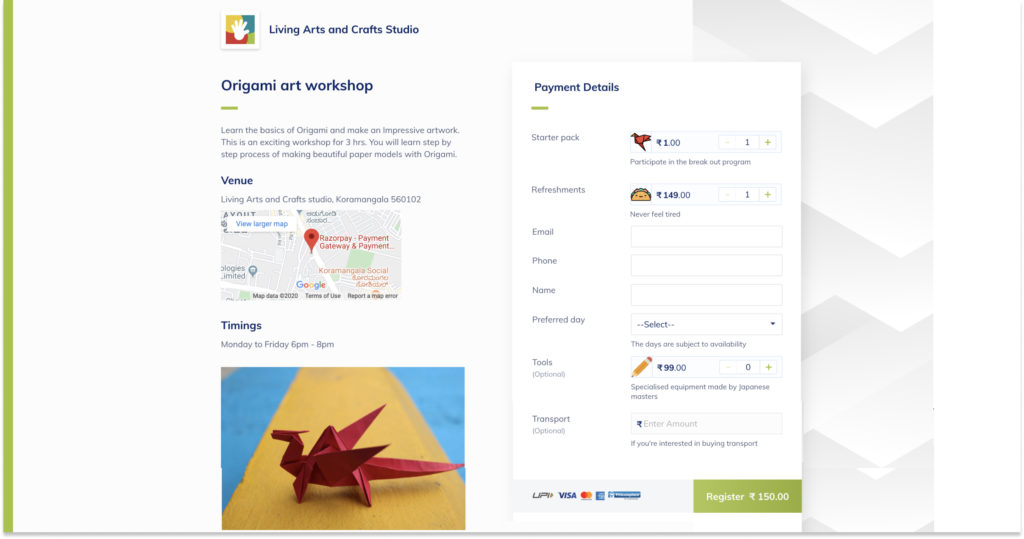 With Payment Links, your business can send individual links to customers through email, SMS, chatbots and messengers. The recipient has to just click on the link to make the payment.
Customise to your brand guidelines

No coding required

Automate through powerful APIs

Get started instantly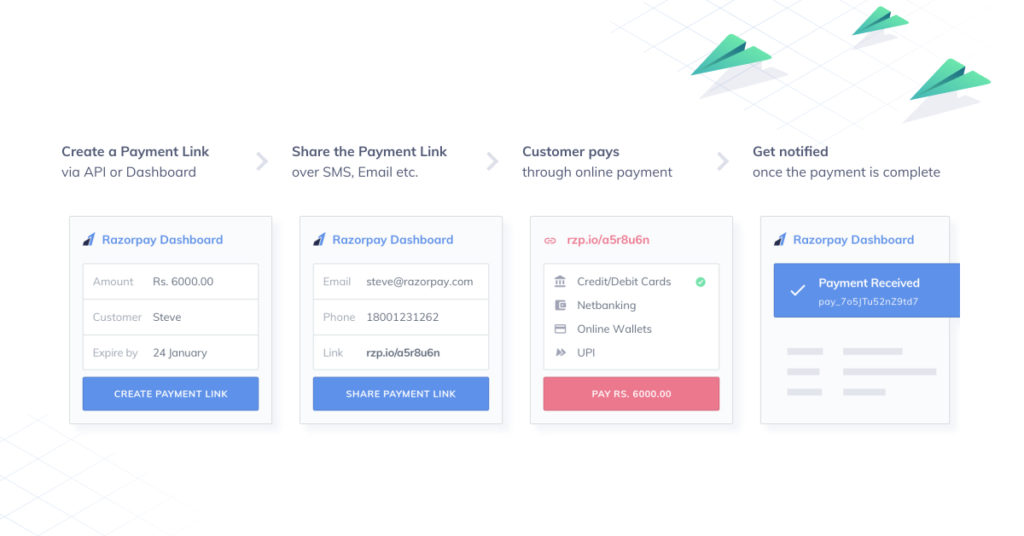 Both Payment Pages and Payment Links support all payment modes, including the ones stipulated in the notification, that are supported by our Payment Gateway. If integrating with the Payment Gateway would be difficult before 31st January, then the best bet for your business would be to set up a Payment Page and fulfill the government's ask in a matter of minutes. 
The CBDT notification under rule 119AA has come into force under the Income Tax Act from 1st January 2020. If your business exceeds the turnover of Rs 50 crore, you should get the facility to accept UPI and RuPay payments right away. Write to us at enterprise@razorpay.com to expedite the process through our banking partners.