Banks have been around forever. In India, the history of banking dates way back to 1750 BC. We have traditionally been dependent on banks for all of our financial needs, as individuals as well as businesses. 
Banks have offered us everything that we have required – from current or savings accounts to credit cards, various types of loans and also, insurance and investment plans. But with fintech startups, the dependency on traditional banks for these services is gradually decreasing, especially for businesses.
These new-age banking services providers are commonly known as neobanks. They are using technology to unbundle traditional banks. And how!
Lately, "neobank" has become somewhat of a buzzword in the fintech space. Quite a few neobanking platforms have emerged in the last few years, creating a storm at a global level. The term itself has gained so much momentum because of the media that it has become a hot topic.
Banking has moved forward in leaps in bounds in the past few years. The way businesses and individuals consume financial services has changed significantly ever since neobanking, API banking, and open banking became prominent in 2016. 
It's no secret that traditional banks are on the front of increased competition from many arcs of the digital world. Neobanks are expanding rapidly, using state-of-the-art tech to win over customers, who demand simpler, faster, and more efficient financial services. In recent years, neobanks have become the next big thing in fintech. 
So, we wanted to bring you a snapshot of how neobanks are on the way to transform financial services globally.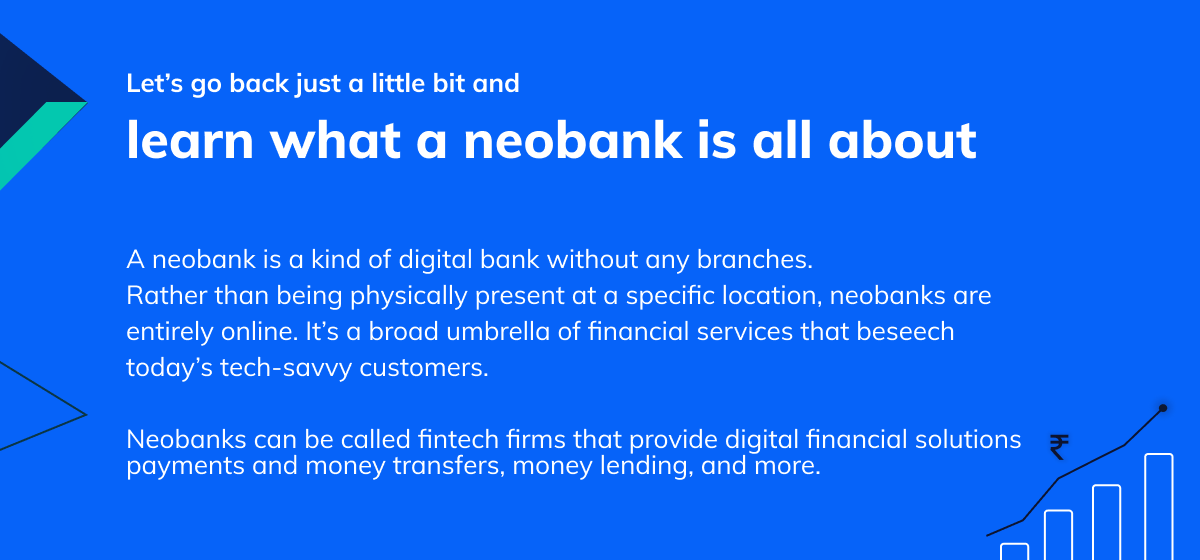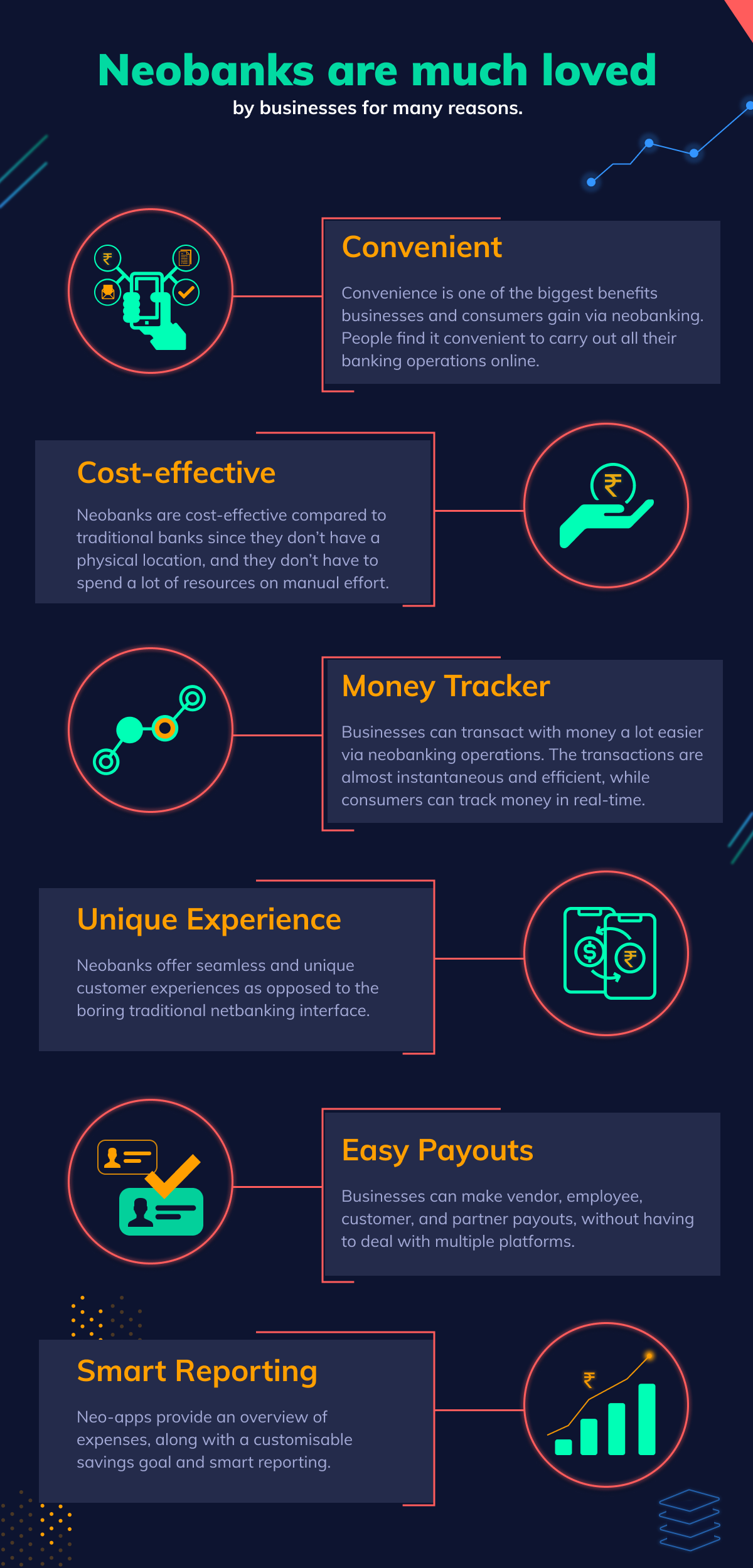 The expansion of neobanking platforms
Fintech startups all over the world, especially in banking and financial services have over 15 million consumers, out of which, over 50% of the consumers are acquired by neobanks. 
The incredible growth opportunity for neobanking platforms is sprouted by their low-cost business model, which has resulted in high adoption by small and medium-sized enterprises, as well as businesses with variable incomes and earnings, and businesses that embrace innovative tech. 
The speed of neobank adoption has intrigued investors, corporates, as well as venture capitalists all over the world. 
[ Read more: Everything You Should Know About Neobanks ]
Neobanking in India 
Globally, neobanks are entirely digitised. But, in India, regulations don't permit 100% digitised banks. Fintech companies showcasing themselves as neobanks offer services that are built on top of traditional banking services. 
Regulatory framework for neobanks in India
Neobanks in India emerged as a comprehensive aid for banking and financial services, as well as for small and medium-sized businesses. But, RBI's regulatory policies neither agree nor disagree with the factuality of fully digitised online banks – meaning, in India, neobanks aren't 100% digital. 
Back in 2018, RBI kicked all forms of cryptocurrency to the curb, with an explanation that crypto transactions would be a threat to security. Also, other tech innovations like online currency and associated banking services appear to have come to a halt. This has put a damper on the tenacity of new business models since regulatory guidelines are muddled. 
However, in August 2019, RBI ushered in a new regulation for the testing of new fintech innovations in a restricted ecosystem, which is motivating for emerging fintech companies. 
RazorpayX Supercharges Banking for Businesses
Usually, businesses have to deal with dreary and dull processes involving payouts and disbursals. These processes take up many hours of manual effort owing to buggy software and complex infra systems. 
Neobanks are supported by the traditional banking infrastructure, and in return, neobanks help sell current accounts. With the partnership, neobanks provide all the benefits of traditional business banking, along with customised reports, flexibility for bulk upload, easier failure identification, scheduling of payouts, and so much more. 
With RazorpayX, businesses can
Manage their contacts and end-to-end payout operations via powerful APIs

Get notified about their payout status and tracking codes through webhooks

Make 24*7 payouts, disbursals, and refunds through UPI, NEFT, RTGS, and IMPS

Recharge, store or transfer funds to their RazorpayX account for payouts

Offer 24*7 instant refunds and payouts to their customers and vendors etc., without any manual intervention

View financial summaries of all their transactions and drill down views of transactions at a contact level

Instantly access and download financial reports and summaries of their contacts

Get complete control and visibility of their finances with real-time summaries, without any help from financial analysts

Automate and execute payroll, compliance, and contractor payments with a dual tax regime compliant payroll software

Provide group health insurance to their employees with comprehensive coverage and subsidised premiums
The RazorpayX story
Traditional business banking is not the most efficient way to manage finances. Several Razorpay merchants told us how suboptimal their business banking experience is. Since we were already spearheading payments, we thought about giving business banking a shot.
We conducted a survey among 1500+ CxOs and spoke to 400+ merchants to understand their business banking experience.
64% of companies believe their payment service providers are best equipped to solve their payment challenges as opposed to banks

10x as many companies polled believe payment service providers innovate better than banks

36% of businesses believe manual dependency and reconciliation are the biggest challenges in their current money management
 And so, we started our journey by creating a whole new platform on which we could build products and integrations. We created an entire API and dashboard payouts platform over a virtual account setup that merchants could use during the early access in 2018. As we scaled, we realised current accounts are the heart of the product to support higher volumes of transactions.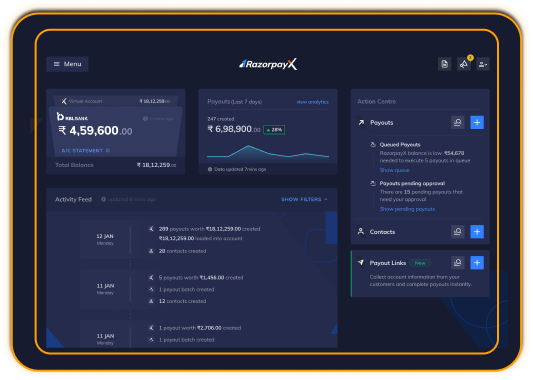 During our event FTX 2.019, we announced RazorpayX's expansion into current accounts, payroll, and corporate credit cards. 
We built RazorpayX with Current Accounts in partnership with RBL Bank and included all standard banking services like cheque book, debit card, and accounting statements. For payroll, we acquired Opfin, a payroll and HR management software company, that also manages tax filing and compliance via a unified platform, without having to hire any external vendors.
We wanted to take this platform just a little bit further with Corporate Credit Cards.
We're partnering with banks and networks to build corporate credit cards from the ground up that offer immense flexibility with limited-time credit period and auto-repayment for businesses. These cards powered by our credit intelligence engine can be used to make payments towards Google Ads, Facebook Ads, AWS, Business Travel, and so much more.
[ Read more: RazorpayX – How We Built a Startup in a Startup ]
Supercharged Business Banking with RazorpayX
Online real money gaming is a forthcoming industry in India. The key aspect of making a great game that attracts a huge customer base is to ensure the game winners are rewarded, and really fast. The business model is all about providing its customers with instant gratification.
But, relying on netbanking and other manual payment modes are not the best way to go about disbursing the prize money to the winners. RazorpayX has helped companies like Mobile Premier League, RummyCulture, Pokersaints, and many more to transfer winnings immediately, and with ease.
The year for neobanking
There are over 42.5 million small and medium-sized businesses throughout India, constituting nearly 95% of the total industrial units in the country. But, only 47% of these businesses have been able to access tools for payments, disbursals, and other vital processes.
Furthermore, about 23% of SMEs use ERP software and CRMs. This means, there's a huge market opportunity for neobanks, especially since they have a lot to offer. 
The gig economy of India has over 15 million contract workers and freelancers, who actively boost the growth of startups. And just like SMEs, only about 67% of the gig economy has access to innovative tech that helps with money management. Neobanks can help the gig economy by enabling independent workers with customer management and banking services.