We are living in truly strange times. If you had told me that more than 4 billion people would be in a complete lockdown in fear of a deadly virus, I would've probably laughed at the sheer scale of the idea. But here we are, 5 months after from the discovery of the COVID-19 virus in Wuhan, in the midst of a global pandemic. 
EuroNews has stated that half of humanity is currently on lockdown as 90 countries have called for confinement. Quarantine, lockdown, contactless delivery, PPE, etc. are some new terms we've acquainted ourselves with, because of the COVID-19 situation. With global cases having crossed 2 million, proactive and steadfast methods are required for businesses to survive in the post-lockdown era. 
With e-commerce businesses set to selectively reopen in Indian cities from April 20th, according to ET Retail, it's crucial that companies strictly adhere to the set standards of hygiene. One of the ways by which e-commerce has innovated to suit the pandemic timeframe is 'contactless delivery'– a timely measure that is saving millions of lives all over the world.
"With e-commerce, at least we have some opening now which is a positive step," said J Suresh, MD at Arvind Fashions which runs stores of multiple brands like US Polo Assn, Sephora, Calvin Klein and Tommy Hilfiger. "Our full focus will now be on scaling up our digital presence and app," he said. (Source)
What is 'contactless' delivery?
Food aggregators and restaurants have now innovated a new method to deliver essential items, medicines and medical equipment in a safe and secure manner. It's called contactless delivery.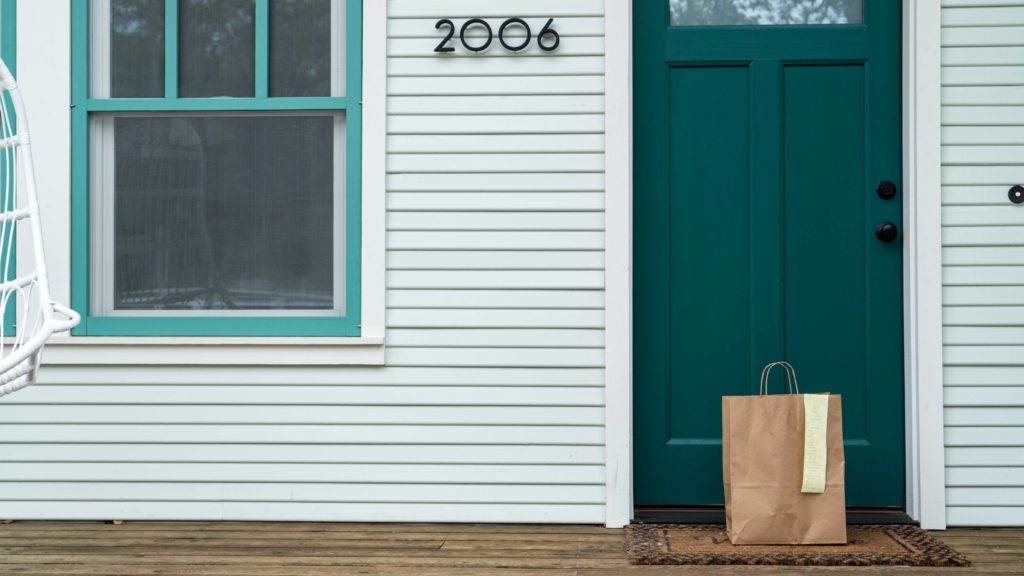 Contactless delivery is a novel technique that is saving thousands of lives by the hour. If you're a business owner, you'll have to switch up from traditional delivery methods with added hygiene and sanitation.
The true impact of contactless delivery can only be realized when it's followed diligently by all the parties involved. This means regular sanitation of warehouses, working personnel, packaged goods and delivery partners. Providing PPE such as masks, gloves and hand sanitizer can go a long way in ensuring that the delivery is truly contactless.
The process of contactless delivery may be initially difficult to set up, but it is perhaps the only way out to ensure business continuity during a pandemic.
Customers place an order, make their payment online and get food delivered without ever coming in contact with the delivery agent. Swiggy, Zomato and BigBasket are some examples of companies that are employing contactless delivery to provide timely service. 
"This will ensure that there are fewer reasons for the public to step outside of their homes. It will also ensure greater availability of supplies and help conform to the requirement of social distancing," Retailers Association of India said.
Ensuring end-to-end hygiene
The whole motive behind this cumbersome process is to ensure 100% safety for both delivery agents and customers. The government has strongly expressed its concern for the higher spread of the virus when people come in contact with each other.
Ensuring end-to-end hygiene has become one of the peak concerns of all e-commerce companies alike. Here are a few precautions that you should follow in order to achieve the same:
Regular screening of all warehouse personnel

Providing personal protective equipment (PPEs) to all warehouse personnel

Frequent sanitisation of the warehouse

Assigning appropriate breaks between shifts in order to regularly sanitize workplaces and warehouses

Limiting the number of working staff and maintaining appropriate social distancing

Exercising heavy caution on the entry and exit of said locations

An emergency phone line to contact the hospital or police station, if required

Maintaining a register of all visitors 
Creating a loop of trust
Contactless delivery can be perfected when an airtight loop of trust is established between the management, the employees and the customer. This can be reinforced by employing a basic set of hygiene measures. After all, happy employees=happy customers.
Here are some ways to establish a loop of trust between said parties:
Employee safety and perks
Providing a stable insurance cover for your employees can provide your employees with the guarantee that their health is covered, regardless of any mishaps that can happen.
Employee perks are also highly essential to motivate those who are working at the frontlines. Make sure to provide the necessary incentives to employees who are putting their lives on the line to keep the business running.
Crowdfunding 
Organizations such as Zomato, Razorpay, Swiggy, PhonePe etc. have come together to collect funds to help their employees, donate to the Prime Minister's fund, provide masks and sanitisation items to medical professionals and feed daily wagers who are facing difficulties during these tough times. 
Philanthropic gestures like these bring out the spirit of generosity in every company. These funds can also go a long way in assisting the families of employees working during this time.
Fresh and healthy produce
The post-lockdown time will also mean increased visibility and lenience towards the Indian agriculture sector if it already doesn't. COVID-19 has brought in looming fears about the quality of food being delivered.
Regaining the trust of customers can be tricky and difficult and the first step to establishing trust is to ensure peak quality of every product that you deliver. This is especially important if your business is involved in delivering cooked food, staples and medicines.
This is probably the right time to collaborate with local farmers and procure raw materials directly from the fields. This can be a beneficial move towards local farming communities to revive themselves from this pandemic.
Contactless payments
The most important enabler and perhaps, the backbone of the entire procedure, is the existence of a smooth payment system. The biggest benefactor of trust in a business is making sure that money is processed in a safe, ordinal manner.
You can ensure this by having a tight integration that supports all modes of payments– credit card, debit card, netbanking, UPI and pay-later options.
Instant refunds
If contactless delivery was a recipe, instant refunds would be the secret ingredient to guarantee customer fulfilment. These turbulent times have caused a lot of confusion and panic in a lot of cities which are under complete lockdown. Although e-commerce companies are doing their best to make sure that every last customer is delivered with their requirements, there are still a few glitches along the way.
Due to a variety of unforeseen reasons, e-commerce orders will face a good amount of cancellations and refund requests. Instant refunds can make sure to keep your 'genuine' customers happy and returning to your website/app.
Tracking and transparency
A shining beacon of light during the chaos of delivery is the tracking facility. A live tracking status that updates the customer can go a long way in reducing confusion about the order status.
Make sure that the customer is also aware of all the available pickup slots for their Pincode. Also, it's advisable to ensure transparency every step along the way i.e., order confirmation, merchant details, delivery status, refund status if any, etc.
Contactless delivery in a cash-driven nation
It is perhaps too soon to know the true impact of contactless delivery on business but what we do know is that they are definitely a source of hope to ensure BAU during COVID-19.
Some good news during this turbulent time is that many data companies have predicted e-commerce to make a strong comeback after restrictions are lifted. This can mean unusually high demand that can be slightly overwhelming, especially if you're understaffed. 
However, with adequate motivation to frontline workers and the right strategy, the coming times may be a little less harsh than what we're expecting.
Establishing the perfect contactless delivery loop can be a difficult task to keep up but it seems like the only way out to make your business thrive in the post-lockdown era. A major part of the difficulty lies in the state of last-mile payment digitization in India, or the lack of it.
There is still a large gap that needs to be filled in terms of going digital with payments. This is especially true in Tier 3 and 4 cities where we're yet to achieve 100% internet penetration. 
Nonetheless, India has been slowly filling that gap with increased adoption of digital payments and wallets. A major chunk of the credit can be attributed to mobile wallets which have been thriving since demonetization. E-Commerce companies must now consider different possibilities for going digital since the urgency for it now is higher than ever.
Digital payments will be a significant part of the post-lockdown era and if demonetization didn't motivate people to go digital, COVID-19 did. Despite the initial inhibitions that business owners may have, going digital for your business can be easier than you think. Ask our experts, they'll tell you!
In any case, we sincerely hope that normalcy is restored at the earliest and all our wellwishers are back in business. We at Razorpay, want to ensure that we're doing our bit to support business owners. Check out our relief measures for NGOs and essential businesses below. Make sure to get in touch with our support team for any questions you may have!