eMandate is a digital payment service initiated by RBI and the National Payments Corporation of India (NPCI).
In 2001, you needed money and had to take a bank loan. After visiting your bank, you received a pamphlet with loan details. You compared other banks, gathered documents, submitted them, and waited for verification. It was a tedious process with manual steps, taking months and resulting in rejections.
In 2018, eMandate was introduced. You approached a bank for a loan and realized you could avail benefits without visiting the bank. eMandate simplified the process between service provider and customer. Read the article to learn more.
What is eMandate meaning?
eMandate is a digital payment service initiated by RBI and the National Payments Corporation of India (NPCI). It serves as an underlying infrastructure for businesses in India to collect recurring payments without any human intervention. A mandate is a standard instruction that you provide to your issuing bank and other institutions allowing them to automatically debit the mentioned amount from your bank account. 
eMandate is a convenient way for businesses and their customers to easily manage all the recurring payments like insurance premiums, SIPs, loan installment collections, etc. This eliminates the hassles of reminders and late penalty charges that eventually proves to be a win-win for both businesses as well as their customers. 
While recurring payments in India have been present for a long time, they were primarily authorized by a physical form that the customer had to fill, sign and submit. This was an operationally expensive and manual process which took days to process. API based eNACH more commonly known as eMandate, was introduced by NPCI around 5 years ago. 
Advantages of Razorpay eMandate 
Since its introduction, eMandate has come a long way, has added more than 30 banks, and introduced real-time authorization confirmation, which has helped more industries adopt the recurring business model. Listed below are some of the major advantages of eMandates:
Increase customer retention:

One-time digital authentication allows you to auto-debit your customer's bank account helping your customer enjoy uninterrupted service–in the longer run building customer loyalty and customer retention. No constant payment reminders to your customers

Reduces friction in payments:

eMandate allows a business to auto-debit a recurring payment, thereby reducing the friction of a customer logging on to the website/app to make a payment. This assures the business of continuous cash flow that it can rely upon

Reduces administrative costs

: As the amount is auto-debited, the business teams do not have to chase the customer to make the payment. This cuts down the operational effort,  invoicing effort and cost to the company

Auto-reconciliation:

Most of the details are tracked and captured online, hence reducing the time, effort and money involved in buying and maintaining multiple tools

Simple and seamless process:

The entire process is simple and just needs an active bank account and card details. One time enrollment for a lifetime of hassle-free service

Flexibility in plan:

With eMandate, the ability to debit a customer in the hands of businesses. This allows them to change the payment cycle or skip a cycle if need be. This adds to good user experience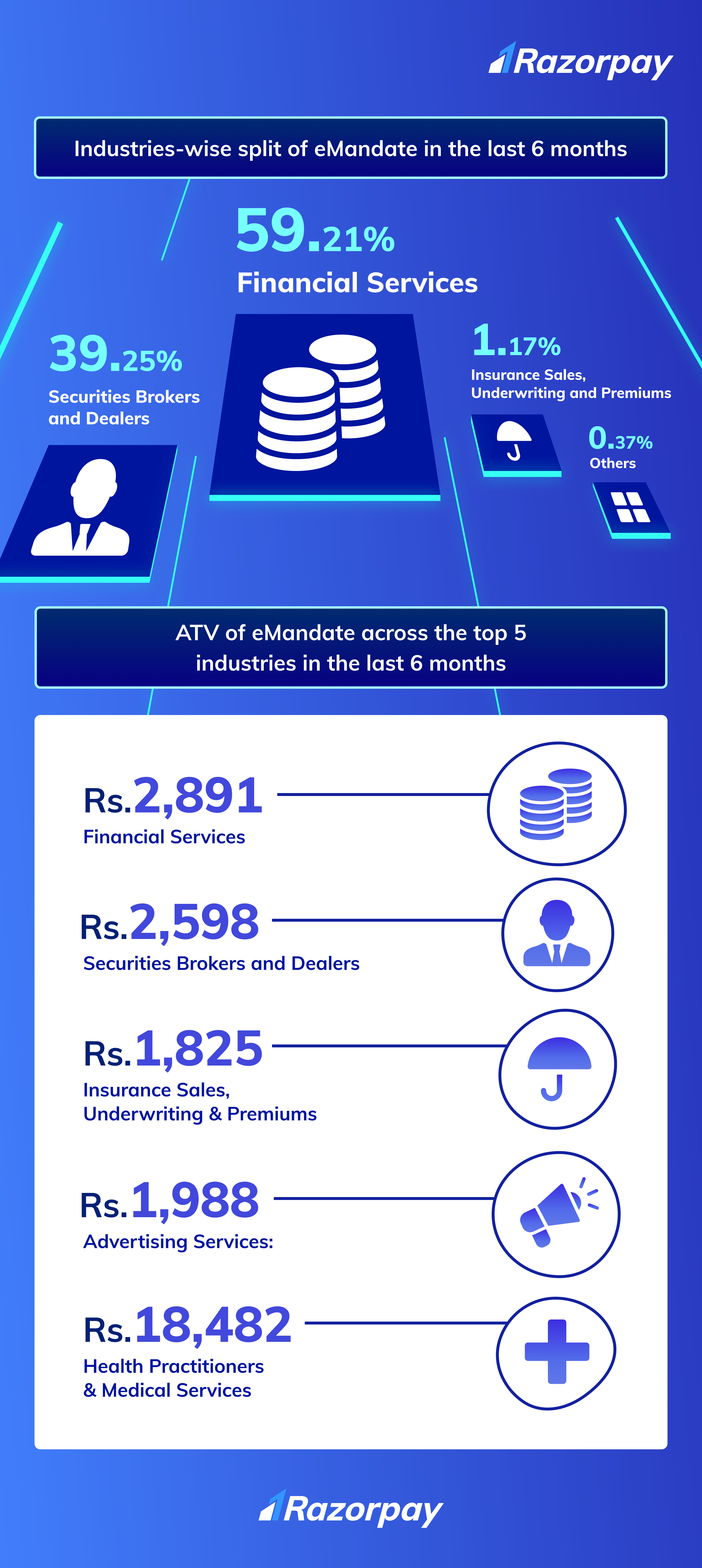 Which industries have adopted eMandate?
eMandate has steadily grown popular and has been adopted by multiple industries. Each industry has its own challenge and uses eMandate in a unique way. Let's look at the industries that have benefited the most with eMandate.
Lending industry
Lending businesses have seen a drastic change in the way they operate. For the lenders, one of the benefits is the ease in the collection of loan repayment. They no longer have to go running behind an individual. The auto-debit feature of eMandate helps them deduct the said amount on a particular day each month. The customer on the other end does not have to go through multiple visits at the bank. The overall turn around time is also much lesser compared to the traditional method. Recurring payment model and eMandate in the said scenario have helped in reducing the operating costs to a large extent. This has also assisted a smooth money movement for both the ends. 
Wealth management platforms 
In recent times, platforms like Wealthy, Groww, PaisaBazaar have emerged, which have made it easy for an individual to manage their portfolio, meet their financial goals, have a retirement plan in place and a lot more. Usually, these platforms offer you to consult with a dedicated counsellor or to create a plan by yourself. The risk appetite of customers has also gone up, and they are willing to invest in instruments such as mutual funds, equities, ULIPs and more.
Once a customer has decided on the instruments they want to invest in and the amount they wish to invest, businesses ask for an authorization for recurring debits. This authorization can be given digitally, authorizing your bank account via netbanking credentials or debit card details.
That's it! With a few simple steps, you are all set to make wise choices with your finances. The best part is, neither of the parties has to manually visit a brick and mortar building. Mandates make sure a hassle-free experience for an investor and an ongoing business, without disruptions for the business. 
Life insurance
Individuals have always made it a point to invest in life insurance policies so that they can make use of them in case there comes in some unseen disaster. Earlier either an individual was asked to pay the entire amount in one go or had to make sure they did not miss out on a single instalment. With the advent of eMandates, these life insurance providers have been able to ease the process. They can now sell a plan to the customer online. And the moment the customer signs up for a plan, they can set a particular date and an amount which will auto-debit without any manual intervention from the individual's end. Hence, in the long run, easing the way life insurance companies used to operate so far. 
Sponsorship programs By NGOs 
We are living at a time where people have understood the value of CSR activities. A lot of people have started coming forward to help those in need. Some of the activities in which people are engaged to include sponsoring education for kids, taking care of the grocery needs of a household, bearing expenses of a pet in an NGO and a lot more. 
However, with so much to do, there are chances that an individual misses out making the donation for a month. Many NGOs have started using eMandates to ease the entire donation flow so that they can do the needful at the right time without reminding the payee a number of times. 
Customer raises a request for a recurring mandate

The business sends an authorization request on their own portal or via a link

The customer gives the authorization via netbanking credentials or debit card details.

Details are sent to the sponsor bank who forward it to NPCI

NPCI sends the requests to issuing bank

Issuing bank either accepts the authorization request.

Issuing bank shares the status with NPCI, who in turn shares it status with the sponsor bank. This status is then shared with Razorpay who in turn informs the business. All this in real-time!

Razorpay activates the mandate.

How to integrate eMandate for your business 
API Integration of Razorpay Subscriptions is simple and easy. What's more? There is a single integration needed to go live on all modes of recurring payments – cards, eMandate, PaperNACH and the upcoming UPI Recurring mandates. 
However, if you wish to use Subscriptions on any of these modes without any integration, you can easily use the Razorpay dashboard to send out subscription links.
Conclusion
eMandates are a step forward in the world of digital payments. Many business verticals have been able to adopt this business model and have seen significant improvement in metrics like customer retention, cash flow management and a steady decline in delinquency
What are you waiting for? Sign up with Razorpay eMandate and plan your business growth now! 
Recommended Read
Retain, Engage, Scale: Three Reasons To Build A Subscriptions Business