PrePay CoD is Razorpay Thirdwatch's latest product offering, and it is growing to become a must-have feature for all e-commerce companies offering cash-on-delivery. Read on to know why!
Every online e-commerce store – whether it's a marketplace like Flipkart or Nykaa, or a direct-to-customer (D2C) brand such as Mamaearth or PeeSafe – is bound to have faced this problem. That is the dilemma on whether to offer Cash-on-delivery (CoD) as a payment method or not on their online store. Let's look at why this is such a big point of confusion for online e-commerce stores.
Advantages of offering only prepaid payment options
By offering only prepaid options like credit card, debit card, UPI, wallets etc. for their products, online stores can look to keep RTO or Return to origin orders at bay. 
With prepaid orders, there's a definite intent to purchase from the customer. It indicates that the customer is confident in making the purchase. The other significant advantage is that, at best, the money reaches the online seller within 3-5 business days, depending on the settlement cycle of the payment gateway that powers the online store. The typical payment gateway charges are 2%, which is also significantly lower compared to cash handling charges.
Why is offering CoD inevitable for growth?
However, India is a cash-driven economy, and almost 60% of e-commerce orders in India are paid via CoD. This is the case, despite e-commerce stores offering discounts and other attractive options on prepaid modes of payment. The CoD percentage goes up to 70% if the likes of Flipkart and Amazon are not included. These numbers only go to show how prevalent cash is in India. 
So if an online business owner (Shopify, WooCommerce, Magento or own custom storefront) wants to scale their business evenly, it seems like offering CoD is a mandatory move. This becomes more crucial for upcoming and smaller brands where there is a need for the brand to establish trust with the customers. 
Online shoppers hesitate to pay via prepaid methods on brands that are relatively new and upcoming and thus, offering CoD provides the customer with that extra nudge to convert interested visitors into paying customers.
The problem of offering CoD for e-retail stores
Offering CoD on an online platform has almost an immediate impact – a 200-300% increase in sales is conclusively evident. While only focusing on the top-line, this might seem like an excellent choice but when we take a closer look at the revenue and profit margins, offering CoD gives rise to a multitude of problems. 
RTO or Return-to-Origin is a scenario where a customer orders online and then doesn't accept the order or cancels the order after shipping which results in the shipment returning to its origin. This problem plagues e-commerce retail stores in general and offering CoD only increases the RTO problem manifold. 
In a CoD order, the customer might not have a high purchase intent as he possesses the luxury of cancelling the order anytime before it reaches him or simply not to accept the order delivery at all. This, in turn, results in double shipping costs, wasted packing and operational costs and even blocked inventory costs. This also leads to rises in significant RTO losses, too. 
Some of the other issues are the cash handling charges by the courier partners are significantly higher than the usual 2% charged by the payment gateways. Also, it takes almost 10-15 business days for the money to finally reach the seller, thus causing problems to the cash cycle.
So where does the e-commerce business stand? Offer CoD and face a multitude of monetary issues or limit growth without it? The need of the hour was to find a way in which the online store could offer CoD without consequences. 
Razorpay Thirdwatch fights RTO
Razorpay Thirdwatch is the first-of-its-kind AI-based solution which helps e-commerce businesses reduce RTO losses and increase successful deliveries. More than 500 e-commerce online stores use Thirdwatch to help increase revenue overall and cut down RTO losses. 
How does Thirdwatch work?
Thirdwatch's AI engine processes all orders placed on any platform and then does the following:
Detects incomplete/incorrect addresses so that they can be updated and delivered successfully

Flags orders with a high probability of RTO along with the risk reasons such as invalid email ID/mobile number, past RTO behaviour, network flags from other e-commerce businesses, impulse purchase patterns etc

Detects fraudulent orders based on device ID fingerprinting and user behaviour analysis
So an e-commerce business can use Thirdwatch and keep RTO rates in check. The online seller can then take relevant action on the flagged orders based on their risk appetite and the goals of their business.
Offering CoD with Razorpay Thirdwatch
A growing e-commerce business can offer CoD with more confidence with Razorpay Thirdwatch. By reducing RTO losses and increasing successful deliveries, Thirdwatch helps in increasing the overall profitability. 
Let's have a look at the operational process flow of an e-commerce business offering CoD with Thirdwatch:
Among all CoD orders, Thirdwatch will flag only those orders that have a high probability of RTO. The flagging percentage can vary significantly depending on the type of products and the demographics of the customers. 
The remaining orders are then marked as 'safe to deliver' and the business can successfully ship them out. Out of the flagged orders, depending on the risk reasons provided by Thirdwatch, the company can set up workflows to effectively take the right actions:
For fraudulent and duplicate orders, orders with invalid mobile number/email ID etc the online seller can directly cancel them and save up on potential losses.

For address issues, the correct address can be updated and then shipped
For orders where the customers show higher RTO previously on the same or other e-commerce platforms and for those orders where the user behaviour analysis indicates impulse purchases, there is no explicit action for the business owner. 
Cancelling the orders may mean losing out on customers who may actually end up successfully receiving the orders. Shipping the orders may mean welcoming higher RTO losses.
Convert risky CoD orders to prepaid with Thirdwatch's PrePay CoD
PrePay CoD by Thirdwatch is a feature that facilitates retailers to send payment links to customers for risky flagged orders. For orders where the action is unclear, the seller can send payment links directly to the customer along with discounts.
Click To Tweet
This helps the business owner convert impulse orders which have a risk of RTO into prepaid orders. The customers who were once not sure about the order will also find it to their benefit to pay upfront and avail the discount. 
So, the business owner can now ship those orders that got converted from risky CoD to safe prepaid orders and rake in more revenue consequently. 
For the non-converted orders where no action is taken despite multiple communications, they can be cancelled as the purchase intent is low, which indicates a much higher chance of RTO and order cancellation. This helps the business owner keep RTO losses at bay, improve successful order deliveries and move the business towards sustainable and profitable growth. 
And, that's how Thirdwatch helps retail e-commerce businesses offer CoD without consequences! Watch the video below to see the full extent of business savings achieved by using PrePay CoD:
How did Thirdwatch help Udyan Tea offer CoD without consequences?
Udyan Tea is a premium, award-winning tea brand from Darjeeling, offering the finest teas sourced from the origin. Every tea blend that they offer is carefully handcrafted by a co-founding master tea taster, who has evaluated over 2 million cups of tea over the course of his tea-making journey. Everything Udyan Tea does, rests on the simple idea: for the tea lovers, from the tea lovers. They offer over 50 variants of tea made using 100% natural ingredients, that are fresh, of the highest quality and naturally healthy. 
Udyan Tea started way back in 2012, but transitioned online in 2017 to a direct to consumer brand. In 2019, to further focus on the D2C online store, they moved to Shopify, a platform that offers unparalleled e-commerce storefront experience to D2C brands. 
In 2020, Udyan Tea decided to ramp up their sales via the D2C online store and began offering CoD to its customers. As expected their sales flourished by over 200%! Udyan Tea was performing better than ever as sales spiked. But, soon enough, they encountered an unforeseen problem – the corresponding increase of RTO orders. 
Udyan Tea discovered Razorpay Thirdwatch way back in 2019 and decided to shoot their shot. Within only a short timespan, Thirdwatch helped Udyan Tea keep RTO rates at bay with custom RTO insights. Udyan Tea takes the leap once again- this time, to explore Thirdwatch's latest offering: PrePay CoD as part of the early access launch. With this feature, Udyan Tea aims to reduce the risky CoD order percentage further and focus on consistent RTO elimination. 
Here's a visual representation of how Udyan Tea reduced RTO, scaled profitability and improved business with the all-new Razorpay Thirdwatch:
Here's what Soveet Gupta, the COO and Director of Udyan Tea had to say about the feature and his overall experience with Thirdwatch: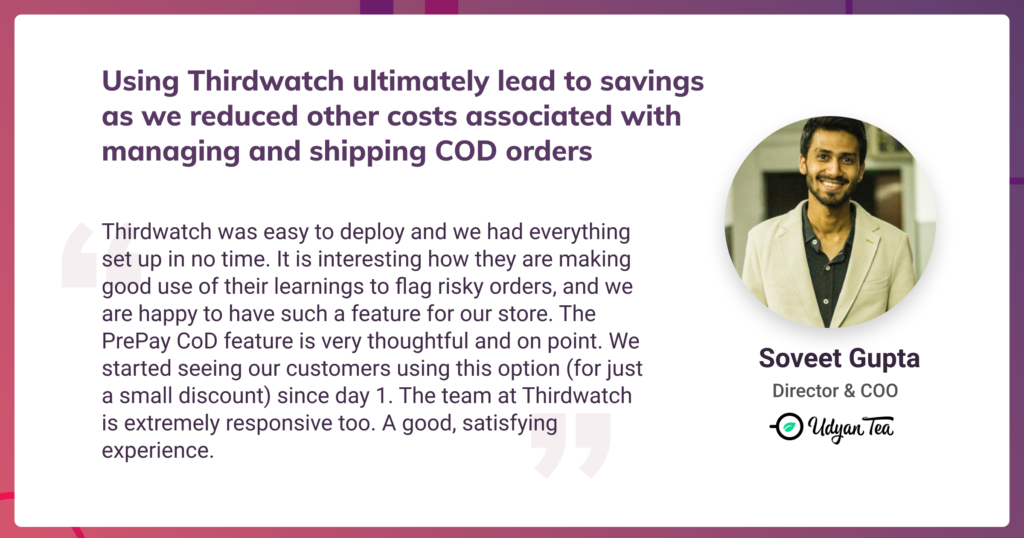 Join 500+ businesses like Udayan Tea, that are revolutionizing their business with Razorpay Thirdwatch. Sign up today with Razorpay Thirdwatch and offer CoD without consequences and experience the future of e-commerce!