Technology has summoned a change that has enabled people to decide what, how and when they want a specific service or product. And, also dictate how they want to consume and pay for it.  
With the advent of intelligent customers, hard-selling has become a thing of the past. From Xennials to Millennials, everybody loves the flexibility, convenience and personalisation that technology has to offer.
Today, customers prefer access without ownership, flexible, just-in-time consumption of products and services are preferred over heavy, long-term investment models. One size fits all' is no more a mantra that works for customers. Unique, personalised offerings are what works, where every customer is empowered to tailor his/her own experience. 
These factors have led customers to lean towards new consumption models like Subscriptions instead of traditional purchase models. 
All about subscriptions
Subscriptions is a business model where the customer decides to consume goods or services on a periodical basis and not as a one-time event. The payment for subscription plans is also made regularly. Subscriptions plans are tailor-made to meet customers consumption preferences. 
Primarily, there are three forms of subscription models: 
Access-based

: Follows a periodical fee (monthly, quarterly, yearly) to obtain access to products or services based on individual needs 

Curation-based

: These consist of curated or personalised items, meant to help customers discover and sample products. Curated products are sold as 'subscriptions boxes', and popular categories include beauty, fashion, food, and learning

Replenishment-based

: A model that allows customers to automate their consumption of everyday consumables, like razors, milk, etc
Surprisingly, the history of subscriptions dates back to the1800s, where newspapers and magazines made their sales through subscriptions. Since then, subscriptions through its unique distribution model has paved the way for innovation across diverse industries.
Learn how to start your subscription business.
Subscriptions economy in India
It took a while for the subscription model to gain a foothold in India. But the success of brands like Amazon Prime and Hotstar has proven that there is a massive market for subscription businesses in the country.
With the internet, online commerce and digital payments, the subscription business model in India is now moving online. The earliest player to leverage online subscriptions in India were media and publication businesses. 
Driven by engaging content and a convenient way to consume, Indians took to OTTs (over-the-top media services) like Netflix, Amazon Prime and Hotstar. According to Pixights, Indians on average spend Rs 295 per month on an OTT platform. Also, about 62% of Indians have subscribed to three or more such platforms.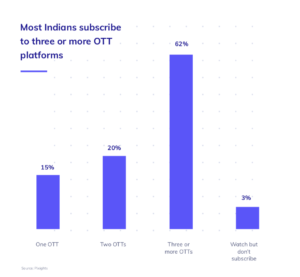 Download the full report here.
What is driving subscriptions upheaval in India?
India is in the midst of an e-commerce boom. Over 40% (about 472 million users) of the country's population is internet-enabled, making India the world's second-largest user base. This massive internet penetration has put the Indian e-commerce market on an upward growth trajectory. From $38.5 billion in 2017, the market is projected to grow to $200 billion in 2020, surpassing the US to become the second-largest e-commerce market in the world.
Conclusion
Today's Indian consumer is time-constrained, but resourceful, hence leaning towards quick, convenient and hassle-free shopping and payment experiences. Customer convenience is no more about having a plethora of options; it's all about getting relevant, curated products and services at the right time and place. This is what subscription businesses fulfil. 
Also read: Payment Method for Generation Now: Cardless EMI