"What comes to your mind when you think of subscriptions?"

The more people you ask that question to, the more variety of answers you will receive. However, that wasn't the case until a few years ago. 5 -10 years back, subscriptions were mostly synonymous with daily newspapers or weekly magazines. 

This is because the subscription economy has evolved multifold in the recent past, becoming far more robust, inclusive, and adaptable. Slowly and steadily, more and more industries and verticals came to realise the many advantages that subscriptions bring to the table, thus leveraging them to scale their business. Today, subscriptions are deployed by software enterprises, edtech businesses, non-profit organisations, and eCommerce just as much as they are prominent in the media and publishing industry. 

In this post, we shall break down the various subscription business models that are deployed in different industries to offer convenient recurring products or services to customers. 
Types of subscription business models 
SaaS
Software products as a recurring service 
SaaS as an industry has risen to prominence at a breakneck pace in the past decade. Providing a software product in the form of a recurring service makes cost-effective, easily deployable, highly secure, and scalable solutions accessible to businesses in the form of a subscription plan. 
Why software as subscriptions work:
✓ Allows customers to avail free trials before they make a commitment 
✓ Increased stability due to predictable revenue stream
✓ Ease of collection of payments without the need to follow up leading to enhanced customer experience
Challenges faced by software as subscriptions model:  
✓ Managing dynamic adjustments to billing plans
✓ Offering multi-currency support as most SaaS businesses have international customers
✓ Ensuring utmost security of payments made 
Take a look at how sales coaching tool Wingman, offers multiple flexible subscription plans depending upon the features offered in each of them. 
eCommerce
Subscription box
Quite unheard of until a few years ago, the subscription box model is slowly gaining ground as one of the best ways to deliver personalised shopping experiences to customers in the 21st century. Popularly known as subcom, the subscription box model allows eCommerce businesses to collect recurring payments in exchange for a specially tailored box of products around a specific niche or interest.
Each month, a freshly curated box is delivered to every subscribed customer so they can regularly try out new products from the collection and pay a recurring amount for them.  Whether it is beauty, fashion, or personal care, subscription box is the new groundbreaking model to attract young and curious customers willing to be a part of your community. 
Why subscription boxes work:
✓ Attracts shoppers who believe in the element of surprise 
✓ Is cheaper as compared to buying each of the products separately 
✓ Allows buyers to try out different sample products or new launches 
Challenges faced by the subscription box model:  
✓ Creative and unique ideas are required regularly to stand out and delight buyers
✓ Constant need for personalisation 
✓ Stagnation that can lead to cancellations 
The Dog Box, for example, is a monthly subscription for all pet care needs wherein a specially curated box of a variety of dog products is delivered to pet parents each month.  
Subscribe and save 
In online commerce, brands very often use the subscriptions model as a means to offer discounts and deals on their products or services. Customers receive a special discount upon signing up for a subscription plan, thus ensuring a bargain deal and timely delivery of their regularly-used products. 
The subscribe and save model has been pivotal in facilitating the pathbreaking growth that D2C businesses have observed in recent years. With more and more businesses making niche products and services available to their target audience without any middlemen, the subscribe and save model enables them to do so in a convenient and cost-effective manner. D2C businesses, therefore, are able to build a solid loyal customer base owing to the subscribe and save model. 
Why subscribe and save works:
✓ Attracts bargain hunters 
✓ Allows loyal customers to have assured access to their favourite products, conveniently
✓ Enables businesses to make a percentage of their revenue predictable
Challenges faced by the subscribe and save model:  
✓ Misuse by customers to obtain discounts 
✓ Additional tracking and management required of subscribed products 
✓ Extra discounts often lead to reduced profit margins 
Take a look at how the women care brand, Plush offers a subscribe and save option to its customers to encourage loyalty.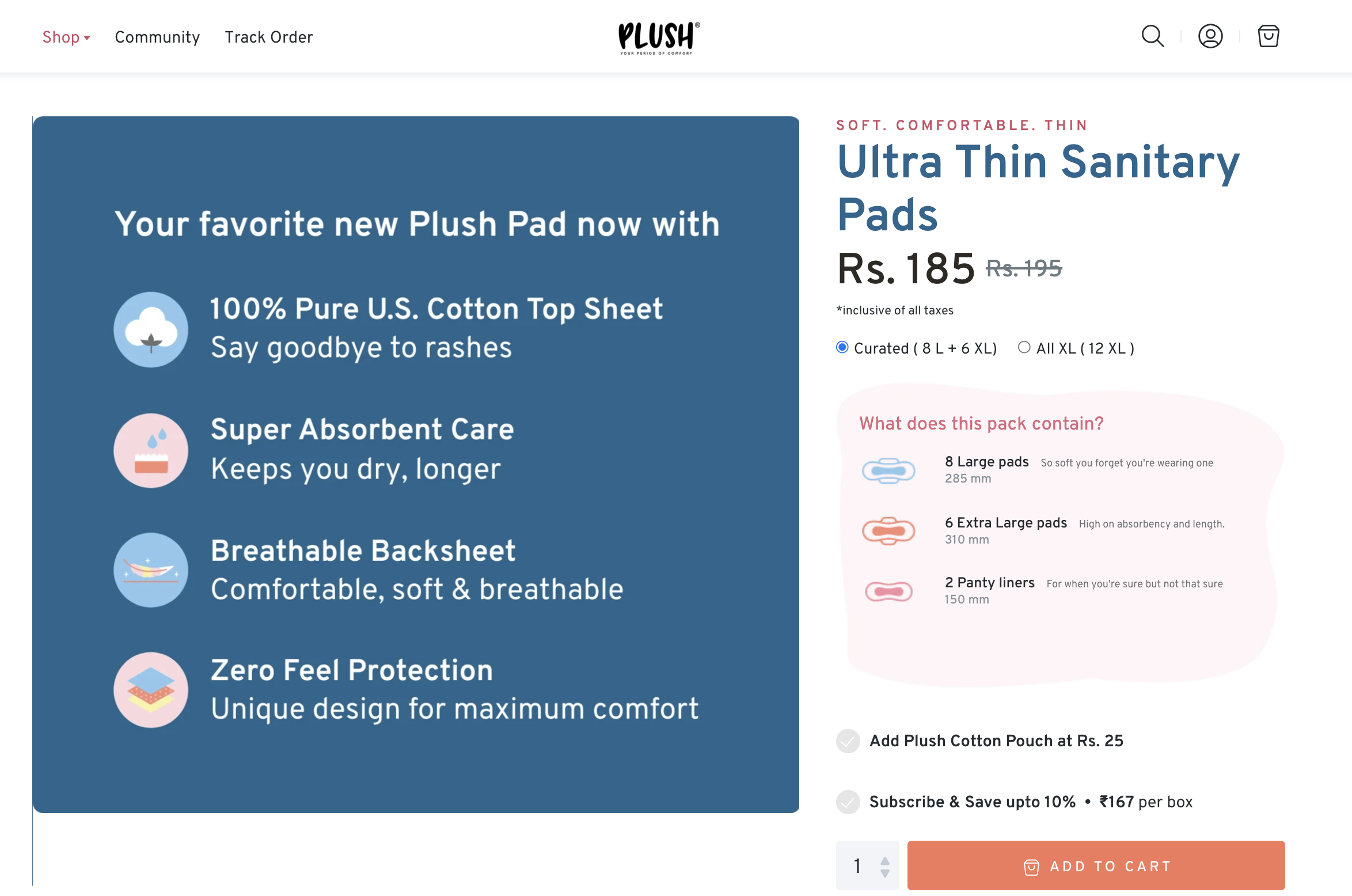 Perks-based membership
The perks-based subscription model is centred around exclusivity and is designed for customers who value and actively look for exclusive products and services. Such subscriptions allow customers to gain special members-only perks on all their orders. These could be accelerated deliveries, discounts on each order, early access to sales, or even free delivery. 
These memberships are becoming increasingly popular as they foster community building and engagement, which is extremely crucial for relatively smaller eCommerce brands. 
Why perks-based membership works:
✓ Encourages loyalty and retention 
✓ Is an inexpensive option for regular buyers 
✓ Helps brands build and nurture an exclusive community 
Challenges faced by the perks-based membership model:  
✓ Creating an irresistible value proposition
✓ Communicating tangible benefits and justifying the additional cost 
✓ Ensuring sufficient ROI
Fresh meat delivery startup, Licious, for example, offers monthly, quarterly, and semi-annual subscription plans for their regular customers wherein they can receive unlimited free deliveries for their orders. 
Media and entertainment 
On-demand content delivery
Arguably one of the oldest forms of subscriptions in the world, on-demand content delivery is commonly adopted by media and entertainment verticals. Think video-on-demand platforms such as Netflix and Amazon Prime, digital magazines and newspapers such as Harvard Business Review and Wall Street Journal, audio streaming platforms such as Spotify – all are examples of over the top on-demand content delivery wherein customers are charged a certain subscription fee to access particular content for a specific period of time. 
Paywall is another commonly used method of allowing access to content with a paid subscription and restricting access for others. It is used by news and publishing portals to offer exclusive access to their content to paid subscribers only. 
Why on-demand content delivery works:
✓ Higher lifetime value of engaged customers 
✓ Paywalls help build trust and credibility 
✓ Helps democratise and monetise content creation 
Challenges faced by on-demand content delivery model:  
✓ Constantly ensuring the availability of engaging content 
✓ Offering personalised recommendations 
✓ Providing unique value to customers that they cannot get for free
Indian business news website, The Ken, offers quarterly and annual subscriptions to its readers wherein they are provided access to a specific number of stories over the given time frame.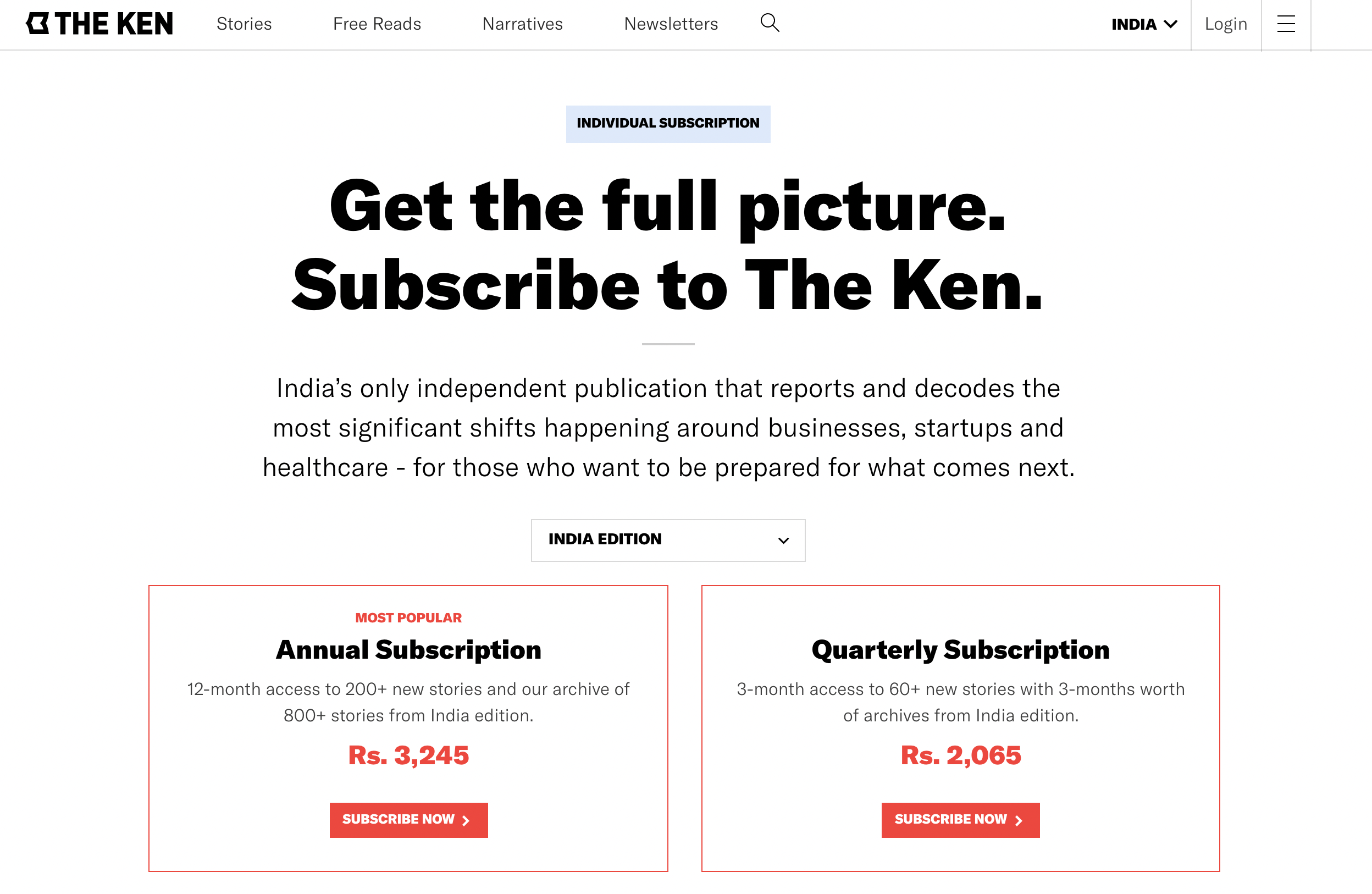 Edtech 
Membership-based access model
The sudden, unanticipated, and exponential growth seen in the online learning domain due to the pandemic is only going to go upwards from here on. In fact, India's edtech sector is expected to become a $30 billion industry in the coming decade owing to this tremendous demand.
The membership-based access model allows edtech businesses to offer specially curated subscriptions to educational courses, programs, and assistance for children as well as adults. Subscriptions can be designed based on level of study, level of support required, access to study material, and so on. 
Why membership-based access model works:
✓ Allows up and coming educators to scale their operations 
✓ Gives students the flexibility to curate plans that work for their needs  
✓ Makes online learning convenient, personalised, and liberating 
Challenges faced by membership-based access model:  
✓ Designing plans catering to every student segment 
✓ Providing and facilitating upgrades and downgrades amidst billing cycles
✓ Offering personalised and engaging learning experiences 
Vedantu, for example, offers multiple video lectures, assignments, live classes, coursework, study material, etc. for students via multiple paid memberships.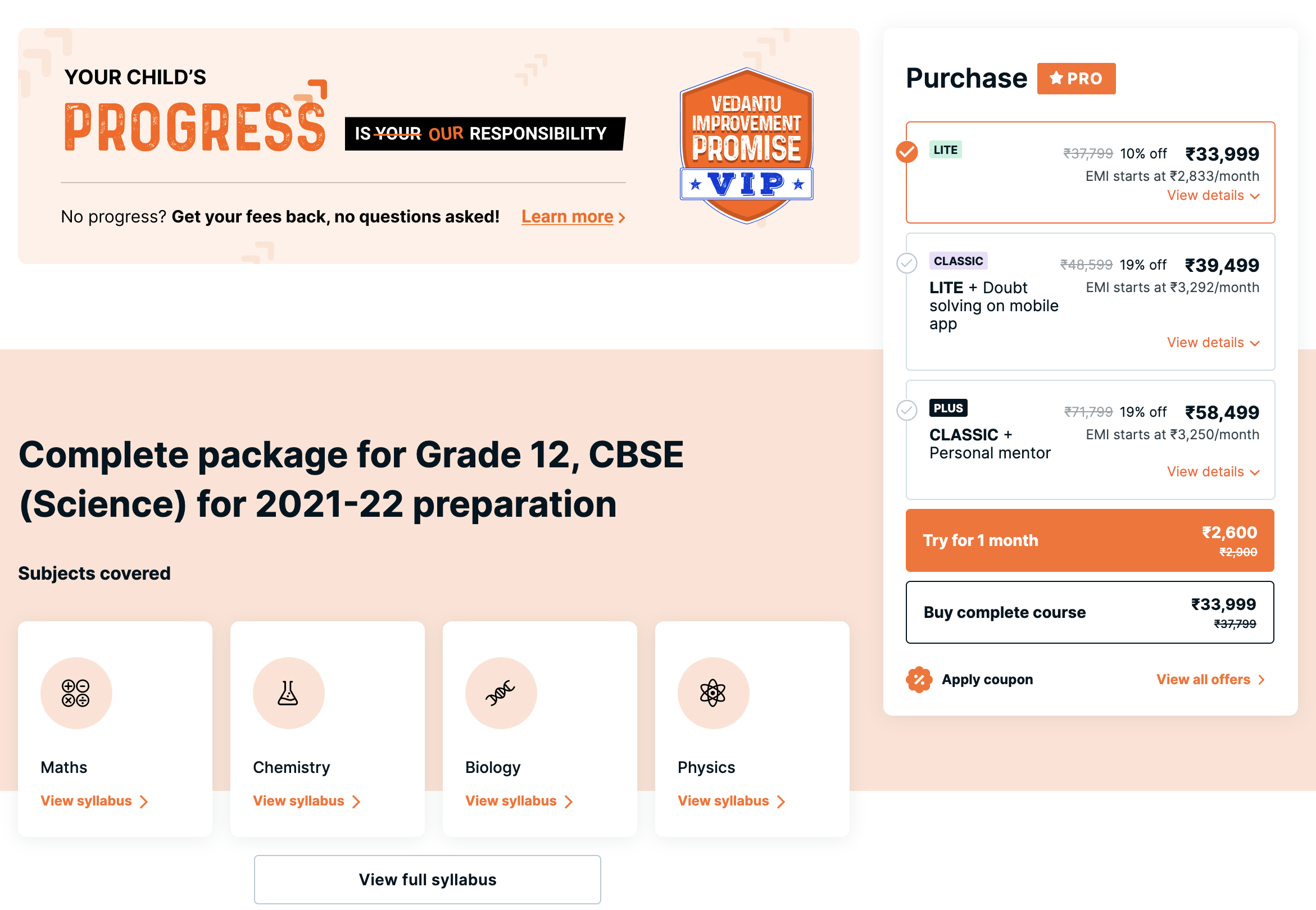 Non-profit
Recurring giving
Subscriptions are now being exceedingly leveraged by non-profit organisations to collect recurring donations on their online platforms. This format allows them to depend on a predictable amount of money to aid their efforts. For donors, it's a convenient and systematic way to support causes they believe in and extend financial help to those in need without burdening themselves. 
Why recurring giving model works: 
✓ Increases average amount per donor and encourages repeat donations 
✓ Allows organisations to predict their finances more accurately and plan accordingly 
✓ An opportunity to engage with recurring donors effectively 
CRY Foundation which works towards providing for underprivileged children's education and proper nutrition, allows people to donate a particular amount monthly via their website. 
How Razorpay Subscriptions can help you thrive in the subscriptions economy 
No matter what the nature of your business is and which subscription model you follow, Razorpay Subscriptions is designed to make the experience absolutely seamless for you and delightful for your customers. With Razorpay Subscriptions, you are promised: 
✓ Multiple payment modes for your customers including credit and debit cards, net banking, UPI AutoPay, and more
✓ Choice among various billing models such as fixed payment schedule and quantity based model
✓ Multi-currency support so you can accept payments from any part of the world
✓ Flexibility of upgrading or downgrading plans anytime a customer wants with proration
✓ Provision to offer a trial period, charge upfront, and also charge for add ons and overhead expenses
✓ Option to run enticing offers to attract new customers 
Experience the future of subscriptions and take your business to new heights.