It's official. India (and the world) is awash with subscriptions. The vast proliferation of app-based digital services have no doubt played the captain of the subscription ship's exciting journey. Without the mobile phone and a powerful app economy, there would simply be no way to build the level of customer stickiness and engagement required to pull off a subscription service.
Infact, about 11 million subscribers in India paid for 21 million video subscriptions in 2019. This was estimated to increase significantly by 2020.
Click To Tweet
This growth can be attributed to the creation of customized packages for OTT users based on their consumption, thereby cutting costs. Shift of daily needs brands to subscription models has also accelerated the consumption. Other reasons could be the increase in original content, and free and trial access to the platforms for a limited period.
We, at Razorpay, are continuously trying to empower businesses with powerful technology. Read what's been cooking within the teams here to upscale the Subscription experience for our customers. 
What are subscriptions
Subscriptions are the recurring payments made to businesses in accordance with a predetermined schedule that customers sign up for. These types of payments are processed electronically, usually from a customer's preferred mode of payment – credit or debit card, bank account, physical mandates and UPI.
Depending on the payment gateway that a business uses, they can give their customers the option to set up recurring payments using different payment modes. These subsequent payments are scheduled and deducted from customer's authorised bank accounts without the need for manual intervention. 
[Also Read: 9 Steps to Starting Your Subscriptions Business]
Razorpay Subscriptions at a glance 
Razorpay Subscriptions offer quick and easy integration for businesses. With a single integration, you can go live on all modes of a recurring payment, something that none of our competitors offers.
It is one of the easiest products to use and is designed for businesses of all types. 
It offers multiple modes of setting up recurring payments for customers such as recurring on cards, and UPI mandates.
You can go live instantly by using subscription links via the Razorpay Dashboard or integrate our APIs to give a seamless experience to your customers.
Wondering what are the features that set Razorpay apart from all the other Subscriptions service providers? Here are some of the features of Razorpay Subscriptions:
Avail industry best success rates on credit cards with Razorpay's homegrown banking solutions

Beat the competitive pricing and get industry-best plans with Razorpay

Accept payments from across the globe with utmost ease

Make the best of open APIs, easy and quick integrations and 100% online processes

24*7 support by our payment experts

One-time sign up to avail all of the Razorpay products 
One point integration to offer multiple payment options to your customers
Introducing Pause-A-Subscription
While it is true that all of us are in some form or other hooked to the ease subscription model offers, there might come a time when a subscriber might consider canceling one. 
Some of the reasons an individual might consider canceling a subscription can be: 
To cut down on the increasing costs and manage finances

Because they aren't using the service as frequently

Traveling often and aren't able to make use of the services

Service is seasonal (e.g., a sports streaming service)
Since most of the reasons mentioned above look temporary in nature, it is important to provide your subscribers with an alternative. No business likes to lose out on a customer, after all. One of the ways to keep your customers with you while delighting them is by giving them an option to Pause a Subscription. 
How to pause Razorpay Subscriptions
If you are already using Razorpay Subscriptions, you can pause the subscription immediately or at the end of the current billing cycle. To pause a subscription from your Razorpay Dashboard, simply follow the steps mentioned below: 
Log into your

Dashboard

and navigate to 'Subscriptions'

Click the 'Subscription Id' you want to pause

Click 'Pause Subscription'. The subscription will be paused immediately

Click 'Yes, Pause Now' on the pop-up that appears
The short animation below shows you how to pause a subscription.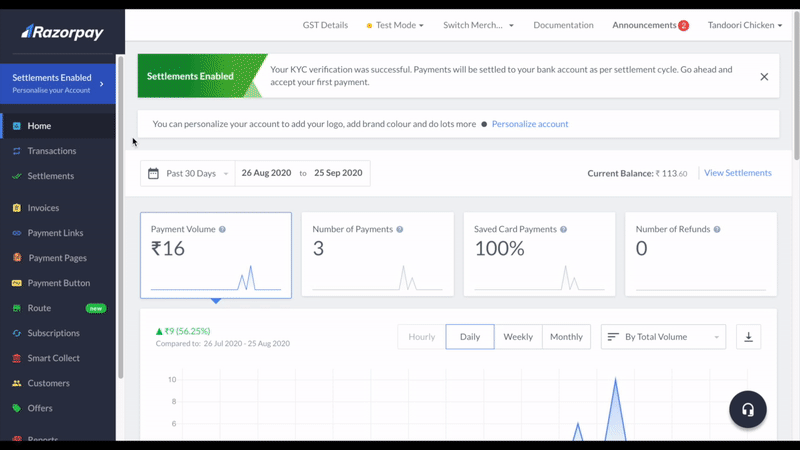 Just like you can choose to pause a subscription for your customers, you can also resume their subscriptions instantly. To resume a subscription, follow the mentioned steps:
Log into your

Dashboard

and navigate to 'Subscriptions'

Click the 'Subscription Id' you want to resume

Click 'Resume Subscription'. The subscription is resumed immediately

Click 'Yes, Resume Now' on the pop-up that appears
The short animation below shows you how to resume a subscription.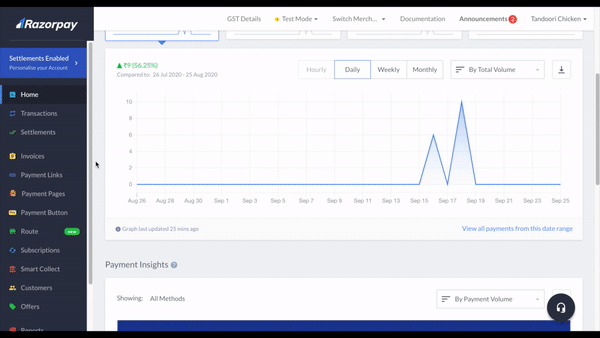 [Suggested Reading: The Evolution of the Subscription Economy In India]
Benefits of pausing a subscription
Research shows that around 10% of customers who cancel auto-renewal would actually just prefer to pause their subscriptions if it was an option.
Click To Tweet
This means you can recover some of the revenue that would otherwise be lost without any additional cost.
Here are some examples of how offering this alternative to customers could benefit your business: 
Reduce churn:

Win back some of the customers who cancel and later forget to re-subscribe. When given the alternative to pause, most customers are less likely to cancel.

Reduce spillage:

Subscriptions facing a payment issue are likely to get resolved eventually. Till the time they get resolved, the services can be paused instead of getting banished completely.

Get insights:

Learn why customers are pausing and use those reasons to influence packaging, pricing, promotions, lead management, etc. by asking quick and easy questions on the go.

Improve experience:

Let your customers feel at ease. Reduce the burden of re-filling the information when they wish to resume the subscription later.
Offering a pause subscription option to your subscribers will not only help you manage voluntary churn, but it will also help gather valuable insights on why customers want to discontinue. This information can, in turn, help you reduce marketing costs to win them back​. 
In the end, this will lead to increased customer satisfaction, as subscribers will be able to return to the services they like more easily​, and it will also likely lead to overall increased revenue.
For whom is this feature built
For every business that is striving to grow! The subscription economy has changed the way consumers used to shop, and it is only going to evolve more. Statistics and consumer behaviour suggest that the subscription economy is here to stay. And when we know it, it only makes sense to find a quality add-on to ensure customers are at ease. 
Listed below are some of the use cases where pause a subscription can make a massive impact:
Dairy products business that delivers milk, curd, eggs on a daily basis to people. Customers can request the assigned team to pause a subscription in case they are travelling or cutting down on dairy products for some time and resume when they wish to. 

OTT platforms. Viewers can choose to pause a subscription until the next cricket tournament starts and resume easily without facing the hassles of creating an account all over again.

Rental furniture service providers often ask individuals to do a detailed KYC process. It can happen that an individual is planning to visit overseas for four months and does not wish to pay for the due time. They can simply contact the service provider, ask them to pause the subscription and collect the provided furniture. They can resume the services once they are back.
[Recommended Reading: UPI AutoPay: A Powerful Addition to Your Payment Options Bouquet]
In conclusion
Providing an excellent customer experience is paramount for any business looking to retain subscribers in today's competitive landscape. Offering your customers with an option to pause a service for a specific time is one powerful way to do that.  
Let us know the other challenges you face while running your subscription-based business, and our teams will try to ensure that you are at ease.