Razorpay partners with a number of businesses – from enterprises to SMEs – especially during the festive season, to accelerate their business growth. These businesses are run by entrepreneurs, disruptors, and innovators from all industries and sectors. We have tried to capture the learnings and experiences of all such online successful businesses by weaving a story around Vedika & Arjun, two characters inspired by our actual customers.
This is chapter 1 of 4 of our Business Growth series. Keeping the spirit of festivities alive, we will take you through the journey of a business owner scaling up their efforts to make the most of the festive season a huge success.
Meet Vedika, a 32-year-old entrepreneur, founder of a super successful home furnishing company called Decor Wise, and the protagonist of our story.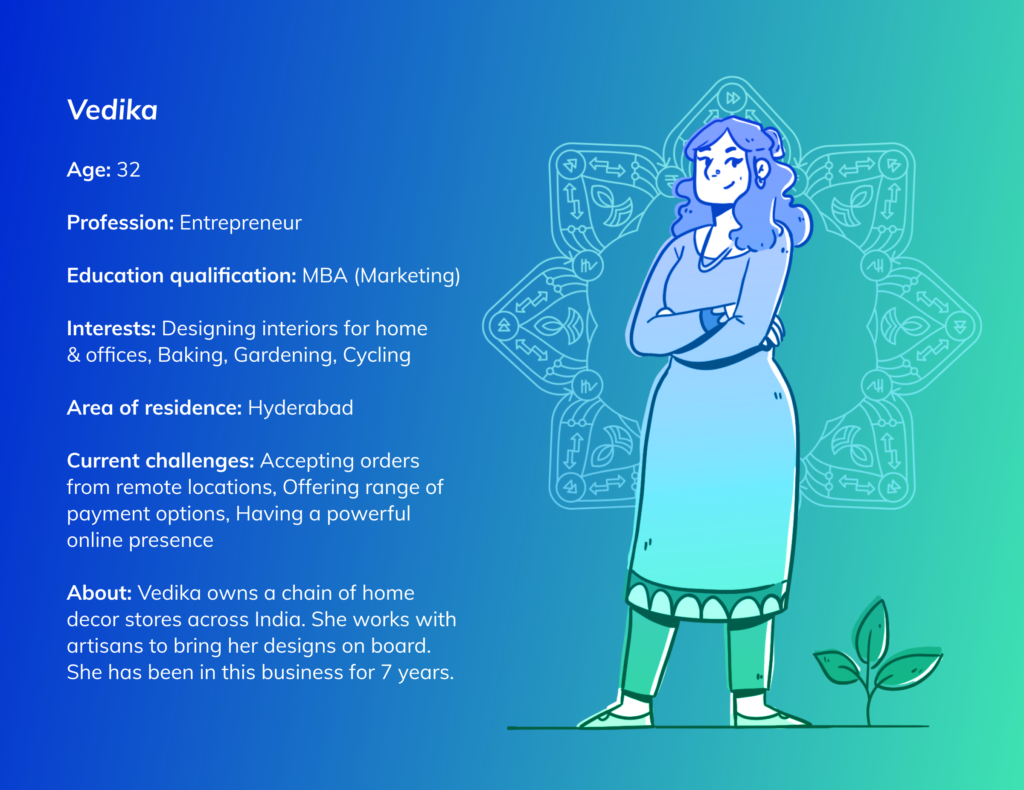 The backstory – How it all started
Having something of your own brings out the best in individuals, which was also Vedika's philosophy. Soon after she got a job offer from a leading design agency, Vedika realised that was not her calling. 
Thus, she changed roads and decided to start with something of her own. 
The beginnings – Confusion, decisions & more
Vedika commenced her independent stint by working as a freelancer. Gradually, as word of mouth spread, customer inflow started increasing rapidly. And step by step, what is today known as Decor Wise, was assembled. 
The initial years were about getting things right in the first store in Bangalore. Soon, she started getting order requests from Maharashtra, Rajasthan, and the NCR region. Today, Decor Wise has four stores in the metro cities and is planning to expand further.
While the brick-and-mortar store sales were promising, she also started observing the shift of customers' interest in online shopping. The pandemic played a major role in her customers wanting to buy her products online. They wanted to read reviews, explore products from the safety of their homes, and get them delivered to the doorstep. 
Road to Business Growth – Because an online presence mattered
She began by creating a website on WordPress but she realised that there was a lot left to be done. With a developer's help, she built a full-fledged e-commerce website to improve her digital presence. She then had to finalize a payment partner for her business. After multiple conversations with people and some research of her own, Vedika decided that she wanted a payment partner that would meet the following functionalities.
Vedika's payment gateway checklist
International payments support: Vedika was looking for a payment gateway that would help her accept orders from around the world
Ability to run offers & EMIs:

She realized that she could improve conversions by offering discounts & allowing her customers to pay via EMIs

Wide variety of payment modes:

Vedika wanted to ensure she offers her customers every payment mode that there is

Security for herself and customer:

She wanted to ensure her own and her customers' data would be in safe hands

Affordable and quick services:

While she was scaling, she wanted to ensure that the payments partner was affordable and available for support 24×7
After shortlisting a couple of payment gateways, she decided to go ahead with Razorpay Payment Gateway. While Razorpay checked off most of the parameters she had, it also felt like the best fit because:
She would get access to a dashboard that would give her an overview of all the purchases made, the payments received, and payments due

In case a customer demands a refund, she will be able to initiate one instantly by logging into her Razorpay dashboard

Unlike traditional banks and a lot of payment gateways, Razorpay's Instant Settlements product was one of the USPs for her

She was also satisfied with the smooth conversation with the sales and tech teams at Razorpay 
In a span of just about three days, the payment gateway services were up and running for Decor Wise. Vedika's entrepreneurial journey took off as she went live with Razorpay. 
Day by day, as she got acquainted with the potential of the internet and social media, she hired a team to scale up her digital marketing efforts. With growth on all folds, came an increase in demand. 
The avenues – What's life without experiments anyway
She realized that whenever she showcased her work on Instagram, people would DM asking for details like price, size, material, and more. It was time that she wanted to sell to her potential customers on social media as well.
She checked with the Razorpay team and got started with Razorpay Payment Links. With Razorpay Payment Links Vedika was able to:
Send links to customers on social media & messengers

Get paid instantly in a method of her customer's choice

Accept partial payments and also automate payment reminders 
In no time, Payment Links became one of the most favourite no-code tools. She would accept partial payments for large orders, send reminders to people to clear their dues, and directly accept payment via any channel like WhatsApp, chatbot, email, Instagram, etc. 
Pinchful product pitch, please!
Recently, Razorpay introduced its Affordability Suite to let businesses run offers and discounts. This suite is designed specifically for businesses like Vedika's to enable them to run offers and discounts on specific cards and banks. They can also choose to offer cardless EMI and pay later options. 
Vedika has so far seen a significant improvement in her business's numbers and a spike in orders and cart value. She now expects the Razorpay product stack to play a significant role in helping her run a successful online business and unlock growth during the festive season.
Did you, at any point, feel, "Enough of Vedika. Tell me something else?"
Well, meet Arjun, Vedika's husband. 
The family – Business Growth & togetherness 
Arjun is the kind of person who gets his energy by helping others. Every year, as the festive season approaches, he helps disabled children sell the craft items that they have worked on through the year.

The confusions – Declutter in progress
With Razorpay Payment Pages, Arjun had a  custom-branded page for his NGO up and running in a matter of minutes. That too without any design or tech efforts!. 
Here's what made Arjun choose Razorpay Payment Pages:
No setup charges and no coding 

100+ payment modes and a branded link to share on social media

Automated 80G receipts sent out to all his donors
Using Razorpay Payment Pages, Arjun has been able to not only raise funds for disabled children but also lighten up their festival season by selling the craft items they created. 
Current scenario towards Business Growth 
Vedika is on her way to #UnlockGrowth while adapting to the new world's demands, and Arjun has once again found his happy place. They are both now able to power their payments with the Razorpay product suite.
But that's just the payments side of things. What about the other aspects of running a successful online business? Well, stay tuned for the upcoming chapters of this story to find out how Razorpay will help Vedika reduce operational costs, improve business efficiency, monitor business growth, and manage working capital with ease.